Batmobile Cozy Coupe Refashion
Oct 06, 2019, Updated Oct 20, 2022
Make your kid a superhero this year – turn your Cozy Coupe car into a Batmobile with this easy craft idea using just spray paint and a simple stencil or stickers!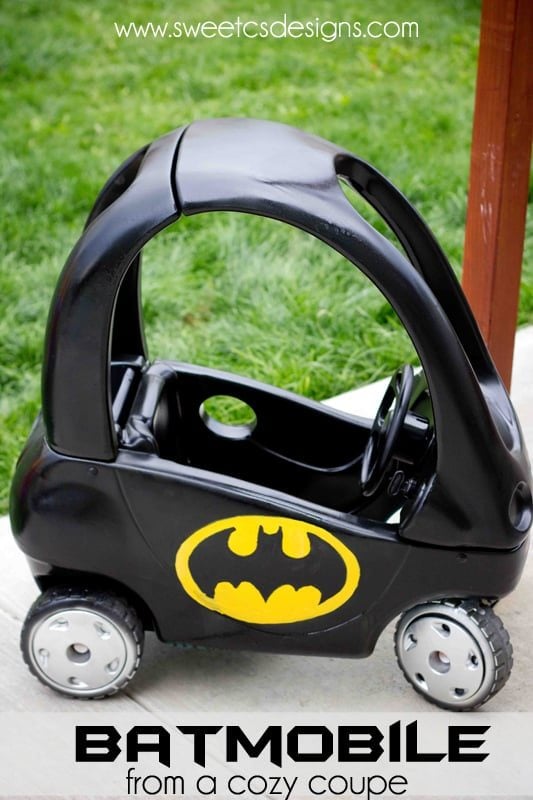 Toy Car Batmobile
What little kid doesn't want to be a super hero? The cool capes, the rad theme song, a trusty sidekick- and some awesome wheels. If you're Batman, you get the best of all- the Batmobile. And what kid doesnt want a kid's Batmobile? Luckily with a cozy coupe kids car, you cab get your little caped crusader swinging around the block in style in just about no time at all with this awesome way to make your own Batmobile.
All it takes is a little paint, spray paint or vinyl and a printer, exacto knife or a cricut and the Batman cartridge and you're on your way!
Now, since there was no tutorial for this wonderful gem I saw on Pinterest (after hours and hours of searching), I came up with my own- and while cursing under my breath at my method, I came up with a few other ideas as well that would save you from a visit by the f-bomb fairy. She and I are tight after this logo, let me tell you.
Even though I had a few stumbles, the whole project took less than 45 minutes, minus drying time. If you use vinyl, it would be an under 20 minute craft- you really can make it quickly!!
First off, I took this funky cozy coupe my mom found at a thrift shop for $7.
(note my son's relaxed driving apparel)
How I Made a Cozy Coupe Batmobile
I spray painted the entire thing using 2 cans of Krylon fusion spray paint- it goes on smoothly and sticks to plastic without priming or sanding. I did try another brand, but it dripped pretty badly. Overall, spraypainting the car black took like 5 minutes and was super easy.
After letting it dry for 30 minutes, I thought it was done, and my son excitedly ran to grab it. Big mistake- and major catastrophe. Kids skin and spray paint is not a fun match!
A few hours later, it really was completely dry, and I cut out a batman logo shape from the Cricut Batman Cartridge with my cricut onto some plain white paper. I used the inverse of the shape and the outline to use as a spraypaint stencil that I taped to the car. I wanted the logo to be spray painted on- but while I love the final results, it was a major pain. More on that in a bit- but here's how the stencil looked taped on:
I then carefully painted the logo in yellow, trying to avoid drips. Unfortunately, drips happened. They happened something fierce, and the stencil lines got pretty funky.
Tips and Tricks to Making a Cozy Coupe Batmobile
If you get drips, or uneven edges, you can do what I did and fix it by hand. I sprayed a bunch of paint in a paper cup and painted it on by hand, which worked great- but it wasn't the easiest or least stressful way to do it. You have to be careful when handpainting with spraypaint to not add too thick a layer- or it all scrapes off- kind of like what happens when you add nail polish on too thickly.
Use a pre-made sticker. This 14″ sticker is pre-made and perfect, so you can simply paint your car black and paint the wheels chrome, then you're ready to go! This is the easiest, best option, but was not available 10 years ago when I first made this.
Make a vinyl sticker. Instead of spraying on the logo, you could either make some out of tape or vinyl and adhere it to the car- or you could spray yellow paint into a paper cup and stencil it on with a stencil brush or sponge.
Use enamel paint. You could also use yellow enamel paint- but acrylic might not fare as well outside as the plastic spray paint or an enamel.
Paint the wheels chrome. To finish it up, I painted the wheels a metallic color to look like chrome… every little boy needs a chromed out car, right?
How to Make a Cozy Coupe Batmobile
How to Make a Cozy Coupe Batmobile
Total Time:
1 hour
40 minutes
Estimated Cost:
60 dollars
Take your old cozy coupe and turn your kid into the coolest superhero on the block this Halloween with this easy tutorial for a spray-painted Cozy Coupe Batmobile!
Materials
1 used cozy coupe car
1 can black spray paint
1 can yellow spray paint, yellow enamel paint, or yellow vinyl (if painting)
Paper or stencil material (unless making a vinyl sticker)
Batman sticker (best method)
Painters tape (if making stencil)
1 can chrome spray paint
Tools
Cricut, or x-acto knife
Large batman logo
Instructions
Clean cozy coupe car well, removing any dirt, oil, grime. If it is really banged up, you can sand rough edges to make it smoother! Let fully dry.
Using black Krylon fusion (or other plastic-specific spray paint), spray entire cozy coupe, inside and outside, so entire car is black. Let fully dry, about 40 minutes.
Notes
You can paint the logo on, as I did, but the premade sticker was not available when I made this car 10 years ago. Use the sticker!!! It is far easier.