How to make Homemade Gluten Free Moon Sand – a soft, silky, bright play sand that is SO much fun to play with!
I have a friend with a severe gluten allergy, who is now looking for ideas to keep her kids busy while she works from home.
She's looking for more ideas to make with her kiddo, but she needs them to not contain any gluten- which is a touch hard in homemade play dough that is good for sensory play since so many rely on flour as a base.
This recipe for Homemade Gluten Free Moon Sand is a soft, silky, bright, makes great shapes – and it is SO much fun to play with!
This moon sand comes together to make shapes, but if you crumble it a bit it goes back to a soft sand shape.
It is best when used in a big sensory tub (this stuff goes EVERYWHERE if your kids are "creative" like mine… trust me, its best to keep it contained), and I like to give my kids plenty of fun tools to use with it like measuring cups, spoons, cookie cutters, cups to fill and make sand castles, etc.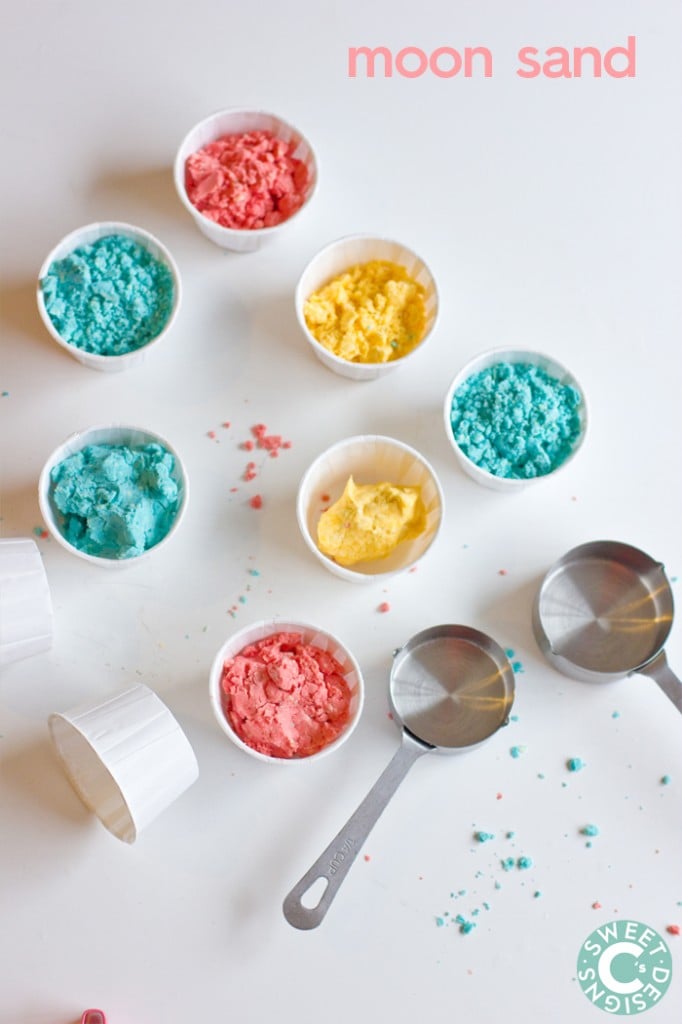 This is a great activity when you need to get something done, and keep your kids entertained.
It's perfect for making dinner – you can watch them play while you cook, but the bright colors will keep them mesmerized and playing quietly.
Since this play dough is made from completely edible items, it won't harm your kids if a tiny bit ends up in their mouths- but it tastes pretty awful so they won't go eating it, either.
You can also add essential oils if you'd like!

CONNECT WITH SWEET C'S!
Be sure to follow me on social media, so you never miss a post!
Facebook | Twitter | Youtube | Pinterest | Instagram
Only have 30 minutes to get dinner on the table? Sign up for my 30 minute dinner plans direct to your inbox!
Find and shop my favorite products in my Amazon storefront here!
Gluten Free Homemade Moon Sand
Ingredients
3/4 cup baking powder or soda
3/4 cup gluten free corn starch
1 cup oil- added 1/4 cup at a time to get to your preferred texture
Food coloring
Instructions
Mix cornstarch and baking soda in a large bowl.
Add oil in a quarter cup at a time, stir vigorously.
Mixture will start to turn into moldable clay. If you like it more squishy, add a little more oil. For a silky texture that doesnt stick to your hands, a little less oil. Play with it as you go to find a texture you like.
Stir in food coloring and set out to play!