The Best Easy Meatballs Recipe - delicious easy meatballs cooked in a skillet for a delicious, hearty, and rich dinner that the whole family loves.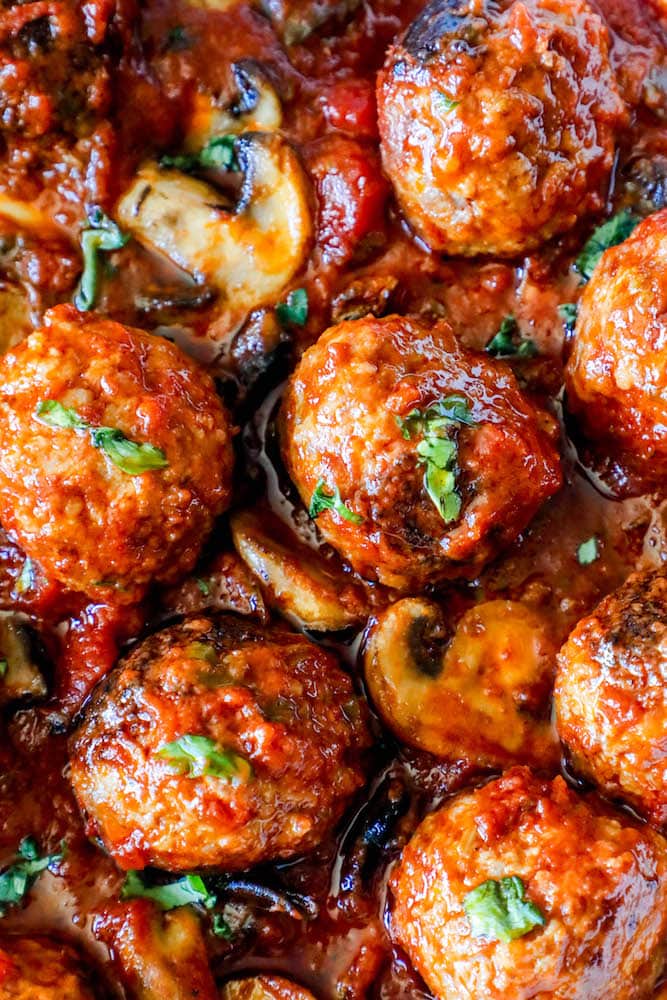 Don't want all the extras in a recipe post? We provide a skip to recipe button in the top left corner, as well as a clickable table of contents, just below, to help make this page easier to navigate.
Perfect Savory Meatballs
Low carb keto easy meatballs that are delicious on their own or in sandwiches, over pasta, or in soups. If you love hearty, rich, and delicious meatballs, you're going to love this easy recipe. These easy meatballs are super simple - just mix, brown, and bake meatballs in the oven for a deliciously meaty and indulgent dinner in no time!
I often make these easy baked meatballs on busy weeknights when we need something comforting quick - and they work in so many recipes that are hearty and comforting. These easy meatballs are a delicious mixture of ground beef, italian sausage, herbs, and spices - and don't have any breadcrumbs, so they are even low carb and keto approved! You can also swap ground chicken or ground turkey to make a lighter version of these easy meatballs with lean meat.
This recipe is really adaptable - you can add different sauces, herbs, and flavors as you like once you master this base recipe for easy, delicious baked meatballs! If you're looking for an easy spaghetti and meatballs recipe from store-bought frozen meatballs (not made from scratch, which take much longer) - please check out my Instant Pot Spaghetti and Meatball recipe. It's super easy, and has amazing flavor! I was shocked how much flavor cooking in the IP gave it, in a fraction of the work from stovetop with almost no cleanup!
Easy Slow Cooker Meatballs Recipe
If you'd like to make these easy meatballs in a slow cooker, instead of browning on the stove and then baking, please follow the directions below:
-Cook on High for 3-4 hours; Low for 6-8 hours.
Check meatballs as they cook to ensure they don't dry out or burn.
-Brown meatballs if possible.
While this is an extra step, browning meatballs in a skillet quickly before adding to a slow cooker will help keep the meatballs from cooking together, and give it a lovely rich and meaty flavor from browning in the pan first.
-Cook to almost done, then add sauce.
Don't add the sauce right away - or it will become oily and will likely separate a bit and over-reduce.
Cook meatballs to done or almost done and then add sauce, letting sauce get to piping hot, before serving.
-Add ½ cup beef stock for extra flavor and juicy, moist meatballs from the slow cooker (optional).

Tips For Perfect Easy Italian Meatballs
-Mix meatballs in large bowl by hand.
While it's messier, it is best to mix and form meatballs by hand rather than by spoon or mixer - this is one recipe it is best to get your hands dirty!
-Use extra parmesan cheese (grated) in place of bread crumbs for an easy low carb keto meatball recipe.
While most meatball recipes call for bread crumbs to be included as a binder, I am using extra grated parmesan for a low carb, gluten free, and keto alternative. Plus it's just easier - I always have grated parmesan cheese on hand but almost never have bread crumbs!
-Preheat oven fully before adding meatball skillet.
After pan frying / browning meatballs, the meatballs need to go right into a hot oven that has been fully preheated to keep them cooking quickly so they don't dry out.
-Brown in olive oil.
Browning meatballs before baking them gives a rich and delicious flavor you can't get any other way - simply heat a little olive oil on medium high heat until shimmery, place meatballs in skillet, and brown on all sides - about 6 minutes.
Meat won't be fully cooked - which is fine - as it will continue cooking in the oven.
Browning meatballs is essential for the best texture and flavor!
-Stuff bits of mozzarella sticks into meatballs for a decadently cheesy meatball surprise!
If you'd like an extra cheesy kick from this recipe, cut string cheese mozzarella sticks into 1" bites and wrap meatball around mozzarella.
Cook as detailed below.
-Prep casserole dish or baking sheet with cooking spray.
Making sure your pan is well prepared to be nonstick when baking meatballs in oven will save a lot of time and frustration later!
-Finish Meatballs in Marinara Sauce.
If you're making traditional meatballs (and not using these in another recipe like my creamy meatball soup) cook your meatballs to done or almost done and then ladle marinara sauce over it and stir to coat.
Keep baking meatballs in marinara sauce until it's piping hot (I also add shredded mozzarella cheese over the meatballs at this time for a cheesy one pot meatball skillet), then serve.
What to Serve with The Best Easy Meatballs
If you're looking for delicious easy ideas to serve with these baked meatballs, be sure to check some of my favorite recipes that pair perfectly alongside these meatballs!
Also try 10 Minute Broccolini Recipe, Easy No Knead Bread, and The Best Oven Roasted Garlic Parmesan Asparagus Recipe.
Other Easy One Pot Dinners You'll Love
If you love these easy baked meatballs, you'll love some of my other favorite easy one pot dinners!
Also try The Best One Pot Lemon Garlic Butter Shrimp Recipe Ever, Creamy One Pot Chicken Stroganoff, One Pot Creamy Meatball Soup, One Pot Cheesy Taco Skillet, and Easy One Pot Authentic Hungarian Goulash.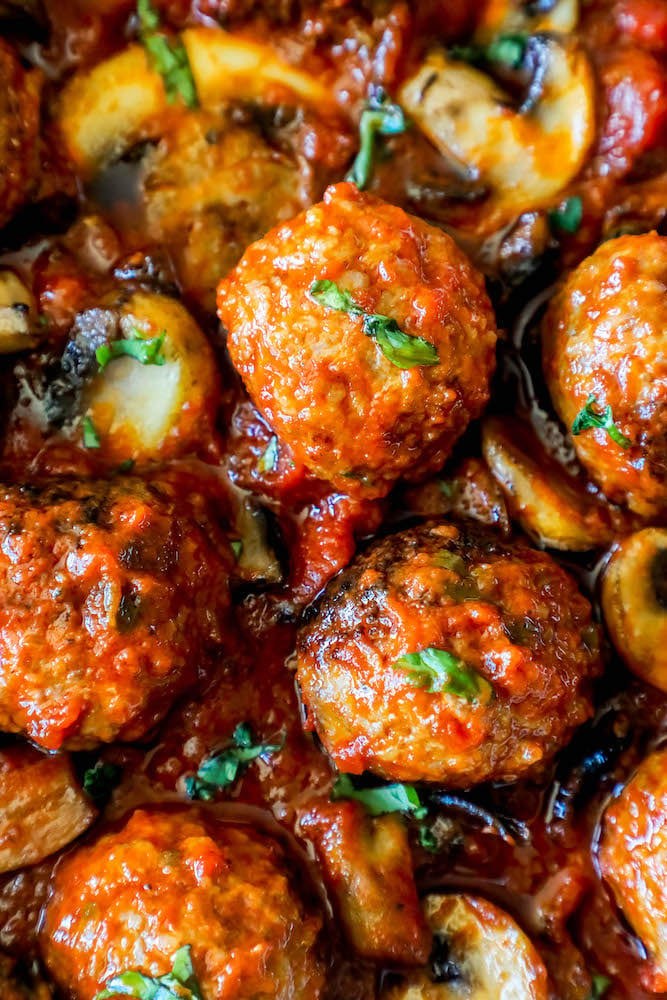 The Best Easy Meatballs Recipe
If you love this easy meatball recipe as much as I do, please give it a five star review and help me share on facebook and pinterest.
CONNECT WITH SWEET C'S!
Be sure to follow me on social media, so you never miss a post!
Facebook | Twitter | Youtube | Pinterest | Instagram
Only have 30 minutes to get dinner on the table? Sign up for my 30 minute dinner plans direct to your inbox!
Find and shop my favorite products in my Amazon storefront here!
Yield:

6
The Best Easy Meatballs Recipe
The Best Easy Meatballs Recipe - delicious easy meatballs cooked in a skillet for a delicious, hearty, and rich dinner that the whole family loves.
Low carb keto easy meatballs that are delicious on their own or in sandwiches, over pasta, or in soups. 
Ingredients
1 pound ground beef
1 pound mild Italian sausage
¼ cup onion, minced
2 cloves garlic, minced
2 tablespoons parsley, chopped
2 eggs
1½ cup parmesan cheese, grated
½ teaspoon sea salt
⅛ teaspoon fresh ground black pepper
½ teaspoon crushed red pepper flakes
½ teaspoon Italian seasoning
salt and pepper to taste
Instructions
Preheat oven to 350 degrees.
Add beef, pork, onion, garlic, parsley, eggs and cheese to a large bowl.
Sprinkle meat mixture with a pinch of salt and pepper.
Mix with your hands until combined.
Form into 1 or 2 inch meatballs - this recipe will make about 25 meatballs.
Add 2 tablespoon olive oil to a large heavy pan and heat until shimmery.
Add meatballs and brown lightly on each side, about 6 minutes total.
While meatballs are browning, lightly grease a baking sheet.
Bake meatballs until slightly reduced with an internal temperature of 165 degrees approximately 20 minutes.
Add marinara sauce over dish with meatballs and continue cooking until piping hot.
Serve over spaghetti, over vegetables, over rice, or alongside vegetables.
Recommended Products
As an Amazon Associate and member of other affiliate programs, I earn from qualifying purchases at no extra expense to you.
Nutrition Information
Yield
9
Serving Size
3
Amount Per Serving
Calories

401
Total Fat

28g
Saturated Fat

11g
Trans Fat

1g
Unsaturated Fat

17g
Cholesterol

129mg
Sodium

900mg
Carbohydrates

6g
Fiber

0g
Sugar

1g
Protein

30g
Nutrition is automatically calculated by Nutritionix - please verify all nutrition information independently and consult with a doctor or nutritionist for any and all medical and diet advice.