The Best Pan Fried Cabbage and Sausage Recipe Ever is the perfect easy way to celebrate Saint Patricks Day with a one pot cabbage and sausage dinner skillet that is low carb and keto diet compatible, family tested and approved, and goes from the fridge to the table in under 20 minutes in just one pot!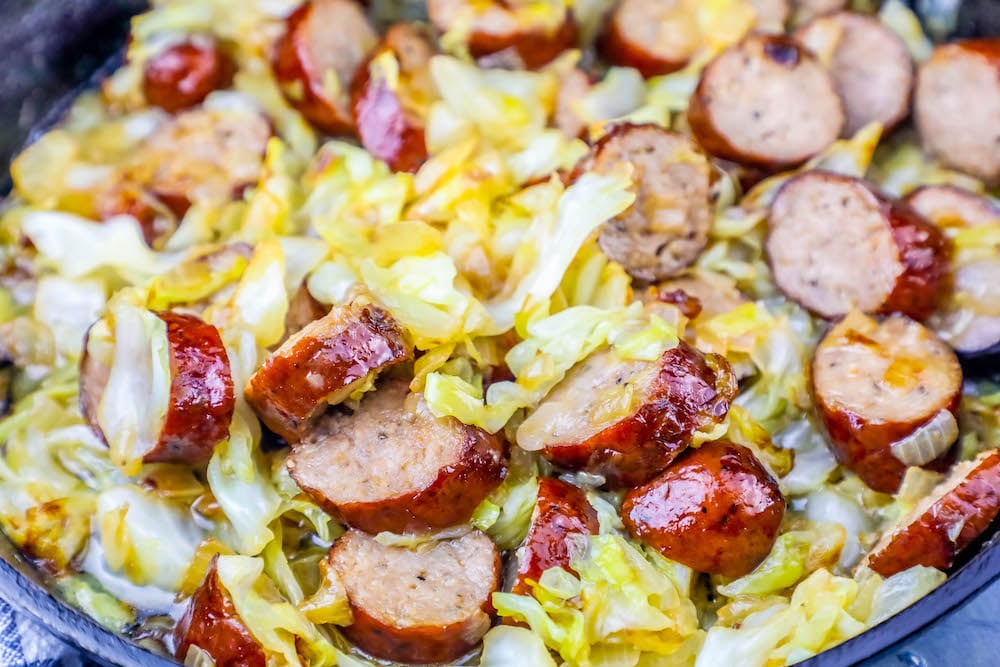 Cabbage is one of those things a lot of people are a bit skeptical to try - it's rich, delicious, buttery - and cooks quickly without much fuss - but because it can be bitter and boring when not cooked down, a lot of people turn their noses to using cabbage as a major part of a dish. Cabbage is something people usually only think of when it's around Saint Patricks Day when it is hugely popular in America as an homage to Irish cuisine - or as a garnish in tacos, salads, and more.
In this easy one pot sausage and cabbage skillet, it takes on a perfect rich and meaty flavor your whole family will love!
The Best Pan Fried Cabbage and Sausage Recipe is super easy and can go from your fridge to the dinner table in just one pot and under 30 minutes - making it a delicious, hearty, and family friendly dinner that you'll want to eat long after Saint Patricks Day when you're thinking of easy Irish Recipes.
I love to cook cabbage and sausages when we're in a pinch and need something quick for dinner - or as a swap for heavier, greasier comfort foods since it still tastes nice and indulgent!
This is one of my top keto dinner swaps for quick meals like macaroni and cheese or pasta... my husband has lost over 50 pounds since starting keto a couple of months ago, and while I still have a gigantic amount of weight to lose, the high fat and low carbohydrate diet has helped me have so much more energy and less pain from Rheumatoid Arthritis.
It has been a bit tricky to find dishes we love and can make again and again and keep us motivated - and this easy cabbage and sausage dinner is a huge win for me! I could seriously eat it everyday.... maybe it's the Irish in me?? 🙂
Perfect One Pot Keto Saint Patricks Dinner
I always think of eating salty, delicious roasted beef paired with buttery, delicious cabbage when I start thinking all things green... but I know a lot of people aren't huge fans of cabbage, because it can be so bitter.
Fear not, friends, because it's actually really, incredibly easy to make caramelized cabbage that isn't bitter, bland or boring. When paired with sausage, this dish is incredibly filling and meaty - and works perfectly in a keto diet so you can enjoy a delicious Irish dinner for Saint Patricks Day without messing up your macros!
This dinner is full of natural fats, protein, and is low carb - cabbage is good for keto since it is a naturally low carb vegetable!
If you've ever wondered is cabbage good for a keto diet - you're in luck, because with around 2 carbs a serving, it most definitely is!
What Type of Sausage to Use In This Cabbage and Sausage Skillet
Before I get a bunch of comments and questions - no, Polska Kielbasa is definitely not an Irish ingredient since it's a traditionally Polish sausage.
I love the smoked flavor of it though - it works perfectly with cabbage, and an easy ingredient to find pretty much anywhere in America (as pork, beef, turkey, and chicken sausage, too!) unlike a lot of more traditional Irish sausages.
I also prefer using smoked sausages since you just need to reheat them to cook them, making this recipe fast and delicious!
Other ideas that are delicious in this recipe:
Beef, Chicken, Turkey, or Vegan Polska Kielbasa style smoked sausages, sliced into thin rounds
Cheddar Stuffed Bratwurst, sliced thin, for a cheesy twist on this dish.
German Breakfast sausages, cooked in the pan before frying the onions and cabbage (simply brown before adding the onions in the pan, don't cook all the way through since they will continue to cook with onions and cabbage, but you want to give them a good nice sear before adding in the veggies. Reduce butter to 1 tbsp if cooking raw sausage or your dish will be too greasy.)
Andoille Sausage, sliced into thin rounds, for a slightly spicy twist!
Why Pan Fried Cabbage Can Be A Healthy Diet Choice
Cabbage is extremely good for you, and something I try to incorporate more into our diets. I really love the rich and buttery flavor of cabbage when it's cooked - and it is a great vegetable to get kids into, since when cooked it has a subtle flavor kids love.
Cabbage ranks right up with broccoli, cauliflower, and brussels sprouts with a reputation for fighting cancer - and it also helps prevent or cure canker sores. Cruciferous vegetables are packed with Vitamin C, Fiber, Potassium, and other essential nutrients.
Cabbage is also awesome for people on a diet - the high fiber and low carbohydrate levels keep you full without crashing, and cabbage is great for keto diets and low carb diets, too!
If you're watching fat and calories, and worried about adding butter, this recipe works great with a heart-healthy, Omega 3 packed oil as well - so it can work in any diet or healthy eating plan! Of course, I love the rich butter flavor - and opt for Irish butter from grass-fed cows.
If you're worried about the nutritional profile of adding smoked Polska Kielbasa (my personal pick for this dish), you can easily swap chicken, turkey, and even meat-free sausages to make The Best Pan Fried Cabbage and Sausage ever!
Other Irish Inspired Meals You'll Love:
If you love this deliciously easy cabbage and sausage skillet, you're going to love some of my other favorite Irish inspired meals!
Cheesy Sausage Potatoes and Cabbage
One Pot Irish Whiskey Glazed Salmon Recipe
The Best Irish Potato Pancakes Ever
Easy Sheet Pan Oven Roasted Chicken and Leeks Recipe
Easy and Delicious Caramelized Cabbage & Onions Recipe
Grandpas Irish Stew (Macaroni Goulash) * (which isn't actually Irish at all, but always called that)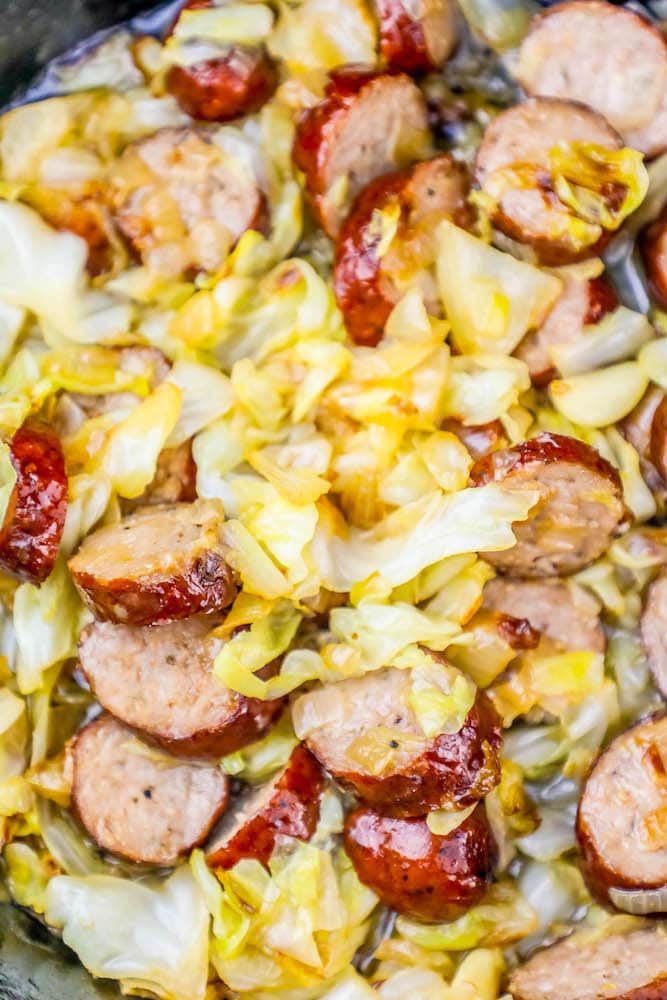 The Best Pan Fried Cabbage and Sausage Recipe
If you love this The Best Pan Fried Cabbage and Sausage Recipe as much as I do, please write a five star review (click the stars below)in the comment section below and help me share on facebook and pinterest!
CONNECT WITH SWEET C'S!
Be sure to follow me on social media, so you never miss a post!
Facebook | Twitter | Youtube | Pinterest | Instagram
Only have 30 minutes to get dinner on the table? Sign up for my 30 minute dinner plans direct to your inbox!
Find and shop my favorite products in my Amazon storefront here!
Yield:

6 people
The Best Pan Fried Cabbage and Sausage
The Best Pan Fried Cabbage and Sausage Recipe Ever is the perfect easy way to celebrate Saint Patricks Day with a one pot cabbage and sausage dinner skillet that is low carb and keto diet compatible, family tested and approved, and goes from the fridge to the table in under 20 minutes in just one pot! 
Ingredients
3 tbsp butter, grassfed preferably
1 white onion, diced
¼ cup garlic, whole or crushed cloves, skin off
1 cabbage, (use half if very large cabbage - whole head if small) sliced into thin strips
1 tsp salt, celtic sea salt preferred
1 lb polska kielbasa, sliced into thin rounds
Instructions
Heat butter in large pan on medium-high heat until melted and foamy.
Add diced onions to pan, cook until soft and transparent, about 4 minutes. Stir to prevent sticking or burning.
Add garlic to pan, cook until fragrant and soft, about 3 minutes.
Add cabbage to pan and toss well to coat in butter.
Generously season with salt.
Let cabbage reduce by half, about 10 minutes, stirring occasionally as it cooks down to prevent burning and allow it to cook evenly.
Slice smoked polska kielbasa into thin rounds and add to pan with cabbage and onions.
When cabbage has lost much of it's volume and started to turn shiny, slightly translucent, and has lovely browned bits - and polska kielbasa has browned slightly (smoked kielbasa has been cooked already, so you're just adding some browning and flavor to it), it is ready to serve.
Remove from heat and plate with your favorite meat, casserole, fish, or other main dish!
Nutrition Information
Yield
5
Amount Per Serving
Calories

104
Saturated Fat

3g
Cholesterol

15mg
Sodium

467mg
Carbohydrates

12g
Fiber

4g
Sugar

5g
Protein

2g