Dill Pickle Pasta Salad is a tangy and crunchy pasta salad made with pickles, pasta, and a creamy dressing. Perfect with BBQ, burgers, alongside pork or chicken, and for potlucks!
Don't want all the extras in a recipe post? We provide a skip to recipe button in the top left corner, as well as a clickable table of contents, just below, to help make this page easier to navigate.
Creamy Pasta Salad With Pickles
Creamy Pickle Pasta Salad is a delicious and flavorful pasta salad that combines the tangy taste of dill pickles with a creamy dressing.
The pasta is combined with diced pickles, red onion, celery, and carrots, and then coated in a mixture of mayonnaise, sour cream, apple cider vinegar, dill pickle juice, sugar, salt, and pepper. The result is a tangy and crunchy pasta salad that is perfect for summer barbecues, picnics, or potlucks.
The flavors will develop and meld together as the salad chills, making it an ideal make-ahead dish, perfect for BBQs and cookouts, with Smoked Pork Ribs, Easy Smashburgers, or main dishes like Baked Pork Tenderloin!
How to Make Dill Pickle Pasta Salad
To make this recipe, you will need the following ingredients:
Rotini Pasta. Cooked pasta, which is the base of the dish, provides a neutral canvas for the other flavors to shine. The cooked and ready pasta is a great starting point, as it provides a sturdy base for the other ingredients.
Sliced pickles. The sliced pickles are the star of the dish, providing a tangy, briny flavor that balances out the richness of the dressing. The pickles also add a crunchy texture to the salad, which is a great contrast to the soft pasta.
Diced cheddar cheese. The diced cheddar cheese adds a sharp, salty flavor that complements the pickles. The cheese also provides a creamy texture and helps to bind the ingredients together.
Mayonnaise and sour cream. The mayonnaise and sour cream are the base of the dressing, providing a creamy texture and richness to the dish.
Pickle Juice, Dill, Pepper, & Celery Seed. The addition of pickle juice, dill, celery seed, and pepper add additional flavor and depth to the dressing, making it tangy and well-rounded.
Once you've gathered your ingredients, we will use the following process:
Prep. Cook pasta to al dente, drain well. Set the cooked pasta aside in a large bowl. 
Mix dressing. In a medium bowl, mix together the: mayo, sour cream, pickle juice, dill, celery seed, and pepper. 
Mix pasta. Add the pickles, cheese and onion to the pasta. Mix. Add in the dressing and mix to coat. 
Chill. Refrigerate for 1-2 hours at minimum.
Enjoy! Serve cold and enjoy!
Tips and Tricks to Perfect Dill Pickle Pasta Salad
Use the right pasta: Choose a pasta shape that will hold onto the dressing, such as rotini or elbow macaroni.
Cook the pasta properly: Make sure to cook the pasta al dente, which means that it should be firm to the bite. Overcooked pasta will become mushy in the salad.
Chill the pasta: After cooking, rinse the pasta with cold water to stop the cooking process and to cool it down. This will help the pasta absorb the dressing better.
Use good quality pickles: Choose high-quality, crunchy dill pickles for the best flavor.
Cut the pickles evenly: Make sure to cut the pickles into small, evenly sized pieces so that each bite of the salad has a good balance of ingredients.
Make the dressing ahead of time: The flavors of the dressing will develop and meld together if you make it a day in advance. This will make the salad even tastier.
Chill the salad: Letting the salad chill in the refrigerator for at least an hour (or overnight) will allow the flavors to intensify and the pasta to absorb the dressing.
Stir in the cheese at the last minute: Adding the cheese just before serving will help it to retain its texture and flavor.
By following these tips, you can make a perfect Dill Pickle Pasta Salad that is tangy, creamy, and delicious. Enjoy!
FAQs
How do I store this recipe?
Pasta salad can be kept in the refrigerator for up to 4 days in an airtight container – but we find the texture is best for 1-2 days.
Do I need to chill this salad?
Pasta salad with mayonnaise is best when served chilled – to keep the salad safe to consume, keep the mayonnaise from separating, and enhance the flavors.
Can I add anything to this salad?
We love peas, broccoli, or diced ham mixed in as well!
What to Serve With Dill Pickle Pasta Salad
We love to serve pasta salads with BBQ food, meats, and main dishes – the rich creamy pasta is a great side for potlucks! Try our Smoked Pulled Pork, Crunchy Baked Chicken Drumsticks, or Perfect Grilled Chicken Breasts!
For more of our BBQ main dishes, find our recent favorites here:
Dill Pickle Pasta Salad Recipe
If you love this easy recipe please click the stars below to give it a five star rating and leave a comment! Please also help me share on facebook and pinterest!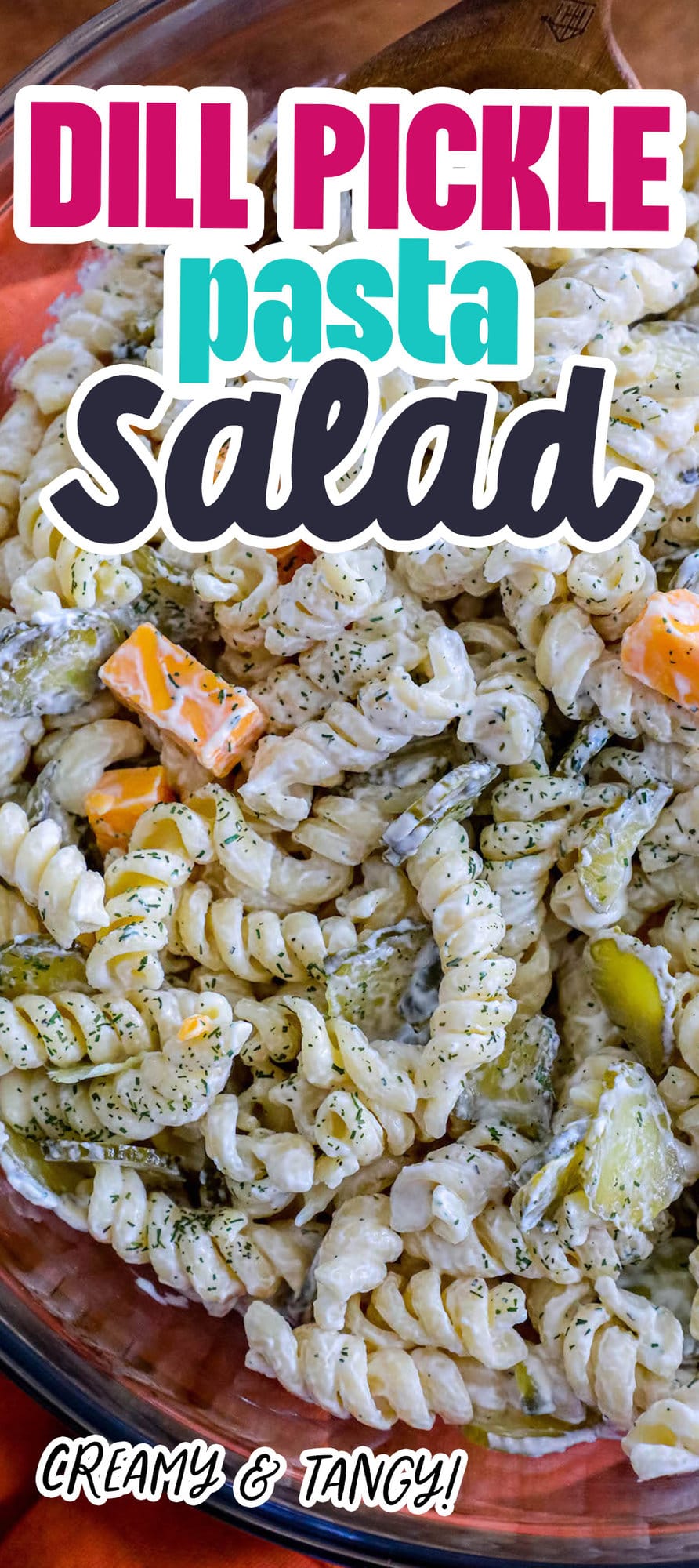 CONNECT WITH SWEET C'S!
Be sure to follow me on social media, so you never miss a post!
Facebook | Twitter | Youtube | Pinterest | Instagram
Only have 30 minutes to get dinner on the table? Sign up for my 30 minute dinner plans direct to your inbox!
Find and shop my favorite products in my Amazon storefront here!
Yield:

8 servings
Creamy Dill Pickle Pasta Salad
Creamy tangy pasta salad with mayonnaise, dill pickles, cheese, and tons of homestyle flavor!
Ingredients
One box of pasta, cooked al dente
3/4 cup pickles, sliced
2/3 cup cheddar cheese, diced
2/3 cup mayonnaise
1/3 cup sour cream
4 tbsp pickle juice
1 1/2 tsp dill
1 tsp celery seed
1/2 tbsp pepper
Instructions
Set the cooked pasta aside in a large bowl.
In a medium bowl, mix together the: mayo, sour cream, pickle juice, dill, celery seed, and pepper.
Add the pickles, cheese and onion to the pasta. Mix. Add in the dressing and mix to coat.
Refrigerate for 1-2 hours at minimum. Serve cold and enjoy!
Nutrition Information
Yield
8
Serving Size
1
Amount Per Serving
Calories

220
Total Fat

19g
Saturated Fat

5g
Trans Fat

0g
Unsaturated Fat

13g
Cholesterol

24mg
Sodium

520mg
Carbohydrates

8g
Fiber

1g
Sugar

2g
Protein

4g
Nutrition is automatically calculated by Nutritionix - please verify all nutrition information independently and consult with a doctor or nutritionist for any and all medical and diet advice.