Easy baked zucchini parmesan skillet recipe - cheesy baked zucchini loaded with marinara, mozzarella, and parmesan flavor that takes just 30 minutes!
This zucchini parmesan skillet is bursting with flavor - tons of delicious melty cheese, sauteed garlic and zucchini, and it's great on it's own or spooned over pasta, rice, or cauliflower rice.
This skillet is one of my favorite ways to get my kids to eat vegetables - I hope your family loves it as much as we do!
This easy zucchini skillet is one of our favorite simple, easy, delicious weeknight meals - and it can be made completely keto!
While you will need to pay attention to sugars in your marinara sauce (find one with lower sugar to cut this recipe to under 10 carbs per serving), this meal can be a simple meat-free addition to your meal planning that works into your macros!
Just Take Me To The Baked Zucchini Parmesan Skillet Recipe Already!
I have a lot of readers who have lots of questions and want more information in their recipes, so I try to provide lots of information to help anyone feel confident in the kitchen.
If you would like to skip over my tips and tricks, please click the "skip to recipe" button in the top left corner, or scroll to the bottom of the post.
How To Store and Reheat Baked Zucchini Parmesan
To store leftovers, place zucchini parmesan in an airtight container with a tight fitting lid.
Keep in refrigerator for up to three days.
To reheat, bake in oven safe dish, covered, until piping hot.
Add more cheese on top for best results.
How to Make Baked Zucchini Parmesan
This baked zucchini parmesan is super simple and loaded with flavor - but it is best to follow a few steps for better flavor.
Brown Vegetables
While you can skip this and bake the entire dish without browning first, I strongly suggest browning vegetables before baking in marainara sauce.
Browning zucchini and garlic will help to develop a rich, buttery flavor - and will help prevent the zucchini from taking on too much water from the marinara sauce and feeling soggy.
Brown vegetables in a pan on the stove with butter for not more than five minutes for the best flavor, stirring occasionally to prevent burning.
We don't want to cook zucchini thoroughly - that will be done when we bake the whole skillet - but just soften the flavors and get a little caramelization on the vegetables for maximum flavor.
Layer Cheese and Sauce
Once your vegetables have browned, it is time to sccop lotss of marinara sauce, fresh basil and oregano and other herbs, sprinkle parmesan cheese, and top with slices of mozzarella cheese.
Don't be afraid of lots of fresh herb flavor - this dish is entirely meat free, and can benefit from lots of fresh basil and oregano flavor if you have any on hand.
I love the bright, fresh flavor a few cut herbs bring to this dish!
Bake
Bake, uncovered, at 350 degrees for about 20 minutes - until cheese is bubbling and melted.
For best flavor, pop under broiler for 3-5 minutes just before serving to let cheese crisp up a bit.
What to Serve With Baked Zucchini Parmesan
This zucchini parmesan is a delicious keto and low carb main dish or side - but if you're not watching carbs, you can also serve it over pasta or rice!
What to Serve With Baked Zucchini Parmesan
Other Zucchini Dishes You'll Love
If you're like us and always have a ton of zucchini in summer, be sure to check out our favorite dishes, all loaded with our favorite summertime squash!
And be sure to check out my one pot cheesy taco skillet - which sneaks in tons of fresh zucchini into taco meat in a way kids NEVER notice!
My son is no fan of zucchini, but he loves this dish!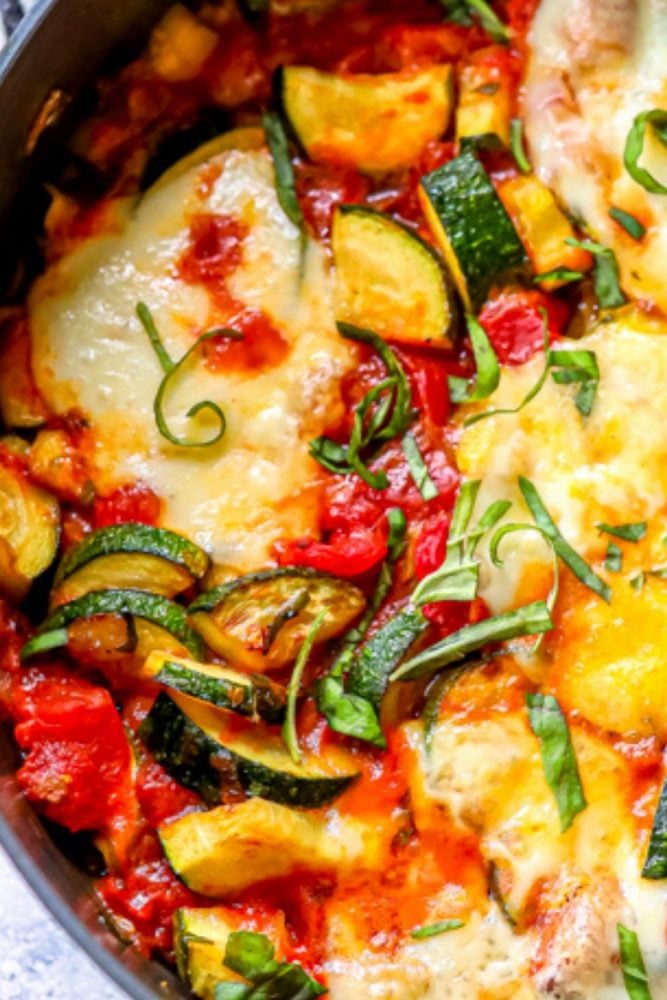 The Best Zucchini Parmesan Skillet Recipe Ever
If you love this easy cheesy zucchini recipe, please give it a five star review and help me share on facebook and pinterest!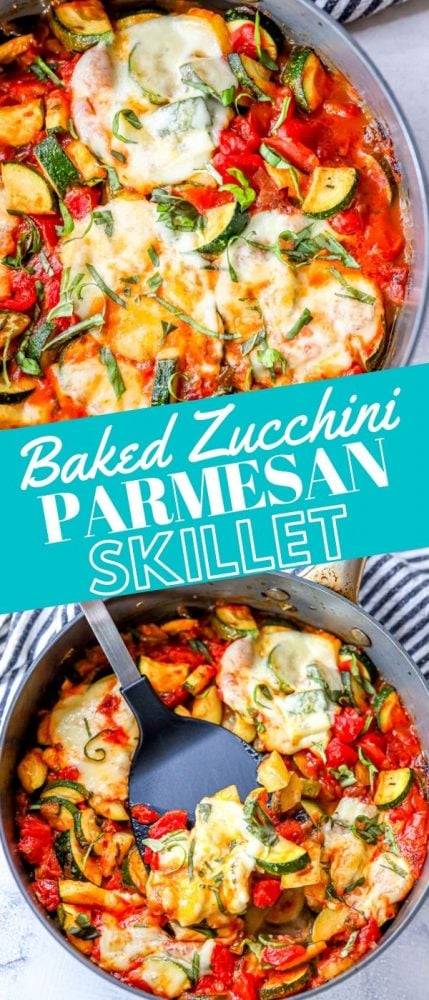 CONNECT WITH SWEET C'S!
Be sure to follow me on social media, so you never miss a post!
Facebook | Twitter | Youtube | Pinterest | Instagram
Only have 30 minutes to get dinner on the table? Sign up for my 30 minute dinner plans direct to your inbox!
Find and shop my favorite products in my Amazon storefront here!
Yield:

6
Easy Baked Zucchini Parmesan Skillet Recipe
Easy baked zucchini parmesan skillet recipe - cheesy baked zucchini loaded with marinara, mozzarella, and parmesan flavor that takes just 30 minutes!
Ingredients
3 tablespoon salted butter 
1 large shallot, diced
4 cloves garlic, diced
3 medium sized zucchini squash, halved and cut into half-moons (about 4 cups when cut)
1 teaspoon celtic sea salt (regular sea salt will work fine)
1 teaspoon fresh cracked black pepper
1 teaspoon italian herbs
24 oz bottle marinara sauce (watch sugars if keeping keto)
½ cup grated parmesan cheese
8 oz mozzarella ball, sliced into thin slices
Instructions
Preheat oven to 350 degrees.

Add butter (or olive oil) to heavy nonstick pan and heat over medium high heat until melted and foamy.

Add shallot and garlic to pan and cook 2 minutes, until fragrant and soft, stirring occasionally to prevent burning.

When shallot is slightly browned and fragrant, add zucchini to pan and season well with salt, pepper, and herbs.

Sauteé until just softened and browned, another 3-5 minutes, stirring occasionally to prevent burning.

Season well with herbs, salt, and pepper.

When zucchini has browned, remove from heat.

Sprinkle parmesan over zucchini, toss to coat.

Stir in marinara sauce over zucchini and onions.

Layer slices of mozzarella over skillet.

Bake 20 minutes, until cheese is bubbling and melted.

Remove and top with fresh basil, if desired.

Serve immediately.
Nutrition Information
Yield
6
Serving Size
1
Amount Per Serving
Calories

291
Total Fat

19g
Saturated Fat

10g
Trans Fat

0g
Unsaturated Fat

7g
Cholesterol

55mg
Sodium

1402mg
Carbohydrates

17g
Fiber

4g
Sugar

9g
Protein

14g
Nutrition is automatically calculated by Nutritionix - please verify all nutrition information independently and consult with a doctor or nutritionist for any and all medical and diet advice.
Sweet C's Favorite Recipes
If you love this baked zucchini parmesan, be sure to check out our reader favorites!
Each are tried and true viral reader hits that are full of flavor your family will love!
Sweet C's Favorite Recipes
Favorite recipes from Sweet Cs Designs