One Pot Cheesy Taco Skillet- this easy, delicious, veggie packed beef taco skillet meal is quick and great for a budget- as well as a low carb diet!
Easy cheesy beef taco skillet dinner that is perfect for burrito bowls, salads, skillet tacos, and more with tons of hidden vegetables that kids will eat!
Here at Sweet C's, we have lots of types of readers - those who like to get straight to the recipe, and those who would like more information, including tips and tricks to feeling more comfortable in the kitchen.
We provide a skip to recipe button in the top left corner, as well as a clickable table of contents, just below, to help make this page easier to navigate.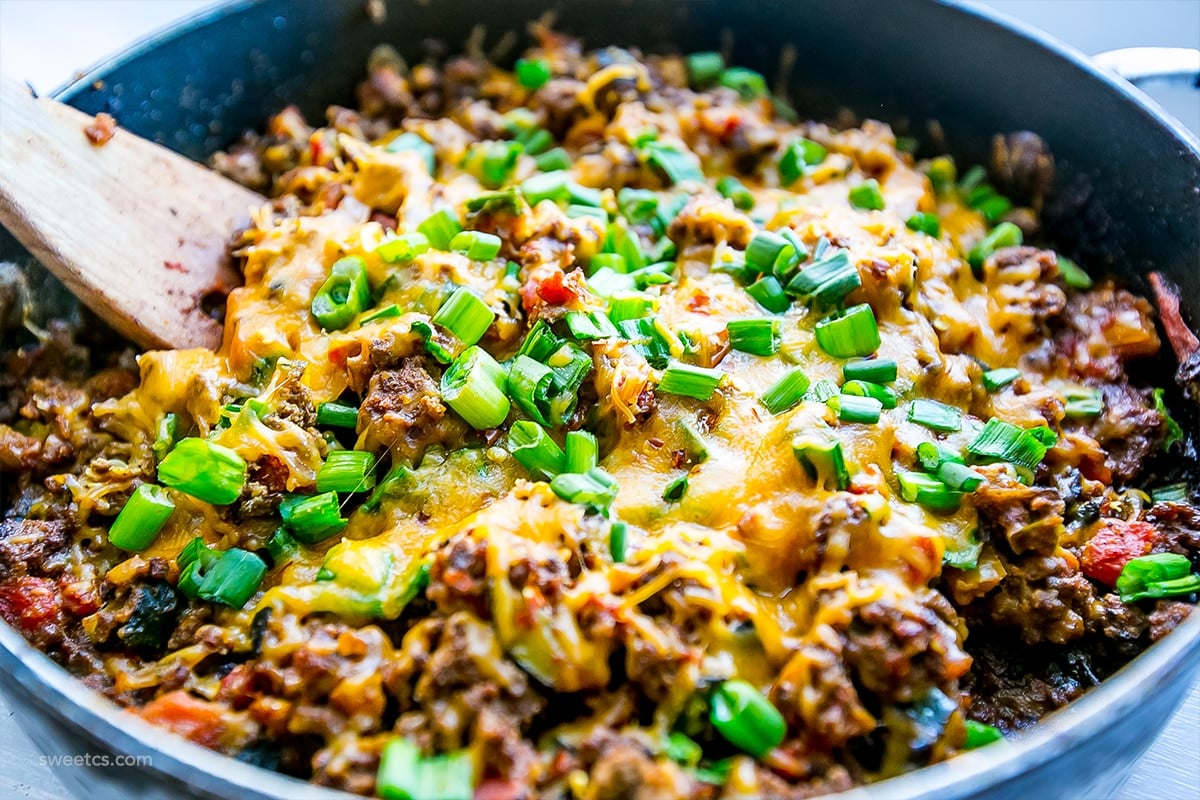 Taco Skillet Dinner
Nothing gets our family to gather around a table faster than two things- tacos and cheese. Mention either one, and my family is ready for a feast!
For us, quick, hearty, and secretly-packed-with-veggies meals are our go to options- and this One Pot Cheesy Taco Skillet is one that doesn't disappoint! This recipe is the perfect beef taco skillet dinner that is packed with vegetables, beef taco flavor, and tons of ooey, gooey melted cheese for a low carb taco skillet that is great for keto dieters and fans of low carb tacos.
We are often trying out low-carb diets, which can be a bit tricky to stay happy and satisfied on - but these cheesy taco skillets are packed with meaty, hearty flavor that work well to keep us motivated! This large skillet dinner has ground beef, peppers, onions, green onions- and we're sneaking in some spinach for an extra nutritional hit. And while we're using beef here, you could use ground turkey or ground chicken as well for an even healthier option. It's a sort of one pot taco burrito bowl that is low carb - for a low carb keto taco skillet that will work on a number of special diets!
This skillet is delicious topped with cheddar, monterey jack, a mexican cheese blend, sour cream - salsa, guacamole - anything you'd like to help take it over the top even more. It is truly customizable. And thanks to a heaping dose of cheese, it doesn't taste like diet food at all.
This One Pot Cheesy Taco Skillet recipe is incredibly low carb- but you can also reduce the calories by using ground chicken or turkey meat, and using a skim cheese like mozzarella (though I am a proponent of full fat, gooey cheese!).
I also have an incredibly hearty and delicious meaty version of this - that is COMPLETELY vegan! I know that sounds hard, but it is so good - and deceptively simple. Get my Meaty Vegan Taco Skillet Recipe here.
Taco Skillet Recipe Ideas
-8 oz sliced or chopped cremini mushrooms help to boost the meaty skillet flavor and are a great low carb, low calorie option!

-Fresh roasted green chiles make an exceptional addition for a spicy, smoky kick!

-Canned ro-tel diced tomatoes with spices are a great extra flavorful addition instead of plain diced tomatoes. Alternatively, cherry tomatoes or fresh hothouse or roma tomatoes, diced, give a ton of fresh flavor.

-Diced beet greens or arugula are lovely, slightly peppery substitutes to kale or spinach.

-Fresh shredded carrots mixed with pickled jalapenos makes an awesome topper when the skillet is done - similar to fresh carrot and jalapeno salsa from a mexican restaurant.

-Turnips, squash, sweet potatoes, and other root veggies, when shredded or diced into small bites, make an awesome addition if you're not watching starches or carbs!

-Red pepper - I love red pepper strips in skillet tacos - the red pepper brings a delicious tangy and smoky-sweet flavor.

-Mix in ground sausage to your beef mixture for a rich, hearty flavor everyone loves.

-Stir in cauliflower rice and cook as a low carb one pot taco skillet!

-Make this taco skillet low carb by using your own mixture of turmeric, paprika, chili powder, garlic powder, cayenne pepper, and cumin.
Tips to Make The Perfect Skillet Taco Burrito Bowls & FAQs
I like to serve this meal over a bed of lettuce or greens- like a Chipotle Burrito Bowl- but you can also add it over rice or dump it in a taco or burrito, too!
Use high heat. For this recipe, you want to cook as high enough as you can without burning anything. Since there are so many variations to stovetops, pan choices, and how much moisture is in your veggies and meat, this will vary per person. Keep the pan hot, without burning - on whatever setting that represents on your stove.
Don't drain the fat. Don't drain off excess liquid from the breakdown of the vegetables. When you add the taco seasonings, this will help to create a deliciously rich and meaty sauce that packs a huge punch of flavor!
Don't rush cook time. Don't rush the cooktime on the vegetables. Getting a nicely browned veggie is crucial for flavor development!
Break up meat if making in slow cooker. If making in a slow cooker, pre-brown the meat, or check on it frequently while meat is browning - or you'll have a giant lump of meat not too unlike clumps of oddly shaped meatloaf, and less like tacos.
Add carbs if you'd like. Forget low carb - this taco bowl dinner also makes a mean pasta salad or rice bowl- simply dump over macaroni for a delicious cheesy macaroni taco skillet!
FAQs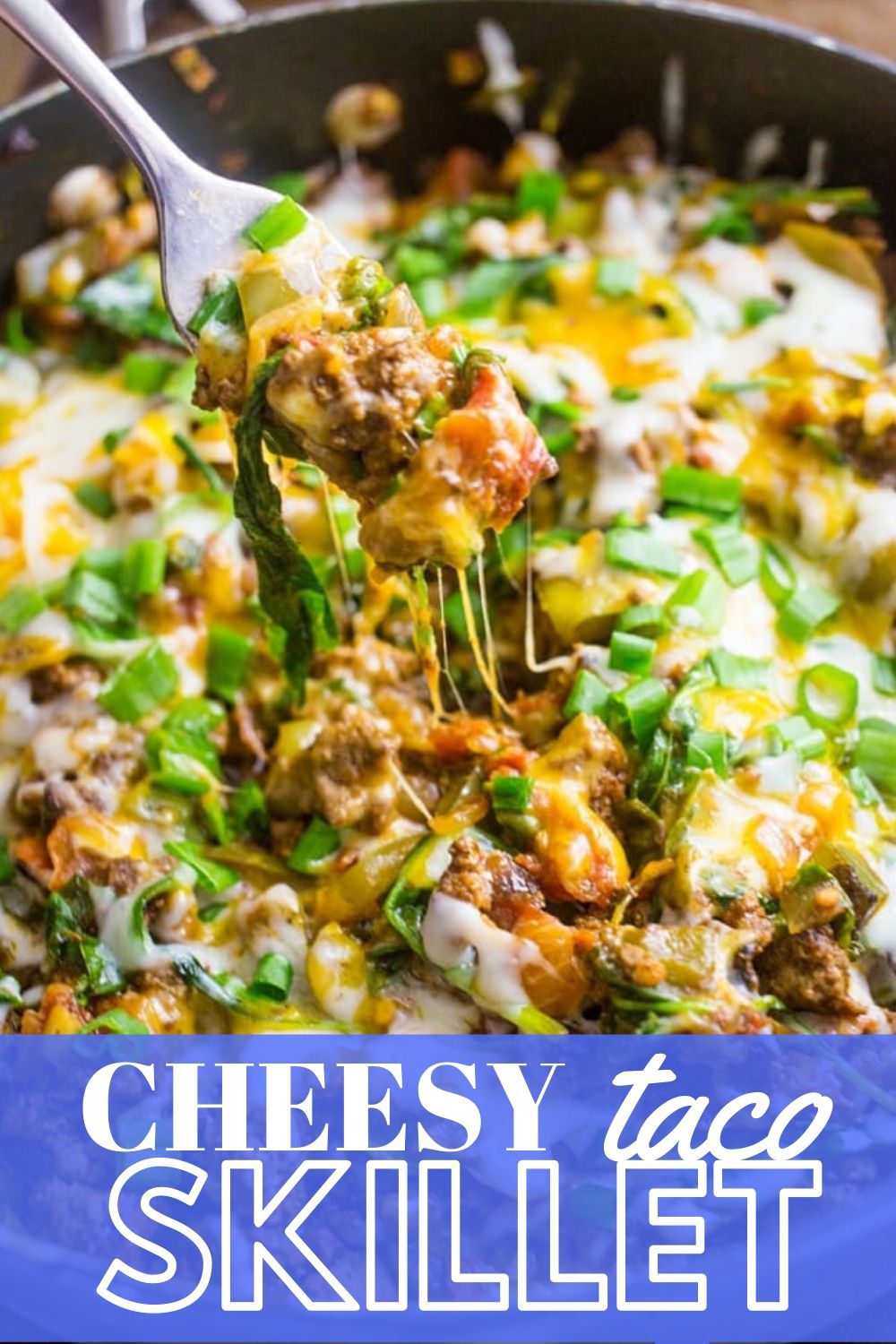 What to Serve With Cheesy Taco Skillet
If you love this easy cheesy skillet, be sure to check out some of my favorite side dishes to bring that Southwest flavor you crave - like our Spicy Garlicky Beans, creamy and cool Avocado Tomatillo Salsa, crunchy and delicious Easy Frito Pie Casserole, or some Bacon Wrapped Cheddar and Garlic Jalapeno Poppers!
And if you're looking for an even easier and healthier version, check out this Slow Cooker Chicken Taco Bowl recipe!
One Pot Cheesy Taco Skillet Recipe
If you love this One Pot Cheesy Taco Skillet Recipe as much as I do, please write a five star review, and be sure to help me share on facebook and pinterest!
CONNECT WITH SWEET C'S!
Be sure to follow me on social media, so you never miss a post!
Facebook | Twitter | Youtube | Pinterest | Instagram
Only have 30 minutes to get dinner on the table? Sign up for my 30 minute dinner plans direct to your inbox!
Find and shop my favorite products in my Amazon storefront here!
Yield:

6 servings
One Pot Cheesy Taco Skillet
One Pot Cheesy Taco Skillet– this easy, delicious, veggie packed beef taco skillet meal is quick and great for a budget- as well as a low carb diet! Easy cheesy beef taco skillet dinner that is perfect for burrito bowls, salads, skillet tacos, and more with tons of hidden vegetables that kids will eat!
Ingredients
1 lb lean ground beef
1 large yellow onion, diced
2 bell peppers, diced
1 can diced tomatoes with green chilis
1 large zucchini, shredded
taco seasoning
3 cups baby kale/spinach mixture (this sounds like a lot- it cooks down to a small amount)
1 ½ cup shredded cheddar and jack cheese
green onions, to garnish
Instructions
In a large pan, lightly brown ground beef and crumble well.
Drain excess fat.
Add onions and peppers, and cook until browned.
Add canned tomatoes, taco seasoning, and any water needed for taco seasoning to evenly coat mixture (up to 1 tbsp- the liquid from the tomatoes will help)
Add greens and let fully wilt.
Mix well.
Cover with shredded cheese and let cheese melt.
When cheese is melted, serve over a bed of lettuce, rice, or in a taco or burrito!
Nutrition Information
Yield
6
Serving Size
1
Amount Per Serving
Calories

341
Total Fat

20g
Saturated Fat

10g
Trans Fat

1g
Unsaturated Fat

8g
Cholesterol

100mg
Sodium

626mg
Carbohydrates

9g
Fiber

1g
Sugar

3g
Protein

30g
Nutrition is automatically calculated by Nutritionix - please verify all nutrition information independently and consult with a doctor or nutritionist for any and all medical and diet advice.