Easy Chicken Teriyaki Noodles Recipe - the most delicious easy teriyaki chicken stir fry noodle bowl using ramen noodles, chicken breast, and broccoli - with tons of ideas on how you can make this dish your own!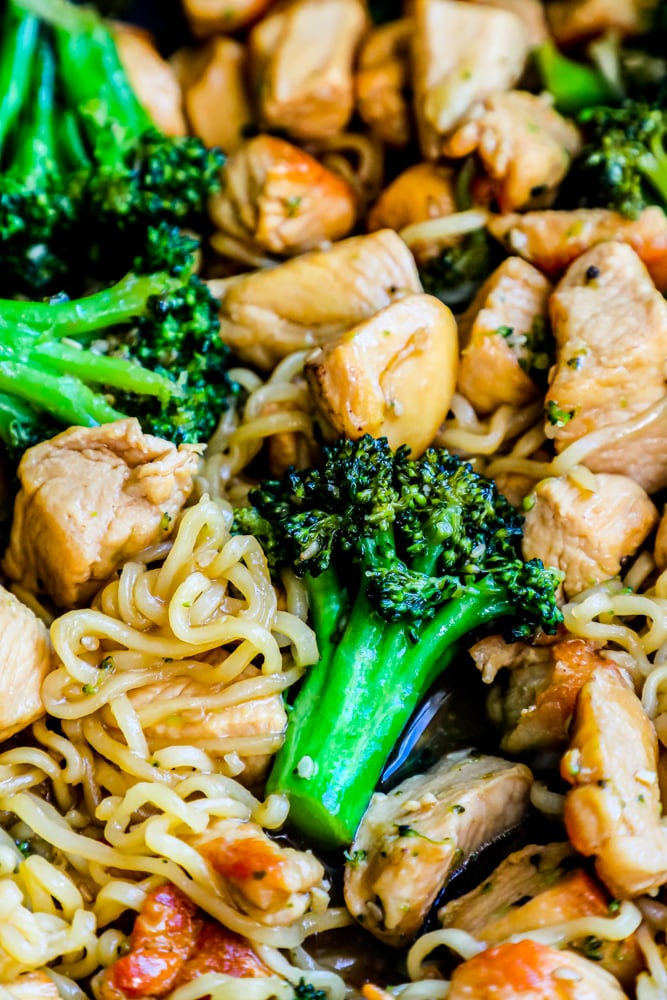 Chicken teriyaki noodle bowls are one of my favorite things to whip up when there isnt much time, but my kids are craving something comforting.
We love teriyaki, and make our Instant Pot Chicken Teriyaki and Keto Teriyaki Turkey rice bowls recipes often.
I designed this recipe to be really flexible - so if you have different ingredients on hand, you can easily swap out for something else.
Go ahead and add more vegetables, other meats, and really make this dish your own!
This noodle bowl recipe is truly customize-able - in the text below I am going to tell you how to use chicken breasts or thighs, broccoli or other vegetables - as well as what noodles to use - so you can make this dish your own.
There is also an incredibly delicious low-calorie keto version of this dish, just before the printable recipe at the bottom.
Just Take Me To The Recipe Already!
I get a lot of questions from readers about ingredient swaps, storing and reheating, as well as basic cooking info - and to make Sweet C's more useful for readers who aren't yet comfortable in the kitchen, we provide a lot of information in our posts.
If you'd rather skip over all this extra text, please click the "skip to recipe" button in the top left corner.
Homemade Teriyaki Sauce Recipe
Making your own teriyaki sauce is easy at home - it's great on vegetables, meats, and fish - and is great as a sauce or a marinade.
Homemade Teriyaki Sauce Ingredients
1 tablespoon cornstarch (skip for keto version)
⅓ cup reduced sodium soy sauce (use teriyaki coconut aminos for keto version)
¼ cup brown sugar (use teriyaki coconut aminos for keto version)
3 cloves garlic, minced
1 tablespoon freshly grated ginger
2 tablespoons honey (use teriyaki coconut aminos for keto version)
How To Make Teriyaki Sauce
In a small saucepan over medium heat, add soy sauce, brown sugar, garlic, ginger, honey and 1 cup water; bring to a simmer.
As sauce simmers, in a small bowl, whisk together cornstarch and ¼ cup water.
Stir in cornstarch mixture until thickened enough to coat the back of a spoon, about 2 minutes; let cool to room temperature.
What Chicken To Use For Noodle Bowl
While I am calling for boneless skinless chicken breast in this recipe, you can also use chicken thighs - whatever you have on hand!
Boneless, skinless chicken breast, cut into 1" chunks works the best in this recipe.
Chicken breast has a light, clean flavor and is easy to cook - but it can be dry when overcooked.
For best results using the recipe below, marinate the chicken in homemade teriyaki sauce overnight to prevent your chicken from drying out or getting tough.
To use chicken thighs, remove skin and bones, and cut into 1" chunks.
Since chicken thighs have more fat, they are less likely to dry out, and have a richer, more pronounced chicken flavor.
Cook time for chicken thighs is normally higher, but because we're removing skin and bones from chicken thighs and cutting into small chunks, chicken thigh will cook in the same time in this recipe - no need to worry about changing cooking methods if using chicken thighs.
Teriyaki Noodle Bowl Vegetables
This noodle bowl workss really well for whatever vegetables you have on hand - aim for a cup to a cup and a half of vegetables for this dish.
We're only slightly browning and softening vegetables in the recipe below - if you'd like softer vegetables, add a few minutes to saute time until you get to your desired doneness.
I am calling for broccoli in this recipe since it is easy to cook, tastes great with chicken, its easy to find, and offers great nutrition.
I personally light to cook broccoli to just slightly soft - with a slight bite left to it.
If you like softer broccoli, you can cook it longer to get to the perfect texture!
For a sweet crunch, I love to use snap peas in stir frys.
Use 1 cup + snap peas.
To use snap peas in this recipe, wither cut in half or keep whole (I prefer to keep whole).
After removing woody stems, cut asparagus into 1" bites.
For this recipe, I reccomend using one bell pepper, diced into 1" bites.
I try to stir peppers less to get a little charring on the skin - I like a little more caramelization on bell peppers.
What Noodles To Use For Teriyaki Noodle Bowls
This recipe can also be adapted to whatever noodles you have on hand, so it's incredibly flexible!
You can even use ramen noodles if you have them on hand - or keto noodles!
If you have yaki soba noodles (you can find in your grocer's refrigerator case), without the sauce/flavorings packet.
To cook, add to boiling water for 2 minutes until soft. Rinse well, drain, and use in dish.
If you always have packets of dried ramen oon hand like we do at our house, you can totally use it for thiss recipe!
Discard seasoning packet, and boil ramen noodles until softened enough you can unroll noodles from sheet - but don't cook all the way through, since it will be tossed in the sauce and cooked the rest of the way at the end of the recipe.
If you're on a keto diet, shirataki noodles are a fabulously easy swap for this recipe.
Shirataki noodles are light, springy, and have a clean taste - and are made from a Japanese yam.
Shirataki noodles are low carb and low calorie, but need to be prepared according to package directions to remove the fermented smell when adding to stir frys.
How To Store Leftover Chicken Broccoli Noodle Bowls
To store leftovers, place in a plastic bag or an airtight container in the refrigerator for up to four days.
Leftovers can be frozen in a plastic bag for up to four months. Thaw naturally in refrigerator overnight before reheating.
How To Reheat Teriyaki Chicken Noodle Bowls
To reheat leftovers, I opt to avoid to reheat in the microwave as much as possible.
I find the best results with noodle bowls when adding 1 tbsp olive oil to a nonstick pan, heat until shimmery. Add noodles, chicken, and broccoli and heat until piping hot, stirring to prevent from sticking.
If noodles are a bit dry, add 1 tbsp water to pan. Add more water, 1tbsp at a time, as needed.
Reheating in the Microwave
To microwave, place in a microwave safe bowl. Heat for 2-3 minutes, until piping hot. Stir after 1 minute to help heat evenly.
Other Noodle Dishes You'll Love:
If you love this easy noodle bowl dinner, please check out some of my favorite easy noodle dinners, especially my Tahini Noodles (the flavor is out of this world delicious!)