This Japanese inspired Asian miso dressing is a savory umami-rich aromatic flavor that is absolutely addictive. This dressing is perfect on greens, noodles, or as a dip!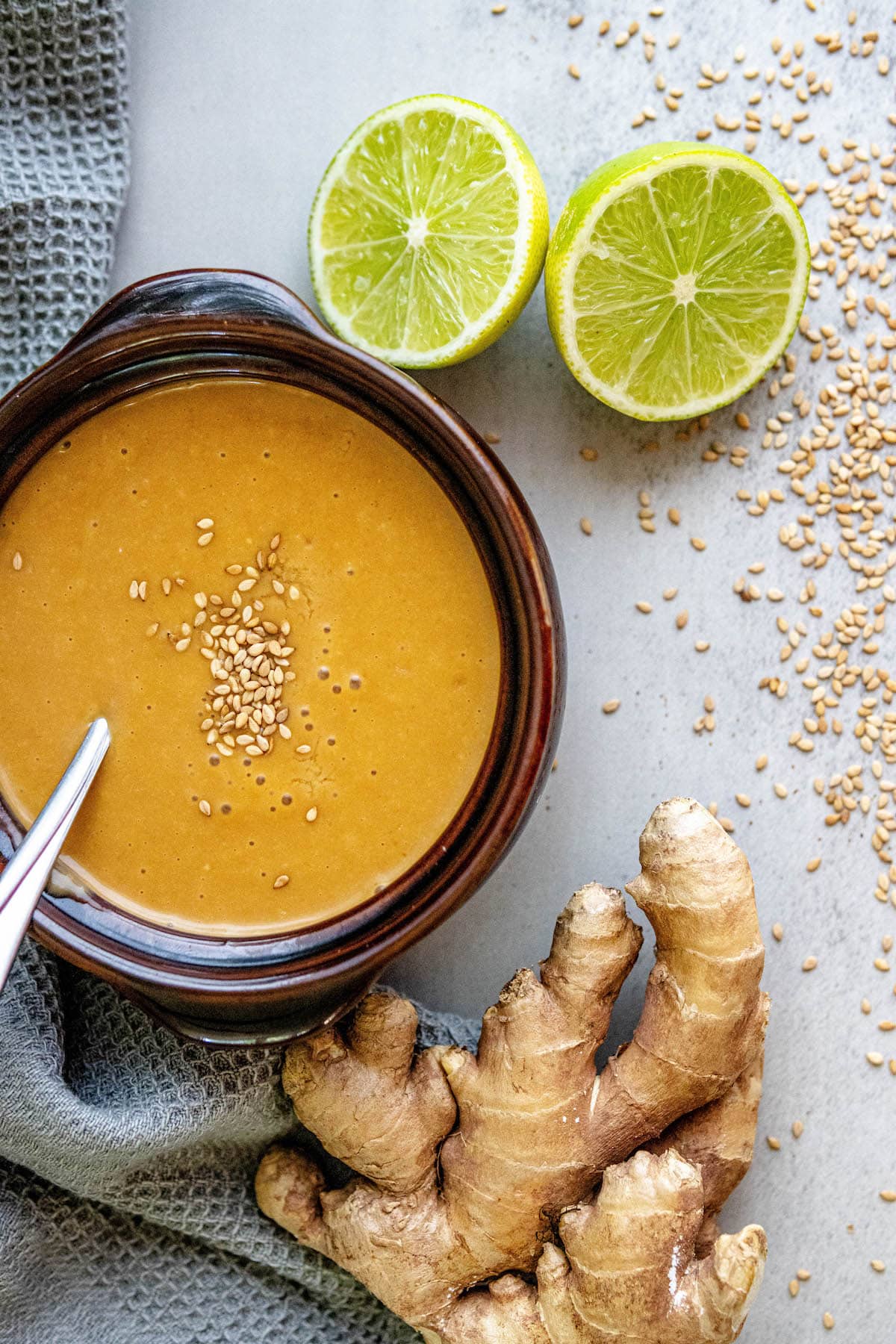 Don't want all the extras in a recipe post? We provide a skip to recipe button in the top left corner, as well as a clickable table of contents, just below, to help make this page easier to navigate.
Savory Miso Dressing
I first discovered miso when I was browsing the Asian section at the grocery store. It was a totally new ingredient for me but has become one of my absolute favorite things to add to all my marinades, soups, and dressings. Miso is a traditional Japanese seasoning and condiment that is made from fermented soybeans, salt, and a type of fungus called Koji which aids in the fermentation.
There are many different types of miso you can use for this recipe. White miso is the mildest and sweetest of the Misos since it isn't fermented as long. Red miso is fermented for the longest time and therefore has a richer deeper flavor and a darker color. Yellow miso is between white and red.
This dressing can be made with any type of miso but I prefer white or yellow for it. This dressing has a salty, nutty, earthy, unique aromatic flavor. It has a thick consistency similar to a ranch or Ceasar dressing which makes it ideal for noodles, salad, or as a dip.
How to make Miso Dressing
First you will need to assemble the following ingredients:
Yellow or white miso (2 tbsp) – miso is a fermented soybean condiment. It can be found in most grocery stores in the Asian foods section.
Rice vinegar (2 tbsp) – rice vinegar is going to give us a tangy hit, you can substitute apple cider vinegar if you don't have rice vinegar.
Lime juice (2 tbsp) – citrus will give the dressing a beautiful sharp flavor. You can substitute lemon juice if you prefer.
Fresh grated ginger (1 tsp) – ginger has a strongly aromatic flavor and will add a defining subtle heat to this dressing. You can use a tube of ginger puree if you dont have time to grate fresh ginger.
Garlic cloves (4) – garlic has a strong aromatic flavor and adds an earthy taste to this dressing.
Sesame oil (4 tbsp) – sesame oil has a very strong seed flavor and is very pungent but it gives this dressing that salty Asian flavor.
Olive oil (4 tbsp) – I use half olive oil and half sesame oil since the olive oil has a slightly bitter and much milder flavor.
Honey (2 tsp) – a little bit of honey will tone down the strong spicy and aromatic flavors and help balance everything out.
Cayenne pepper (? tsp) – a pinch of cayenne adds some heat to balance out the fermented miso and sweetness of the honey. You can omit this if you want the dressing to have no heat.
Once you have the ingredients, we use this method
Blend. Add all the ingredients to a blender and blend until smooth.
Add it. Use this dressing on salad, noodles, vegetables, or as a dip. It can be stored in the refrigerator in an airtight container or jar for up to 2 weeks.
Tips and Tricks to Perfect Miso Dressing
Use High-Quality Miso Paste: Start with a good-quality miso paste. White miso (shiro miso) is milder, while red miso (aka miso) is stronger and more savory. Choose the type that suits your taste preferences and the dish you're preparing.
Balance Sweetness and Saltiness: Miso paste is naturally salty, so it's essential to balance it with sweetness. Common sweeteners include honey, maple syrup, agave nectar, or brown sugar. Start with a small amount and adjust to taste.
Acidity Matters: Adding acidity, typically from rice vinegar or lime/lemon juice, brightens up the dressing and complements the umami of the miso. Adjust the acidity to your liking.
Experiment with Umami Boosters: To enhance the depth of flavor, consider adding umami-rich ingredients like soy sauce, tamari, or fish sauce. Use them sparingly and adjust to taste.
Use Fresh Garlic and Ginger: Freshly minced garlic and grated ginger offer a vibrant and aromatic flavor to the dressing. If you don't have fresh, you can use garlic and ginger paste.
Emulsify the Dressing: To prevent separation, whisk or blend the ingredients thoroughly until well combined. An immersion blender or a small food processor can help create a creamy and emulsified texture.
Adjust Consistency: If the dressing is too thick, you can thin it out with a bit of water or more vinegar. Conversely, if it's too thin, add more miso paste or a nut butter like tahini to thicken it up.
Taste and Adjust: Continually taste the dressing as you go along and make adjustments as needed. Balance the flavors of sweet, salty, sour, and umami to your liking.
Add Depth with Sesame Oil: A small amount of toasted sesame oil can add a rich, nutty flavor to the dressing. Start with a few drops and adjust gradually, as it can be quite potent.
Let It Rest: Allowing the dressing to sit for 10-15 minutes before using it can help meld the flavors. It often tastes even better after it has had some time to rest.
Use as a Marinade or Sauce: Miso dressing works well as a marinade for proteins like tofu, chicken, or fish. It can also be drizzled over salads, noodles, or roasted vegetables.
Storage: Store any leftover miso dressing in an airtight container in the refrigerator. It should keep for about a week or so.
FAQs
What does this miso dressing taste like?
Miso dressing has a really complex flavor. It is savory, salty, and rich in umami because of the fermented miso. If you use white miso it will have a sweeter flavor and if you use red it will have a robust umami. Yellow miso will give you a flavor in between.
How do I use this miso dressing?
There are a lot of ways you can use this delicious dressing. You can use this as a topping for green salad, it also goes great drizzled on roasted vegetables, as a marinate for tofu or meats, on sushi, or as a dipping sauce for fresh veggies or dumplings.
Is miso dressing healthy?
This is a very healthy dressing. It is a good source of protein, probiotics, and various vitamins plus the benefits of the garlic and ginger.
How long does miso dressing last in the refrigerator?
This dressing can be refrigerated for several weeks to a few months. Be sure to store it in an airtight container and give it a good shake or stir before use since it may separate.
Is Asian Miso Dressing spice?
I would describe this dressing as having an American's taste level "medium" heat. You can omit the cayenne to bring it down to low heat.
More Delicious Asian Inspired Recipes
Try these favorite Asian recipes next:
Click here to see all our salad dressing recipes!
Asian Miso Dressing Recipe
If you love this easy recipe please click the stars below to give it a five star rating and leave a comment! Please also help me share on facebook and pinterest!
Click here to view the web story for this recipe!
CONNECT WITH SWEET C'S!
Be sure to follow me on social media, so you never miss a post!
Facebook | Twitter | Youtube | Pinterest | Instagram
Only have 30 minutes to get dinner on the table? Sign up for my 30 minute dinner plans direct to your inbox!
Find and shop my favorite products in my Amazon storefront here!
Yield:

8 oz
Asian Miso Dressing
Delicious tangy, slightly spicy miso dressing is good on everything!
Ingredients
2 tbsp yellow or white miso
2 tbsp rice vinegar
2 tbsp lime juice
1 tsp fresh grated ginger
4 garlic cloves
4 tbsp sesame oil
4 tbsp olive oil
2 tsp honey
⅛ tsp Cayenne pepper
Instructions
Add all ingredients to a blender and blend until smooth.
Use it on green salad, noodles, on vegetables, or as a dip.
Keep in the fridge up to 2 weeks in a jar or airtight container.
Recommended Products
As an Amazon Associate and member of other affiliate programs, I earn from qualifying purchases at no extra expense to you.
Nutrition Information
Yield
8
Serving Size
1
Amount Per Serving
Calories

138
Total Fat

14g
Saturated Fat

2g
Trans Fat

0g
Unsaturated Fat

11g
Cholesterol

0mg
Sodium

159mg
Carbohydrates

3g
Fiber

0g
Sugar

2g
Protein

1g
Nutrition is automatically calculated by Nutritionix - please verify all nutrition information independently and consult with a doctor or nutritionist for any and all medical and diet advice.