Quick, delicious Chinese Garlic Green Beans are a family favorite - just like takeout green beans but so much better! Bursting with garlic and onion flavor that is so rich and delicious you'll want to lick the pan!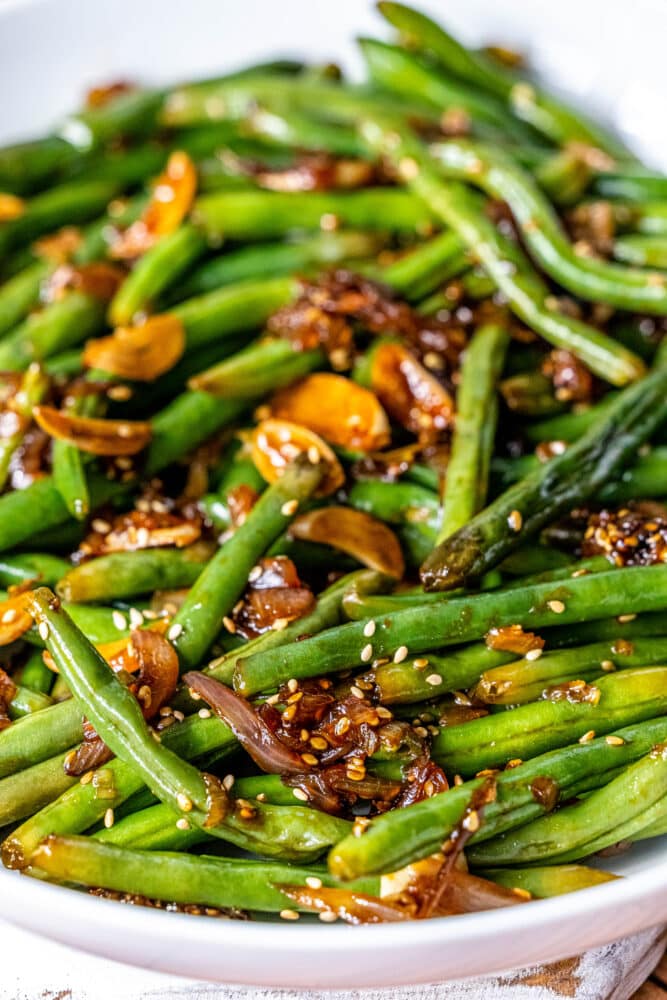 Don't want all the extras in a recipe post? We provide a skip to recipe button in the top left corner, as well as a clickable table of contents, just below, to help make this page easier to navigate.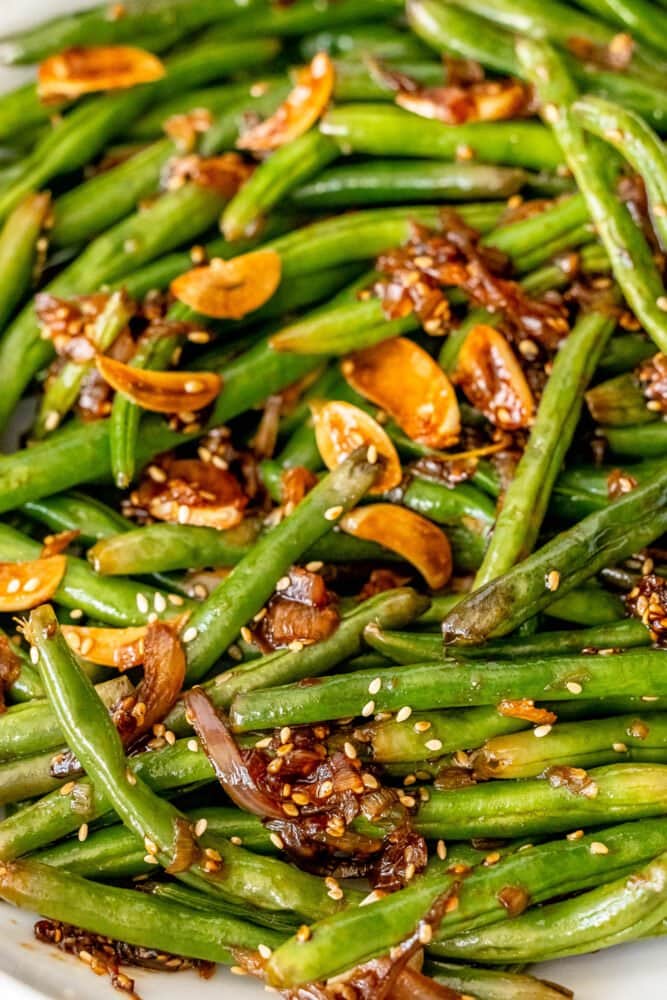 Takeout Style Green Beans
When I get takeout, I will admit vegetables are never the first thing I think to order.
It's not that I don't LOVE vegetables from Chinese food restaurants - I seriously do - it's just I tend to focus on the main dish and sort of end up ordering some random veggie on the side to make me feel less fat while I fuss over piles and piles of decadently greasy comfort food.
Except for Chinese style green beans. When I know a restaurant has particularly good green beans, I could make an entire meal out of just those!!! And Chinese Garlic Green Beans are one of the easiest things to make at home - and just about the only green bean preparation my kids will eat without much fussing.
A note on authenticity: this dish is not designed to be an authentic Mandarin dish - and is rather a take-off of American-style Chinese food takeout restaurant dishes, which is why I am referring to these green beans as "takeout-style". American takeout style dishes are often heavier and sweeter, and I love the way these taste!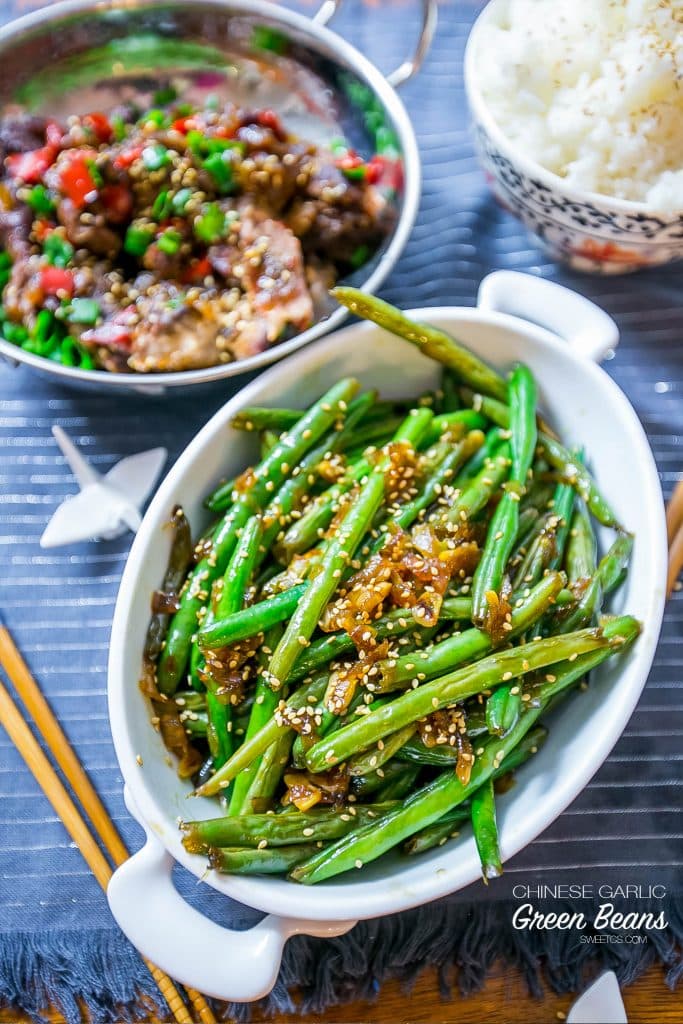 How To Make Chinese Garlic Green Beans
To make this recipe, you will need:
Sesame oil - sesame oil offers a rich, pungent flavor that is nutty, complex, and strong - it is a fantastic finishing oil that gives a strong flavor that is addictive with vegetables.
Diced shallots - shallots have a more subtle earthy flavor than onion, with a bit of a garlic flavor, and less heat. They are purple, adding a bit of color, and lend a sweet caramelized flavor when browned.
Sliced Garlic - for this recipe we're maximizing the strong, earthy flavor of garlic - and slicing it instead of dicing it. This provides larger chunks of garlic that brown and soften (watch to ensure they don't burn, which will taste bitter) - giving a stronger kick to this dish.
Trimmed fresh green beans - green beans have a light vegetal flavor and are great when still fairly crunchy al dente - making them a perfect side dish for when you're in a hurry or don't want to spend forever cooking a vegetable to soft. Be sure to trim the tips from green beans and remove any tough strings for the best flavor and experience.
Rice vinegar - rice vinegar is light vinegar with a sweet flavor that isn't overly sugary, and doesn't have as noxious an aroma as some vinegars. It lends an acidic bite that helps cut through the sweetness of oyster sauce and richness of the sesame oil.
Oyster sauce - oyster sauce is a thick sauce made from oysters and soy sauce - it tastes a lot like a combination of BBQ sauce and soy sauce, and is thick and sticky like a BBQ sauce. It lends a lovely sweetness that is amazing with vegetables.
Soy sauce - soy sauce has a savory, salty, slightly bitter umami flavor that is one of the most used sauces in the world - it lends complexity to this dish, as well as salty notes, so you don't have to add additional salt to the recipe.
Ginger - ginger has a spicy, sweet, peppery, and earthy flavor that is used in many Asian food recipes to intensify the flavor of the sauce.
Tips and Tricks to Perfect Chinese Garlic Green Beans:
This garlic sesame green beans recipe is easy and simple - but there are a couple tips and tricks to be sure you get perfect Chinese Restaurant Green Beans every time!
-Go By Your Tastes.
This recipe is a very adaptable dish - if there is something you'd like more or less of, try it out! Want more ginger? Add some! A bit of spice? Stir in some chilies! To get the best results, taste as you go, and don't be afraid to try new flavors. Just be sure to add any ingredients slowly - a little at a time - since you can always add more, but can't take additions out after you add them.
-Cook Green Beans to Your Preferred Doneness. People prefer green beans at different levels of doneness - I prefer mine slightly crunchy, but I have friends who like them limp and soft. For the best green beans, cook them to your preferred doneness - not the times I list below. Since there is no meat in this dish, you can cook this in more or less time without worrying about the internal temperature of the green beans, so cook it to the texture you prefer!
-Make it Vegan/Oil Free. This recipe can also easily be turned vegan and lent-friendly (without oil). For the oyster sauce, opt for a vegetarian/vegan brand (there are many - it is made from mushrooms instead of oysters) to make this dish vegan. If you're avoiding oil for lent, you can simply skip the oil and toss the garlic and shallots directly with the green beans. Reduce your heat to medium instead of medium high so your green beans, shallots, or garlic don't stick to the pan!
-Don't Crowd The Pan. I am a big believer in letting vegetables caramelize and soften to boost their flavor without adding calories - let your onions and green beans cook in a pan that is big enough that they aren't crowded on top of each other. Allowing your vegetables to have more space in a pan helps keep the pan hot, so vegetables brown instead of boiling.
FAQs
How long can I keep these green beans?
Garlic green beans can last in the refrigerator in an airtight container for up to four days, or frozen for up to four months.
Can I add meat to this dish?
This dish is fabulous with stir-fried diced pork, with air-fried tofu, shrimp, and with stir-fried thinly sliced beef.
Can I substitute sesame oil if I'm allergic?
If you're allergic to sesame oil, use olive oil instead. This will impact the flavor - as sesame has a very distinctive flavor that cannot be reproduced - but will remove the allergen. Please also skip the sesame seed garnish.
What can I use as a substitute for Oyster sauce?
For this recipe, we found the best oyster sauce substitute for those who want to skip oysters, are vegetarian or are allergic to shellfish is to combine equal parts of hoisin sauce and soy sauce, mixed together in a small bowl, in the amount of oyster sauce you will need.
Is this recipe keto?
To make this recipe low carb, please swap soy sauce for coconut aminos. You can also make your own vegan low carb oyster sauce using this recipe (it is SO delicious, whip up a huge batch and use it on everything!)
Other Easy Asian Inspired Dishes You'll Love:
Some of our favorites include our delicious, easy Kung Pao Shrimp Recipe, a deliciously simple and better than takeout Beef Thai Basil Stir Fry, a super simple and incredible flavorful shabu shabu dipping sauce, sweet and sour chicken straight from the Instant Pot (that cooks right with rice as well!), and Korean Grilled Flanken Ribs, and Slow Cooker Orange Chicken or Sesame Ginger Grilled Bok Choy!
If you love these one pot Chinese style green beans, you'll love some of my other favorite easy family-friendly dishes based off my favorite Asian restaurants!
You can find more Asian recipes here.
Garlic Chinese Style Green Beans Recipe
If you love this easy recipe please click the stars below to give it a five star rating and leave a comment! Please also help me share on facebook and pinterest!
CONNECT WITH SWEET C'S!
Be sure to follow me on social media, so you never miss a post!
Facebook | Twitter | Youtube | Pinterest | Instagram
Only have 30 minutes to get dinner on the table? Sign up for my 30 minute dinner plans direct to your inbox!
Find and shop my favorite products in my Amazon storefront here!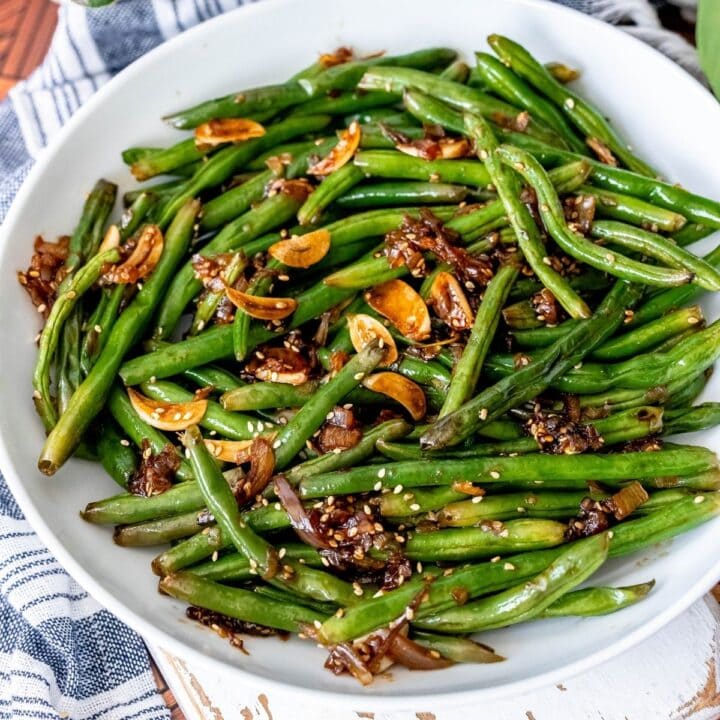 Yield:

4 servings
Garlic Chinese Style Green Beans
Quick, delicious Chinese Garlic Green Beans are a family favorite - just like takeout green beans but so much better! Bursting with garlic and onion flavor that is so rich and delicious you'll want to lick the pan!
Ingredients
1 tablespoon oil, peanut or sesame
2 shallots, diced (about 4 tbsp)
6 cloves garlic, thinly sliced
1 pound fresh green beans, trimmed
¼ cup rice wine vinegar
1 tablespoon oyster sauce
1 tablespoon soy sauce
½ teaspoon dry ginger
Sea Salt (to taste)
Instructions
In a large, heavy pan, heat oil until shimmery.
Add shallots and garlic, sitr frequently to prevent burning.
When shallows and garlic have browned slightly, add green beans and toss.
Cook about 8 minutes, until green beans start to soften.
Deglaze pan with rice wine, stir well.
Add sauces and ginger, mix.
Taste to see if the dish needs any salt (do check- or it might get too salty).
When green beans are as soft as you'd like them, remove and plate!
Recommended Products
As an Amazon Associate and member of other affiliate programs, I earn from qualifying purchases at no extra expense to you.
Nutrition Information
Yield
4
Serving Size
1
Amount Per Serving
Calories

114
Total Fat

4g
Saturated Fat

0g
Trans Fat

0g
Unsaturated Fat

3g
Cholesterol

0mg
Sodium

499mg
Carbohydrates

14g
Fiber

4g
Sugar

5g
Protein

3g
Nutrition is automatically calculated by Nutritionix - please verify all nutrition information independently and consult with a doctor or nutritionist for any and all medical and diet advice.