Easy Keto Tortilla Chips Recipe - delicious easy crunchy tortilla chips that are perfect for a keto diet! Low carb, gluten free, and works great in salsa and dips!
If you're starting a keto or other low carb diet, this recipe is the go-to for delicious, crunchy, tastes like the real thing - and they are shockingly easy!
These chips use almond flour and cheese to mimic the texture of a corn tortilla chip - they are crispy, crunchy, and stand up well in salsas and dips, plus make great keto nacho chips.
You can even flavor these chips with salt and pepper, garlic powder, olive oil, cumin, lime juice, lime salt, truffle salt, or any herbs you like!
These keto tortilla chips are based off a fathead dough keto tortilla chip I saw on reddit and modified quite a bit to get the flavor I craved from corn tortilla chips.
It is perfect for serving at a party, for dinner, as a snack - or anytime you need something salty and crunchy with a ton of flavor. I hope you enjoy this recipe as much as my family does.
Don't want all the extras in a recipe post? We provide a skip to recipe button in the top left corner, as well as a clickable table of contents, just below, to help make this page easier to navigate.
How To Make Keto Tortilla Chips
These keto tortilla chips are easy, but do require a couple of specific processes. I have a couple easy tips and tricks to make perfect crunchy keto chips, every time.
Watch carb counts. Make sure you watch net carbs when making swaps or additions like garlic powders, and other seasonings.
Some seasonings can have sneaky carbs!
Use a microwave to start your dough. I don't actually have a microwave at my house, so I used my stovetop with a very nonstick enameled pot to soften the cheese we use as dough. While this works, it was one of the most annoying things to clean out of a pot, ever. It didn't mix as well, and stuck like glue to the pot - but when microwaved, it didn't stick to the bowl at all and was basically mess-free. I don't like to use microwaves (I feel like they don't make food taste as good), but in this recipe, it really really helps since you're just using it to soften cheese to the point you can form it into a dough.
Bake to crispy. For Keto Nacho Chips, be sure to get chips extra crispy, so they hold up to nacho toppings well. Since some ovens can brown quickly, it is best to watch the chips closely as they cook and flip when getting too brown. Keep flipping until crispy for best results.
Keto tortilla chips taste the best when baked well - and a crucial part of baking these chips comes from rolling them out as thin as possible. Since this dough is a bit different than normal doughs, there is a bit of a trick to be able to roll the dough thin enough. Follow my tricks below to make fathead tortilla chips:
Press firmly on the rolling pin to roll dough very thin. The thinner the better - it will crisp up more the thinner it is.

Always roll chips out between two pieces of parchment paper.

If you have a tortilla press, be sure to use parchment paper to ensure your dough doesn't stick to the press.

I found I wasn't very good at getting a super thin chip when using a tortilla press, but I don't have a ton of experience with them.
These easy keto tortilla chips get their texture and crunch from baking them twice - once to set so you can cut them into a triangle chip shape, and once to crisp them up for a crunchy keto tortilla chip.
-Bake chips on baking sheet lined with parchment paper.
Don't assume brown = burnt. The thinnest parts of these chips can easily brown, thanks to the almond flour. While this might make your chips look overcooked, the brown crunchy bits taste phenomenal, so don't let them worry you too much.
Bake twice. Bake at least twice for crunchy keto chips.
Other Keto Snacks You'll Love
If you love these crunchy keto chips, be sure to check out some of my other keto snack recipes:
Easy Keto Microwaveable Chocolate Chip Cookie in a Mug
Easy Keto Ham and Cheese Rolls Recipe
Easy Keto Everything Bagels Recipe
Easy Keto Peanut Butter Cookies
Paleo Garlic Parmesan Zucchini Fries
Recipe FAQ's
My chips aren't crispy, what did I do wrong?
These chips do take a bit of work and care when in the oven - if your chips aren't crispy after baking (and cooling, they do get crunchier when cool), they have not baked long enough. No worry - just pop them on a parchment lined baking sheet and continue to cook a bit longer!
My dough is really sticky - how can I fix it?
This dough will be stickier than many doughs since we are using non traditional flours. Roll out the dough in parchment paper for best results - but if it is so sticky you can't get it to roll out at all, you can add a bit more almond flour until it sets up better.
Why do my chips look burned?
These chips will change color to be darker brown when they bake and crisp - they might look like they are burning, but they aren't. If you are very concerned with burning, remove chips from oven when they start to get more brown, and let cool a bit before popping back into the oven to cook them longer. This is one recipe that benefits from a longer, slower cooktime to get the right texture - don't rush your chips!
Easy Keto Tortilla Chips Recipe
If you love this easy keto tortilla chips recipe as much as I do, please give them a five star review and help me share on facebook and pinterest!
To see my favorite Keto Baking Essentials that make perfect keto chips like these a breeze, please click here to visit my Amazon Storefront.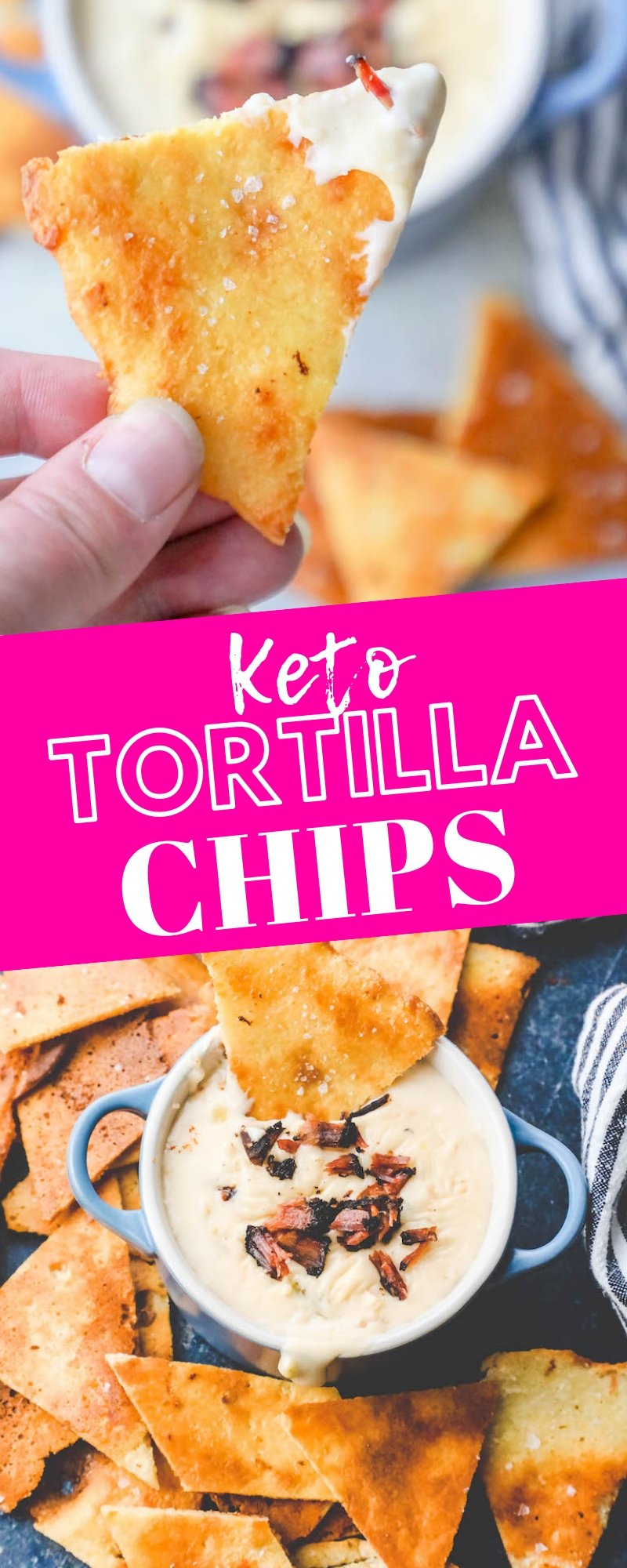 CONNECT WITH SWEET C'S!
Be sure to follow me on social media, so you never miss a post!
Facebook | Twitter | Youtube | Pinterest | Instagram
Only have 30 minutes to get dinner on the table? Sign up for my 30 minute dinner plans direct to your inbox!
Find and shop my favorite products in my Amazon storefront here!
Yield:

6 servings
Easy Keto Tortilla Chips Recipe
Easy Keto Tortilla Chips Recipe - delicious easy crunchy tortilla chips that are perfect for a keto diet! Low carb, gluten free, and works great in salsa and dips! 
Ingredients
170 g pre-shredded/grated mozzarella
85 g almond meal/flour
2 tablespoon cream cheese
1 egg
salt to taste
1 teaspoon cumin powder
1 teaspoon coriander/cilantro powder
pinch chilli powder
Instructions
Mix the shredded cheese and almond flour in a microwaveable bowl.
Add the cream cheese.
Microwave on high for 1 minute.
Stir well to mix, then microwave on high for another 30 seconds.
Remove and stir again.
Add the egg, salt, and spices. Mix.
Place the dough between 2 pieces of parchment paper and roll into a very thin large rectangle.
Remove the top layer of parchment paper.
Slide the parchment paper with the dough on to a baking sheet or pizza stone and bake at 425 degrees for 12-15 minutes, until browned on the top. Watch closely and flip when browning occurs, oven temperatures can vary wildly.
Flip the dough over and brown the other side.
Once cooked, remove from the oven and cut into tortilla chip triangle shapes with a pizza slicer.
Bake again at 425 degrees for 3 - 5 minutes until crispy and crunchy.

Nutrition Information
Yield
6
Serving Size
about 10 chips
Amount Per Serving
Calories

272
Total Fat

16g
Saturated Fat

5g
Trans Fat

0g
Unsaturated Fat

9g
Cholesterol

58mg
Sodium

302mg
Carbohydrates

0g
Fiber

2g
Sugar

1g
Protein

13g
Nutrition is automatically calculated by Nutritionix - please verify all nutrition information independently and consult with a doctor or nutritionist for any and all medical and diet advice.