Our favorite keto diet breakfast - Easy Keto Everything Bagels Recipe - a delicious everything bagels that are low carb using just cheese, eggs, and everything bagel seasonings for a filling keto bagel everyone will love!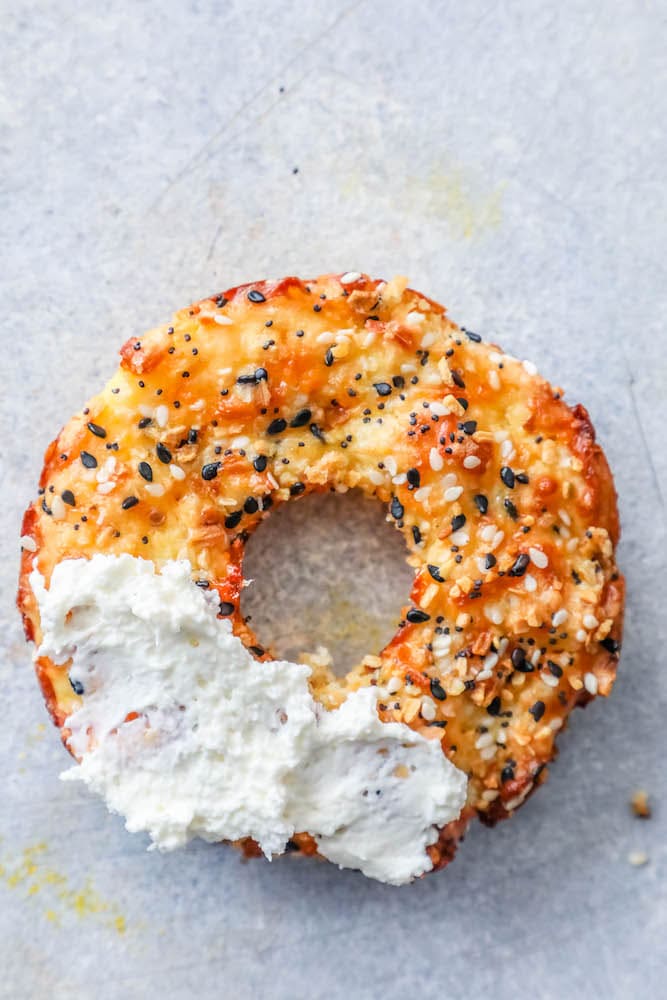 Don't want all the extras in a recipe post? We provide a skip to recipe button in the top left corner, as well as a clickable table of contents, just below, to help make this page easier to navigate.
If you're on a keto or low carb diet, you're probably missing a lot of your old, carb-loaded favorite dishes – and for me, that includes missing bagels so much.
I love bagels – especially hot toasted everything bagels – and decided to play around with my Keto Jalapeno Bread recipe a bit to come up with a real bagel I think is every bit just as delicious as my favorite everything bagels.
Just like my everything bagel fat bombs, this one is incredibly low carb keto with NO special flours or crazy ingredients – just cheese, eggs, and Everything Bagel seasoning!
This Keto Everything Bagel has less than 1 carbs per serving, making it an excellent easy breakfast choice that will fill you up!
While I have a perfect non-eggy easy keto sandwich bread recipe, this recipe relies on eggs and cheese to make this bagel alternative - they are perfect when you need something quick and dont want to find and mix a ton of ingredients.
I like to serve them with about ¼ cup of cream cheese for spreading – and you can also top them with lox, capers, and other schmears!
I've also had good luck storing them in the fridge and toasting them the next morning in the toaster for an easy grab and go keto breakfast.
This recipe does NOT include coconut flour or almond flour – and no egg wash – so it's an incredibly quick and simple dish that is perfect for an impromptu everything bagel breakfast with ingredients you probably already have on hand.
Just mix, put in a pan, bake, and enjoy!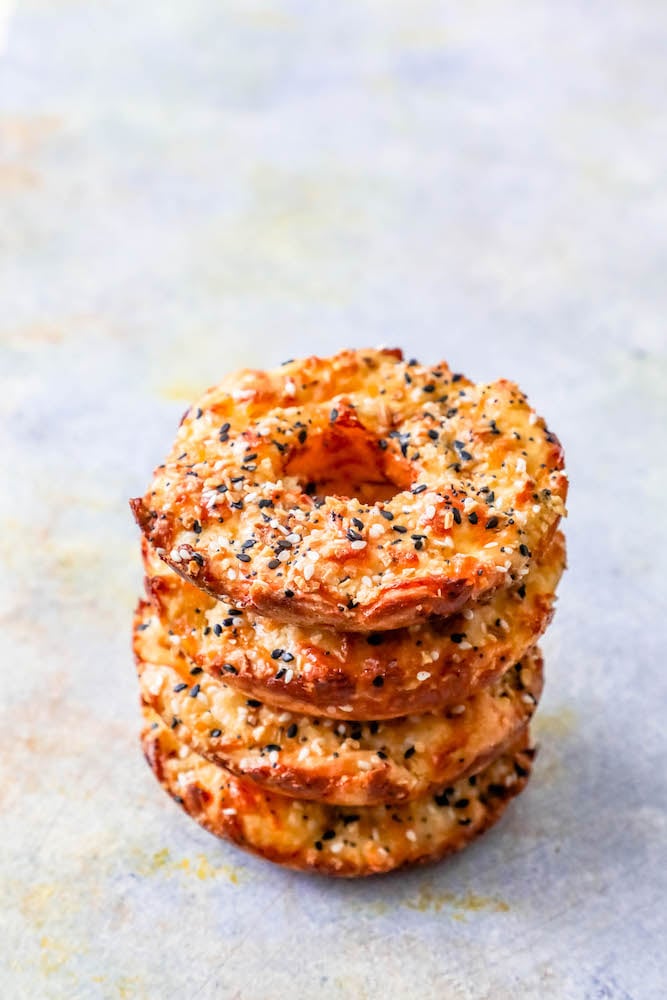 How To Make Keto Everything Bagels
Keto bagels can be made a few ways – but for this recipe, we're going with the most simple, basic, and easy method – we're baking a cheese and egg "bread" in a donut pan.
Donut pans are usually nonstick coated or made from silicone (the best choice), and can be purchased on Amazon, or found in a local craft store or kitchen specialty shop in the baking section.
Since these bagels are designed to be quick, there is no complicated setup – just press into the donut pan, bake, and enjoy!
To make these Everything Bagels, you'll need an Everything Bagel Seasoning mix.
You can purchase Everything But The Bagel Seasoning at Trader Joes (watch for sneaky carbs in preservatives if using a pre-made mix), or you can make your own.
If you'd like to quickly mix your own Everything Bagel Seasoning, please use this deliciously easy mix (and don't forget to try it on this amazingly delicious Everything Bagel Salmon Recipe!)
This recipe is really easy, and probably uses things you already have on hand.
If you're looking for a list of all of my favorite Keto Baking Essentials, please visit my Amazon Affiliate Page here.
or Donut Baking Pan
Shredded Mozzarella Cheese
2 Eggs
Spoon
Everything Bagel Seasoning
How to Make Everything Bagel Seasoning
If you'd like to make your own everything bagel seasoning recipe, it is incredibly simple!
Homemade everything bagel seasoning is great on seafood, vegetables, beef, eggs – and it makes a really fun Christmas gift.
Poppy Seeds.
Sesame Seeds.
Black Sesame Seeds.
Minced Dried Garlic.
Minced Dried Onion.
Flaked Sea Salt.
In a small bowl, mix all ingredients well.
Add seasoning mix to a spice shaker and store in a cool, dry place.
For my complete recipe for everything bagel seasoning, including storage tips and other recipes to use it with, please visit my Everything Bagel Seasoning Mix recipe.
Tips to Perfect Keto Everything Bagels & FAQs
I did find even with preparing the pan with coconut oil spray, my bagels very slightly stuck to the donut pan – but it didn't ruin their shape or appearance at all.
I simply slid a butter knife around the edges of the bagels to pop them out of the pan, and they were perfectly fine.
To avoid any sticking, try to use a silicone donut pan. If you don't have one, like I don't, the butter knife trick works just fine.
I do find it is easier to release the bagels from the pan if they are slightly cooled (still very warm, but not so hot you can't touch the pan without an oven mitt.)
FAQs
What temperature do I bake keto everything bagels at?
Bake keto everything bagels at 375 degrees.
How long do keto everything bagels take to bake?
Keto bagels take about 15 minutes to bake until puffy.
How can I tell if a keto baked bagel is done?
Keto bagels are done baking when they are light, puffy, and lightly browned around the edges.
Can I make keto bagels without cheese?
This recipe relies on cheese and egg for it's structure since we're skipping flour - as it's designed to be a very quick mix for busy mornings. You can use a cheese substitute, however I have not found one that will bake with the right texture of cheese and doesn't include high carb counts if you're trying to stay keto.
Can keto bagels be frozen?
While these can technically be frozen, I wouldn't recommend it since they are basically cheese and egg which both have an awkward texture after frozen. You can reheat them on a sheet pan in the oven from the fridge, but you only get a crunchy texture when they are fresh.
Other Delicious Keto Dishes You'll Love:
If you love these easy keto everything bagels, be sure to check out some of my other favorite easy keto and low carb dishes!
To find more of my keto recipes, please click here.
To Make These Keto Everything Bagels, You'll Need:
Easy Keto Everything Bagel Recipe
If you love this easy printable everything bagel recipe as much as I do, please give it five stars and leave a review!
Please help me share on facebook and pinterest with someone you know who is looking for a delicious, easy, keto bagel!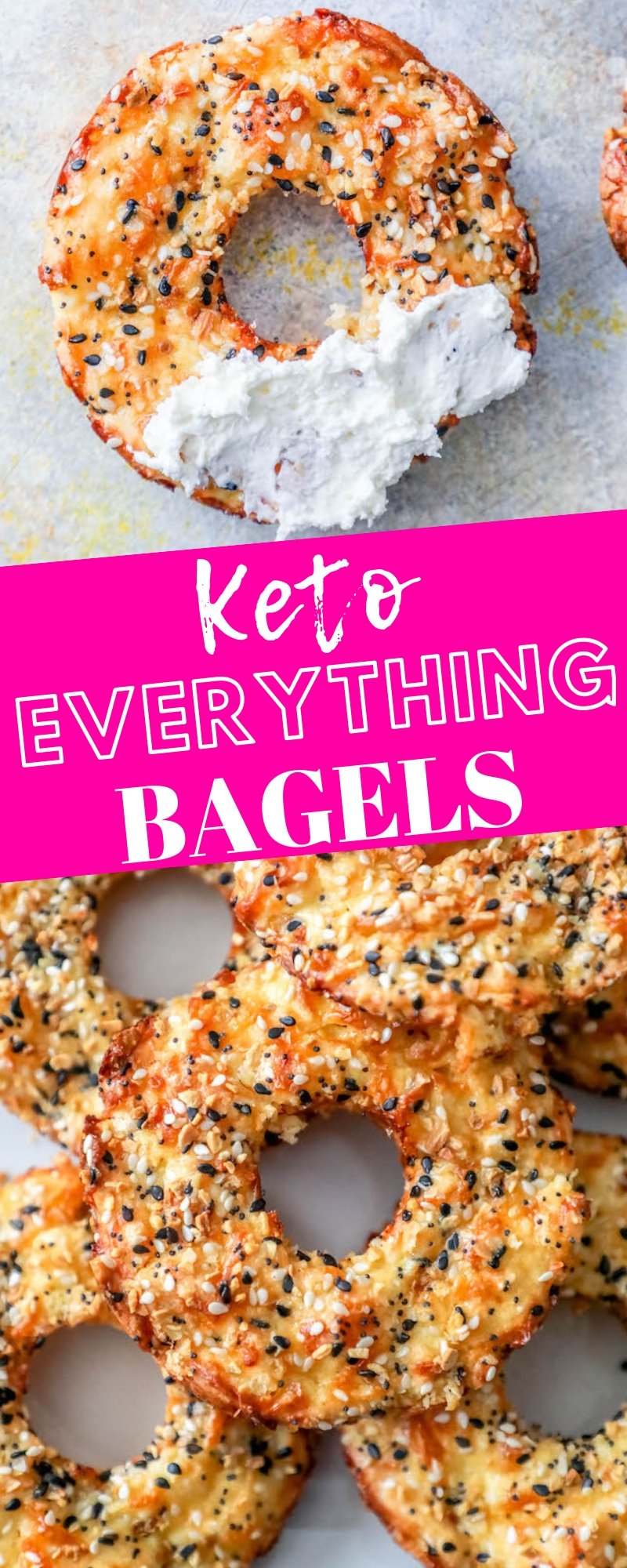 CONNECT WITH SWEET C'S!
Be sure to follow me on social media, so you never miss a post!
Facebook | Twitter | Youtube | Pinterest | Instagram
Only have 30 minutes to get dinner on the table? Sign up for my 30 minute dinner plans direct to your inbox!
Find and shop my favorite products in my Amazon storefront here!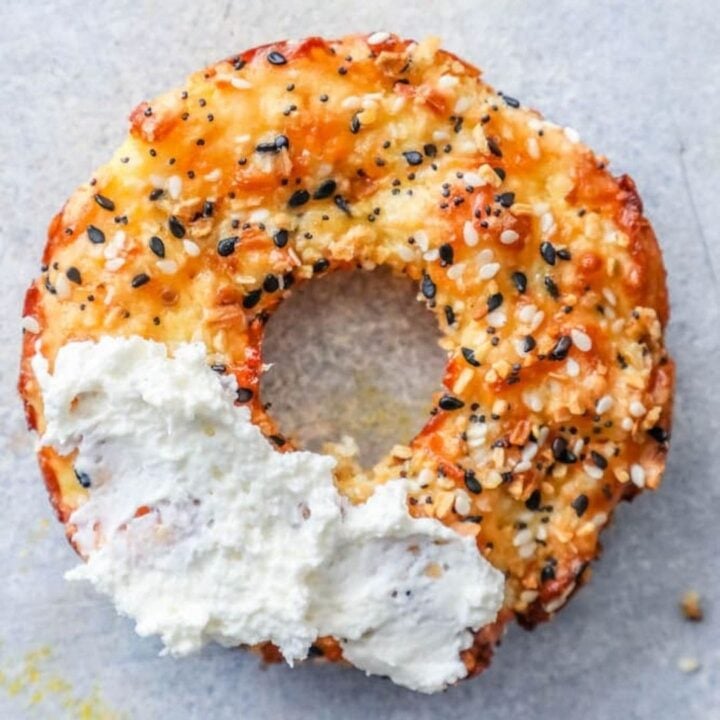 Yield:

6 people
Easy Keto Everything Bagel Recipe
 Easy Keto Everything Bagels Recipe - delicious everything bagels that are low carb using just cheese, eggs, and everything bagel seasonings for a filling keto bagel everyone will love!
Ingredients
1 cup shredded cheese, cheddar, mozzarella, any kind of cheese that melts well.
½ cup grated parmesan , or asiago, other hard, dry, grated cheese.
2 eggs
2 tablespoon everything bagel seasoning
Instructions
Preheat oven to 375 degrees Fahrenheit.
Combine the shredded cheese and egg in a bowl and mix it until the ingredients are fully combined.
Divide the mixture equally into six parts and press into well greased donut pan.
Sprinkle everything bagel seasoning over the tops of the egg and cheese mixture.
Bake at 375 degrees for about 15 to 20 minutes until the cheese has fully melted and created a slight brown crust.
Feel free to mix up your cheese selection - but stick with one grated hard, dry cheese (like parmesan or asiago) to keep the flour-like texture.
Recommended Products
As an Amazon Associate and member of other affiliate programs, I earn from qualifying purchases at no extra expense to you.
Nutrition Information
Yield
6
Serving Size
1
Amount Per Serving
Calories

218
Total Fat

16g
Saturated Fat

9g
Trans Fat

0g
Unsaturated Fat

5g
Cholesterol

104mg
Sodium

536mg
Carbohydrates

3g
Fiber

0g
Sugar

1g
Protein

14g
Other Sweet C's Favorite Recipes
We're so glad you liked this Everything Bagel recipe - please check out some of our other favorites!
Many are low carb, all are easy, quick, and loaded with flavor the whole family will love!
Sweet C's Favorite Recipes
Favorite recipes from Sweet Cs Designs