Easy Mini Crab Cakes Recipe - delicious appetizer sized crab cakes with almost no filler, and tons of juicy crab meat!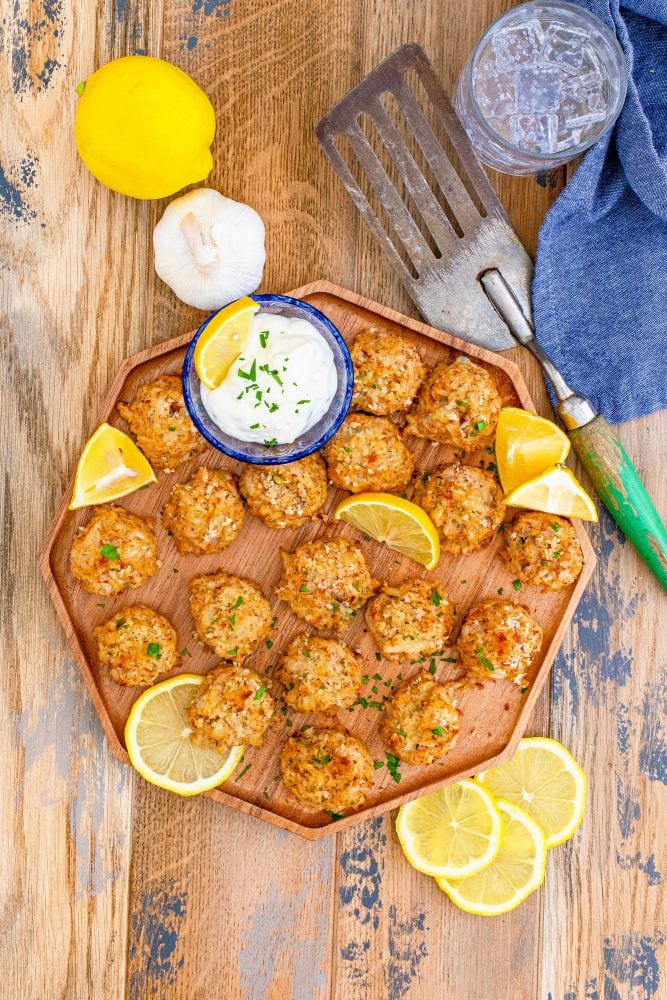 Delicious tender crab cakes, loaded with blue crab meat and little filler - these easy to pop appetizer sized crab cakes are a huge hit at any party!
If you love crab cakes, old bay seasoning, and are planning a big party, these are the perfect easy appetizer - they feed a crowd, cook quickly, and are easy to serve!
These mini crab cakes are perfect with shrimp cocktail, Crab Bloody Mary Deviled Eggs, Broiled Lobster Tails,Garlic Butter Naked Lobster Rolls, Bloody Mary Oysters, and Brown Sugar Bacon Wrapped Scallops for a seafood feast!
We're including notes to make this recipe keto or gluten free below, so please take note of them if you would like to make the simple swaps for these appetizer crab cakes to fit into your keto diet.
We hope you love this recipe as much as we do.
Here at Sweet C's, we have lots of types of readers - those who like to get straight to the recipe, and those who would like more information, including tips and tricks to feeling more comfortable in the kitchen.
We provide a skip to recipe button in the top left corner, as well as a clickable table of contents, just below, to help make this page easier to navigate.
How To Make Mini Crab Cakes
Making crab cakes is incredibly simple - you mix, form, and fry or bake - but we have a couple of tips to make these crab cakes even easier.
Mix jumbo lump crab meat, Worcestershire sauce, old bay seasoning, a little bit of bread crumbs, gently fold them together, cover and refrigerate to cook later.
When you're ready to eat, bake (or you can pan fry for a couple minutes per side), then brush with a little butter and lemon juice, and serve with crackers, tartar sauce, and hot sauce!
Don't overmix ingredients. This will make crab cakes tough and stiff.
Be careful adding salt - crab is already fairly salty. You may opt for unsalted butter to brush on crab cakes to reduce salty flavor.
Mustard powder can be omitted if you have a mustard allergy, like me!
We like to add more old bay at the end, you can never get enough old bay!
For a bit of a flavorful kick, you can add very finely minced red peppers into crab cakes.
We're baking crab cakes in this recipe since pan frying can be a bit of a pain to flip a ton of mini crab cakes - but if you don't mind flipping a bunch of them, it's pretty simple.
Melt butter in a nonstick pan on medium high and add crab cakes.
Cook to golden brown, flipping often, until crispy and browned on all sides - about 8 minutes.
The carb count in this recipe is naturally pretty low since we're using a lot less filling already (it only acts as a binder, not as a crucial part of the flavor) - to make an easy swap for these crab cakes to fit into a keto diet, simply swap breadcrumbs for almond flour.
Similarly, if you have a gluten allergy, you can swap for a gluten free breadcrumb.
Can You Make Mini Crab Cakes Ahead Of Time
These crab cakes can be prepared ahead of time, making them perfect for parties.
There are two ways of prepping these crab cakes ahead of a party - by parbaking (lightly baking to cooked, without overly browning); or by forming and covering, storing in a refrigerator for up to one day until ready to bake.
Prepped crab cakes can also be individually frozen and then baked from-frozen at party time - pop them in an oven preheated to 350 degrees and cook until piping hot and 145 degrees internal temperature.
What To Serve With Mini Crab Cakes
Crab cakes are delicious with all sorts of side dishes, fruits and vegetables - they are great at parties, (we especially love crab cakes at brunch!) and picnics, but we're sharing some of our favorite seafood dishes we love to serve alongside crab cakes for an epic seafood feast:
You can find our complete seafood recipe archives here.
Other Easy Appetizers You'll Love
If you're looking for other delicious show stopping appetizers that are packed with flavor, please check out some of our favorites below:
Find our complete appetizer archives here.
How long do crab cakes last?
Crab cakes last 3-5 days in the refrigerator in an airtight container.
Easy Mini Crab Cakes Recipe
If you love this easy recipe please click the stars below to give it a five star rating and leave a comment! Please also help me share on facebook and pinterest!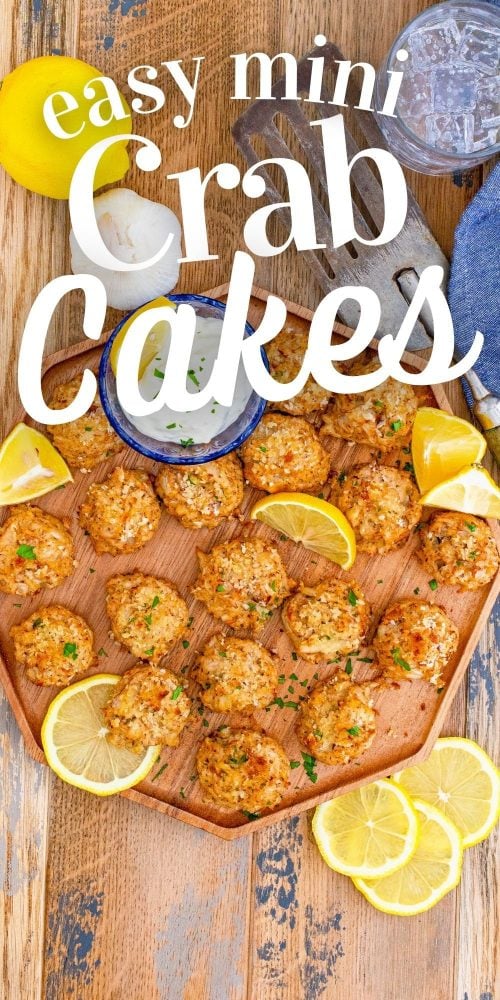 CONNECT WITH SWEET C'S!
Be sure to follow me on social media, so you never miss a post!
Facebook | Twitter | Youtube | Pinterest | Instagram
Only have 30 minutes to get dinner on the table? Sign up for my 30 minute dinner plans direct to your inbox!
Find and shop my favorite products in my Amazon storefront here!
Yield:

28
Easy Mini Crab Cakes Recipe
Easy Mini Crab Cakes Recipe - delicious appetizer sized crab cakes with almost no filler, and tons of juicy crab meat!
Ingredients
16 ounces crab claw meat
1 large egg
1 clove garlic, minced
¼ cup mayonnaise
¼ cup panko bread crumbs, divided
2 teaspoons grainy mustard
1 & ½ teaspoon old bay seasoning
1 teaspoon lemon juice, fresh squeezed
½ teaspoon black pepper
2 tablespoons unsalted butter, melted
Fresh chopped parsley for garnish, optional
Instructions
Preheat the oven to 450°F.
Line a sheet tray with parchment paper, set aside.
Pick through the crab meat to make sure there are no shells but try not to break it up too much.
In a large egg, mix together the egg, garlic, mayonnaise, half the bread crumbs, mustard, old bay, lemon juice, and black pepper.
Add the crab meat in and fold it into the other ingredients.
Do not work it too much.
Place tablespoon-sized scoops of the crab mix onto the sheet tray, not touching.
Top the crab cakes with the remaining bread crumbs.
Bake for 6-8 minutes until golden brown and the internal temperature reaches at least 165°F.
Brush the butter on top of each crab cake.
Garnish with optional parsley and serve with the dipping sauce of your choice.
Notes
These are very flavorful! The addition of the butter on top send them over the top.
The crab meat can be a little salty so I suggest tasting it first before adding any additional salt.
The crab meat is fully cooked in the can.
Nutrition Information
Yield
14
Serving Size
2 crab cakes
Amount Per Serving
Calories

50
Total Fat

3g
Saturated Fat

1g
Trans Fat

0g
Unsaturated Fat

2g
Cholesterol

29mg
Sodium

104mg
Carbohydrates

1g
Fiber

0g
Sugar

0g
Protein

4g
Nutrition is automatically calculated by Nutritionix - please verify all nutrition information independently and consult with a doctor or nutritionist for any and all medical and diet advice.