Garlic Butter Naked Lobster Rolls Recipe - delicious garlic butter lobster rolls sandwich with no mayonnaise for a rich, flavorful naked lobster roll everyone will love!
I feel like this is the most controversial post I have published to date. I realize I am about to say something so terrible, so horrifying, readers may never look at me the same way again.... but.... I make lobster rolls completely NAKED - with NO MAYO!
I realize this is the stuff of horror for many people, but trust me on this - naked lobster rolls are totally a thing.
These lobster rolls are oozing with garlic butter sauce flavor that bring out the sweet and buttery lobster meat flavor - and for those of us with limited access to fresh seafood, it even makes frozen picked lobster taste fresh-caught.
This easy lobster roll recipe is one you're going to want to make again and again!
(And don't worry - if you absolutely can't deal with the horror of a mayo free lobster roll, I am giving a Garlic Butter AND Mayo option below.)
Here at Sweet C's, we have lots of types of readers - those who like to get straight to the recipe, and those who would like more information, including tips and tricks to feeling more comfortable in the kitchen.
We provide a skip to recipe button in the top left corner, as well as a clickable table of contents, just below, to help make this page easier to navigate.
No Mayonnaise Lobster Rolls Recipe
I realize to many of my friends this very recipe is tantamount to treason - but I HATE mayonnaise. Like, I hate most condiments, but I really, really hate mayonnaise.
(I also hate mustard, but in fairness, I am allergic to it - so I'll give myself a pass there.)
You might think a lobster roll without mayo is crazy - or dry - or even missing something - but these lobster rolls have plenty of flavor and juicy lobster and garlic buttery goodness - you won't miss a thing.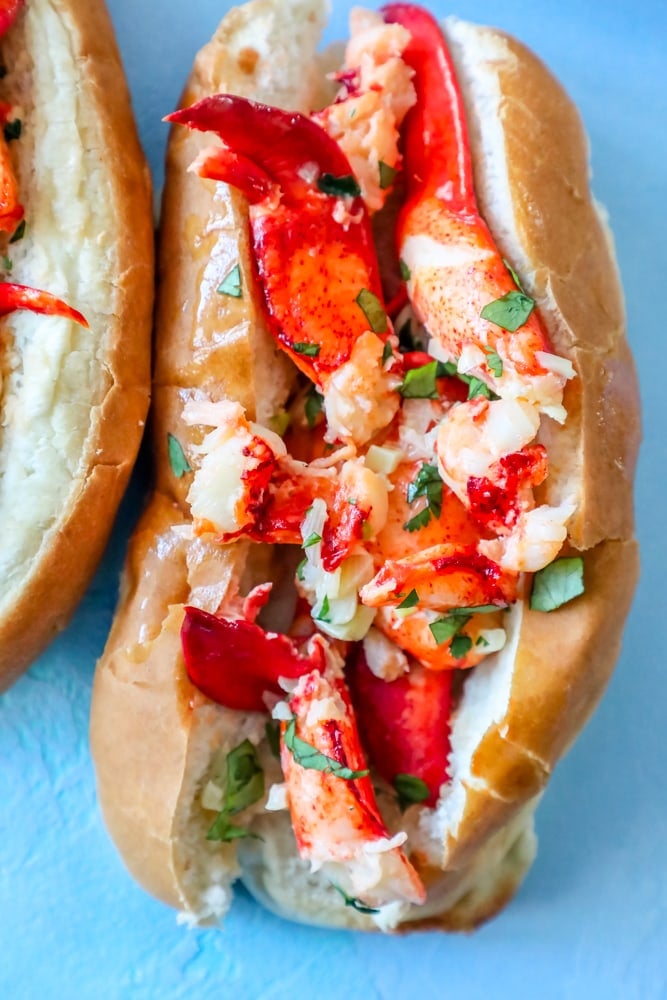 What Lobster To Use In a Lobster Roll
This recipe calls for 1 pound lobster meat - which can either mean grilled, boiled, baked... however you love to prepare lobster. For my favorite way to broil lobster tails, click here.
Since I don't live in an area with fresh lobster that I can get regularly, I have to rely on frozen lobster.
Normally I try to steer clear from buying pre-cooked seafood and shellfish, because I think it can taste fishy - in this recipe, we're using so much garlic it works great with pre-cooked frozen lobster meat - which is available in most grocery store's freezer sections.
Just make sure you're buying picked lobster meat, and not imitation lobster meat.
What Bread To Use For a Lobster Roll
Lobster Rolls are traditionally served on New England style hot dog buns - which are hot dog buns cut down the middle from the top (top-down buns).
If you can't get a New England style hot dog bun, you can use regular hot dog buns, a fluffy, buttery hoagie style roll, or even thick texas toast style bread.
I personally like to butter the inside and outside of my lobster roll buns and then toast all sides on a hot griddle top.
Other Great Lobster Recipes
If you love these easy naked garlic butter lobster rolls, please check out my other knockout lobster recipes!
How Much Mayo To Use For a Lobster Roll
I know, I know.
I've completely offended hundreds of thousands of people for making a lobster roll without mayo - which is a pretty big offense.
I promise the garlic butter sauce takes this lobster roll to a crazy delicious place you never saw coming - but if you are seeing red (and not just from your lobster) - you can do the following for a more traditional (with mayo) recipe.
-Reduce butter to 2 tbsp - just enough to soften the garlic and shallots, and toss with lobster meat and wine.
-Let cool slightly, then toss with 3-5 tbsp mayo and serve immediately.
If you're keeping low carb - this recipe is FANTASTIC without the bread, too!
Spoon the lobster and garlic butter sauce over salad or in a lettuce cup - it's also divine over zoodles or cauliflower rice!
You can also make this an easy lobster pasta by spooning the garlic butter sauce over pasta or even rice.
For a completely keto recipe with the flavors you love in a lobster roll, be sure to check out my garlic butter lobster skillet recipe.
How Long Can I Keep Leftovers?
Any leftovers can be kept in an airtight container in the refrigerator for up to three days.
Recipe is best consumed within 24 hours for best flavor and texture.
Garlic Butter Naked Lobster Rolls Recipe
If you love this garlic butter naked lobster rolls recipe as much as I do, please give it a five star review and help me share on Facebook and Pinterest!
CONNECT WITH SWEET C'S!
Be sure to follow me on social media, so you never miss a post!
Facebook | Twitter | Youtube | Pinterest | Instagram
Only have 30 minutes to get dinner on the table? Sign up for my 30 minute dinner plans direct to your inbox!
Find and shop my favorite products in my Amazon storefront here!
Yield:

4
Garlic Butter Naked Lobster Rolls Recipe
Garlic Butter Naked Lobster Rolls Recipe - delicious garlic butter lobster rolls sandwich with no mayonnaise for a rich, flavorful naked lobster roll everyone will love!
Ingredients
1 lb lobster meat
1 tsp celtic sea salt
6 tablespoons butter, divided in half
4 cloves garlic, minced
1 large shallot, minced
1 teaspoon lemon zest
¼ cup dry white wine
1 tablespoon fresh tarragon, chopped
4 large soft hoagie rolls or New England Style hot dog buns
1 tablespoon softened butter, for spreading on the roll
Instructions
In a large pan, melt 6 tbsp butter on medium heat.
Add in garlic and shallots, stirring occasionally, until fragrant and soft - about 4 minutes. Salt while simmering.
Stir in wine and increase heat to high.
Stir in lobster meat, lemon zest, and tarragon.
Cook to piping hot and sauce is reduced, about 5 minutes.
Slather softened butter on rolls, inside and out.
Add rolls to a hot griddle pan and toast on each side.
Scoop lobster meat and garlic butter sauce into roll that has been toasted.
Serve immediately with drawn butter if desired.
Nutrition Information
Yield
4
Serving Size
1 lobster roll
Amount Per Serving
Calories

511
Total Fat

27g
Saturated Fat

15g
Trans Fat

1g
Unsaturated Fat

10g
Cholesterol

164mg
Sodium

5504mg
Carbohydrates

27g
Fiber

2g
Sugar

3g
Protein

37g
Sweet C's Favorite Recipes
Loving these lobster tails? Check out my other popular recipes!
Most are low carb, all are easy, quick, and full of flavor your family will love!
Sweet C's Favorite Recipes
Favorite recipes from Sweet Cs Designs
Find our web story for this recipe here.