Easy Mongolian Turkey and Rice Bowls
Jan 11, 2020, Updated Nov 02, 2023
Easy Mongolian Turkey and Rice Bowls Recipe – deliciously easy ground turkey and rice bowls in a spicy sweet Mongolian sauce that the whole family loves!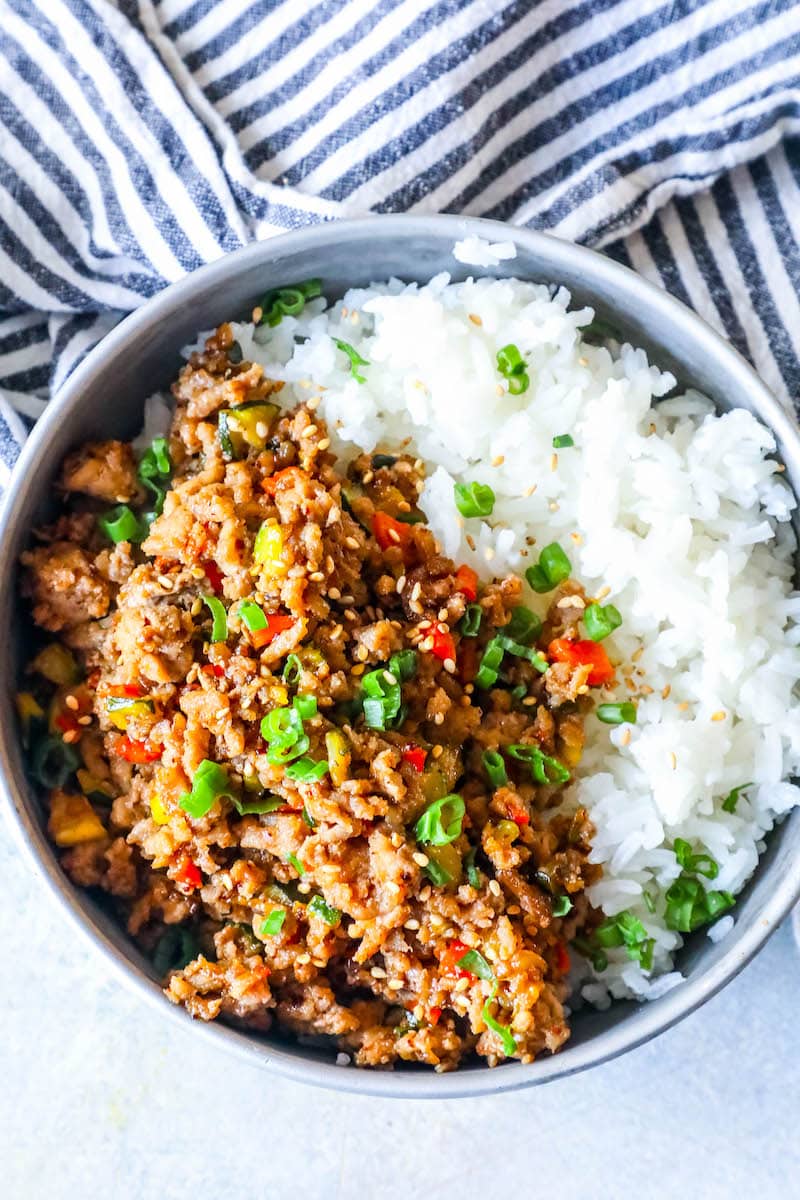 Don't want all the extras in a recipe post? We provide a skip to recipe button in the top left corner, as well as a clickable table of contents, just below, to help make this page easier to navigate.
Easy Mongolian Turkey Bowls
Mongolian Turkey Bowls offer a delectable twist on the traditional Mongolian beef dish, swapping the red meat for ground turkey, which brings a lighter but equally savory profile to the table. The ground turkey is sautéed until perfectly browned and then bathed in a glossy, aromatic sauce that strikes a divine balance between sweet and savory. This sauce, typically a concoction of soy sauce, garlic, ginger, and a touch of brown sugar or honey, clings to the crumbled pieces of turkey, ensuring that each bite is infused with flavor. The turkey is then nestled atop a bed of steaming rice, which serves as a fluffy pillow to soak up the extra sauce, providing a satisfying contrast to the meat's rich taste and adding a heartiness to the dish that makes it both comforting and filling.
In the preparation of Mongolian turkey bowls, there is also a delightful opportunity to weave in a tapestry of vegetables, turning the meal into a colorful and nutritious affair. Bell peppers, onions, and carrots are frequently sautéed alongside the turkey, their crisp textures and sweet notes offering a counterpoint to the meat's savory depth. The beauty of the dish lies in its versatility; it welcomes customization with open arms, whether that be through the addition of spicy chili flakes for heat, a sprinkle of fresh green onions for a burst of sharpness, or a dash of sesame seeds for a subtle nuttiness and crunch. Mongolian turkey bowls are not only a feast for the palate but also for the eyes, with the vibrant veggies and glossy sauce creating an inviting mosaic that beckons diners to dive in. Whether served as a weeknight dinner or as part of a larger feast, these bowls are a testament to the magic that can happen when simple ingredients are treated with care and creativity.
How to Make Mongolian Sauce
Mongolian Turkey gets it's rich sweet and spicy flavor from Mongolian sauce – a blend of soy sauce, hoisin sauce, sugar, and garlic – as well as some red pepper for heat!
This sauce is incredibly simple and goes perfectly with ground turkey for a healthy and filling meal your whole family will love.
1/4 cup soy sauce
1 tablespoon hoisin sauce
1 tablespoon sesame oil
2 teaspoons white sugar
1 tablespoon minced garlic
1 tablespoon red pepper flakes (optional)
Mix all ingredients in a small bowl and use over meats, vegetables, or seafood.
This sauce makes perfect Mongolian Beef, Chicken, and even shrimp – so be sure to write it down for later!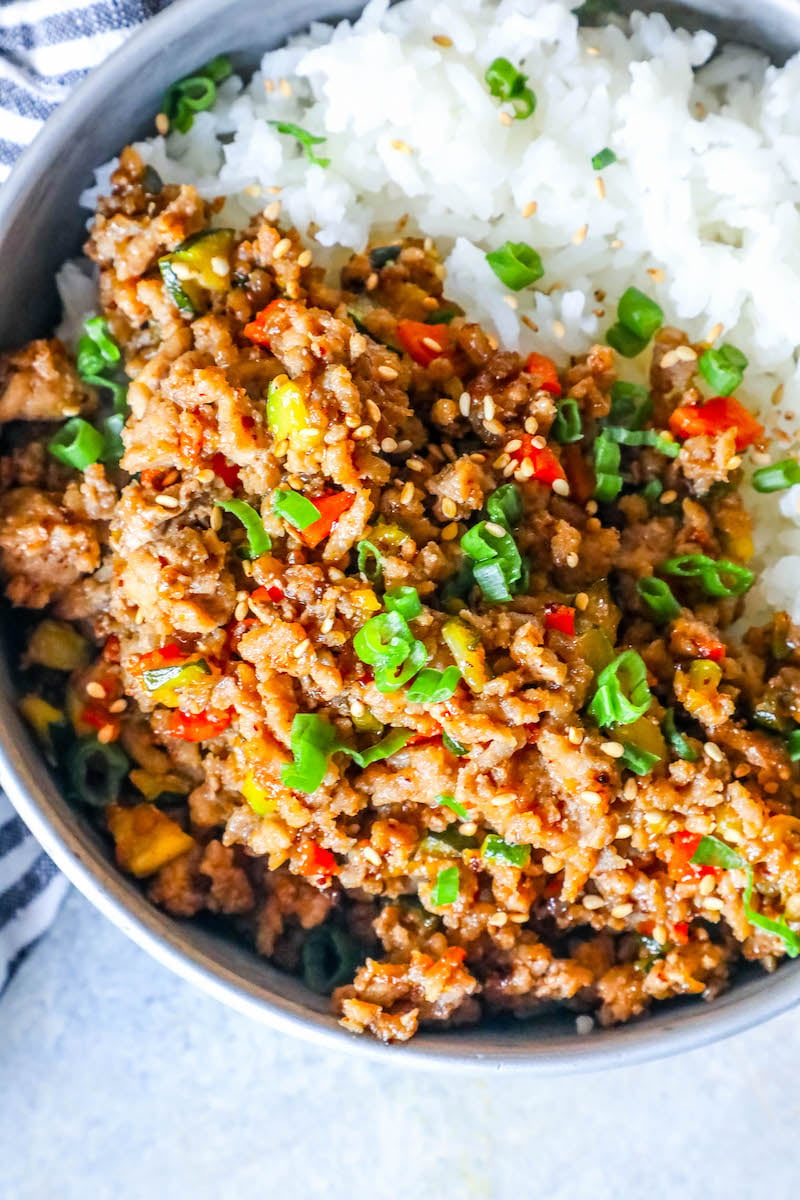 Tips and Tricks for Mongolian Turkey Bowl
Creating the perfect Mongolian turkey bowl is about balancing flavors, ensuring the meat is tender, and pairing it with the right components. Here are some tips and tricks to help you make a delicious Mongolian turkey bowl:
Marinate the Turkey: Marinating the ground turkey in a bit of the sauce before cooking can infuse it with more flavor.
Velveting the Meat: Although more common with beef or chicken, a similar method can be applied to turkey. Briefly marinate the turkey in a mixture of cornstarch and soy sauce to keep it tender.
Use High Heat: To mimic the traditional cooking style of Mongolian cuisine, cook the turkey over high heat quickly. This method will help in getting a nice sear on the meat, locking in flavors.
Fresh Garlic and Ginger: Use fresh garlic and ginger rather than powdered for a more pungent and fresh taste which is characteristic of Mongolian sauce.
Balancing the Sauce: Mongolian sauce is a blend of sweet and salty. Adjust the quantities of soy sauce for saltiness and brown sugar or honey for sweetness according to your taste.
Thicken the Sauce: A slurry of water and cornstarch can help thicken your sauce if it's too runny. Add it at the end of cooking and heat until it reaches the desired consistency.
Make it Healthy: Use low-sodium soy sauce and lean ground turkey. Add lots of vegetables like bell peppers, onions, and carrots to make it a more balanced meal.
Rest the Meat: Let the cooked turkey sit for a few minutes before serving; this allows the juices to redistribute and keeps the meat moist.
Perfect Pairings: Serve with a base of steamed white or brown rice, or for a low-carb option, try cauliflower rice or spiralized vegetables.
Garnish and Texture: Add a garnish of green onions, sesame seeds, or crushed red pepper flakes for extra texture and a pop of color.
Adjust the Heat: Mongolian dishes can be spicy. Control the heat by adding more or fewer chili flakes or fresh chili to the sauce.
Prep in Advance: Chop all your vegetables and prepare the sauce ahead of time for a quick and easy meal assembly.
Storage: If you have leftovers, they can usually be stored in the fridge for a few days. The flavors often meld and intensify, making the turkey bowl even more delicious the next day.
Consistent Pieces: Cut all your vegetables in uniform sizes to ensure they cook evenly.
Use a Wok: If available, use a wok to cook the ingredients. Its shape is perfect for quick stirring and tossing which is essential in Asian cooking.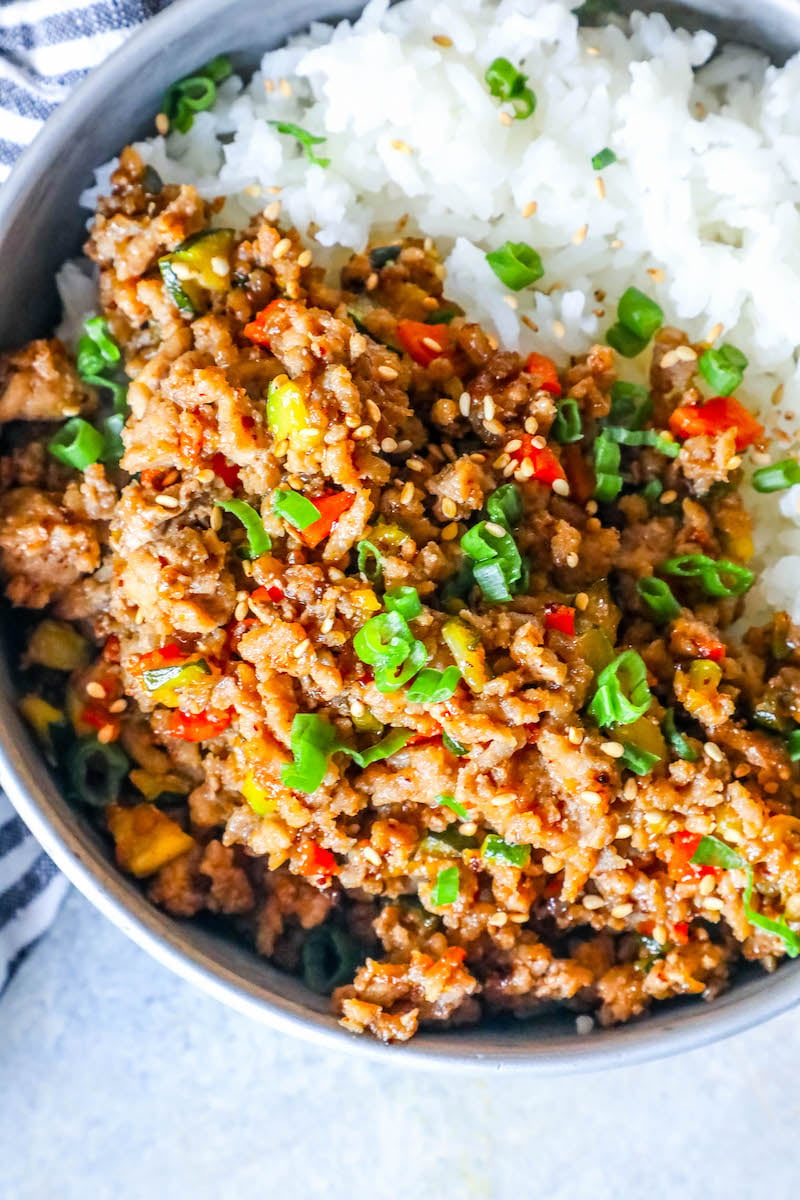 FAQs
Can I use ground beef or chicken?
You can use ground beef, chicken, or even ground pork in this recipe if you'd like to swap out the turkey.
How long does Mongolian Turkey last?
You can store this dish in an airtight container in the refrigerator for up to four days. Leftovers can also be frozen for up to four months.
How can I thicken the sauce if it's too runny?
Create a slurry with cornstarch and water (1 tablespoon cornstarch to 2 tablespoons water is a good starting point), and stir it into the simmering sauce. Allow it to cook for a few more minutes until the sauce reaches your desired thickness.
What's the best way to store leftover Mongolian turkey bowls?
Store leftovers in an airtight container in the refrigerator for up to 3-4 days. Reheat gently in the microwave or on the stovetop until thoroughly warmed.
Can Mongolian turkey bowls be frozen?
Yes, the cooked turkey and sauce freeze well. However, freeze them separately from the rice or noodles to maintain the best texture upon reheating. Use within 3 months for optimal taste and quality.
Can I use pre-made Mongolian sauce from the store?
Certainly, if you're short on time, a store-bought Mongolian sauce can be a quick substitute. Just be aware of the added sugars and salts when using pre-made sauces.
What vegetables can I add to my Mongolian turkey bowls?
The options are numerous. Consider adding broccoli, snap peas, mushrooms, or baby corn to add variety and extra nutrition to your bowls.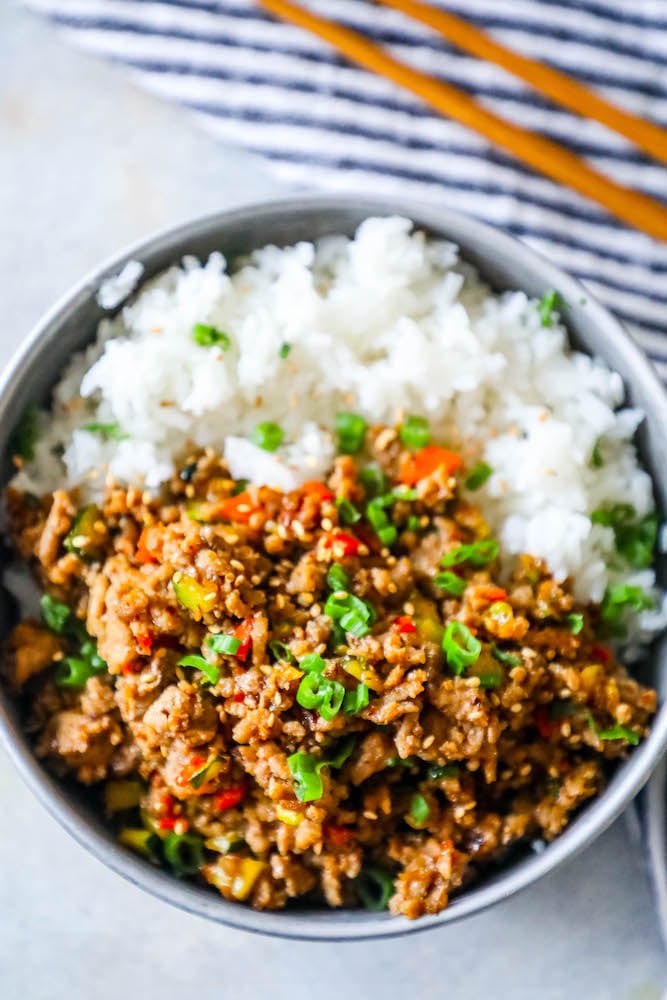 What to Serve with Mongolian Turkey Bowls 
Enjoying Mongolian turkey bowls can be a fulfilling meal by itself, but pairing it with complementary sides can enhance the dining experience. Here's a list of items you can enjoy with Mongolian turkey bowls:
Grains and Noodles:
Steamed Jasmine Rice: The perfect blank canvas to soak up the sauce.
Brown Rice: Offers a nuttier, healthier alternative.
Udon Noodles: Thick, chewy noodles that can be mixed in with the turkey.
Ramen Noodles: Provides a fun twist and extra slurp to the meal.
Vegetables:
Stir-Fried Vegetables: Like bok choy, broccoli, or bell peppers for added crunch and nutrition.
Cucumber Salad: A refreshing side that cleanses the palate.
Pickled Vegetables: Such as daikon or carrots for a tangy contrast.
Salads:
Asian Slaw: With cabbage, carrots, and a sesame dressing.
Edamame Salad: For a protein-packed, fresh side.
Seaweed Salad: Adds a unique, oceanic flavor that complements the bowl.
Appetizers:
Dumplings or Potstickers: Filled with vegetables or meat, pan-fried to perfection.
Spring Rolls: Fresh or fried, these are a light appetizer option.
Crab Rangoon: For a crispy, creamy beginning to your meal.
Soups:
Egg Drop Soup: A light and eggy broth to start the meal.
Hot and Sour Soup: Offers a punch of flavor and warmth.
Miso Soup: A light, soothing option that is umami-rich.
Sauces and Condiments:
Soy Sauce: For extra umami and saltiness if needed.
Chili Oil: For a spicy kick.
Hoisin Sauce: Adds sweetness and depth to the bowls.
Breads:
Scallion Pancakes: A crispy, flaky side that's great for dipping.
Steamed Buns: Soft and warm, perfect for sopping up any extra sauce.
Beverages:
Green Tea: A traditional drink that balances the rich flavors.
Iced Jasmine Tea: A cool, fragrant option to complement the meal.
Beer: Choose a light lager for a refreshing pairing.
Desserts:
Mochi: A sweet rice cake dessert that's chewy and comes in various flavors.
Fortune Cookies: For a light and fun finish with a message.
Fruit Platter: With pineapple, lychee, and melon to cleanse the palate.
Try these other Asian inspired favorites:
If you're looking for easy, delicious sides to go along with these Mongolian Ground Turkey Bowls, please check out these other recipes like Garlic Chinese Style Green Beans, The Best Ever Cauliflower Rice, Shoyu Sesame Shabu Shabu Dipping Sauce, 10 Minute Broccolini Recipe, and Spicy Thai Shrimp Salad.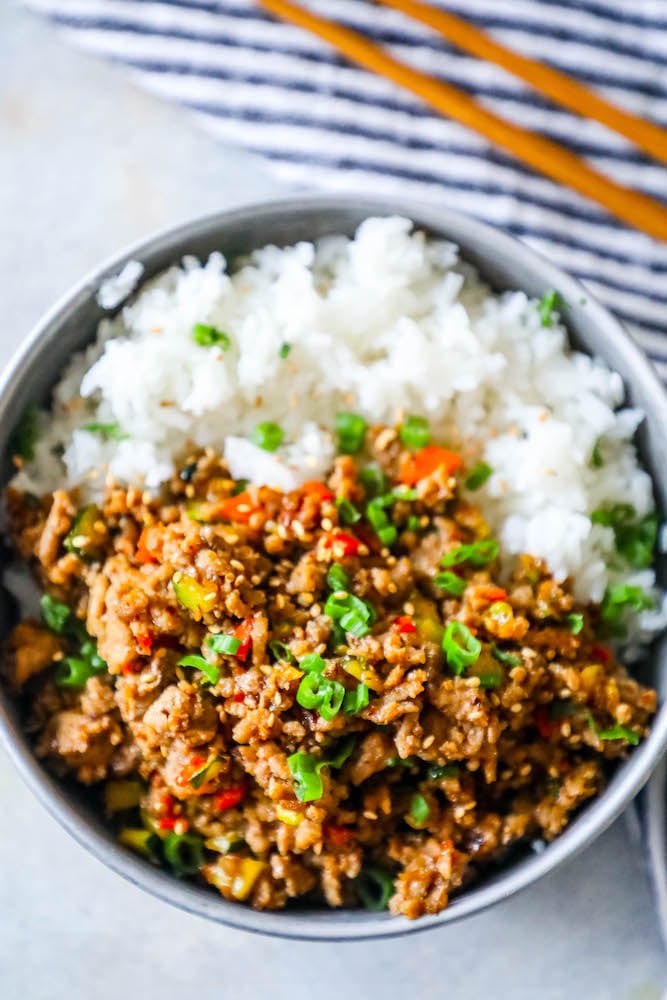 Easy Mongolian Turkey and Rice Bowls Recipe
If you love this easy mongolian turkey and rice bowls recipe as much as I do, please give it a five star review and help me share on facebook and pinterest!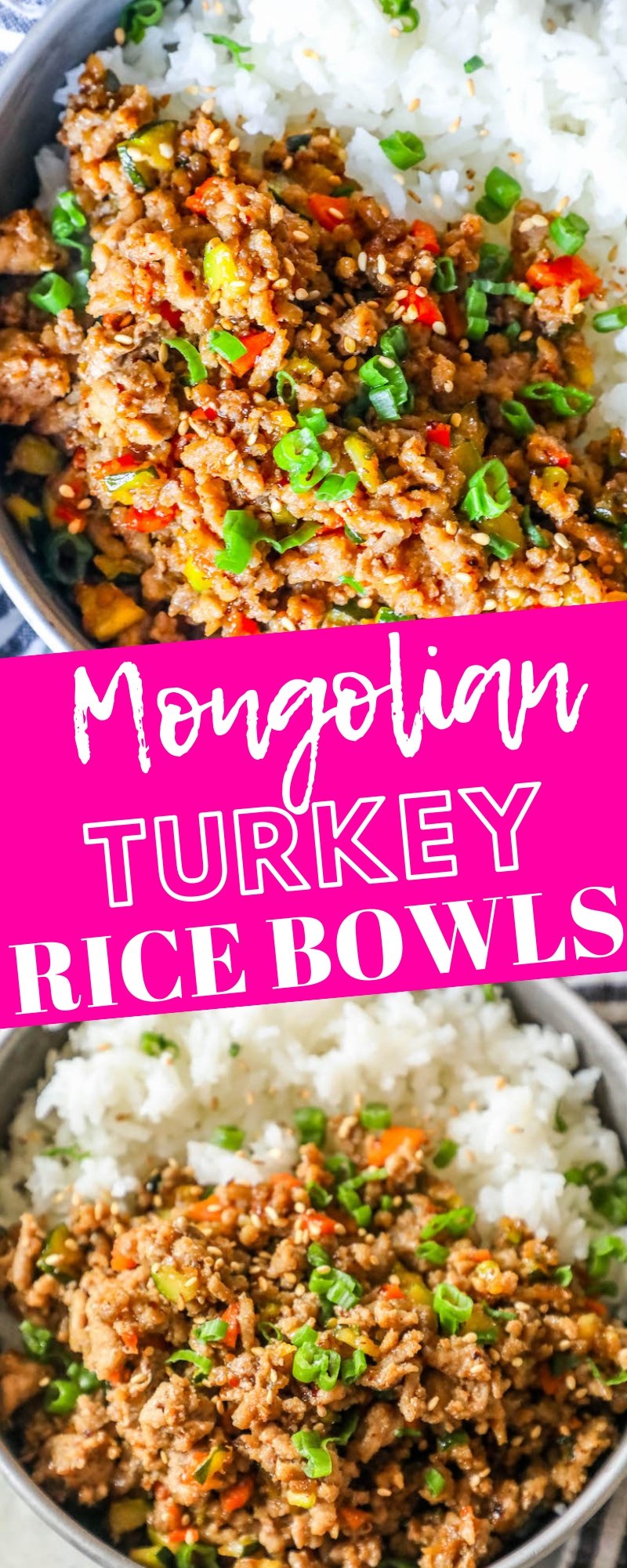 CONNECT WITH SWEET C'S!
Be sure to follow me on social media, so you never miss a post!
Only have 30 minutes to get dinner on the table? Sign up for my 30 minute dinner plans direct to your inbox!
Find and shop my favorite products in my Amazon storefront here!
Easy Mongolian Turkey and Rice Bowls Recipe
Additional Time:
5 minutes
Easy Mongolian Turkey and Rice Bowls Recipe - deliciously easy ground turkey and rice bowls in a spicy sweet Mongolian sauce that the whole family loves! 
Ingredients
For the Turkey:
2 tbsp olive oil
1 lb ground turkey
1 red bell pepper, diced finely
1 onion, diced finely
4 cloves garlic, finely diced
For the Mongolian Sauce:
1/4 cup soy sauce
1 tablespoon hoisin sauce
1 tablespoon sesame oil
2 teaspoons white sugar
1 tablespoon minced garlic
1 tablespoon red pepper flakes (optional)
For the rice:
1 cup rice
1 3/4 cup water
1 tsp salt
For Garnish:
green onions, to garnish
1 tbsp sesame seeds
Instructions
For the Rice:
Start boiling water and add salt as you begin to cook ground turkey.
Watch for water to boil, and add rice.
Let rice boil 2-3 minutes, stirring 1-2 times to prevent clumping.
Reduce heat to as low as possible and cover to cook for 19 minutes.
When rice is cooked, remove from heat and let sit covered for another 5 minutes (do not lift lid.)
Fluff rice with fork just before serving.
For Ground Turkey (as rice boils/simmers, cook the ground turkey):
In a large, heavy pan, add olive oil and heat on medium high heat until shimmery.
Add ground turkey and break apart with a spatula as turkey browns.
Add in onion, pepper, and garlic and brown with turkey, stirring occasionally to prevent sticking and burning.
In a small bowl, add sauce ingredients and stir.
Add sauce to pan and toss turkey and vegetables.
Turn heat to low and wait for rice to finish.
When rice is done, fluff and scoop into bowls. Top with ground turkey in sauce, and garnish with seasame seeds and green onions.
Nutrition Information
Yield

6
Serving Size

1
Amount Per Serving
Calories

334
Total Fat

21g
Saturated Fat

5g
Trans Fat

0g
Unsaturated Fat

14g
Cholesterol

80mg
Sodium

1084mg
Carbohydrates

16g
Fiber

1g
Sugar

4g
Protein

22g