Baked Ranch Chicken Thighs - delicious crunchy baked chicken thighs in a buttery rich ranch sauce!
Low carb, mess free, a deliciously crunchy crust, in a huge family favorite that is sure to make anyone a fan of chicken thighs in under 40 minutes!
I have a weird confession - I hate condiments.
Ketchup, mustard (which, admittedly, I am allergic to), sour cream, mayonnaise, relish - I genuinely loathe all condiments.
I especially hate salad dressing (the thick and creamy kinds, not specifically vinaigrettes. I love those), which is sad, because I LOVE ranch dressing seasonings.
There is something about the tangy, zippy, bright, and salty ranch seasoning herbs that are totally addictive and crave-able - I can't get enough!
If you're like me and can't get enough of ranch dressing, this Easy Baked Ranch Chicken Thighs Recipe will become your newest favorite one pot dinner!
And if you'd like to check out a fresh take on this ranch chicken, try my easy baked ranch chicken wings - or even a Baked Ranch Pork Tenderloin!
Just take me to the baked ranch chicken thigh recipe already!
I have cooks of all levels experience and comfort in the kitchen on my site, and I get a lot of questions and comments for additional information - so I try to provide lots of information for my readers.
If you'd rather skip over all this, please click the "skip to recipe" button in the top left corner or scroll to the bottom of the post, just above the comments, to find the easy printable Baked Ranch Chicken Thighs Recipe!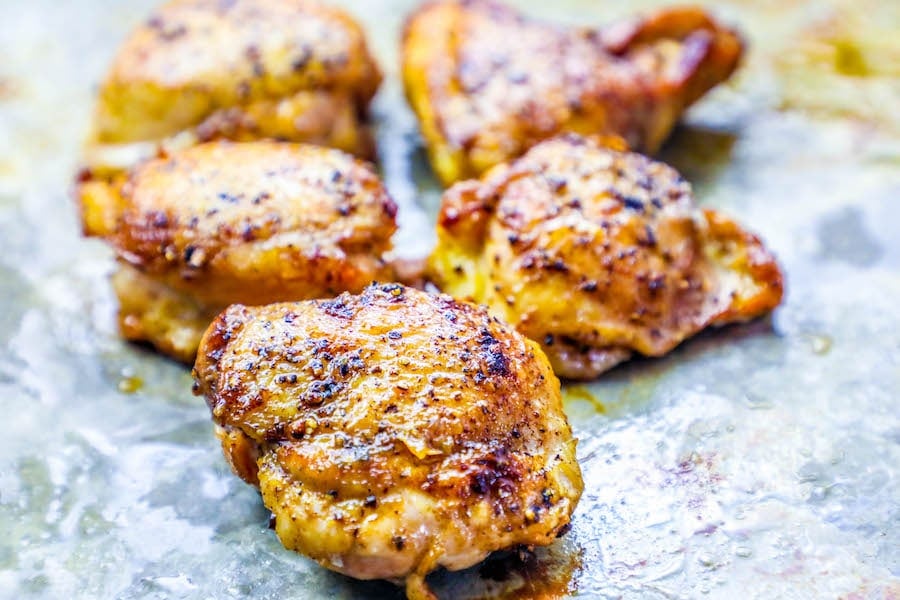 I love ranch dressing seasonings in soups and casseroles, on pork chops and pasta, and on chicken thighs.
These Baked Ranch Chicken Thighs are bursting with delicious ranch dressing flavor - and are a snap to make, and also work into a low carb diet!
These easy ranch chicken thighs are melt in your mouth delicious, and so easy - perfect for meal prep, dinner parties, potlucks, or busy weeknight dinners.
They are great with rice or pasta, grilled veggies, or on their own! And they also taste delicious in sandwiches and salads for a truly versatile and easy chicken thigh recipe you will add to your weekly rotation time and time again!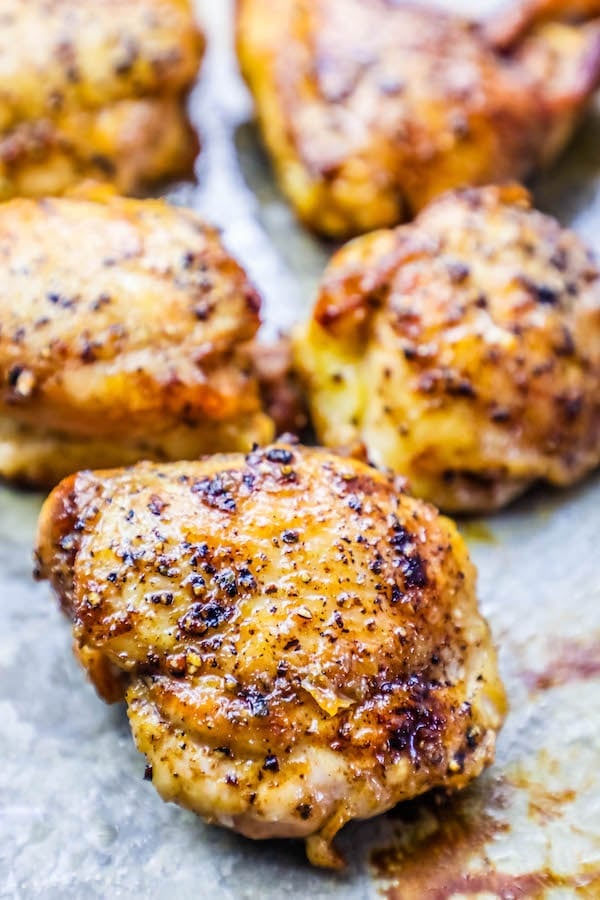 How To Cook Perfect Baked Chicken Thighs
Pat chicken thighs dry
Extra liquid and moisture on the chicken will keep the thighs from crisping - pat chicken thighs dry with paper towels before cooking to remove any excess liquid.
Don't trim chicken thigh fat
While you might want to trim off excessive fat, some fat is good on chicken thighs, even if you don't usually like chicken fat.
We're cooking these chicken thighs long enough for the fat to render out and help make a crispy, crunchy outer crust - so don't over-trim your chicken thighs.
Let chicken thigh skin crisp.
If you're looking for additional crunchy chicken (especially important since we're using skinless, boneless chicken thighs), you can pop the chicken thighs under the broiler for 2-4 minutes - be careful and watch the chicken closely to make sure it doesn't burn.
Unroll chicken thighs.
If you're often not a fan of chicken thigh texture, unroll the chicken thighs so they lay flat.
This will cook the chicken thighs more evenly, and ensure a crunchy surface on the entire thigh - which makes it completely irresistible, and a bit easier for people who usually shy away from dark meat chicken.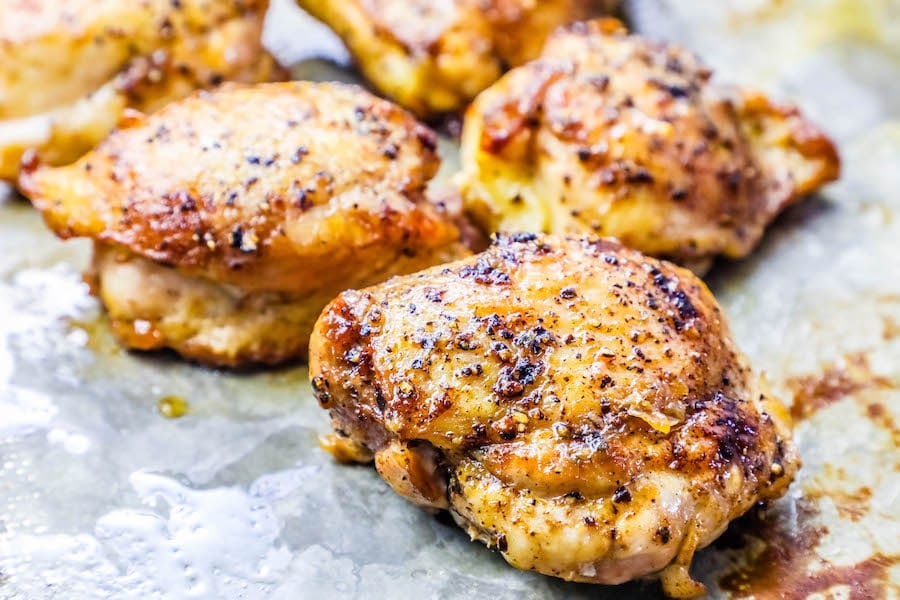 Other Easy Chicken Thigh Recipes You'll Love:
If you love these easy baked ranch chicken thighs, you are going to love some of my other favorite chicken thigh dishes! Please click the links below to see some of my favorite easy chicken thigh dinner recipes:
Easy One Pot Chicken Thigh Dinners
The best easy one pot chicken thigh dinner recipes.
And if you love this delicious One Pot Easy Baked Ranch Chicken Thighs Recipe dinner, be sure to check out one of my other favorite easy one pot dinners right now - this super easy and crazy delicious recipe for The Best Garlic Baked Pork Tenderloin Ever!
Or this Easy Baked Ranch Pork Tenderloin and Gravy Recipe for a simple pork tenderloin in a rich ranch dressing gravy that practically makes itself!
To Make These Easy Baked Ranch Chicken Thighs, You'll Need:
This baked ranch chicken thigh recipe is incredibly easy - but there are a couple things you'll need to make the most delicious, flavor-packed chicken thighs straight from the oven!
The following are my go-to tools for perfect chicken thighs from the oven!
-Baking sheet
-Parchment Paper Sheet
-Mixing bowl
To find my essential kitchen tools, and One Pot Recipe must-haves, please visit my Amazon storefront where you can find all my favorite products in one easy place!
What to Serve With Baked Ranch Chicken Thighs
If you're looking for the perfect sides to go alongside this keto ranch chicken thighs recipe, please visit some of my favorites below:
Pan Fried Brussels Sprouts with Ghee
The Best Ever Cauliflower Rice
Bacon and Broccoli Charred Salad
Baked Ranch Chicken Thighs Recipe
If you love this Easy Baked Ranch Chicken Thighs Recipe recipe as much as I do, please write a five star review, and be sure to help me share on facebook and pinterest!
CONNECT WITH SWEET C'S!

Be sure to follow me on social media, so you never miss a post!

Facebook | Twitter | Youtube
Pinterest | Instagram

Only have 30 minutes to get dinner on the table? Sign up for my 30 minute dinner plans direct to your inbox!

Find and shop my favorite products in my Amazon storefront here!
Yield:

6
Baked Ranch Chicken Thighs
Easy, crunchy, delicious Baked Ranch Chicken Thighs are a super simple one pot baked chicken thigh recipe everyone loves - bursting with ranch flavor in only five ingredients! Low carb, mess free, a deliciously crunchy crust, in a huge family favorite that is sure to make anyone a fan of chicken thighs in under 40 minutes!
Ingredients
6 chicken thighs, bone-in, with skin on
black pepper, to taste
1 1 oz. packet dry ranch salad dressing mix
2 tablespoons olive oil
1 tablespoons water
1 tablespoon lemon juice, to thin mixture if needed
1 clove garlic, pressed
Instructions
Preheat the oven to 400 F.
Cover a Baking sheet in foil, nonstick side up.
Place the chicken thighs on the baking sheet, fattest side up.
Generously season with salt and pepper.
Bake Chicken for 25 minutes, when skin has started to crisp.
In a small bowl, combine the dressing mix with the olive oil and minced garlic and blend. If needed, add lemon juice to thin mixture.
Brush the ranch and oil mixture over the chicken thighs.
Continue to cook chicken in oven until crispy and golden brown, and internal temperature reads 165 degrees.
To check the temperature, use an instant-read food thermometer inserted into the thickest part of a few of the largest chicken thighs, not touching bone.
To get a tiny bit more crunch, broil for 5 minutes - watching chicken closely so it doesn't burn.
Nutrition Information
Yield
6
Serving Size
1 chicken thigh
Amount Per Serving
Calories

120
Sodium

12mg
Nutrition is automatically calculated by Nutritionix - please verify all nutrition information independently and consult with a doctor or nutritionist for any and all medical and diet advice.
Other Sweet C's Favorites:
If you love these Baked Ranch Chicken Thighs, be sure to check out my other popular recipes - many of them low carb and keto, all of them easy and packed with flavor!
Sweet C's Favorite Recipes
Favorite recipes from Sweet Cs Designs