Herbs De Provence Pork Chops
Jan 14, 2016, Updated Jun 15, 2023
This easy method for Herbs de Provence Pork Chops is delicious and quick – using the best method to get perfect, juicy pork chops every time!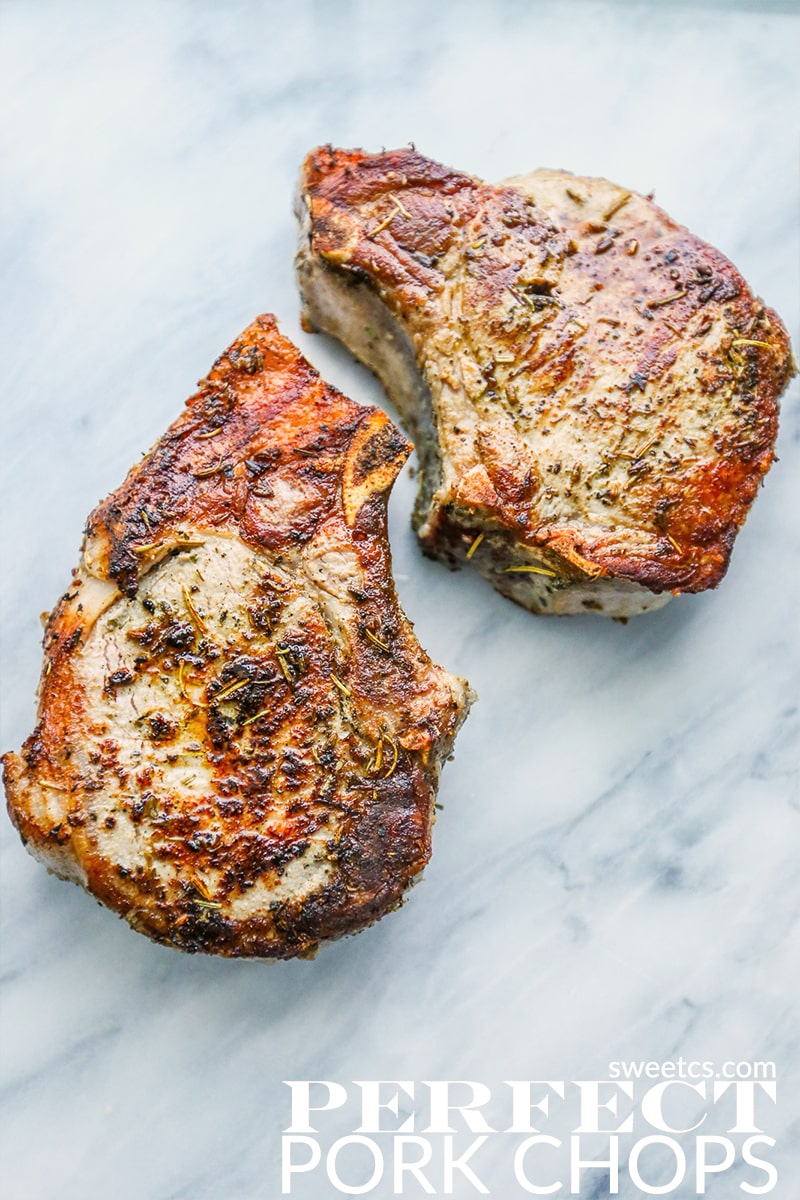 Don't want all the extras in a recipe post? We provide a skip to recipe button in the top left corner, as well as a clickable table of contents, just below, to help make this page easier to navigate.
Perfect Herbs de Provence Pork Chops
Pork is one of those things that is either really, really good- or really, really bad.
How many times have you gone to make pork chops, fretted over the flavors and the method, only to get undercooked pork- or worse- cardboard-like, dry, tasteless pork.
There is nothing worse, am I right?
But it doesn't have to be that way!
Today I am sharing my easy, no-fail, perfect method to cook delicious, juicy pork chops- topped with my favorite seasoning mix, an herbs de provence salt.
The secret to delicious pork chops is quickly getting a good sear on the outside – cooked on very high heat to sear fast – and then baked to cook the meat all the way through. This helps lock in the pork's juices, and keeps it from drying out- which is the #1 complaint when making pork!
I usually jump for thick, juicy, bone-in pork chops when figuring out what to buy. If you want to make this recipe with thin loin chops, you will just sear the meat, and completely skip the oven. To make sure the pork cooks through, reduce heat to medium high (instead of high), and sear on both sides- about 8 minutes.
This will get you pork that is cooked through, but still juicy and full of flavor!
Don't believe how easy this recipe is? Check out my video below (and if you like it, please give it a thumbs up and follow me on youtube!!)
To get the herbs de provence salt recipe, head here.
It's less expensive than buying herbs de provence when you use it often (I love herbs de provence on pork, chicken, steaks- even salmon!), and that way you can add more of the herbs you like.
This recipe is an easy one pot pork meal and is paleo, whole 30, and low carb diet friendly. Each serving of pork is under 300 calories!
Sides to Enjoy with your Pork Chops
Enjoy these delicious sides with your pork chops.
Click here view all our pork recipes!
Herbs De Provence Pork Chops Recipe
If you love this easy recipe please click the stars below to give it a five star rating and leave a comment! Pease also help me share on facebook and pinterest!
CONNECT WITH SWEET C'S!
Be sure to follow me on social media, so you never miss a post!
Only have 30 minutes to get dinner on the table? Sign up for my 30 minute dinner plans direct to your inbox!
Find and shop my favorite products in my Amazon storefront here!
Herbs De Provence Pork Chops
This easy method for Herbs de Provence Pork Chops is delicious and quick - using the best method to get perfect, juicy pork chops every time!
Ingredients
3 tbsp olive oil
4 tsp herbs de provence
1 tsp sea salt
6 pork chops (about ½" thick- add more time in the oven for thicker chops), with fat scored.
1 tbsp grapeseed oil, butter, or ghee
Instructions
In a large bowl or plasic bag, add olive oil, pork chops, and herbs de provence, and salt.
Mix well and let marinate at least 1 hour, up to overnight.
Preheat oven to 350 degrees.
Heat a heavy skillet on a stove at medium high.
When pan is hot, add ghee, butter, or grapeseed oil, heat until melted (or shimmery if oil).
Turn heat to high, and turn on kitchen fan.
Add pork chops to pan. They will immediately sizzle and might pop in the oil, so use caution.
Let chops brown on each side until a thick crust forms, then flip to brown on the other side. This will vary based on your stove, but you should have the heat up very high so that it only takes about a minute or two to form a dark brown (not burned) crust.
If chops are very thick, stand them up so more of the fat can render.
When chops are browned all over, you can either cook in the pan, or place on a cookie rack over a baking sheet and place in the oven. (Cooking in the pan will result in a chop that has less of a "crunch", but more flavor- chops over the cookie rack will look drier on the outside and have more crunch. These are up to your personal preference- I like both.
Cook pork until internal temperature reaches 155- this will vary depending on size of pork chop, but will be around 20 minutes.
When pork is 155 degrees, remove from oven.
Let rest five minutes, serve.
Recommended Products
As an Amazon Associate and member of other affiliate programs, I earn from qualifying purchases at no extra expense to you.
Aromasong 100% Natural Sea Salt, Coarse Grain, Large Bulk RESEALABLE Bag, 2.43 LBS, SUN DRIED from the Dead Sea, Unrefined, Gluten Free, Grinder Refill, Pure Sea Salt for Daily Cooking & Pickling Salt

Eat Well Herbs de Provence Seasoning 9 oz, Bulk Size Premium French Herb Seasoning, Mild Dried Mediterranean Spice Mix, Traditional Dry Herb Blend, 100% Natural, Fresh Seasonings in Shaker Pot
Nutrition Information
Yield

6
Serving Size

1 pork chop
Amount Per Serving
Calories

446
Total Fat

30g
Saturated Fat

9g
Trans Fat

0g
Unsaturated Fat

18g
Cholesterol

142mg
Sodium

490mg
Carbohydrates

1g
Fiber

0g
Sugar

0g
Protein

40g
Nutrition is automatically calculated by Nutritionix - please verify all nutrition information independently and consult with a doctor or nutritionist for any and all medical and diet advice.