Whether you're feeling a cold come on or preparing for the flu season with your family, nothing helps like my quick and easy simple immunity bombs. You can store them in the freezer and just add hot water as needed!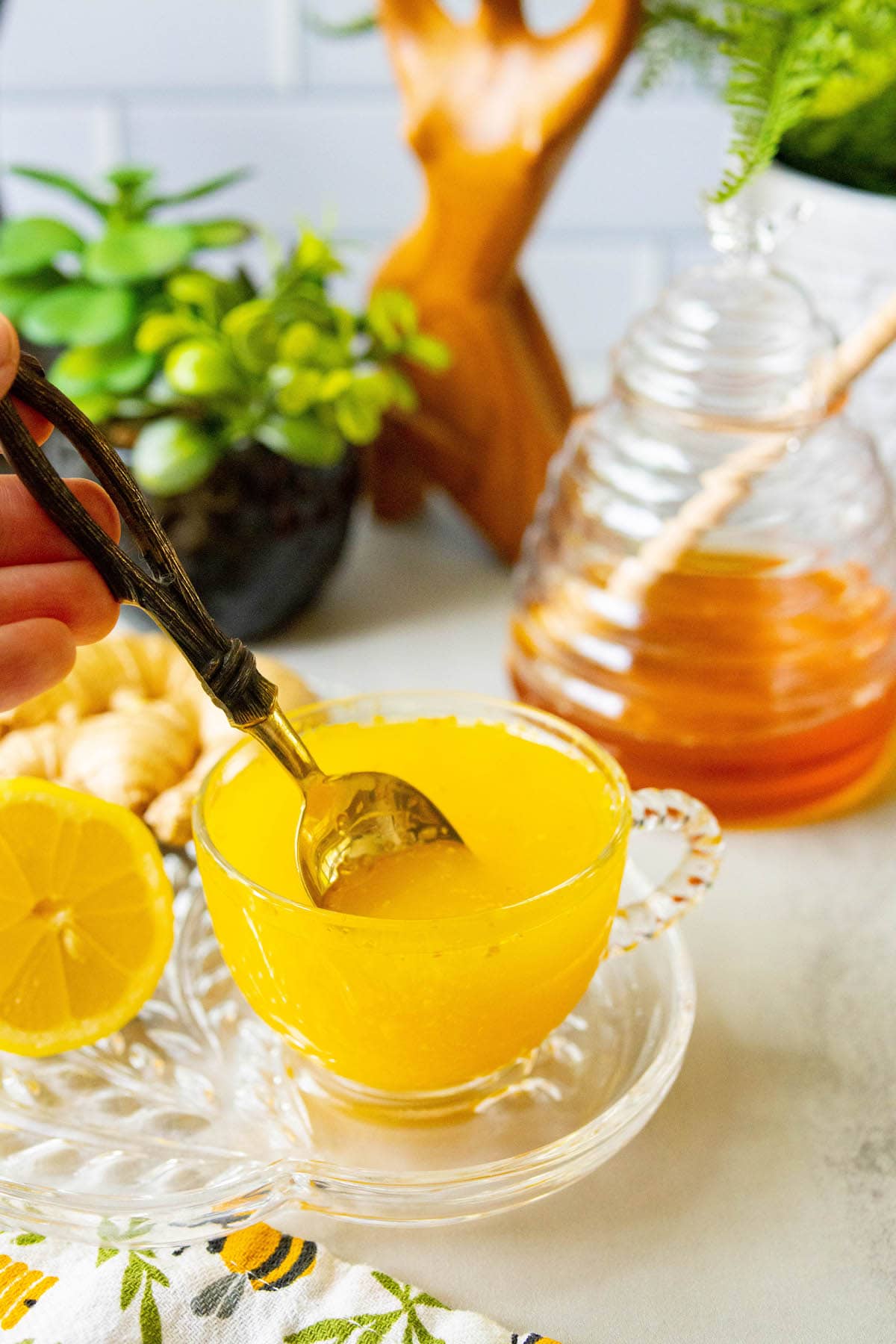 Don't want all the extras in a recipe post? We provide a skip to recipe button in the top left corner, as well as a clickable table of contents, just below, to help make this page easier to navigate.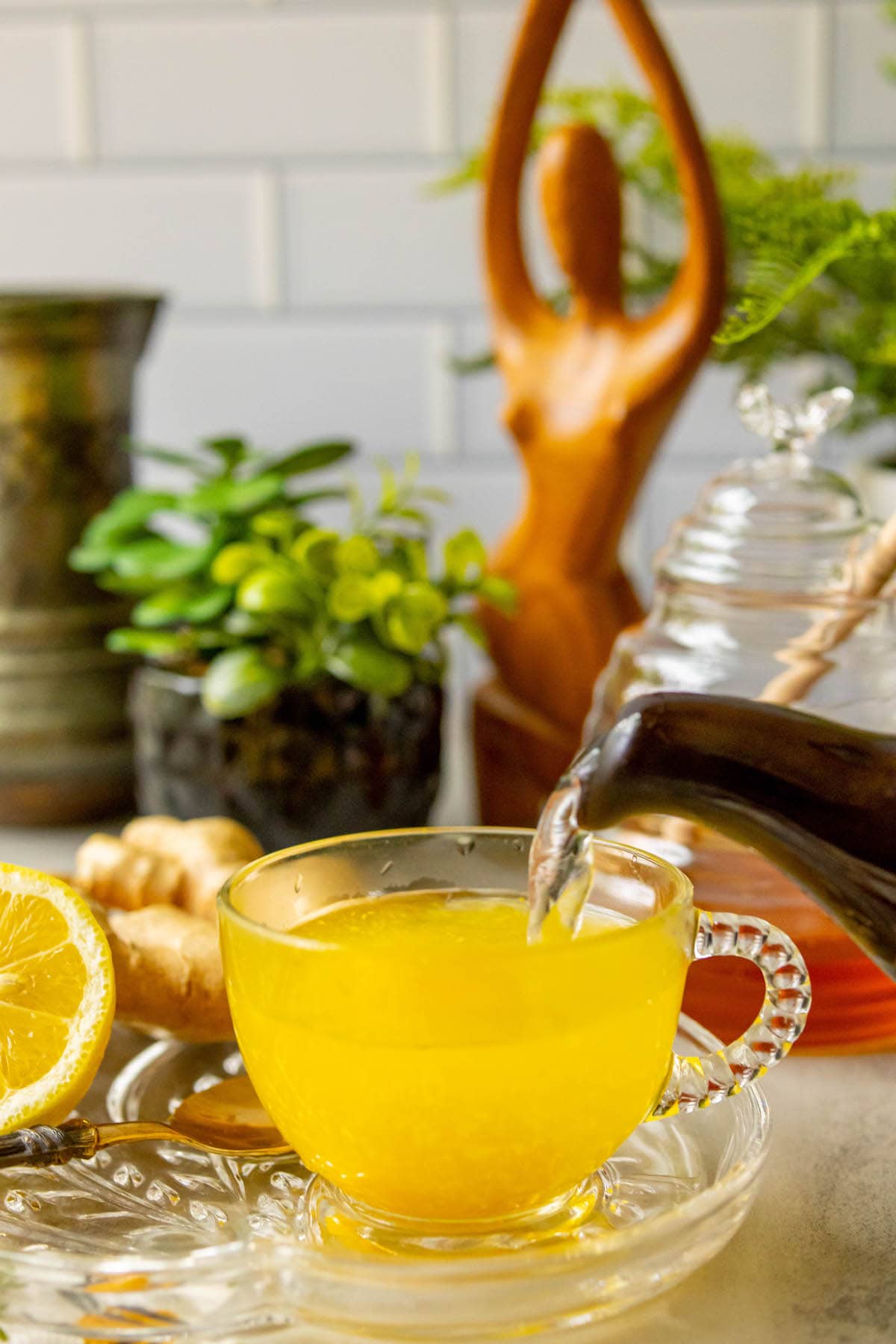 Simple Refreshing Immunity Tea Bombs
Whenever my kids use to get sick I would use Nyquil or Tylenol and while I do sometimes use those I am trying more and more to turn to more fresh natural ingredients that can keep my family safe and healthy. I had heard about the benefits of certain spices and ingredients so decided to try making a tea from them and immunity bombs were born.
These frozen bombs are packed with everything you need when you are falling sick. Immunity bombs are frozen cubes of blended lemon, garlic, turmeric, honey, and ginger that will boost your immune system just by adding hot water. This recipe opens itself up to the addition of other healthy ingredients as you want to add them!
How to make Immunity Bombs
First assemble the following:
Ginger - many studies have shown ginger reduces the risk of infection and helps strengthen the immune system, especially at the start of a cold. I always peel my ginger the best I can before adding it to the blender.
Lemons - you will want to cut some of the skin off the lemons so your tea when you add the hot water wont be too pulpy. Lemon is highly acidic and has been shown to strengthen your immune system against germs.
Garlic - garlic has been shown to reduce the number of days you are sick, you can omit it if you prefer.
Turmeric - turmeric contains curcumin which has both antioxidants and an anti-inflammatory effect.
Honey - its best to use raw local honey, this will make the tea sweet and balance out the garlic and honey is known to aid in healing and with sore throats.
Once you have assembled the ingredients, use this method:
Combine and blend. Add all the ingredients into a blender and blend, scraping down the sides occasionally until combined.
Freeze. Spread the mixture into an ice cube tray, freeze overnight or until you need them.
Make Immunity Tea. When you want to make a cup of immunity tea place one immunity bomb in a mug or teacup. Add hot water and stir to combine. Enjoy and be well!
Tips and Tricks to Perfect Immunity Bombs
Keep in stock. These can be kept in the freezer for 4 months. I often make a big batch in the fall and have them on hand anytime we are starting to get sick during the fall/winter.
Add fibers. The more fibers (lemon peel) you leave the more beneficial these will be for your gut and microbiome.
Spice it up. If you can take the heat, a dash or two of cayenne can help stimulate circulation and boot metabolism which will help your immunity bombs be all the more effective as warding off disease.
FAQs
Can I add milk to immunity tea?
No, milk will curdle in this tea since it has so much acid in it so avoid adding milk if possible.
How long will the immunity bombs last in the freezer?
You can freeze immunity bombs for up to 4 months. I always keep some in the freezer.
What to Serve With Immunity Bombs
Immunity tea bombs are a popular way to boost your immune system and stay healthy. When it comes to serving them, you can pair them with a variety of foods and drinks to enhance their flavor and nutritional value. Here are a few suggestions:
Hot water: The easiest way to enjoy an immunity tea bomb is to simply drop it into a cup of hot water. This will release the tea and any other ingredients that are included in the bomb.
Honey: If you prefer your tea sweetened, add a spoonful of honey to your cup. Honey is a natural sweetener that also has antibacterial and antiviral properties.
Lemon: Squeeze some fresh lemon juice into your tea to add a tangy flavor and extra vitamin C. Vitamin C is essential for a healthy immune system.
Ginger: Grate some fresh ginger into your tea to add a spicy flavor and anti-inflammatory properties. Ginger is also a natural remedy for nausea and digestive issues.
Baked goods: Immunity tea bombs can be paired with a variety of baked goods, such as Blueberry Muffins, Bran Muffins, or scones, for a tasty and nutritious breakfast or snack.
Fresh fruit: Serve your tea with some fresh fruit, such as berries or sliced oranges, for a refreshing and healthy snack - or try Dragon Fruit Salad, Lemon Poppyseed Glazed Fruit Salad, or Fig and Honey Fruit Salad with Chèvre and Pine Nuts.
Find more of our recent salad recipes packed with healthy ingredients below:
Immunity Bombs Recipe
If you love this easy recipe please click the stars below to give it a five star rating and leave a comment! Please also help me share on facebook and pinterest!
Click here to view the web story for this recipe!
CONNECT WITH SWEET C'S!
Be sure to follow me on social media, so you never miss a post!
Facebook | Twitter | Youtube | Pinterest | Instagram
Only have 30 minutes to get dinner on the table? Sign up for my 30 minute dinner plans direct to your inbox!
Find and shop my favorite products in my Amazon storefront here!
Yield:

12 bombs
Immunity Bombs
Total Time:
2 hours
5 minutes
Delicious immunity bombs are the perfect thing to drive away that fall cold.
Ingredients
½ cup fresh ginger, peeled
2 lemons, sliced (cut some of the skin off)
½ cup garlic cloves, peeled
2 teaspoon ground turmeric
¾ cup honey
Instructions
Add all the ingredients roughly chopped to a blender and pulse until smooth.
Using a traditional ice cube tray or my preferred silicone ice cube tray fill the tray with mixture and freeze until solid.
To make immunity tea, put 1 small ice cube into a mug and fill with boiling hot water. You can add more cubes for a stronger immunity boost.
Recommended Products
As an Amazon Associate and member of other affiliate programs, I earn from qualifying purchases at no extra expense to you.
Ninja BL660 Professional Compact Smoothie & Food Processing Blender, 1100-Watts, 3 Functions -for Frozen Drinks, Smoothies, Sauces, & More, 72-oz.* Pitcher, (2) 16-oz. To-Go Cups & Spout Lids, Gray

Sweese Double Wall Glass Coffee Mugs - 12.5 oz Insulated Espresso Cups Set of 2, Perfect for Cappuccino, Latte, Americano, Tea Bag, Beverage (413.101)
Nutrition Information
Yield
12
Serving Size
1
Amount Per Serving
Calories

82
Total Fat

0g
Saturated Fat

0g
Trans Fat

0g
Unsaturated Fat

0g
Cholesterol

0mg
Sodium

3mg
Carbohydrates

22g
Fiber

1g
Sugar

18g
Protein

1g
Nutrition is automatically calculated by Nutritionix - please verify all nutrition information independently and consult with a doctor or nutritionist for any and all medical and diet advice.