Pan-seared Chilean Seabass in a rich, tangy, and delicious lemon caper butter is a beautiful, gourmet seafood dinner that melts in your mouth just like you'd get at a restaurant – but is deceptively easy to make at home!
We provide a skip to recipe button in the top left corner, as well as a clickable table of contents, just below, to help make this page easier to navigate.
Chilean Seabass with Lemon Caper Butter Sauce
Chilean seabass isn't actually seabass – until the late 70's, it was actually only known by it's real name, Patagonian Toothfish. The name wasn't really appealing however – and marketers renamed the fish to help improve sales of the relatively unheard of fish. Since the rebranding, Chilean Seabass has become one of the most popular seafood choices in the world – leading to concerns of overfishing.
This recipe is one of my all-time favorite seafood dinners – it is really easy to prepare, but looks incredibly impressive. It is a great beginner recipe for those looking to try a new technique to cook fish, since Chilean seabass is forgiving. The light, flaky fish has a flavor similar to cod – with a soft, tender meat that melts in your mouth.
If you can't find Chilean seabass, you can swap for black cod filets as well – and you can add more flavor with other herbs and spices, too – this recipe is really versatile.
Check out my web story on this easy Chilean Sea Bass!
How to Cook Lemon Caper Seabass
One of the reasons I love making Chilean seabass is how incredibly quick and easy it is to make – simply brown and serve with a sauce. Since the fish is thicker and a fattier fish, it is forgiving – less prone to overcooking and drying out.
To make this recipe, you'll need:
Chilean Seabass filets – Chilean seabass is a light, flaky fish that has a similar flavor to cod, but a rich and fatty texture. Chilean seabass often tastes buttery, crisps beautifully when pan fried, and is not prone to drying out. It has a mild flavor, and doesn't taste "fishy" at all.
Shallot – shallot is earthy, pungent, with a flavor of onion and garlic, but less intense.
Garlic – garlic adds an earthy, addictive kick to seafood that seriously ups the rich, addictive flavor.
Lemon juice – lemon juice adds a bright, acidic, lightly sweet kick to butter sauce, helps to kick through the fat in the butter and fish, and neutralizes any fishy smells and flavors some people associate with seafood.
Capers – capers are unripe flower buds of Capparis spinosa with a tangy, lemon and olive-like flavor.
Italian Herbs seasoning – a blend of basil, thyme, oregano and marjoram is lightly earthy, sweet, and peppery.
Butter – butter is used both to fry our fish and as the base for our lemon caper sauce – the rich milkfats bring a delicious addictive flavor to both the fish and sauce, creating an unforgettable dinner!
Salt – I recommend using a high quality celtic sea salt when cooking.
Pepper – using freshly cracked black pepper brings a spicy heat that has a bit acidic and bright. For best flavor, use fresh cracked pepper, as the flavor can fade quickly.
Tips and Tricks to Perfect Chilean Seabass With Lemon Caper Butter Sauce
Don't flip often. Seabass gets a lovely, crispy crunch when cooking in butter – let it develop. Resist the urge to over-flip fish, instead flipping just when browned.
Let fish brown. One of my favorite parts of seabass is the lovely texture it takes on when browned in butter – it gets a crispy buttery crust that is savory and unctuous – you can't beat it. Let the fish brown before flipping so you don't miss all that flavor!
Crisp the skin. Chilean Seabass skin is delicious when crispy – really let is brown and crisp up for the most intense, salty, buttery flavor.
FAQs
When is Chilean seabass cooked?
Chilean seabass is done cooking when it flakes easily and has reached a temperature of 140 degrees internally.
How can I store this recipe?
This recipe can be stored in an airtight container for up to three days in the refrigerator.
What is Chilean seabass?
Chilean seabass is actually the rebranded name for Patagonian toothfish – a species of notothen found in cold waters in the southern Atlantic, Pacific, and Indian Oceans and the Southern Ocean. It's flavor is light, similar to cod.
Is this recipe low carb?
Chilean seabass is a protein-rich seafood and our lemon caper sauce is keto and low carb diet compatible.
How can I make sure my fish doesn't stick?
To be sure your fish doesn't stick, be sure to use enough butter; get your pan nice and hot before adding the fish (letting it sear right away in hot, melted butter will create a barrier to keep fish from sticking to pan); cook skin side up first; and
What pan should I use?
To keep fish from sticking to pans, even very well seasoned cast iron pans, we recommend cooking this recipe in a nonstick skillet. We personally use a ceramic skillet instead of skillets treated with chemicals that can break down in food.
How can I flip fish without it breaking?
Since Chilean Seabass is a thicker, fattier fish, it is much sturdier, and will hold up to cooking in a pan and being flipped without breaking apart. However, we recommend only flipping once and using a fish spatula that is wide and slightly curved to make flipping fish without breaking even easier.
What is a substitute for Chilean Seabass?
You can use sablefish, also known as black cod, as a great swap for Chilean seabass. Sablefish also flakes when cooked, and has a similar flavor and fat composition and texture to Chilean seabass.
What to Serve With Chilean Seabass
Lemon caper butter Chilean seabass is delicious with all sorts of vegetables – we love it with rich and savory sesame ginger grilled bok choy, our quick and easy garlic Chinese style green beans, roasted asparagus, sauteed mushrooms – and whole roasted onions.
It is also lovely served with rice pilaf, a warm goat cheese salad, or a port and tonic cocktail!
Be sure to visit and bookmark our side dish recipes index!
Lemon Caper Butter Chilean Seabass Recipe
If you love this easy recipe please click the stars below to give it a five star rating and leave a comment! Please also help me share on facebook and pinterest!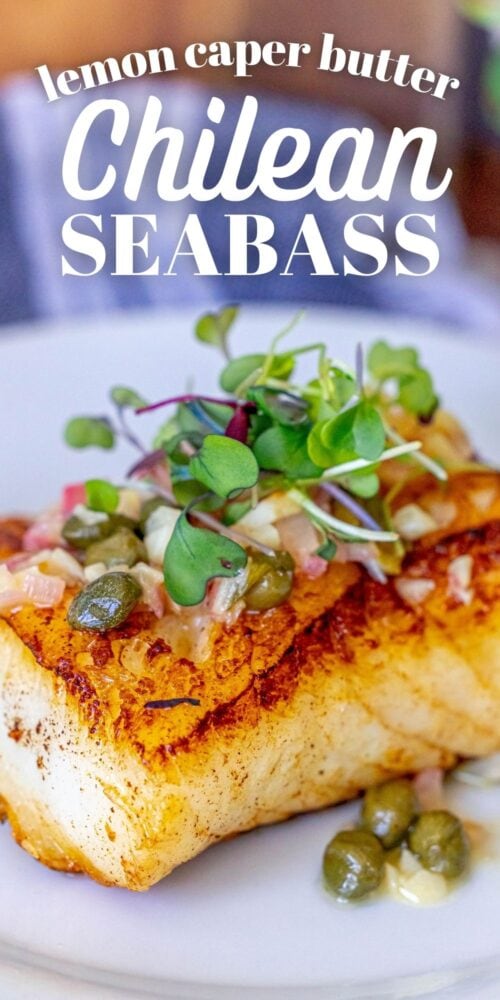 CONNECT WITH SWEET C'S!
Be sure to follow me on social media, so you never miss a post!
Facebook | Twitter | Youtube | Pinterest | Instagram
Only have 30 minutes to get dinner on the table? Sign up for my 30 minute dinner plans direct to your inbox!
Find and shop my favorite products in my Amazon storefront here!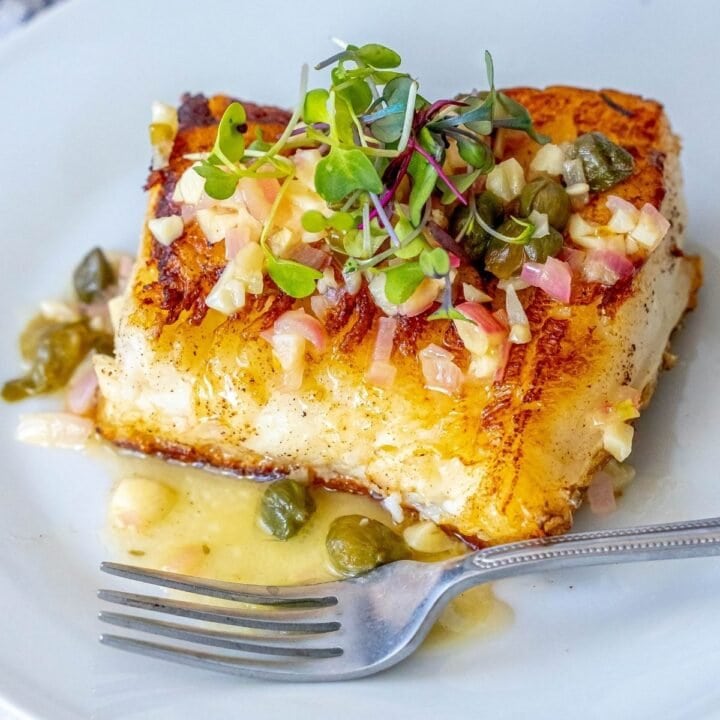 Yield:

2 filets
Lemon Caper Butter Chilean Seabass
Rich buttery Chilean seabass filets cooked in a lemon caper sauce in less than 15 minutes for a restaurant-quality dinner that is simple, elegant, and so delicious!
Ingredients
2 6 oz chilean seabass filets
3 tablespoons + 2 tablespoons butter (4 total, 3 for sauce, 2 for pan frying fish)
2 tablespoons fresh squeezed lemon juice
1 tablespoon capers
1 large shallot, finely minced
4 cloves garlic, finely minced
1 teaspoon Italian Herbs seasoning mix
1 teaspoon celtic sea salt
1 teaspoon freshly cracked black pepper
diced parsley, or microgreens, to garnish, optional
Instructions
Heat a large nonstick skillet on medium-high heat.
Melt 2 tablespoons butter in pan until light and foamy.
Add seabass, fat side face down in butter.
Cook about 6 minutes, until fish is golden brown on one side.
Flip, cook skin-side down, until crispy and golden brown. Fish should be golden brown on top and bottom and flake easily when done.
When fish has crisped, remove from pan, and set aside on a plate. Discard butter in pan.
Add pan back to stove, and return to medium-high heat.
Melt 3 tablespoons butter in pan and add shallots and garlic. Cook to soft and lightly browned, fragrant, and softened, about 2 minutes, stirring often.
Stir in lemon juice, pepper, salt, herbs, and capers.
Let reduce slightly and thicken, about 1 minute.
Spoon sauce over seabass and top with parsley or microgreens.
Serve immediately.
Recommended Products
As an Amazon Associate and member of other affiliate programs, I earn from qualifying purchases at no extra expense to you.
Nutrition Information
Yield
2
Serving Size
1
Amount Per Serving
Calories

459
Total Fat

23g
Saturated Fat

11g
Trans Fat

0g
Unsaturated Fat

9g
Cholesterol

162mg
Sodium

1616mg
Carbohydrates

8g
Fiber

1g
Sugar

2g
Protein

53g
Nutrition is automatically calculated by Nutritionix - please verify all nutrition information independently and consult with a doctor or nutritionist for any and all medical and diet advice.