One Pot Creamy Mushroom Chicken Chowder
One Pot Creamy Mushroom Chicken Chowder is an easy, delicious, and totally crave-able comforting keto and paleo diet acceptable soup everyone loves!
In winter, I crave one thing – chowder.
Since going on a keto-ish diet though, rich and hearty sous and stews have happened a lot less as I am skipping the normal thickening methods like
This soup is perfect for comfort-seeking dieters – it is rich, creamy, full of natural goodness, and so easy to make and reheat.
This chowder works with a paleo diet, whole 30 diet, keto diet, and other low carb diets (swap some of the vegetables in this creamy mushroom chicken chowder if they are too high in carbs for you, this recipe is very adaptable) – and is perfect as a hearty meal to keep you full longer.
Leftover Keto Mushroom Chicken Chowder Reheating Tips
To reheat a soup with lots of cream, you can just pop it in the microwave – which will still taste fabulous, but the soup itself might separate slightly and look a little oily/spotty.
To prevent this, I like to reheat my soup on the stovetop, removing from the heat to whisk in a little extra cream, and then add back to the heat. This will result in a gorgeous reheated soup.
If you are at work and need to use a microwave, heat to warm (about 2-4 minutes), remove form microwave, stir well, add in a little more cream and "whisk" (you can use a plastic fork to whisk, jut flip it quickly with your wrist) and then reheat to piping hot, another 1-2 minutes.
Keto Diet Friendly Chicken Chowder Vegetable Swaps
If you're concerned about the carbs and protein in this chowder and you're really watching your intake (something I will admit I do NOT do, hence why I say I am "keto-ish"), look into some of the suggestions I'm using below:
-Add garlic infused oil instead of garlic to reduce the carbs from garlic.
-Swap carrots for spinach, arugula, or another delicious green that you love (add it at the end of cooking to not completely overpower the dish)
-Increase herbs, butter, and cream and reduce chicken – make sure to use a very flavorful bone broth to make up for the reduction in chicken to reduce some of the protein for this dish.
Other Low Carb Meals You'll Love
If you're looking for other delicious low carb meals you will love, please check out some of my favorites here – click the links under each picture to go to the printable recipe:
One Pot Creamy Shrimp Florentine Skillet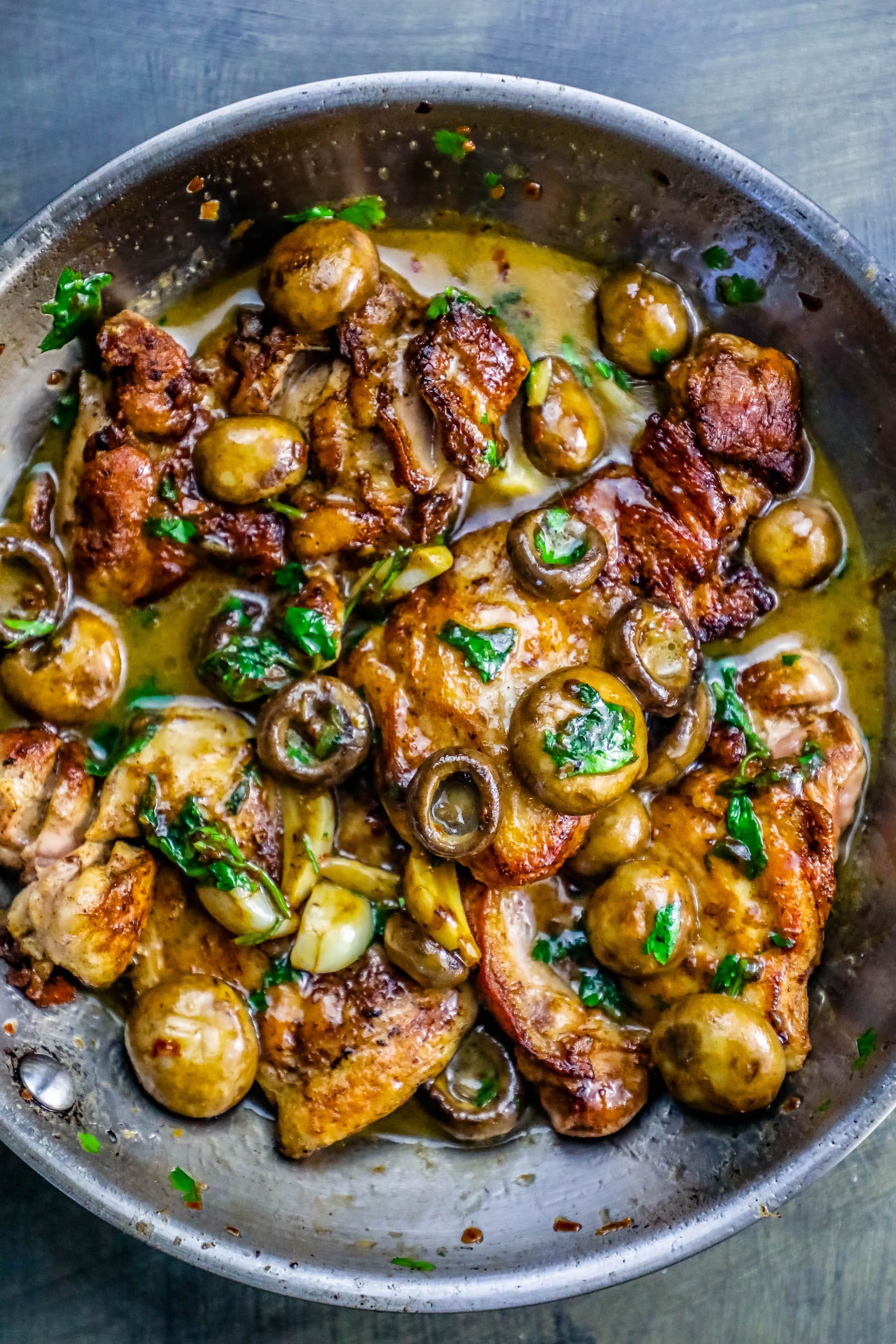 One Pot Garlic Butter Chicken Thighs and Mushrooms
One Pot Cheesy Taco Skillet
One Pot Creamy Mushroom Chicken Chowder Recipe
Yield:

8
One Pot Creamy Mushroom Chicken Chowder
One Pot Creamy Mushroom Chicken Chowder is an easy, delicious, and totally crave-able comforting keto and paleo diet acceptable soup everyone loves!
Ingredients
2 tbsp butter
2 tbsp salt, divided
2 chicken breasts, diced into 1" chunks
1/4 cup garlic, diced
2 carrots, peeled and diced into small rings or half-rings
3 celery, sliced into small rings
2 tbsp italian herb seasonings blend, thyme, oregano, basil
1 tbsp onion powder
1 tbsp fresh cracked pepper
12 oz organic chicken bone broth
1 cup heavy cream
Sprigs of rosemary, thyme, or oregano, to garnish.
Instructions
In a large pot, melt butter on medium high heat until foamy.
Add chicken, sprinkle half celtic sea salt over chicken.
Cook chicken to golden brown on the outside, stirring often to prevent burning, about 6 minutes.
Add in carrots, celery, mushrooms.
Cook another 5 minutes, until soft and lightly browned.
Add in rest of butter and melt, tossing chicken and vegetables in the butter.
Add onion powder, herb seasonings, pepper, and rest of salt - stir to coat.
Slowly stir in bone broth, scraping up any browned bits from the pan as you stir it in.
Let reduce 10 minutes on medium.
Turn off heat.
Slowly stir in cream, whisking as you add it to the soup.
When cream is added and has been whisked vigorously for 1 minute, return to heat on medium and let boil softly for 4-5 minutes, until soup has thickened.
Serve and garnish with herbs, if desired.
To reheat, I prefer to cook on the stove, and add in extra cream (be sure to whisk and remove from heat when adding more cream to prevent it from breaking) - as you reheat. Microwave is fine, but minor breaking (the sauce will look slightly separated but still taste amazing) might occur.
Nutrition Information
Amount Per Serving
Calories

146
Saturated Fat

8g
Cholesterol

48mg
Sodium

1804mg
Carbohydrates

4g
Sugar

1g
Protein

1g