One Pot Garlic Butter Chicken Thighs and Mushrooms
Aug 06, 2021, Updated Oct 25, 2023
Garlic Butter Chicken Thighs and Mushrooms – perfect mushrooms and tender, juicy, delicious chicken thighs with crispy crunchy skin in a garlic butter sauce.
This Chicken and Mushrooms with Garlic Butter Sauce is so easy and delicious – it is soon to become your favorite dinner, ever!
And seriously – can you beat any chicken recipe or mushroom recipe that gives you dinner and a side dish in just one pot?
This garlic butter sauce is incredibly simple – and goes great over chicken thighs and mushrooms.
Don't want all the extras in a recipe post? We provide a skip to recipe button in the top left corner, as well as a clickable table of contents, just below, to help make this page easier to navigate.
Garlicky Butter Chicken Thighs and Mushrooms
If you love the flavor of garlic butter, get ready, because this recipe is an EXPLOSION of melt in your mouth chicken thigh goodness you won't be able to get enough of!
I have a similar garlic butter pork chop and mushrooms recipe – as well as as garlic butter baked pork tenderloin and garlic butter lobster tails – and trust me when I say when you taste the flavors in this dish, you're going to want to make all of my garlic butter recipes!
While you'll briefly remove the chicken thighs to put the sauce together, they pop right back in the pan to cook the rest of the way in the rich, flavorful garlic butter sauce – making this dinner truly decadent!
You can also quickly brown the chicken, then bake chicken until done and add to garlic butter sauce and mushrooms just before serving.
We just know you're going to love this recipe as much as we do, because:
It's a one-pot dinner – cook your mushroom side dish right alongside your chicken!
Less pans = less cleanup!
So much garlic butter flavor – you're going to want to lick the pan, I promise.
Serve this dinner with rice, pasta, bread, cauliflower – or just eat it out of the pan!
Low carb and keto compatible, so you can indulge.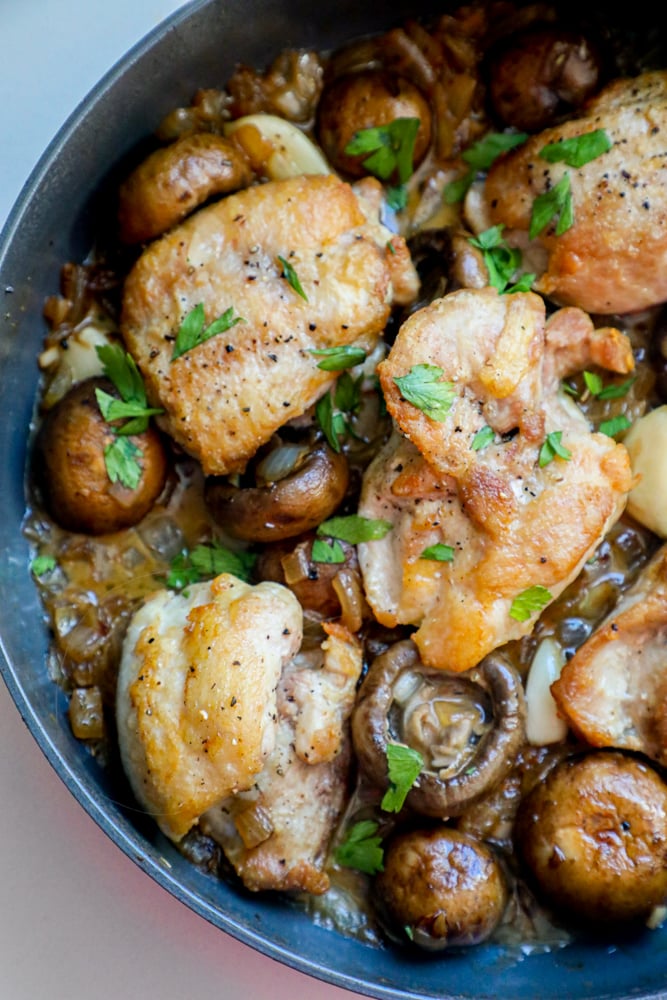 How to Make One Pot Chicken Thighs and Mushrooms
Butter. Butter adds a creamy richness to create a sauce, and adds fat that helps chicken crisp up in a pan to cook without sticking. If you'd prefer to skip butter, you can use olive oil instead – though it will not have as creamy a texture.
Salt – we're carefully adding salt to this recipe to help pull out the savory umami flavors from our chicken thighs and garlic, as well as help our mushrooms give off water so they brown.
Chicken thighs. Chicken thighs are a delicious, meaty cut of chicken from dark meat – so they are forgiving, and won't dry out even if you overcook them. Chicken thighs are also a great budget pick to feed a group! You can use bone-in, skin-on, or boneless, or skinless chicken thighs – the method is exactly the same, but skin-on and bone-in thighs take a bit more time to cook – simply go off a thermometer instead of timing.
Garlic. Garlic creates a rich, umami flavor that adds an earthy complexity to dishes and makes this chicken totally addictive!
Cremini Mushrooms. Cremini mushrooms, or baby portabellas, are one of our favorite mushrooms to make because they have a meaty flavor, tender texture, and brown well without sticking. Cremini mushrooms are pretty forgiving, and a great first mushroom to add to pan fried dishes if you've never cooked with them before.
Chicken stock. Chicken stock adds liquid with more flavor than just adding water – it helps us deglaze the pan and scrape up browned bits, set up the sauce, and adds extra lovely salty chicken flavor!
Red Pepper flakes. Red pepper flakes are an easy to control way to add a bit of heat to this dish – sprinkle a pinch at first, taste, and keep adding a pinch more until you've stirred in enough to give a spicy kick without being too spicy. Remember to add slowly – you can always add more, but can't take it away if you add too much.
Cilantro. Cilantro adds an earthy, citrussy, lemon and pepper flavored kick to dishes – and adds a pop of bright green to make your brown dish more visually appealing! Rough chop and sprinkle over your dish after you've plated it for a gorgeous presentation! If you are sensitive to cilantro's flavor – and it tastes like soap to you – opt for parsley or some fresh basil leaves instead!
Lemon juice. Lemon is a lightly sweet, tart, and bright kick to add citrus to your dish, so the rich buttery flavor and meat isn't overpowering. Adding acid helps dishes from feeling too heavy, and creates balance.
Parmesan cheese – parmesan cheese is salty, nutty, and adds an addictive flavor that is irresistible!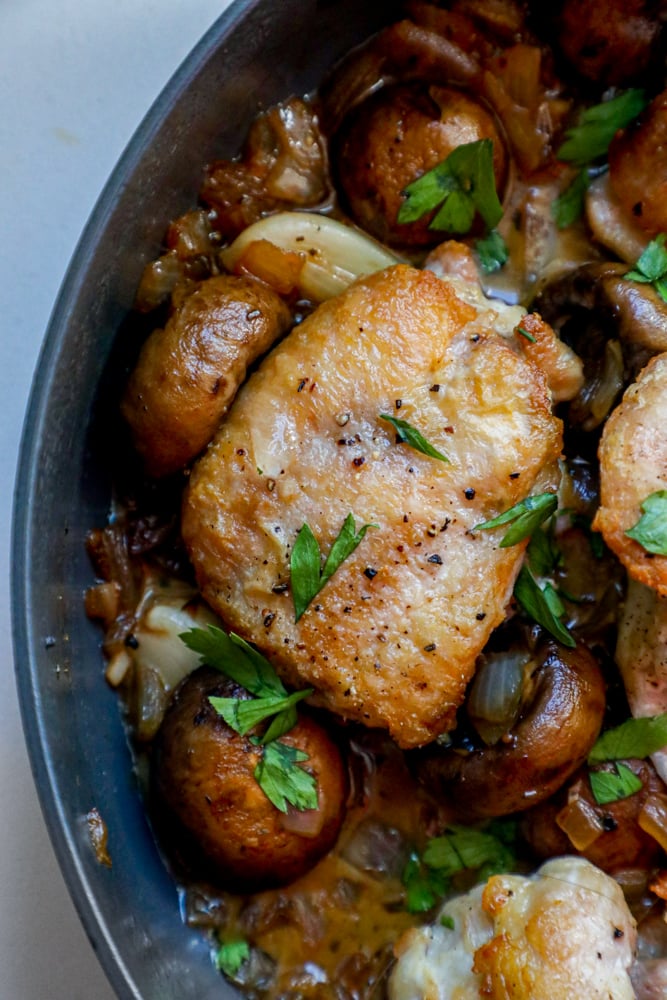 Tips for Perfect Pan Fried Chicken Thighs & FAQs
Make sure you fully brown your chicken thighs before adding other ingredients – this helps give a tasty crunch, and lots of rich, salty, caramelized butter flavor. Your chicken might not be fully cooked when removed from pan to make sauce (it will continue to cook, so no worries!), but it should be very nicely browned.
Make sure to brown your mushrooms when cooking – it gives them a rich, meaty flavor you won't get if the mushrooms aren't given enough time to get a lovely browned crust. If you don't tend to love mushroom recipes at home but like them often in a restaurant it might just be a lack of proper browning of the mushrooms when you're making a mushroom dish at home. Mushroom recipes need proper browning for a rich, buttery, and meaty flavor to develop.
Scrape the brown bits! After frying your chicken thighs in butter, they will have lots of browned bits left in the pan. Don't leave all that flavor to burn – scrape them up with some chicken stock or butter!
Be careful adding salt. While the chicken thighs should be lightly salted before cooking, take care to not add too much – we're adding stock and butter to this recipe, so only a very small dash of salt is key! You can always add more at the end if your sauce isn't salty enough – but trust me when I say this recipe gets SUPER salty, so go easy on it until after it has reduced and come together!
Substitute Chicken Breasts for Chicken Thighs. If you're watching fat, you can easily swap chicken breasts for the chicken thighs. Simply cut breasts in half if they are any size but small (so they are thinner and cook faster- about 6 oz portion sizes), and cook the same as the chicken thighs. Depending on your chicken breasts thickness, you might need to add 5-6 minutes to the cook time – check that it is fully 165 internal with a thermometer before serving. For a complete Parmesan Garlic And Mushroom Chicken Breast Dinner visit my recipe here.
Use green beans instead of mushrooms. Swap out the cremini mushrooms for 8-10 oz green beans, strings removed.
How To Store Cooked Chicken Thighs. Store cooked chicken thighs in a plastic bag or airtight container in the refrigerator for up to 3 days.
How To Freeze Cooked Chicken Thighs. To freeze cooked chicken thighs, place in freezer bag and freeze for up to 3 months. Let chicken thighs thaw fully in the refrigerator when ready to reheat.
Recipe FAQs
When are chicken thighs done cooking?
Chicken is fully cooked at 165 degrees F when probed at the thickest part with a meat thermometer.
How long does garlic butter chicken thighs with mushrooms last?
This recipe can be stored in an airtight container in the refrigerator for up to four days.
How do I clean mushrooms?
We clean mushrooms by using a clean, dry, paper towel to gently wipe away any dirt from mushrooms before cooking. We don't wash mushrooms to prevent too much water being absorbed, as mushrooms already give off a lot of liquid as they cook.
What To Serve With Garlic Butter Chicken Thighs
If you're looking for the best sides for garlic butter chicken thighs, I'm rounding up some of my favorites below!
To reheat in the oven: place dish in small prepared casserole dish and cover with foil; or place in a foil pouch. Bake at 350 for 10-15 minutes, covered, until piping hot.
To Reheat on the stove: heat a medium sized saucepan on medium high heat. Add 1 tbsp olive oil to pan, heat until shimmery. Add chicken thighs and mushrooms and cook until piping hot, about 8 minutes.
One Pot Garlic Butter Chicken Thighs and Mushrooms Recipe
If you love this One Pot Garlic Butter Chicken Thighs and Mushrooms Recipe as much as I do, please write a five star review in the comment section below and be sure to help me share on Pinterest and Facebook!
CONNECT WITH SWEET C'S!
Be sure to follow me on social media, so you never miss a post!
Only have 30 minutes to get dinner on the table? Sign up for my 30 minute dinner plans direct to your inbox!
Find and shop my favorite products in my Amazon storefront here!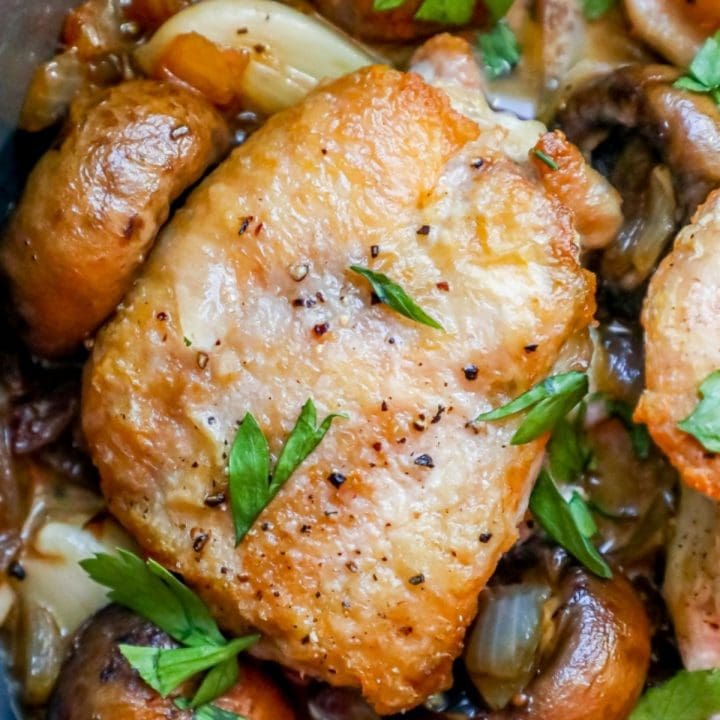 One Pot Garlic Butter Chicken Thighs and Mushrooms
One Pot Garlic Butter Chicken Thighs and Mushrooms - decadently delicious chicken thighs and a mushroom side dish all in one pan with the most amazingly delicious garlic butter sauce!
Ingredients
4 tbsp butter, divided
PINCH of salt, very small amount - but if using low sodium stock or unsalted butter, ok to use a little more salt
4 chicken thighs, bones removed (skinless or with skin OK)
6-10 cloves garlic, sliced in half or finely diced (I like big chunks of garlic but realize most don't)
8 oz cremini mushrooms, stems removed and wiped clean
1 tbsp flour (omit if keto)
1 cup chicken stock
1 pinch to 1 tsp red pepper flakes, depending on your desired spicy level
1/2 cup diced cilantro, optional
2 tbsp lemon juice
1/4 cup parmesan cheese
Instructions
Heat a heavy pan on medium high until very hot.
Add butter, swirl around pan, and let melt.
When butter is foamy and melted, add chicken thighs.
Very lightly salt chicken thighs (ONE pinch for all things - don't overdo it!)
Cook chicken thighs 5 minutes on each side, until lovely golden brown.
When chicken thighs are well browned, remove from pan - do not drain pan grease.
Add garlic to pan, stir well.
Add mushrooms to pan, stirring occasionally to keep mushrooms and garlic from burning.
Add second half of butter to pan, let melt.
Let garlic and mushrooms brown - about 4-6 minutes. Do not let garlic burn, reduce heat if needed.
Add red pepper flakes (add slowly according to your taste) and cilantro when chicken and mushrooms are lovely golden browned.
Sprinkle the flour over the sauteed vegetables, stir and let it cook off for a minute or two.
Add stock, lemon juice, and cheese.
Stir well, being sure to scrape up any browned bits from bottom of pan.
Bring to a boil, let reduce and thicken slightly for 2 minutes.
Add chicken thighs back to pan, let sauce reduce another 5-8 minutes, flipping chicken occasionally, until thick and chicken thighs are 165 internal temp.
Remove from pan and serve immediately!
Nutrition Information
Yield

6
Serving Size

1
Amount Per Serving
Calories

339
Total Fat

24g
Saturated Fat

11g
Trans Fat

0g
Unsaturated Fat

12g
Cholesterol

142mg
Sodium

525mg
Carbohydrates

8g
Fiber

1g
Sugar

2g
Protein

25g
Nutrition is automatically calculated by Nutritionix - please verify all nutrition information independently and consult with a doctor or nutritionist for any and all medical and diet advice.