One Pot Garlic Butter Chicken Thighs and Mushrooms
One Pot Garlic Butter Chicken Thighs and Mushrooms – decadently delicious chicken thighs and a mushroom side dish all in one pan with the most amazingly delicious garlic butter sauce!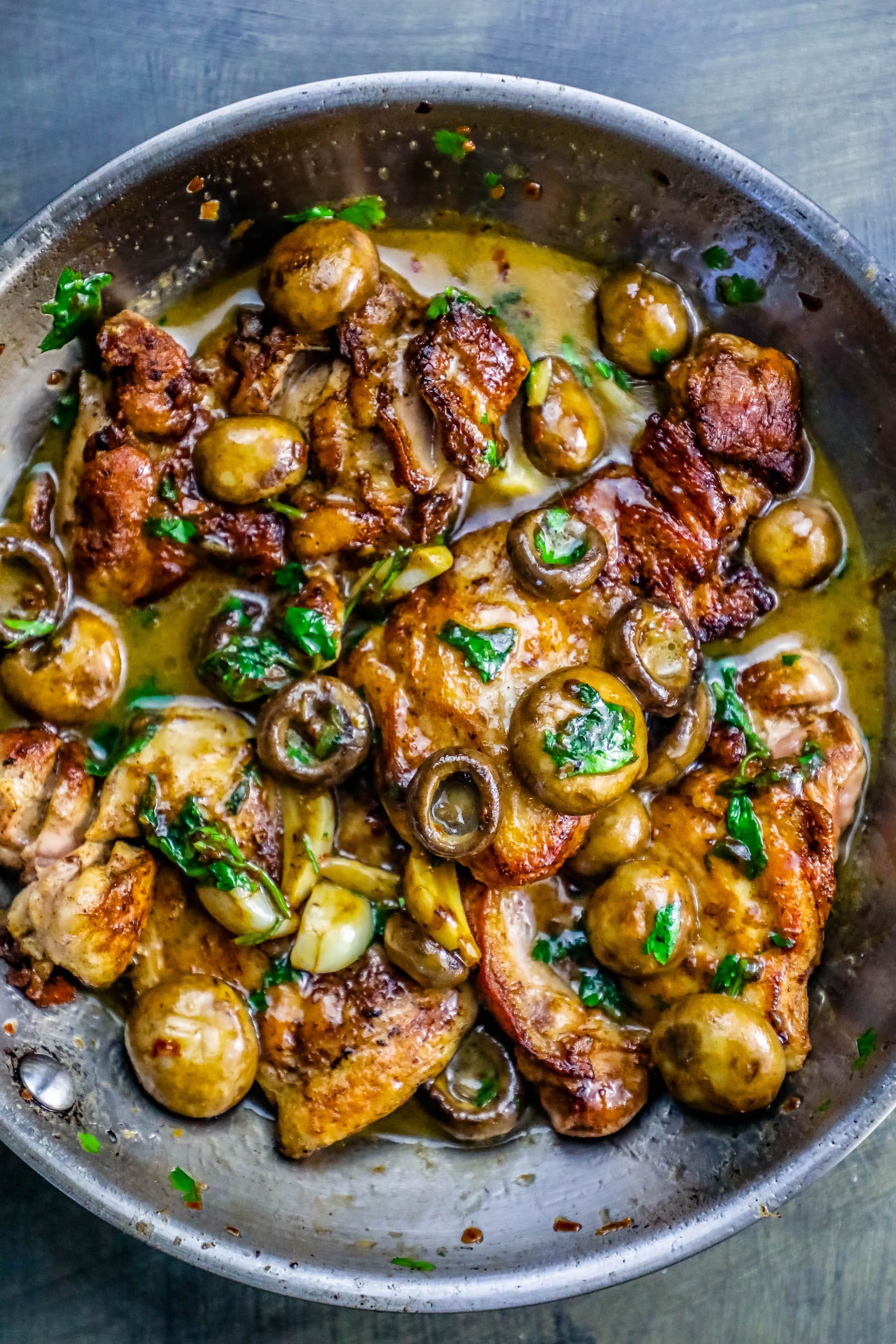 This Chicken and Mushrooms with Garlic Butter Sauce is so easy and delicious – it is soon to become your favorite dinner, ever!
And seriously – can you beat any recipe that gives you dinner and a side dish in just one pot?
This garlic butter sauce is incredibly simple – and goes great over chicken thighs and mushrooms. While you'll briefly remove the chicken thighs to put the sauce together, they pop right back in the pan to cook the rest of the way in the rich, flavorful garlic butter sauce – making this dinner truly decadent!
*Please be sure to scroll through the entire post – I'm giving lots of great tips, sharing my favorite substitutes, and even providing links to the items I used in this recipe! 
Dietary Considerations
I realize this recipe is not low-fat – which is completely on-purpose! I have been following a very low carb keto-ish diet (already down 30 pounds!) – so while it is rich, decadent, and super delicious – it works into most paleo, keto, or low carb plans.
I'm including a couple notes on how you can modify this dish to suit your own nutritional needs!
Swap out the butter for ghee/clarified butter if desired.
Use avocado oil instead of butter if you're completely avoiding dairy.
Swap out chicken breasts instead of thighs, and use a heart-healthy, high-temp suitable oil instead of butter (you can also reduce it to 2tbsp) for a lower calorie version.
Swap out unsalted butter and low sodium stock if you're on a low sodium diet. Alternatively, you can use a tiny bit of celtic sea salt when using low sodium versions of stock or butter – celtic sea salt has a saltier flavor – without extra sodium that some of the salted items come with.
Tips for Perfect One Pot Chicken Thighs with Garlic Butter Sauce
Make sure you fully brown your chicken thighs before adding other ingredients – this helps give a tasty crunch, and lots of rich, salty, caramelized butter flavor. Your chicken might not be fully cooked when removed from pan to make sauce (it will continue to cook, so no worries!), but it should be very nicely browned.
Make sure to brown your mushrooms when cooking – it gives them a rich, meaty flavor you won't get if the mushrooms aren't given enough time to get a lovely browned crust.
Scrape the brown bits! After frying your chicken thighs in butter, they will leave lots of browned bits in the bottom of the pan. Those bits are gold – be sure to gently scrape them up as you make the sauce – they will infuse a wonderful flavor into your sauce!
Be careful adding salt. While the chicken thighs should be lightly salted before cooking, take care to not add too much – we're adding stock and butter to this recipe, so only a very small dash of salt is key! You can always add more at the end if your sauce isn't salty enough – but trust me when I say this recipe gets SUPER salty, so go easy on it until after it has reduced and come together!
Chicken with Garlic Butter Sauce Substitution Ideas
This one pot chicken dinner is not only easy – it's incredibly versatile, too! There are a TON of variations to make this dish delicious (say you want chicken breasts instead of thighs, or don't like mushrooms? I've got you covered!)
Substitute Chicken Breasts for Chicken Thighs
If you're watching fat, you can easily swap chicken breasts for the chicken thighs. Simply cut breasts in half if they are any size but small (so they are thinner and cook faster- about 6 oz portion sizes), and cook the same as the chicken thighs. Depending on your chicken breasts thickness, you might need to add 5-6 minutes to the cook time – check that it is fully 165 internal with a thermometer before serving.
Substitute Green beans for Mushrooms
Swap out the cremini mushrooms for 8-10 oz green beans, strings removed. Add at the same time as mushrooms in this recipe, and be sure to cook to just soft.
One Pot Garlic Butter Chicken Thighs and Mushrooms Recipe
If you love this One Pot Garlic Butter Chicken Thighs and Mushrooms Recipe as much as I do, please write a five star review in the comment section below (or on Pinterest with the "tried it" button – you can now add pictures into reviews, too!), and be sure to help me share on facebook!
Or you can sign up for my totally free email newsletter to get my favorite easy meals delivered straight to your inbox, daily!
To watch me make this recipe, click the video below (there is a facebook shareable video just below the recipe – I'd LOVE it if you helped me share!!!!):
One Pot Garlic Butter Chicken Thighs and Mushrooms
One Pot Garlic Butter Chicken Thighs and Mushrooms - decadently delicious chicken thighs and a mushroom side dish all in one pan with the most amazingly delicious garlic butter sauce!
Ingredients
4

tbsp

butter

divided

PINCH

of salt

very small amount - but if using low sodium stock or unsalted butter, ok to use a little more salt

4

chicken thighs

bones removed (skinless or with skin OK)

6-10

cloves

garlic

sliced in half or finely diced (I like big chunks of garlic but realize most don't)

8

oz

cremini mushrooms

stems removed and wiped clean

1

cup

chicken stock

1

pinch

to 1 tsp red pepper flakes

depending on your desired spicy level

1/2

cup

diced cilantro

optional

2

tbsp

lemon juice

1/4

cup

parmesan cheese
Instructions
Heat a heavy pan on medium high until very hot.

Add butter, swirl around pan, and let melt.

When butter is foamy and melted, add chicken thighs.

Very lightly salt chicken thighs (ONE pinch for all things - don't overdo it!)

Cook chicken thighs 5 minutes on each side, until lovely golden brown.

When chicken thighs are well browned, remove from pan - do not drain pan grease.

Add garlic to pan, stir well.

Add mushrooms to pan, stirring occasionally to keep mushrooms and garlic from burning.

Add second half of butter to pan, let melt.

Let garlic and mushrooms brown - about 4-6 minutes. Do not let garlic burn, reduce heat if needed.

Add red pepper flakes (add slowly according to your taste) and cilantro when chicken and mushrooms are lovely golden browned.

Add stock, lemon juice, and cheese.

Stir well, being sure to scrape up any browned bits from bottom of pan.

Bring to a boil, let reduce and thicken slightly for 2 minutes.

Add chicken thighs back to pan, let sauce reduce another 5-8 minutes, flipping chicken occasionally, until thick and chicken thighs are 165 internal temp.

Remove from pan and serve immediately!
Nutrition Facts
One Pot Garlic Butter Chicken Thighs and Mushrooms
Amount Per Serving
Calories 416
Calories from Fat 288
% Daily Value*
Total Fat 32g 49%
Cholesterol 147mg 49%
Sodium 379mg 16%
Potassium 577mg 16%
Total Carbohydrates 7g 2%
Protein 23g 46%
* Percent Daily Values are based on a 2000 calorie diet.
If you LOVE this one pot chicken thigh and mushroom recipe as much as I do, PLEASE help me share it on Facebook!
Click the link below to save to your page as a handy bookmark for later!!
 One Pot Chicken and Mushrooms in Garlic Butter Sauce Buying Guide
I LOVE this easy portable induction cooktop – while I have a gorgeous gas stove in my home, I cook on this all the time for video purposes – and LOVE cooking on it!
If you love the pretty ceramic plate I'm showing in this recipe, you can find a TON of gorgeous plates like it thought this link – be sure to click to the storefront from this link.