This One Pot Creamy Ravioli and Sausage Skillet is full of flavor and so easy- and takes just 18 minutes to feed a big family for under $3 per serving!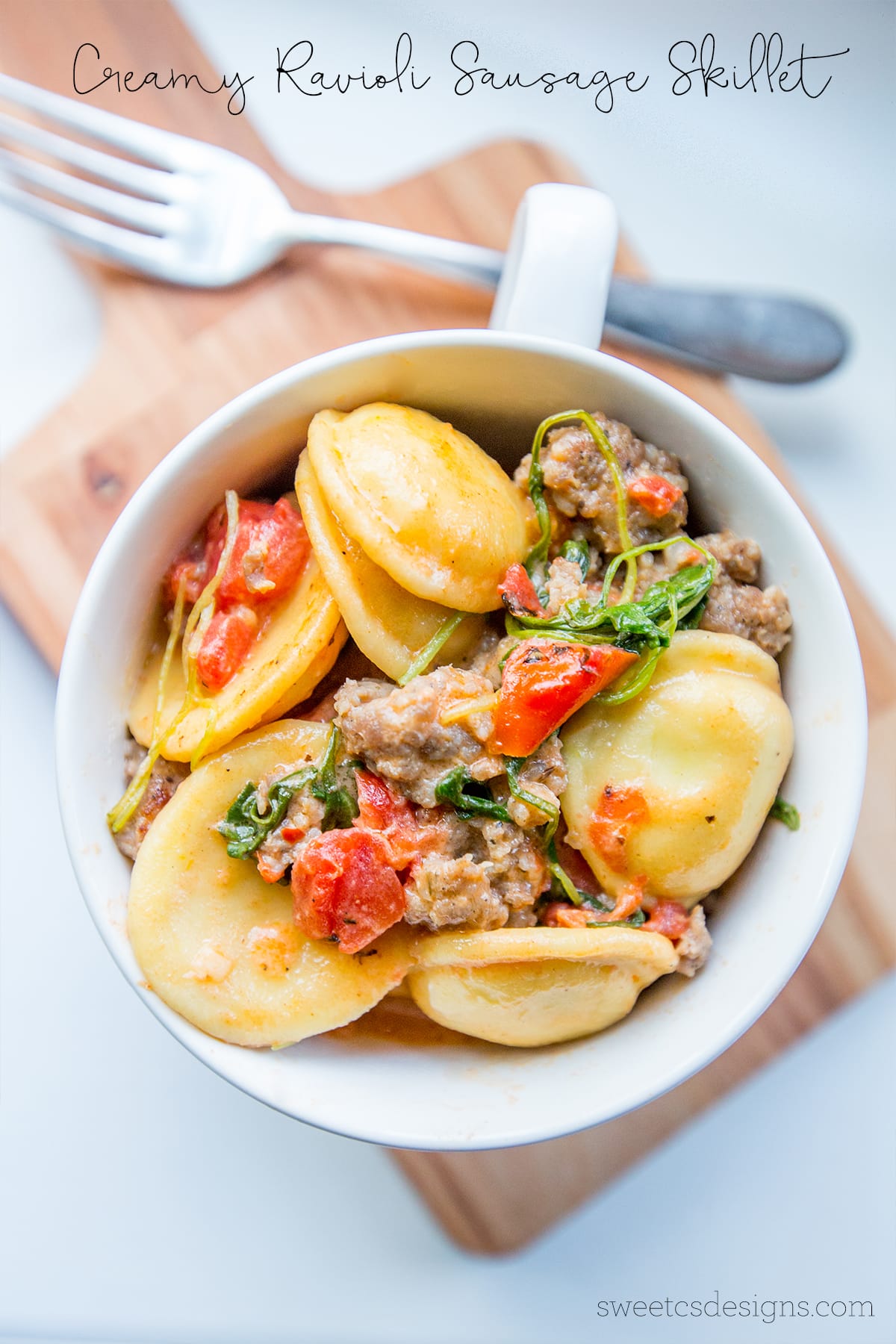 I have a theory that there are some foods you simply cannot, under even the worst circumstances, screw up too badly.
Things like pork products, cheese, and salty, doughy carbs are pretty much the holy grail of comfort foods. It's irrefutable- to me, you just can't beat cheese, sausage, or pasta when you don't care about anything other than tucking into something that warms you up and makes your tastebuds dance. Spoiler alert…. the meal you're about to read can in no way count as a healthy food. But man, does it taste great! 
I took that theory up a notch (and un-notched the top button of my jeans…) and added some heavy cream, diced tomatoes with garlic, and arugula to make this amazingly rich, comforting, and holy-crap-nothing-will-ever-taste-as-good-again One Pot Creamy Ravioli Sausage Skillet. 
I know, I know… I totally had you until I snuck in the Arugula part in there. Arugula is one of those ingredients you either love or hate (I'm firmly in the love camp – it is peppery and helps cut acids in dishes, brings out salty flavors without extra sodium, and wilts in a way that holds up well to heat and is still toothsome like spinach), but it is oddly one of my favorite additions to this dish. 
And anyways, adding arugula makes this practically count as a salad, am I right?
If only I loved actual carb and pork free salads a hint as much as creamy pasta dishes… 
I got the idea for this recipe from my sweet friend Sarah of Bombshell Bling – she makes a delicious, creamy tortellini and spinach one pot pasta that her sweet mom Sally used to make. Sarah's mom died in her late teens, and sharing her favorite recipes and traditions is such an amazing tribute to the woman she loved so much- I love following along and seeing her make special new memories with her kids!
I set out to make her recipe, but in a shopping induced fog (does anyone else feel instantly more scatterbrained the second you walk into a grocery store? Are they piping the air with some kind of gas that makes us zombies, forced to walk the aisles until we've filled our carts to the brim with things we thought we needed, only to have to return later for the thing we initially set out to buy and predictably completely forgot?) I bought ravioli instead of tortellini, didn't have spinach but had arugula, and I needed to use up some sausage- which isn't in her recipe at all- or freeze it.
Basically, I decided to change it entirely except for the pasta in sauce idea. But, damn was it good! 
Hilarious blogger sidenote: I totally just noticed that Sarah and I clearly both have similar taste- because we have the same seagrass kitchen chargers from IKEA! 
The best part of this dinner is that it can all be made in one pan. No taking stuff in and out of the pan- just brown the sausage and then dump everything in. Stir it a bit, let it get happy- and sit back while everyone admires your undeniable cooking prowess through muffled notes of "mmmmmmm sooo good".
Yep…. it really is that good. 
The sauce comes together magically with just a little bit of stirring- and the flavor of ordinary breakfast sausage is incredibly elevated with a doughy pasta and garlic-infused tomatoes! 
If you are looking for the best type of ravioli to put in this dish, I suggest a super doughy egg-noodle based ravioli (typically in a Kosher section of the freezer section- especially ironic as we're serving it with pork and in a cream sauce, at that –  don't even get me started on how much I love frozen egg noodles and how they can make any dish literally the best thing you've ever eaten…).
As much as I'd love to tell you I thawed the ravioli ahead of time because I am a woman who has her shit together and can plan, cook, and eat a meal in a civilized manner- you can totally toss your raviolis in frozen and just let it cook a few extra minutes. Just add a bit of water after you've formed the sauce, and let it cook down for 2-4 minutes, until the dough is soft and springy to the touch.
To see just how easy this recipe is, check out my youtube video below- and be sure to give it a thumbs up and follow my channel for more easy recipe videos!
One Pot Creamy Sausage and Ravioli Skillet
This One Pot Creamy Ravioli and Sausage Skillet is full of flavor and so easy- and takes just 18 minutes to feed a big family for under $3 per serving!
Recipe type:
Main Dish, One Pot
Ingredients
1 package breakfast sausage (1lb)
1 package frozen egg noodle ravioli (frozen or fresh, 25 oz)
1½ cans diced tomatoes with garlic (14.5 oz cans)
½ cup heavy cream
1 cup (or more to taste) arugula
Instructions
In a large pan, brown sausage on medium high heat and break up into crumbles- about 8 minutes.
Toss in ravioli and stir to coat with sausage grease. Don't let ravioli stick to bottom of pan.
Slowly stir in tomatoes and let liquid cook down, about four minutes.
Add in cream and stir, reducing heat to medium low.
Let sauce thicken and add arugula to let wilt.
Check doneness of pasta- if soft and springy and hot to the touch, pasta is done!
If pasta is still slightly frozen, add a little water to prevent overcooking sauce and keep tossing on medium high heat until it is done.
Plate and enjoy!
Nutrition Information
Serving size:
6
Calories:
144
Fat:
11g
Saturated fat:
6g
Unsaturated fat:
4g
Trans fat:
0g
Carbohydrates:
9g
Sugar:
1g
Sodium:
145mg
Fiber:
1g
Protein:
3g
Cholesterol:
34mg