This One Pot Creamy Ravioli and Sausage Skillet is full of flavor and so easy- bursting with rich, creamy flavor, cheesy ravioli and hearty sausage, tomatoes, and rich creamy spinach sauce!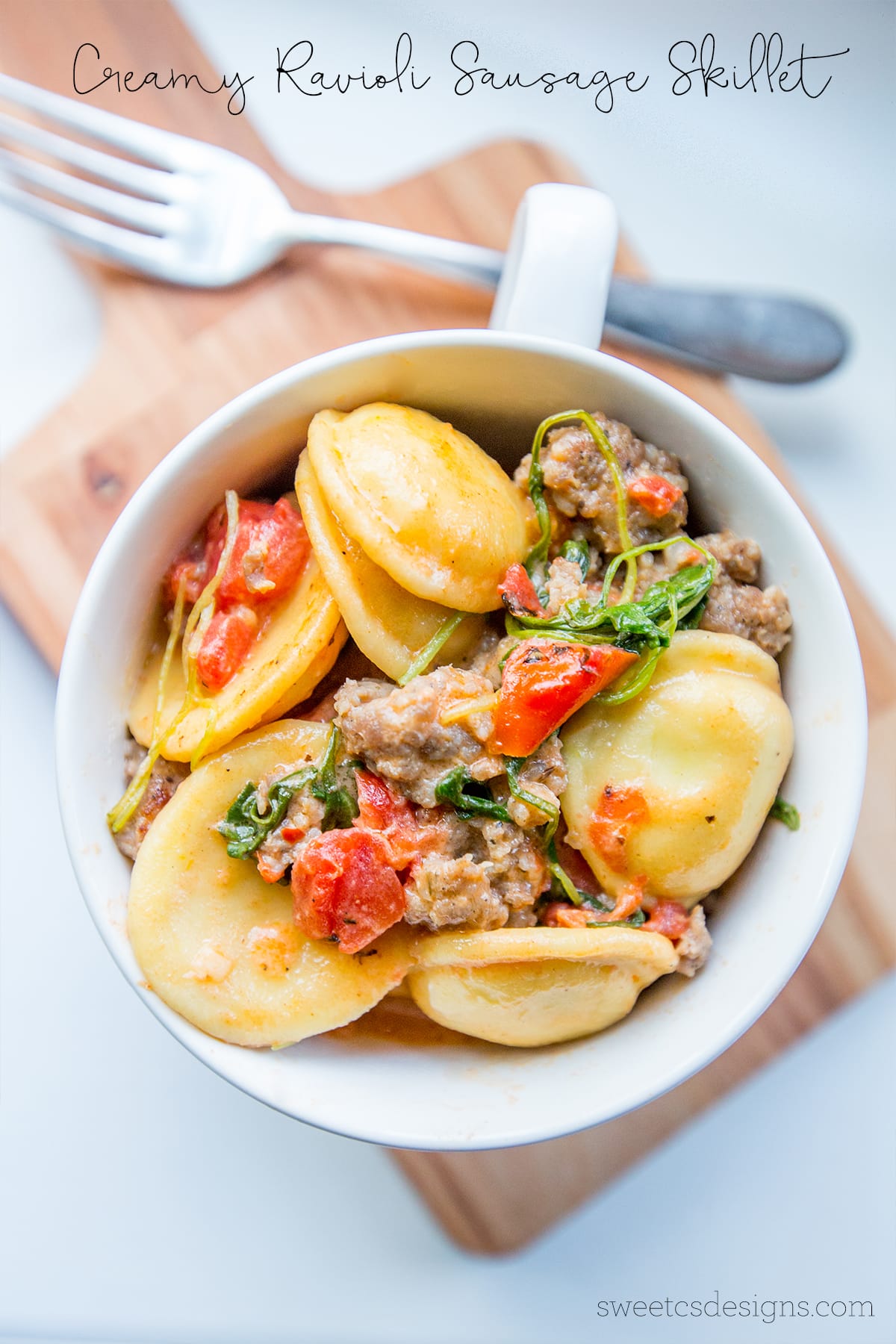 There is nothing - absolutely nothing on earth - as delicious, rich, or comforting as a creamy, meaty pasta. No matter what kind of day you're having - if you're busy, tired, sick, stressed - there is just something about a delicious dinner everyone loves and can come together in an instant.
I took that theory up a notch (and un-notched the top button of my jeans...) and added some heavy cream, diced tomatoes with garlic, and arugula to make this amazingly rich, comforting, and holy-crap-nothing-will-ever-taste-as-good-again One Pot Sausage Ravioli Skillet in Tomato Spinach Cream Sauce.
This sausage skillet ravioli in a tomato spinach cream sauce is one of my favorite recipes of all time - it is bursting with cheesy, creamy flavor and is great for big families or groups - I often make a giant batch of this easy pasta for my friends when they have a newborn so they have an easy meal to pop in a pan and reheat - though it is so rich and delicious it tastes like it's been cooking all day!
Don't want all the extras in a recipe post? We provide a skip to recipe button in the top left corner, as well as a clickable table of contents, just below, to help make this page easier to navigate.
I got the idea for this creamy sausage ravioli skillet pasta recipe from my sweet friend Sarah of Bombshell Bling - she makes a delicious, creamy tortellini and spinach one pot pasta that her sweet mom Sally used to make.
Creamy One Pot Pasta Dinner
One Pot Pasta dinner recipes are incredibly popular - and a number of my easy one pot pasta dinners have gone insanely viral!
There is a good reason simple, easy one pot pastas are so creamy and rich - a big part of their creamy texture comes from how the pasta is cooked in the same pot as the rest of the ingredients without tossing the starchy water pasta cooks in aside.
One pot pasta dinners are also crazy popular because they easy to cleanup, often require little cooking knowledge or skill - and go from the fridge to the dinner table with little active cooking time.
This one pot creamy sausage and ravioli pasta with spinach cream sauce is awesome because there is no taking stuff in and out of the pan- just brown the sausage and then dump everything in, stir, and enjoy a gourmet meal in no time!
All you have to do for a restaurant quality Italian creamy pasta dinner with sausage and spinach is stir it a bit, let it get happy- and sit back while everyone admires your undeniable cooking prowess through muffled notes of "mmmmmmm sooo good".
There are a couple tips to help you make this easy creamy pasta your hands-down favorite meal when you need something rich and comforting quick!
Brown the sausage

This recipe has very few ingredients - so each one should shine! To get the most rich, salty, and meaty flavor from sausage, it really needs to be browned well before cooking the rest of this dish. I like crunchy, salty browned bits of sausage in this dish - don't skimp on sausage browning time. A couple extra minutes to brown sausage well will pay off so much in the flavor department!

Don't skip the cream

This recipe is in no way, shape, or form a diet dish. It is loaded with fat, calories, carbs, and FLAVOR. You might be tempted to swap the heavy cream in this dish for something a little lower calorie or lower fat, but trust me - you need to ignore this urge. We're building a very basic but very delicious sauce that won't properly emulsify with the ravioli if you don't use a cream addition with enough fat.

Use fresh spinach

While flash frozen spinach is an excellent option for many dishes, the frozen spinach flavor will completely overpower this dish - opt for fresh spinach.
If you don't have fresh spinach or arugula, skip it and enjoy a decadent tomato cream sauce for your ravioli.

Cook ravioli al dente if not slightly under

If you plan on reheating this dish at all - or you know it will sit out a bit before serving - cook the ravioli just under al dente so it still has a little bite and hasn't fully released all it's starches. The starch will continue to break down in the hot cream sauce, and can easily turn the ravioli into a mushy mess if overcooked.

Don't add in extra liquid if you don't need it.

While this recipe is pretty easy - you do need to monitor the pasta a bit as the ravioli cooks, especially if you're cooking frozen ravioli right out of the freezer that hasn't been thawed. You want just enough liquid in the pan to cook the pasta - but not so much it is too watery or thin.
If you need extra liquid in the pan to prevent burning or sticking, add a tablespoon at a time until you have enough.

Don't pour off cooking liquid.

It might seem tempting to pour out extra liquid, but this recipe's out of this world creamy tomato and spinach sauce is in part formed by the emulsification of the sauce thanks to the combination of thick starches the ravioli gives off into cooking liquid and the fat from the heavy cream coming together. If you find you have a little too much liquid, let it cook off a tiny bit more - don't pour all the tasty flavor you've worked to create down the drain.

Don't over reduce the tomato cream sauce

This sauce will look thin while still in the pan when it is hot - while you should give the cream some time to emulsify with starch the pasta gives off, don't over-reduce it or it will look like oily, sweaty pasta that has absorbed all of your rich spinach tomato cream sauce.
The spinach ravioli cream sauce recipe comes together magically with just a little bit of stirring- and the flavor of ordinary breakfast sausage is incredibly elevated with a doughy pasta and garlic-infused tomatoes!
To Make This Recipe, You'll Need:
Ravioli

If you are looking for the best type of ravioli to put in this dish, I suggest a super doughy egg-noodle based ravioli (typically in a Kosher section of your grocer's freezer.)
I'm making this recipe with a simple cheese ravioli - but feel free to try all sorts of raviolis to find your favorite flavors! Roasted garlic, mushroom, spinach, chicken, and even lobster ravioli would all be heavenly in this creamy ravioli dinner.

Heavy Cream

Don't skip or substitute this - you need the rich full fat cream for the best tomato spinach cream sauce flavor!

Sausage

While I love to make this recipe with classic breakfast sausage, it is crazy delicious with mild or spicy Italian sausage, herbed German sausage, and even spicy chorizo! Get creative and add the sausage you love, and try different flavor combinations.

Canned tomatoes with garlic

While you can always add fresh garlic (sautee with sausage for extra fragrant and rich garlic flavor) I like to simplify this recipe even more by using diced tomatoes with garlic already in the can. You can change this up and go for all sorts of variations of diced tomatoes - maybe a south of the border kick with diced tomatoes with green chilis? Or one with more oregano, basil, and thyme for more classic Italian red sauce flavor.

Large Nonstick Pan

A nonstick pan is essential here - as your pasta cooks down and gives off starch, it can settle at the bottom of a pan and stick or worse - burn. Stir your pasta often to help prevent this - but a nonstick pan will be your best friend for this recipe!
If you've ever wondered if you can cook using frozen ravioli (or other frozen egg noodle pastas) - you definitely can, especially creamy dishes like this ravioli skillet!
There is a slightly different process in using still-frozen ravioli instead of thawed or fresh ravioli - follow these easy tips to a perfect easy fresh from the freezer pasta dinner with no thawing!
Increase cook time

Since your ravioli will be frozen solid, you'll need to increase your cooktime anywhere from 5-10 minutes, depending on the size and shape of your ravioli.

Add ½ cup water or stock

You'll need more liquid in your creamy ravioli skillet to allow it to cook longer without the ravioli completely absorbing it or completely cooking off - add ½ cup water, stock, wine - whatever thin (non cream) liquid you prefer.

Add cream when ravioli is at temperature, not earlier

Wait to add the cream (and the spinach) until the ravioli is warmed all the way through (though not completely cooked) so you don't over reduce as the ravioli cooks from frozen.
How long can this recipe keep?
This recipe can be kept in the refrigerator for up to four days in an airtight container.
You can freeze this dish for up to four months.
Sausage Skillet Ravioli in Tomato Spinach Cream Sauce Recipe
If you love this easy recipe please click the stars below to give it a five star rating and leave a comment! Please also help me share on facebook and pinterest!
CONNECT WITH SWEET C'S!
Be sure to follow me on social media, so you never miss a post!
Facebook | Twitter | Youtube | Pinterest | Instagram
Only have 30 minutes to get dinner on the table? Sign up for my 30 minute dinner plans direct to your inbox!
Find and shop my favorite products in my Amazon storefront here!
Yield:

6 people
Sausage Skillet Ravioli in Tomato Spinach Cream Sauce Recipe
Sausage Skillet Ravioli in Tomato Spinach Cream Sauce Recipe - This One Pot Creamy Ravioli and Sausage Skillet is full of flavor and so easy- bursting with rich, creamy flavor, cheesy ravioli and hearty sausage, tomatoes, and rich creamy spinach sauce! 
Ingredients
1 package breakfast sausage, 1lb
1 package frozen egg noodle ravioli, frozen or fresh, 25 oz
1 ½ cans diced tomatoes with garlic, 14.5 oz cans
½ cup heavy cream
1 cup spinach or arugula
Instructions
In a large pan, brown sausage on medium high heat and break up into crumbles- about 8 minutes.
Toss in ravioli and stir to coat with sausage grease. Don't let ravioli stick to bottom of pan.
Slowly stir in tomatoes and let liquid cook down, about four minutes.
Add in cream and stir, reducing heat to medium low.
Let sauce thicken and add spinach or arugula to let wilt.
Check doneness of pasta- if soft and springy and hot to the touch, pasta is done!
If pasta is still slightly frozen, add a little water to prevent overcooking sauce and keep tossing on medium high heat until it is done.
Plate and enjoy!
Nutrition Information
Yield
6
Amount Per Serving
Calories

144
Saturated Fat

6g
Cholesterol

34mg
Sodium

145mg
Carbohydrates

9g
Fiber

1g
Sugar

1g
Protein

3g