This delicious Reese's Peanut Butter Pie is the ultimate indulgent dessert! This chocolate crusted pie is packed with light silky peanut butter filling topped with silky chocolate ganache, peanut butter cups and peanut butter chips, there is nothing better!
Don't want all the extras in a recipe post? We provide a skip to recipe button in the top left corner, as well as a clickable table of contents, just below, to help make this page easier to navigate.
Creamy Nutty Reese's Pie
This decedent mouthwatering pie is a chocolate and peanut butter lover's dream. Nuts and chocolate are a classic combination, and this pie takes the classic Reese's peanut butter cups to a whole new level. I love to make this dessert for my husband's birthday because he loves a nutty creamy indulgent dessert and is a huge chocolate fan.
We start this pie by making a chocolate cookie base that is super simple and only needs 10 minutes to bake. Once that is cooled you make the light and luscious filling with the cream cheese, powdered sugar, and of course peanut butter. Once you have filled the tart you just freeze it for a few hours then top with melted chocolate and all the goodies that you want! This pie is absolutely irresistible and makes a great addition at holiday celebrations and potlucks. Peanut butter pie is also the perfect cheat day treat. You can freeze this pie for later or eat it all at once, sharing is not required.
How to Make Reese's Peanut Butter Pie
First you will need to assemble the following ingredients:
Oreos - you need Oreo crumbs to make the crust, simply clear the white filling out from the Oreos and crust the chocolate pieces.
Butter - melted butter will help the oreos come together for the outside of the pie, use unsalted butter.
Cream Cheese - cream cheese is thick and creamy, it is the perfect base, if you want to keep it a little lighter you can substitute plain whole milk yogurt.
Powdered Sugar - powdered sugar distributes into the cream cheese and cool whip very evenly and is very sweet so you don't have to use a ton of it.
Peanut Butter - creamy peanut butter is ideal for a creamy smooth pie. If you want some crunch use crunchy peanut butter or add some nuts to the mixture. Be sure to use creamy peanut butter for drizzling on the top of the pie.
Cool Whip - cool whip is going to lighten up the filling for this pie. You want to keep it frozen until right when you use it to keep the lightness and fold it in carefully.
Milk Chocolate - you can use chocolate chips or a bar of milk chocolate for this. It is for the top layer of chocolate between the filling and the toppings.
Mini Reese's Cups - these are a great ode to the interior of this pie. You can always omit them or use full size if you prefer.
Peanut Butter Chips - these chips add some extra nutty flavor to the top of the pie. If you can't find peanut butter chips you can substitute with chocolate chips or butterscotch chips.
We will use this Method to make this Nutty Pie
Make the crust. In a large bowl combine the chocolate Oreo crumbs with melted butter. Mix it with a fork till has a wet sand like texture. Add the crust to a greased pie pan and press it along the sides firmly. It's important to try to spread the crust evenly and firmly to avoid leaks.
Bake. Bake the cookie crust for 10 minutes at 325 degrees, allow it to cool completely before adding the filling.
Make the filling. Beat the creamy cheese in a bowl with a hand mixer. Add the powdered sugar and peanut butter and mix until smooth and creamy. Gently fold in the cool whip.
Assemble. Spread the filling into the chocolate pie crust and spread it evenly. Freeze it for at least 3 hours. Melt the milk chocolate in the microwave then spread it over the filling. Top with the mini-Reese's cups and peanut butter chips. drizzle the peanut butter and chocolate over the top.
Tips and Tricks for the Perfect Peanut Butter Pie
Make it gluten-free. This pie can easily be made gluten-free by simply using gluten-free cookies for the crust.
Go Nuts. You can add toasted nuts to the peanut butter cream in the center of this pie for an additional texture.
Use high quality Peanut Butter. The better the peanut butter the better the pie so use the best you can find. My favorite thing to use is the fresh ground Whole Foods peanut butter.
Balance the Sweetness. Feel free to lessen the sugar as you see fit. You can also add a few pinches of salt to the filling to add a little contrast to the super sweet pie.
Freeze till you need it. I love that this recipe freezes really well so you can make it one day and eat it a week or a month later. You can also freeze leftovers so you can enjoy the rest of it in a week or two when you crave it again.
Slice with a warm knife. This will help you make it through this cold set pie with more ease.
Chill Thoroughly. You don't want a runny peanut butter pie so be patient and make sure you allow for the proper chill time.
FAQs
How do I store Peanut Butter Pie?
Simply wrap the peanut butter pie with plastic wrap or tin foil and refrigerate, its best to eat it within a few days for freshness. Its best to let it come to room temperature before eating it.
Can I freeze this Peanut Butter Pie?
Yes! This actually freezes really well. Double wrap it in plastic wrap, write the date on it and freeze it. Thaw it in the refrigerator before serving.
Is Peanut Butter Pie gluten-free?
This pie is not naturally gluten-free but you can make it gluten-free by using gluten-free chocolate cookies for the crust.
Can I make mini–Peanut Butter pies?
Yes, simply make more crust mix and divide it out into little ramekins or mini tart shells, you can even use a muffin pan.
More Delicious Desserts
This pie is great for various occasions including birthdays, holidays, potlucks, or just a treat! Try these other Sweet C's favorite desserts next:
Click here to see all our pie recipes!
Reese's Peanut Butter Pie Recipe
If you love this easy recipe please click the stars below to give it a five star rating and leave a comment! Please also help me share on facebook and pinterest!
Click here to view the web story for this recipe!
CONNECT WITH SWEET C'S!
Be sure to follow me on social media, so you never miss a post!
Facebook | Twitter | Youtube | Pinterest | Instagram
Only have 30 minutes to get dinner on the table? Sign up for my 30 minute dinner plans direct to your inbox!
Find and shop my favorite products in my Amazon storefront here!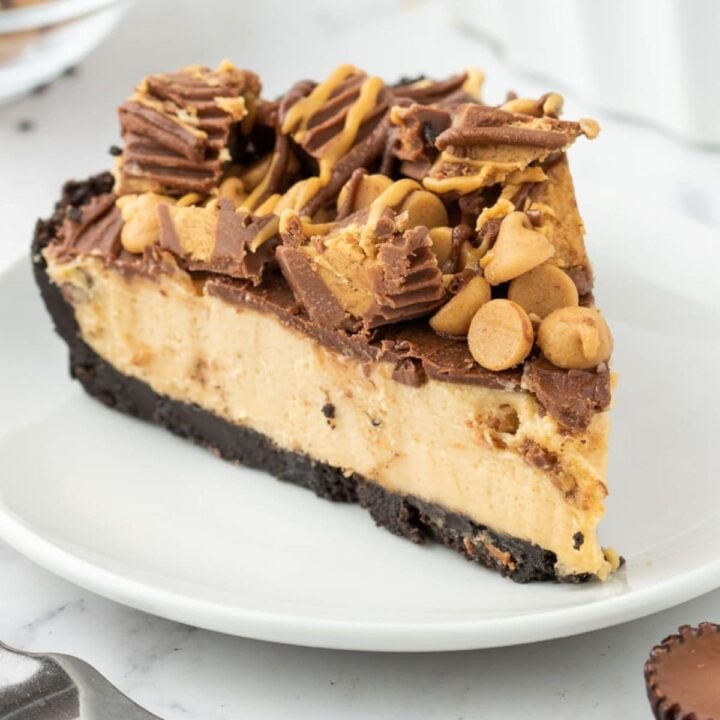 Yield:

8
Reese's Peanut Butter Pie
Total Time:
3 hours
20 minutes
This creamy dreamy peanut butter cup pie is absolutly to die for!
Ingredients
Oreo crust
2 1⁄2 cups oreo crumbs
6 tablespoons unsalted butter, melted
Peanut butter filling
8 ounces cream cheese, softened
3⁄4 cups powdered sugar
1 cup creamy peanut butter
8 ounces cool whip, thawed
Topping
1⁄2 cup milk chocolate
Melted peanut butter
Mini Reese's cups
Peanut butter chips
Instructions
First make the oreo crust. Preheat the oven to 325 degrees F. Grease a 9-inch pie plate or tart pan. Set aside.
In a medium mixing bowl, combine the oreo crumbs and melted butter. Mix with a fork until a wet sand texture forms.
Add the crust mixture to the prepared pan, and press firmly on the bottom and along the sides of the pan.
Bake for 10 minutes, remove from the oven and allow to cool completely while making the filling.
Next make the peanut butter filling. In a large mixing bowl with a hand mixer, beat the cream cheese, powdered sugar, and peanut butter until smooth and creamy.
Gently fold the cool whip into the peanut butter mixture until completely combined.
Pour into the prepared pie crust and spread out evenly.
Freeze for at least 3 hours to set. Top with a layer of melted milk chocolate, mini Reese's cups and peanut butter chips, drizzle melted peanut butter and chocolate over top.
Recommended Products
As an Amazon Associate and member of other affiliate programs, I earn from qualifying purchases at no extra expense to you.
Nutrition Information
Yield
8
Serving Size
1
Amount Per Serving
Calories

730
Total Fat

53g
Saturated Fat

25g
Trans Fat

0g
Unsaturated Fat

23g
Cholesterol

54mg
Sodium

397mg
Carbohydrates

55g
Fiber

3g
Sugar

39g
Protein

13g
Nutrition is automatically calculated by Nutritionix - please verify all nutrition information independently and consult with a doctor or nutritionist for any and all medical and diet advice.