Red Pepper Zucchini Farro Salad
Sep 16, 2022, Updated May 01, 2023
Delicious hearty farro salad bursting with bright, beautiful color from zucchini and roasted red peppers with an easy garlic herb vinaigrette.
This simple grain salad is hearty, filling, and incredibly delicious – it is great warm or chilled, and stores well – so it is great as a side dish, hearty vegan main, or for meal prep.
Don't want all the extras in a recipe post? We provide a skip to recipe button in the top left corner, as well as a clickable table of contents, just below, to help make this page easier to navigate.
Hearty Vegetable and Farro Salad
Farro salad is one of my favorite easy budget meals – it is delicious, quick to prepare, family-friendly – and very filling. This salad is easy to customize with whatever you have on hand, and very budget friendly – so you can fill up hungry tummies without breaking the bank!
If you've never had farro, it is a delicious hearty ancient grain that is packed with nutrients. Farro is a whole wheat and has a nutty taste with a chewy texture. It is usually sold pearled, and usually cooked similar to rice or pasta.
I love making salads with farro – like my Easy Burrata Farro Salad – it is great with antipasti ingredients, beans, chickpeas, and artichoke hearts!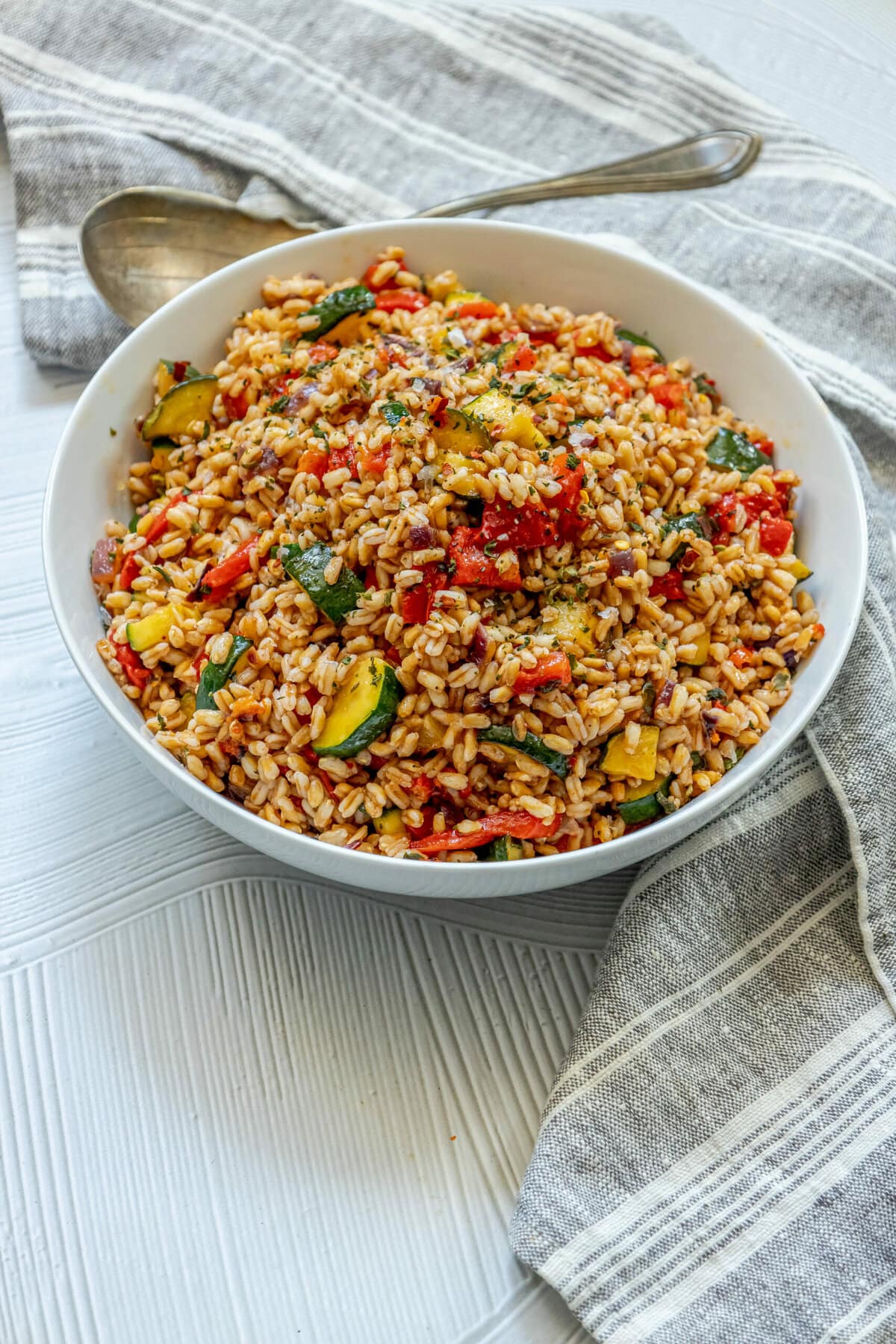 How to Make Red Pepper Zucchini Farro Salad
To make this salad, you will need:
Red onion – red onion brings a hot, slightly spicy, earthy vegetal flavor that is milder than white onion.
Zucchini – zucchini has a hearty, earthy flavor and tender, springy texture with a bright green color that adds a perfect texture and visual interest to grain salads.
Garlic – garlic adds some heat, an earthy, unctuous flavor, and addictive quality that adds dimension to grain salad.
Garlic power – adding garlic powder to the dressing helps to create a savory, balanced burst of an umami-friendly taste that is easy to mix into a dressing.
Maldon sea salt – using a flake-style sea salt that dissolves well into salads enhances flavor, helps dishes come together, and pulls out the flavor of the farro and vegetables.
Roasted red pepper strips – roasted red pepper strips are sweet, slightly smoky, with a bright red flavor and delicious lightly oily texture that keep the farro from drying out and help add a tart kick to balance the savory flavor of this dish.
Red wine vinegar – red wine vinegar adds essential acid to this salad so that it has a kick of bright, light, and sweet flavor.
Olive oil – olive oil is a lightly flavored oil that adds fat to dressings, mixes well with seasonings, and helps grain salad to not stick together, clump up, or dry out – as well as adding a rich, deep flavor.
Italian herbs seasoning – a blend of thyme, rosemary, marjoram, basil, and oregano is perfect to pull out an earthy, vegetal flavor that enhances the nuttiness of farro.
Crushed red pepper flakes – crushed red pepper flakes are lightly spicy, bright red, with
Farro – farro is a nutty, delicious ancient wheat grain that is filling, hearty, delicious, and nutritious!
To make this recipe we will use the following method:
Prep. Boil farro until soft and wash zucchini, then chop into small 1″ pieces. Dice onion and garlic. Chop red pepper strips. Mix dressing in a small bowl.
Cook. Sautee onion, garlic, and zucchini until lightly browned and soft. Drain farro well, toss with vegetables and dressing, and season with salt, pepper, and herbs.
Serve.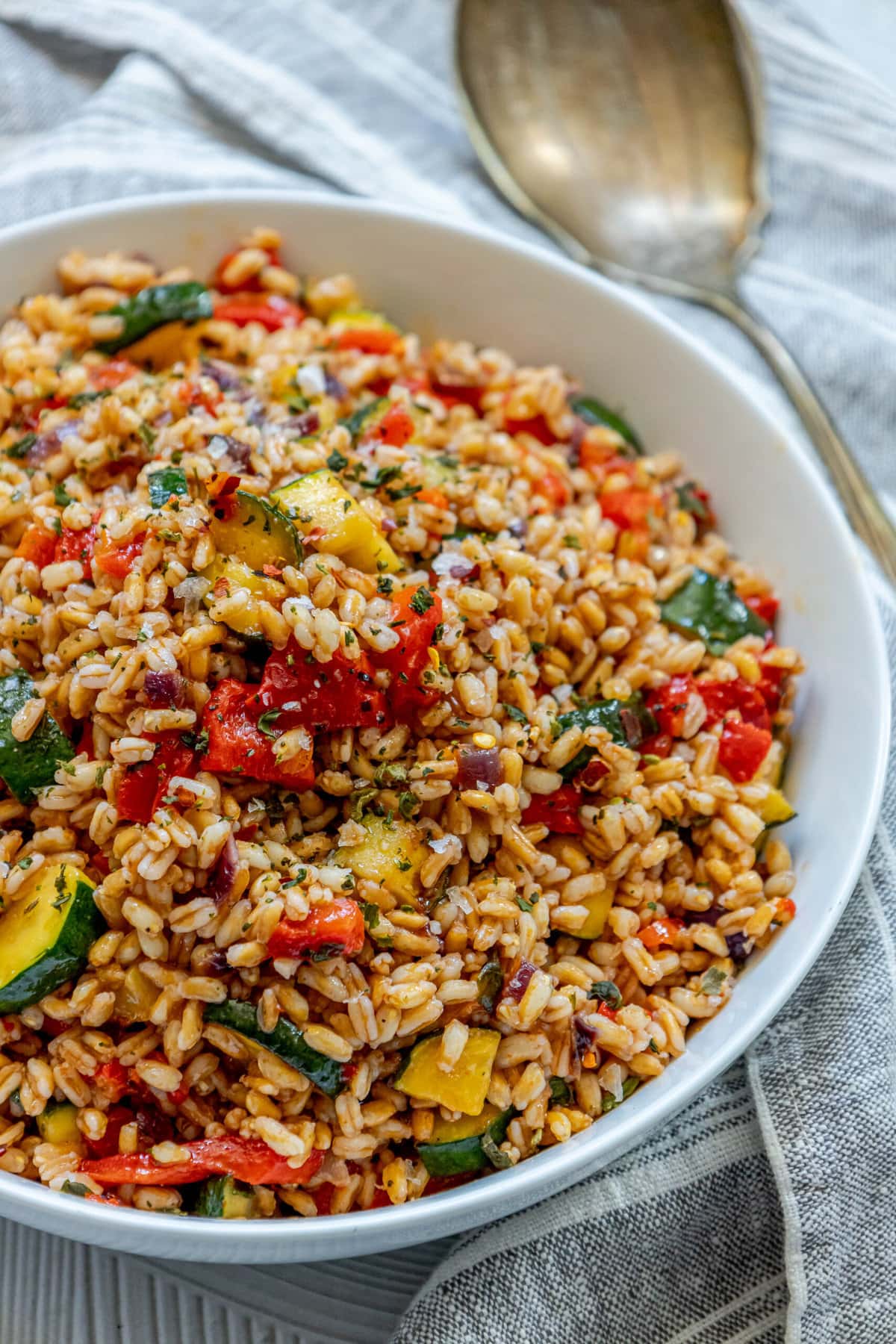 Tips and Tricks to Perfect Farro Salad
Use fresh or sautéed veggies. We recommend lightly sautéing or roasting vegetables before adding to this dish, but if you love the flavor of fresh veggies, that's great too. We designed this recipe to work to your on tastes! Use ingredients you have on hand. We love this salad with simple ingredients – shallots, cucumber, tomatoes, and basil – but you can add plenty of vegetables in to this simple salad based on what you love!
Roasted asparagus
Sautéed mushrooms
Roasted cauliflower
Caramelized onions
Sautéed Zucchini
Baby corn
Roasted red pepper strips
Know how long to cook farro. How you cook farro depends on the type of farro you find – pearled farro is most common in America and requires a shorter cooking time of about 10-15 minutes to boil until soft.
Since farro is incredibly different to prepare depending on the type, please go off package directions to prepare your farro.
It will be anywhere from 10-30 minutes of boiling, and some need to soak before cooking (similar to dried beans).
Once your farro is cooked, drain well and add to salad!
FAQS
How can this recipe be stored?
Farro salad can be stored in an airtight container for 3-5 days in the refrigerator.
Do I serve this salad hot or cold?
This side dish can be served hot or cold – we like the flavor after it has had time to chill and come together, but sometimes heat it up after an initial chilling time, sometimes just eat it cold!
Do I have to chill salad before eating?
This is not mandatory – but giving farro salad time to chill intensifies flavor and makes the salty garlic flavor much stronger.
What to Serve With Easy Farro Salad
Farro salad is a filling side dish, loaded with whole grains and vegetables – making it an easy choice for most main dishes. We love serving farro salad alongside air fryer chicken drumsticks, delicious and easy baked chicken breasts that are full of garlic butter flavor, hearty and delicious ribeye roast that is like a prime rib with the most outstanding flavor for a holiday dinner – or our weeknight classic baked pork tenderloin.
Since this dish is vegan, it is also delicious alongside whole roasted cauliflower, vegan portobello burgers, and Sheetpan Vegan Chorizo and Vegetables, too.
Red Pepper Zucchini Farro Salad Recipe
If you love this easy recipe please click the stars below to give it a five star rating and leave a comment! Pease also help me share on facebook and pinterest!
CONNECT WITH SWEET C'S!
Be sure to follow me on social media, so you never miss a post!
Only have 30 minutes to get dinner on the table? Sign up for my 30 minute dinner plans direct to your inbox!
Find and shop my favorite products in my Amazon storefront here!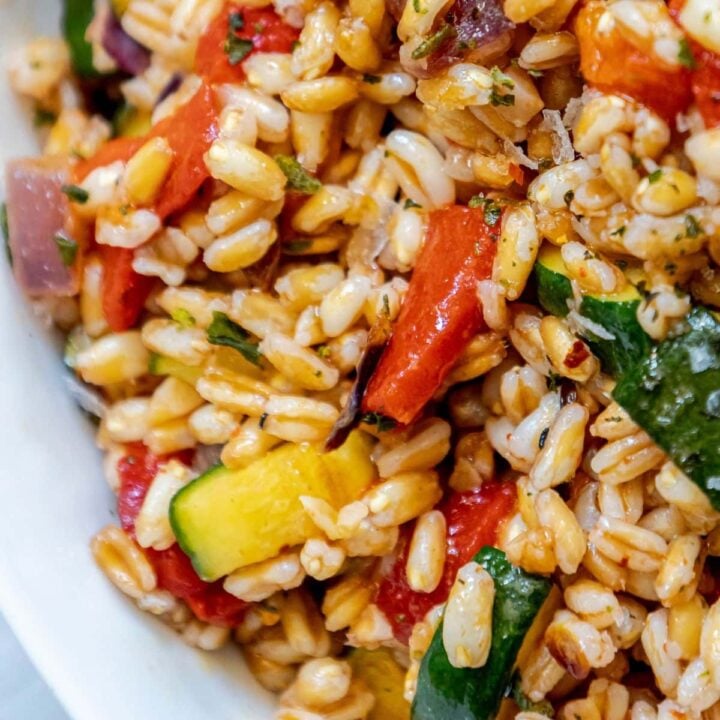 Red Pepper Zucchini Farro Salad
Delicious vegan farro salad packed with zucchini, onion, and spices is a delicious healthy side or main meal!
Ingredients
1/2 red onion
2 zucchini
4 cloves garlic
1 tsp garlic powder
1 teaspoon maldon sea salt
1/2 rup roasted red pepper strips
1/4 cup red wine vinegar
1/4 cup olive oil
1 tablespoon Italian herbs seasoning
1/4 teaspoon crushed red pepper flakes
1 lb farro
Instructions
Add farro to a colander and rinse well with cold water.
Boil a large pot of water and add farro, boiling until soft to the touch, about 15 minutes.
When farro is soft with just a bit of give (al dente), drain well.
While farro is boiling, in a pan, add a small amount of olive oil, just about a glug from the bottle, and heat on medium-high until warm.
Add onion and heat until soft and lightly browned. Stir in garlic and zucchini. Heat until softened and browned, about 5-6 minutes, stirring occasionally.
In a small bowl, mix together olive oil, red wine vinegar, Italian herbs seasoning, garlic powder, celtic sea salt, and stir well to combine.
Add farro to large bowl, and stir drained red pepper strips, sautéed onions, garlic, and zucchini into farro. Pour olive oil red wine vinegar dressing over salad and toss well.
Serve immediately or let chill 30 minutes to let flavor intensify.
Recommended Products
As an Amazon Associate and member of other affiliate programs, I earn from qualifying purchases at no extra expense to you.
Nutrition Information
Yield

6
Serving Size

1
Amount Per Serving
Calories

356
Total Fat

11g
Saturated Fat

1g
Trans Fat

0g
Unsaturated Fat

8g
Cholesterol

0mg
Sodium

424mg
Carbohydrates

57g
Fiber

9g
Sugar

8g
Protein

12g
Nutrition is automatically calculated by Nutritionix - please verify all nutrition information independently and consult with a doctor or nutritionist for any and all medical and diet advice.