Grandpa's Irish Stew (Macaroni Goulash)
Our family favorite Grandpa's Irish Stew (as Macaroni Goulash) is full of meaty tomato and pasta flavor with peas and onions for a quick and easy hearty dish!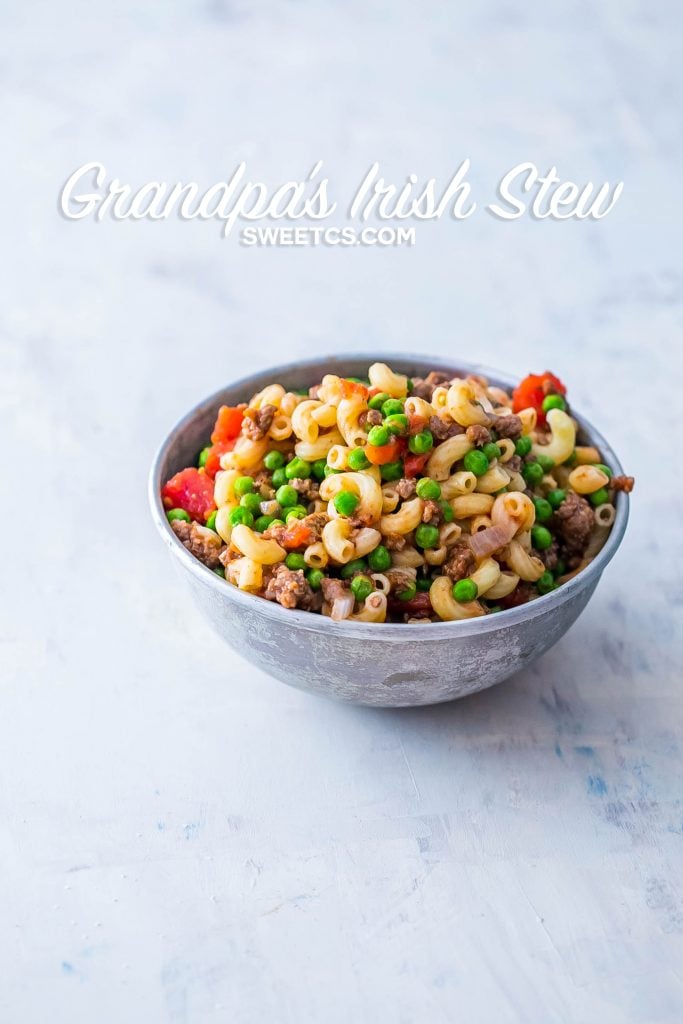 Grandpa's Irish Stew – a Hamburger Macaroni Goulash – has a lot of names. Hamburger macaroni salad, Irish Stew, Macaroni Goulash, Hamburger Goulash – this is a dish that so many families in the American midwest have passed down from generation to generation, all with different names.
We've always called it "Irish Stew" – even though it is NOT Irish.
Or even a stew (it's more a pasta salad) – but the story behind the name is cute, I promise.
I don't often tell personal stories on my site since most everyone wants to just get to the recipe, but I think this one is too sweet to pass up.
JUST TAKE ME TO THE HAMBURGER GOULASH MACARONI SALAD RECIPE ALREADY!
If you'd rather skip my (very helpful, i think) tips and tricks, essential cooking info, and similar recipe ideas – and get straight to this deliciously easy Irish Stew recipe – simply scroll to the bottom of the page where you can find the printable recipe card.
How Our Irish Stew / Macaroni Goulash Name Came to Be:
My husband's grandpa Ken was one of the sweetest people I had ever met.
He had the warmest smile and a booming but gentle voice that you'd hear nonstop.
He'd regale anybody he met with colorfully sweet stories, memories, and would become instant best friends with anybody he met. He travelled the world both in his service in WWII and working for the Boy Scouts as well as building fisheries for the Department of the Interior, and loved learning about people and their stories.
He also really, really loved his favorite recipes- especially anything his beloved Barbara would make.
(Sidenote: how adorable is it that my husband's grandparents are Barb and Ken?? He would ALWAYS joke that they were the original Barbie and Ken… I cherish a recording he made for our kids one Christmas where he cheekily proclaims them as the originals.)
My husband recently was flipping through his family cookbook, and one recipe stood out to him as one of Grandpa Ken's favorites – his family's Irish Stew recipe.
He remembers him helping make this dish (he usually left cooking to his "sweetie" as he'd always call her- as even well into his 80's he would be working around the farm, climbing on the roof to fix something, or some other odd job) and that he loved it a lot.
When my mother in law saw we were making it she dove right in for a bowl from memory lane!
Now, let me tell you, as someone who comes from a VERY proud Irish family, I immediately gave my husband a funny face when he told me the ingredients. I mean, we had JUST been to Ireland (where, trust me, they definitely know how to make a rockingly delicious stew that is ACTUALLY a stew) – and this isn't some well known dish or anything.
It's also indicative of what many Americans think Irish food is, versus the type of food you will actually find in Ireland (which is full of bright, fresh flavor and SERIOUSLY delicious) but it is simple, quick, and totally crave-able.
I'm pretty sure calling this dish Irish Stew is the moniker his family, from a small town in rural Kansas, came up with- maybe passed down from an Irish friend or relative and just became their interpretation of a traditional Irish Stew?
Besides the fact this isn't some well known Irish recipe, it isn't even STEW. It is more accurately a hearty pasta salad – but the quirky title totally fits something Grandpa Ken would love.
And it can be made in "two shakes of a lamb's tail" (another favorite Grandpa Ken saying.)
Is there anything better than hearty, delicious dinners that can be made in one pot and lightening fast?
So after we made my husband's Grandpa's dish, I asked what we should call it.
I considered "Beefy Macaroni Pasta Salad" – since that is technically what it is, but it just didn't seem as good a tribute to Grandpa Ken – whose funny quips and stories would make you instantly happy and at ease.
We miss him a ton since he died 3 years ago (we moved into the house he built last year, and are reminded of him everyday) but I love being able to remember one of my husband's favorite people on earth through his fun stories and recipes he loved to eat.
We hope you love this recipe, too!

How to Make Macaroni Goulash:
This easy hamburger pasta salad is so great because it can be cooked separately, and mixed together for a delicious dinner that is portable and perfect for picnics, cookouts, and more!
There are a couple tips to make a perfect Macaroni Irish Stew that will help you get a perfect hearty hamburger pasta salad every time!
Wait to Mix In the Macaroni

If you're making this macaroni goulash for a picnic or potluck, cook the hamburger and combine with the tomatoes and then the peas to create the "sauce"; and cook the macaroni separately.
When you get to your picnic or dinner, mix them together to prevent your pasta from turning to mush.

For more robust flavor, simmer your meat in the tomatoes and spices.

While not necessary (this recipe is created to be a mix all the ingredients together and stir to mix style recipe), for a deeper, richer flavor, stew the tomatoes, herbs, and spices with the hamburger meat when it has just cooked to infuse more flavor into the dish.
Add 1 cup beef stock to the hamburger, herbs, and tomatoes and cook until liquid is reduced before adding to the macaroni.

Cook your macaroni to al dente.

Since this pasta salad is a hearty dish that does have additional liquid in the dish thanks to tomatoes, it is important to cook your pasta a little under done, so it doesn't turn to mush when mixed with the rest of the dish.
Cooking the macaroni to al dente, so it still has a bit of bite to it, will help your macaroni goulash have a perfect texture.
How to Freeze Macaroni Goulash:
If you are making a big batch of this dish and want to freeze it, I personally suggest not adding in all the macaroni and only freezing the meat and sauce – but if you have leftovers, never fear!
With these tips you can easily freeze and reheat this easy macaroni pasta salad.
Put Irish stew in a ziploc bag or a vacuum seal bag – don't overstuff.
You want the bag to be able to sit flat in your freezer so it freezes evenly – less equals more in this case!
Remove as much air as possible from the bag – this will help you prevent the formation of ice crystals, which will turn your meal to mush!
Defrost naturally in the refrigerator OR throw the pasta in a hot pan with a little olive oil to reheat.
Other delicious hamburger dinners you'll love:
If you love this easy and delicious beefy hamburger macaroni goulash, be sure to check out some of my other favorite hamburger recipes – simply click to visit each easy printable recipe!
One Pot Hamburger Cabbage Soup
Creamy Hash Brown Hamburger Soup
Grandpa's Irish Stew (Goulash With Macaroni Noodles)
If you love this Hamburger Macaroni Goulash Recipe as much as I do, please write a five star review, and be sure to help me share on facebook and pinterest!
CONNECT WITH SWEET C'S!
Be sure to follow me on my social media, so you never miss a post
Facebook | Twitter | Youtube | Pinterest | instagram
Sign up to receive an email in your inbox for each new recipe:
FREE EMAIL SUBSCRIPTION
If you'd like to see me make this recipe, click here to watch the video:

Yield:

8
Grandpa's Irish Stew
Grandpa's Irish Stew is full of meaty tomato and pasta flavor with peas and onions for a quick and easy hearty dish!
Ingredients
1 lb beef, Ground
1/2 onion, diced
4 oz tomato sauce
2 tbsp garlic powder8 oz frozen, or fresh peas
2 tbsp garlic powder
12 oz diced tomatoes
3 cups macaroni
Instructions
On a large pot, over medium high heat, begin to brown ground beef.
When beef is only lightly pink, add diced onion to pot and cook until beef is browned and onion is soft.
Turn heat to low, and mix in all other ingredients.
If using frozen peas, let cook on low until they are warm.
Serve immediately or let cool and enjoy!
Nutrition Information
Amount Per Serving
Calories

311
Saturated Fat

4g
Cholesterol

40mg
Sodium

120mg
Carbohydrates

34g
Fiber

2g
Sugar

3g
Protein

15g