Grandpa's Irish Stew (Macaroni Goulash)
Our family favorite Grandpa's Irish Stew (as Macaroni Goulash) is full of meaty tomato and pasta flavor with peas and onions for a quick and easy hearty dish!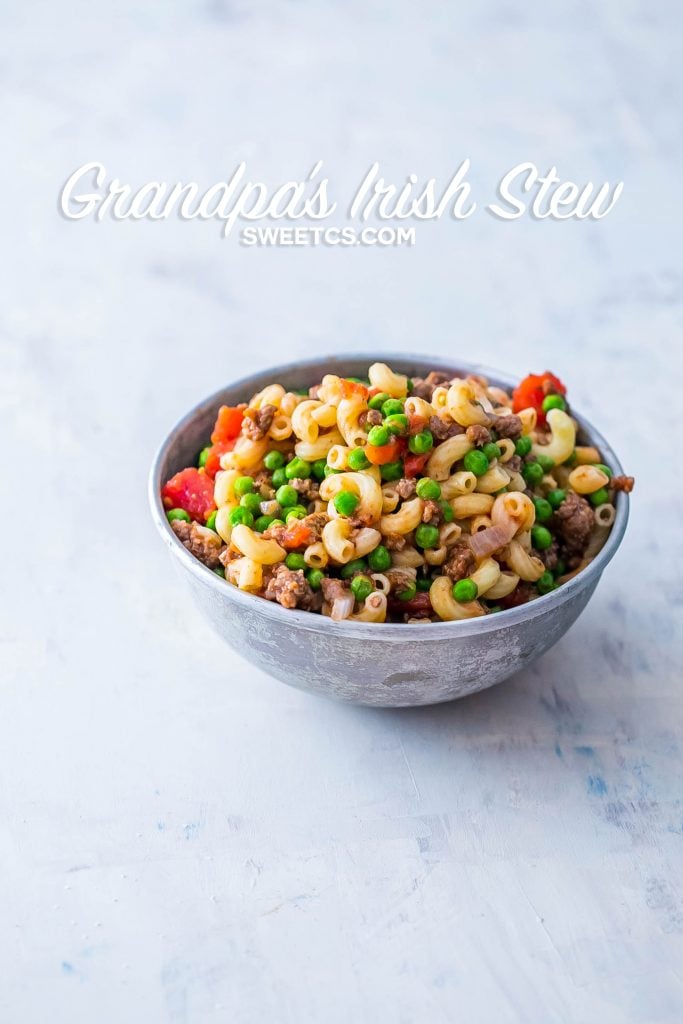 Let me start things off by saying- no, this dish isn't stereotypically Irish.
Or even stew (it's more a pasta salad)- but the story behind the name is cute, I promise.
My husband's grandpa Ken was one of the sweetest people I had ever met.
He had the warmest smile and a booming but gentle voice that you'd hear nonstop.
He'd regale anybody he met with colorfully sweet stories, memories, and would become instant best friends with anybody he met. He travelled the world both in his service in WWII and working for the Boy Scouts as well as building fisheries for the Department of the Interior, and loved learning about people and their stories.
He also really, really loved his favorite recipes- especially anything his beloved Barbara would make.
(Sidenote: how adorable is it that my husband's grandparents are Barb and Ken?? He would ALWAYS joke that they were the original Barbie and Ken… I cherish a recording he made for our kids one Christmas where he cheekily proclaims them as the originals.)
My husband recently was flipping through his family cookbook, and one recipe stood out to him as one of Grandpa Ken's favorites – his family's Irish Stew recipe.
He remembers him helping make this dish (he usually left cooking to his "sweetie" as he'd always call her- as even well into his 80's he would be working around the farm, climbing on the roof to fix something, or some other odd job) and that he loved it a lot. When my mother in law saw we were making it she dove right in for a bowl from memory lane!
Now, let me tell you, as someone who comes from a VERY proud Irish family, I immediately gave my husband a funny face when he told me the ingredients. I mean, we had JUST been to Ireland (where, trust me, they definitely know how to make a rockingly delicious stew that is ACTUALLY a stew) – and this isn't some well known dish or anything. It's also indicative of what many Americans think Irish food is, versus the type of food you will actually find in Ireland (which is full of bright, fresh flavor and SERIOUSLY delicious) but it is simple, quick, and totally crave-able.
I'm pretty sure calling this dish Irish Stew is the moniker his family, from a small town in rural Kansas, came up with- maybe passed down from an Irish friend or relative and just became their interpretation of a traditional Irish Stew?
Besides the fact this isn't some well known Irish recipe, it isn't even STEW. It is more accurately a hearty pasta salad – but the quirky title totally fits something Grandpa Ken would love.
And it can be made in "two shakes of a lamb's tail" (another favorite Grandpa Ken saying.)
Is there anything better than hearty, delicious dinners that can be made in one pot and lightening fast?
So after we made my husband's Grandpa's dish, I asked what we should call it. I considered "Beefy Macaroni Pasta Salad" – since that is technically what it is, but it just didn't seem as good a tribute to Grandpa Ken – whose funny quips and stories would make you instantly happy and at ease.
We miss him a ton since he died 3 years ago (we moved into the house he built last year, and are reminded of him everyday) but I love being able to remember one of my husband's favorite people on earth through his fun stories and recipes he loved to eat. We hope you love this recipe, too!
 If you love this easy, comforting family favorite recipe, check out some more:
One Pot Cheesy Chicken Taco Skillet Soup
One Pot Hamburger Cabbage Soup
One Pot Beef Ravioli Stroganoff Skillet
One Pot Creamy Ravioli and Sausage Skillet
Grandpa's Irish Stew (Beefy Macaroni Pasta Salad)
If you'd like to see me make this recipe, click here to watch the video:
Grandpa's Irish Stew
Grandpa's Irish Stew is full of meaty tomato and pasta flavor with peas and onions for a quick and easy hearty dish!
Ingredients
1

lb

beef

Ground

1/2

onion

diced

4

oz

tomato sauce

2

tbsp

garlic powder8 oz frozen

or fresh peas

2

tbsp

garlic powder

12

oz

diced tomatoes

3

cups

macaroni
Instructions
On a large pot, over medium high heat, begin to brown ground beef.

When beef is only lightly pink, add diced onion to pot and cook until beef is browned and onion is soft.

Turn heat to low, and mix in all other ingredients.

If using frozen peas, let cook on low until they are warm.

Serve immediately or let cool and enjoy!
Nutrition Facts
Grandpa's Irish Stew
Amount Per Serving
Calories 311
Calories from Fat 108
% Daily Value*
Total Fat 12g 18%
Cholesterol 40mg 13%
Sodium 120mg 5%
Potassium 406mg 12%
Total Carbohydrates 34g 11%
Protein 15g 30%
* Percent Daily Values are based on a 2000 calorie diet.