Spicy Honey Garlic Grilled Halloumi 
Sweet and savory grilled Halloumi cheese is a satisfying appetizer, snack, or lunch that's quick and delicious.
Don't want all the extras in a recipe post? We provide a skip to recipe button in the top left corner, as well as a clickable table of contents, just below, to help make this page easier to navigate.
Table of contents
Grilled Cheese Topped With Spicy Garlic and Honey
Grilled halloumi cheese with spicy honey and garlic sauce is an hugely satisfying appetizer or snack.
Haloumi is a cheese traditionally from Cyprus and has an incredibly high melting point, which makes it the perfect cheese for grilling, frying, and other high heat applications. Because of the high protein and high melting point, halloumi has a distinct squeak when eaten cooked that is really satisfying and fun for kids.
At my house, we've been known to eat this delicious spicy honey garlic halloumi for breakfast or lunch with a cup of coffee. There's really no bad time to make this recipe!
How to make Spicy Honey Garlic Grilled Halloumi
To make this recipe, you'll need:
Ingredients
Haloumi Cheese – Traditional halloumi is made with a combination of sheep and goat milk, though in American versions it usually has cow's milk as well. "Halloumi" is a registered term held by the government of Cyprus. The cheese is traditionally brined, and when packed in saltwater can be kept in your refrigerator for up to a year.
Butter or olive oil – Because the halloumi is so firm, you need oil or fat for cooking. Olive oil is traditional, and what I used, but has a relatively low smoke point. Butter has a hirer smoke point and adds a different flavor.
Lemon Juice – The fresh, fruity acid in lemon juice pairs well with salty cheese and rich sauce.
Garlic Chili Oil – Garlic chili oil is an originally Asian creation that marries vegetable oils with chili peppers and garlic. It's generally not used in cooking in America, but as more of a condiment or sauce prior to serving.
Hot Honey– Spicy or hot honey is available in most markets or online. It's a relatively new culinary product, being developed in 2003 by Mike Kurtz after being inspired by local spicy honey in Brazil.
Scallions – Green onions bring a bright, tart tang, and visual brilliance to finish off this dish.
Once you've gathered your ingredients, we will use the following method:
Prepare and grilled your cheese. Cut your halloumi into slices approximately the width of a #2 pencil. Mix your lemon juice and olive oil together and coat your sliced halloumi with the mixture. Cook on a hot grill for approximately 4 minutes per side, until the halloumi is golden brown and crusty on each side.
Mix your spicy sauce. Combine your honey and garlic chili oil in a bowl and mix well. You may need to let your honey container stand in a bowl of hot water to soften before adding to the garlic chili oil.
Sauce your cheese and enjoy! When your cheese is cooked, remove it from the grill and immediately sauce with the honey and garlic chili oil mix. Serve on a plate with diced scallions on top. Enjoy the halloumi warm!
Tips and Tricks to Perfect Spicy Garlic Honey Grilled Halloumi:
Spicy Honey Garlic Grilled Halmoui is really easy to make, but these tips will help keep it stress-free.
When grilling outdoor, use foil. If you're grilling the cheese on your outdoor grill, use a grill pan on a double layer of aluminum foil to keep the halloumi from falling through the grates.
Cook the halloumi in a skillet. If you don't want to fire up your grill, you can cook the halloumi in a non-stick pan on your stovetop.
Don't mess with the cheese while it's cooking. In order to get that perfect golden brown crust on your cheese, it's imperative that you don't fiddle with it while it cooks. Place it on the grill or pan and let it be. Moving it around will affect how well you get the cheese to brown.
FAQs:
Can I store leftovers?
Leftover cheese can be stored in an airtight container and kept in the refrigerator for up to three days.
Can I make this on an indoor grill?
This recipe works on a gas grill, smoker, or indoor grill. If cooking on an outdoor grill with large grates, we recommend laying down a sheet of tinfoil so the cheese doesn't slide through the grates as you flip it.
Will halloumi melt?
Halloumi won't melt, making it a great cheese to grill for a delicious, squeaky texture and amazing flavor!
How can I get halloumi to not stick?
Halloumi can stick to stainless steel and grill grates, so marinating in oil helps to prevent sticking. You can also brush some oil over your grill grates to help prevent sticking.
What to serve with Spicy Honey Garlic Grilled Halloumi
Halloumi has a delicious, savory Greek flavor that is delicious with other Greek and Mediterranean favorites like Lamb souvlaki, Greek Tzatziki, Easy Hummus, Griddled gyros, and Tomato Chickpea Salad!
Spicy Honey Garlic Grilled Halloumi Recipe
If you love this easy recipe please click the stars below to give it a five star rating and leave a comment! Pease also help me share on facebook and pinterest!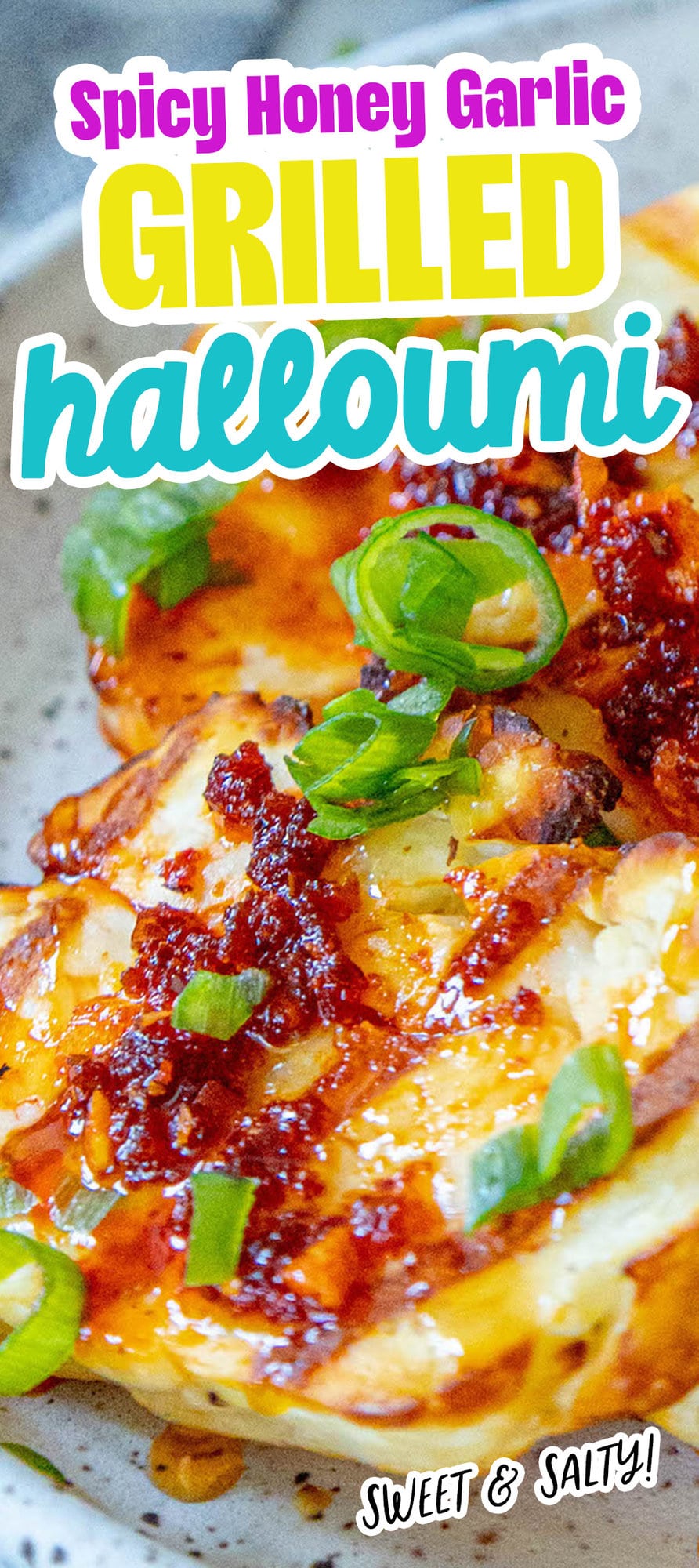 CONNECT WITH SWEET C'S!
Be sure to follow me on social media, so you never miss a post!
Only have 30 minutes to get dinner on the table? Sign up for my 30 minute dinner plans direct to your inbox!
Find and shop my favorite products in my Amazon storefront here!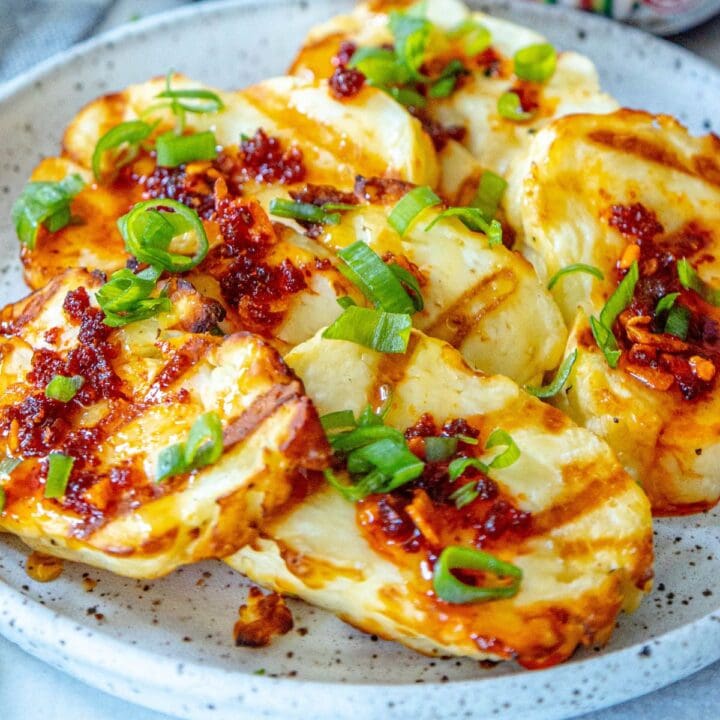 Spicy Honey Garlic Grilled Haloumi
Delicious squeaky salty grilled halloumi with a spicy garlic honey sauce grilled to perfection!
Ingredients
8oz halloumi cheese, sliced into 6 
2 tablespoons butter or olive oil
1 tablespoon lemon juice
1 tablespoon garlic chili oil
1 tablespoon spicy honey (or honey with a dash of cayenne or Aleppo pepper stirred in)
1 tablespoon scallions, chopped
Instructions
Preheat grill to high (375-425 degrees)
On a small plate, drizzle olive oil and lemon juice over halloumi slices, coating each side.
Place on grill (if using indoor grill, place directly on grates - if grilling outside, use a metal grill sheet or foil to keep the cheese from falling through large grates).
Let brown on grill, about 4 minutes per side.
Remove from grill when browned on both sides.
Drizzle garlic chili oil and honey over top, and garnish with chopped scallions.
Serve!
Recommended Products
As an Amazon Associate and member of other affiliate programs, I earn from qualifying purchases at no extra expense to you.
Nutrition Information
Yield

3
Serving Size

1
Amount Per Serving
Calories

401
Total Fat

34g
Saturated Fat

16g
Trans Fat

0g
Unsaturated Fat

15g
Cholesterol

80mg
Sodium

537mg
Carbohydrates

9g
Fiber

0g
Sugar

7g
Protein

17g
Nutrition is automatically calculated by Nutritionix - please verify all nutrition information independently and consult with a doctor or nutritionist for any and all medical and diet advice.