Spicy Tequila Lime Chicken Fettuccine is a deliciously tangy, and slightly sweet dish that is incredibly easy and bursting with flavor!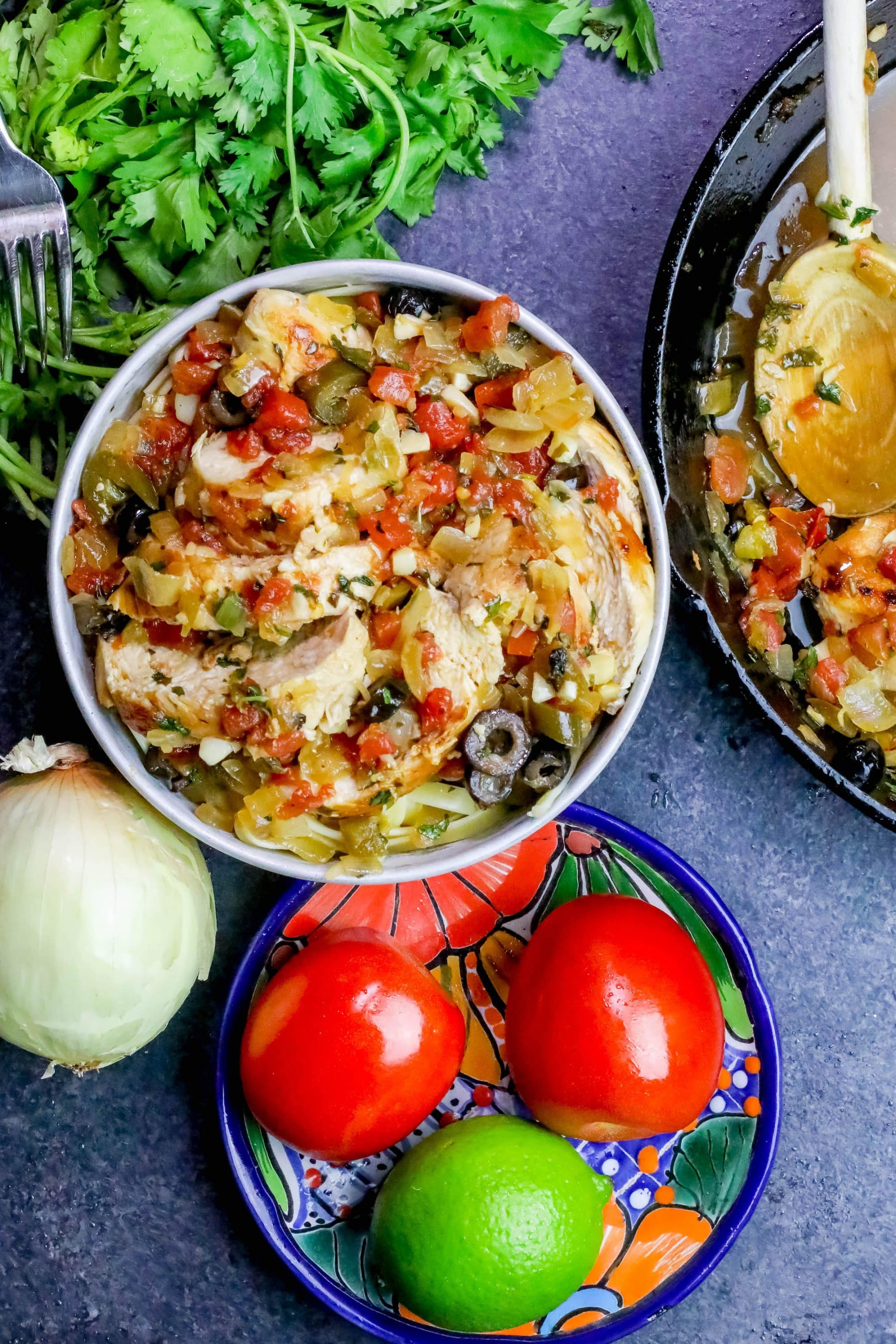 I love spicy chicken dishes - and I love chicken pasta.
So when I was recently looking to make a Tequila Lime Chicken Fettuccine (as for once, I had all the ingredients) - I got a crazy idea to kick it up a notch, and make it even more flavorful with a smoky and zesty tequila-lime-tomato sauce to pull out even more of the smoky flavor of my favorite reposado tequila.
I took the idea of California Pizza Kitchen's famous Tequila Lime Chicken Fettuccine, and kicked the colorful, zesty dish up with this version.
This pasta will taste pretty different than the classic, since it relies on a tomato based sauce that is rich with chili flavors that perfectly accent the tequila.
Please read through the post for information on Tequila substitutions, as well as information on picking a good tequila!
There is nothing like tequila for a sauce - it is so rich and delicious, and pairs perfectly with lime, and fresh chicken.
Fettuccine's wide, thicker noodle helps to soak up all of the deliciously spicy tequila and tomato sauce, without being completely overpowered.
It's a deliciously more Mexican-style fusion than other Tequila Lime Chicken recipes - and one you have to taste to believe!
Of course, I understand a lot of people might want to swap something out for the tequila in this recipe.
While I love tequila - I understand there are a lot of health, religious, and plain old monetary reasons to skip alcohol in a dish - so I'm going to offer up a couple solutions!

Non-Alcoholic Substitutes
While the tequila in this dish mostly burns off when you cook it, no alcohol truly burns off in home cooking.
Now, you're not going to get drunk, or even buzzed, by the tequila in this dish - and it is perfectly safe for children to eat (though most kids don't actually like the taste of tequila) but if you don't consume any alcohol, period, you're probably looking for a good alternative!
While a lot of people suggest chicken stock as a tequila swap, it just doesn't give you anything close to the lovely bright flavors you get from agave when it comes to a recipe that really relies on tequila's flavor as a base.
While you can swap Agave Syrup for the honey we use in this dish and then go with chicken stock, I personally would use 1 cup of cactus juice + 2 tablespoon chicken stock instead!
Look for nopal or prickly pear juice in your grocery store - its a delicious swap for those wanting to avoid alcohol altogether!
Low Carb Alternatives
If you're not into pasta (like my husband, who is trying to stick to a low-carb diet at the moment, though he does love pasta), the chicken is amazingly delicious on it's own - but I love the spicy, tangy sauce over a bed of al dente fettuccine!
You can serve this over zucchini noodles, beans, or even a salad - and use the sauce as a dressing. It is completely amazing!
Reheating and Leftovers
This meal is actually even better reheated the next day - when I eat the leftovers, I am always in awe of how the flavors really come together and hold up so wonderfully.
To reheat, ideally you will just toss it all in a nonstick pan until the chicken is hot - but microwaving for 2-3 minutes works, too.
Be sure to cut the chicken into small pieces when reheating so it cooks faster - which is essential to keeping the pasta from drying out, or turning to mush!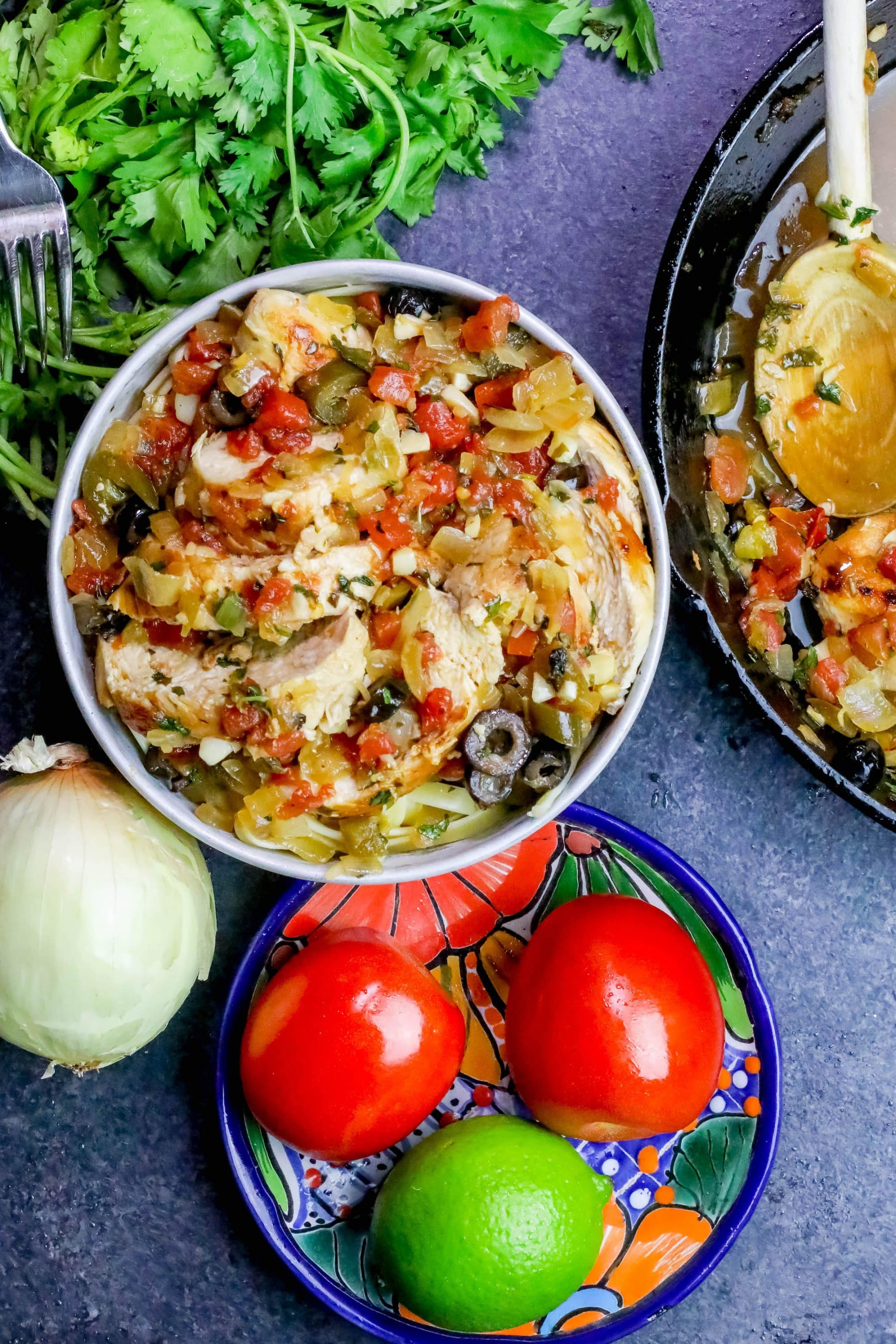 Picking the Right Tequila
Since there is a cup of tequila in this dish, it is really important to the flavor profile - and picking the right tequila definetely matters, as you'll notice any flaws in your liquor in a more magnified way.
While it is true that you should cook with something you'd drink, can you imagine drinking the syrupy-sweet wine sold in stores (save for Manischewitz, which I grew to appreciate after a few Shabbat dinners I got to attend with friends - to this day I love it even though it is so cloyingly sweet, and it is one of the few exceptions to my rule) I completely understand that you also wouldn't want to cook with a super expensive bottle of wine or liquor, either.
It's frankly just a waste of money to bury an expensive drink in a busy dish - so when making something like this Spicy Tequila Lime Chicken Fettuccine, I suggest picking a tequila that is delicious and drink-worthy - but please don't go putting your Don Julio 1942 in it!
For some reason, my stomach just doesn't sit well with liquor that is cut with sugary additives for color (similarly, I can't drink hurricanes - they make me violently sick almost immediately) - so I stick to 100% agave tequilas. If you've had reactions to tequila, but can drink it in margaritas and other drinks - or notice top shelf tequilas don't bother you, like me, try out one of the brands I suggest below.
If you're looking for a good mid-range tequila, I highly suggest Cazadores or Espalon Reposado. They are both under $30, amazing to cook with, and make delicious light margaritas (try them with the juice of 1 lime over ice for a sort of super-light riff off a margarita that won't pack on pounds and is incredibly delicious).
I gravitate towards reposado and anejo, because I like a caramely, slightly smoky (and sometimes incredibly smoky) tequila. If you like a lighter tequila, grab a silver! $20-$30 should grab you a bottle that is perfect to cook with, and make a bunch of delicious margaritas!
If you love this recipe, check out some of my popular chicken dinner ideas here on Sweet C's!
Slow Cooker Chicken Taco Bowls
1o Minute Chicken Tortilla Soup
And now for the good stuff - let's get to making this delicious spicy Mexican-flavor inspired pasta!
Spicy Tequila Lime Chicken Fettuccine
Yield:

6
Spicy Tequila Lime Chicken Fettuccine
Tequila Lime Chicken Fettuccine Recipe Type : Main Dish Author: Courtney O'Dell Prep time: 5 mins Cook time: 30 mins Total time: 35 mins Serves: 6 Spicy Tequila Lime Chicken Fettuccine is a spicy, tangy, and slightly sweet dish that is incredibly easy and so delicious!
Ingredients
2 tablespoon extra virgin olive oil
2 LBS chicken , Or 3 Large Chicken Breasts
1 tablespoon celtic sea salt
1 large onion, diced
8 cloves garlic, diced
1 cup tequila, I prefer a tasty reposado, use something you'd drink!
Juice of 1 lime
¼ cup sliced jalapenos, with juice from the jar
1 can ro-tel chili and lime, if you can't find ro-tel chili and lime, use 1 can diced tomatoes with an extra tablespoon lime juice and dash of chili powder
1 tablespoon fresh diced oregano
1 tablespoon fresh diced basil
2 tablespoon diced cilantro
2 tablespoon honey
¼ cup sliced olives, drained
Instructions
Heat a large, heavy pan on medium high until scorching hot, but not smoking.
Drizzle olive oil into pan, and heat until shimmery, about 45 seconds.
Add chicken breasts into pan.
Cook 6 minutes on each side, until well browned.
Remove chicken, set aside.
Add onions to pan, and let brown - about 4 minutes.
Add garlic, and continue to brown, another 2 minutes.
Add tequila and cook down, 4-6 minutes.
Add tomatoes, honey, spices, and olives.
Add chicken back to pan, and cook until 165 degrees internal temperature.
If your chicken is very thick, and it takes so long to cook you reduce all of your sauce - never fear -
just add more lime juice, a splash more tequila, and/or some chicken stock.
Serve over al dente fettuccine, and enjoy!
Store any leftovers in an airtight container in a refrigerator for up to 3 days.
Can be frozen and re-heated - try to freeze as flat as possible to avoid a giant frozen clump, and add ½ cup stock when reheating.
Nutrition Information
Yield
6
Serving Size
1
Amount Per Serving
Calories

809
Total Fat

39g
Saturated Fat

10g
Trans Fat

0g
Unsaturated Fat

23g
Cholesterol

227mg
Sodium

2079mg
Carbohydrates

30g
Fiber

3g
Sugar

15g
Protein

68g
Nutrition is automatically calculated by Nutritionix - please verify all nutrition information independently and consult with a doctor or nutritionist for any and all medical and diet advice.