The Best Chopped Chinese Chicken Salad Recipe
Jul 01, 2019, Updated Jun 20, 2023
The Best Chopped Chinese Chicken Salad Recipe – a delicious, hearty salad bursting with Asian chicken flavor that the whole family will love.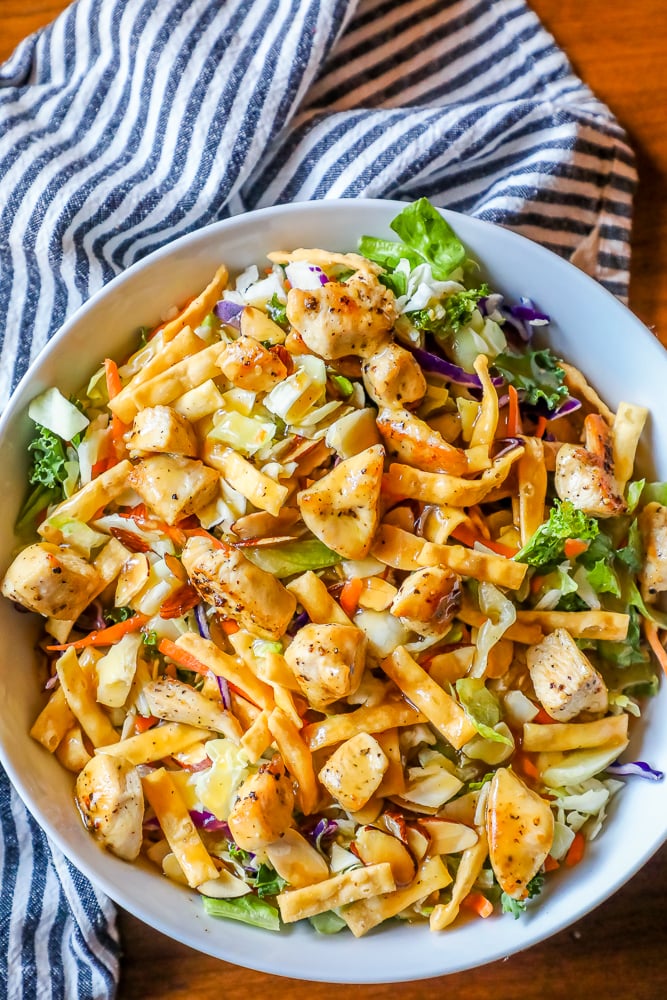 Don't want all the extras in a recipe post? We provide a skip to recipe button in the top left corner, as well as a clickable table of contents, just below, to help make this page easier to navigate.
Cheesecake Factory Chopped Chicken Salad
Chinese Chopped Chicken Salad is one of my all time favorite dishes – it is crisp, crunchy, cooling – and packed with tons of flavor.
I love salty, slightly sweet, and crunchy Asian-inspired salads – and this Chopped Chinese Chicken Salad is one of my all time favorite meals ever.
One note: While this salad is definitely inspired by Chinese Chicken flavors, it is in no way an authentic Chinese dish – but since I see it most often on menus as a Chinese Chicken salad, I'm just sticking with the name ;).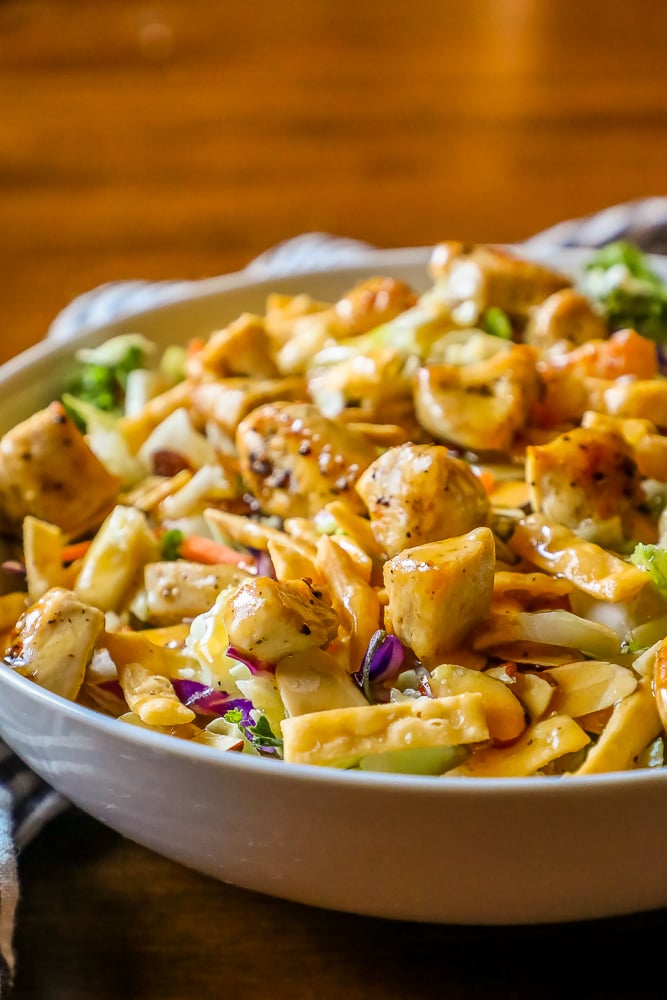 How to Make Chinese Chopped Chicken Salad
This Chinese Chopped Chicken Salad is wonderful because it packs a TON of flavor in one big bowl – without any ingredients that are hard to find.
All of the ingredients below should be easy to locate at your local grocery store – some in the fresh produce section, and some in the Asian food aisle.
Salad Dressing:
Canola Oil: This is a neutral oil that serves as the base of the dressing, helping to combine and distribute the other flavors.
Rice Vinegar: It provides a tangy acidity that contrasts and balances the richness of the other ingredients.
Hoisin Sauce: This contributes a sweet and salty flavor with a hint of spice, adding depth and complexity to the dressing.
Soy Sauce: Soy sauce gives the dressing a salty, umami punch which boosts the overall savoriness of the salad.
Fresh Ginger: Grated ginger brings a bit of heat and freshness to the dressing, and complements the Asian flavor profile.
Toasted Sesame Oil: This has a strong, nutty, and slightly smoky flavor. It adds a layer of aromatic complexity to the dressing and the salad overall.
Salad:
Cooked Chicken: The main protein source of the salad. Chicken is mild in flavor and works as a great canvas for the dressing.
Napa Cabbage & Red Cabbage: These provide a crunchy texture and fresh taste. They also add color and nutritional value to the salad.
Shredded Carrots: They bring a bit of sweetness, a bright color, and a nice crunchy texture to the salad.
Scallions: These add a mild, onion-like flavor and a bit of crispness, enhancing the overall depth of flavors.
Fresh Cilantro: Cilantro contributes a unique, slightly citrusy flavor that adds freshness and brightens up the overall taste of the salad.
Fried Wonton Strips: These provide a crunchy texture that contrasts with the softer ingredients, and they also add a bit of richness due to being fried.
Sesame Seeds: They garnish the salad, adding a subtle nutty flavor and a pleasing crunch.
Tips and Tricks for a Perfect Chinese Chicken Salad
This salad is one of my all time favorites because it is so incredibly versatile. If you don't love an ingredient as listed, go ahead and swap it for something you like more!
Fresh Ingredients: The taste of the salad will be directly influenced by the freshness of the ingredients used. Fresh vegetables will ensure maximum crunch and flavor. The herbs, like cilantro and scallions, should also be fresh to bring out their full, bright flavors.
Balance of Flavors: Balancing flavors is crucial in this salad. Taste your dressing before mixing it into the salad to ensure it has the right balance of sweet, salty, and sour. If it's too sweet, add more rice vinegar or soy sauce. If it's too salty, add more hoisin sauce or a pinch of sugar.
Preparation of Chicken: You can use leftover chicken, rotisserie chicken, or freshly cooked chicken. If you're cooking your own chicken, consider poaching it for moist and tender results. Also, let the chicken cool before adding it to the salad to prevent wilting the vegetables.
Shredding the Vegetables: For a chopped salad, the ingredients should be roughly the same size. Finely shredded cabbage and carrots will mix well with the chicken and absorb the dressing better.
Dressing the Salad: Don't overdress the salad, as it can make it soggy. Add just enough dressing to coat the ingredients, but not so much that it pools at the bottom of the bowl.
Adding Crunch: Add the wonton strips and sesame seeds just before serving so they maintain their crunch. You can also consider adding other crunchy elements like toasted almonds or peanuts for extra texture.
Resting Time: Allow the salad to sit for a few minutes after adding the dressing to let the flavors meld together. However, don't let it sit too long to maintain the crispness of the vegetables.
Adjusting to Taste: Feel free to adjust the ingredients to your personal preference. You can add other elements like mandarin oranges, bell peppers, or even some spice with red pepper flakes.
Add other ingredients! Some of our favorite additions to a Chinese Chopped Chicken Salad are below:
Snap peas
Red bell pepper, shredded or diced
Water chestnuts
Poppy Seeds
Chopped peanuts
Tamarind
Grilled shrimp
FAQs
What type of chicken should I use for a Chinese Chopped Chicken Salad?
Any type of cooked chicken can be used for this salad. Rotisserie chicken, grilled chicken, or poached chicken are all great options. The key is to shred or dice it into bite-sized pieces.
Can I make this salad in advance?
Yes, you can prepare the components of the salad in advance. However, it's best to combine the ingredients and add the dressing just before serving, to maintain the crispness of the vegetables and crunchiness of the wonton strips.
Can I add other ingredients to this salad?
Absolutely! This salad is very versatile. Feel free to add other ingredients like bell peppers, mandarin oranges, cucumbers, peanuts, or even red pepper flakes for some heat.
What can I use instead of hoisin sauce?
If you can't find hoisin sauce, you can substitute it with a combination of soy sauce, a bit of sugar, and some peanut butter or sesame oil to mimic the sweet, salty, and nutty flavor of hoisin.
Can I make this salad vegetarian or vegan?
Yes, you can replace the chicken with tofu or edamame to make it vegetarian. For a vegan version, you'll also need to ensure your hoisin and soy sauces are vegan (most are, but some brands may contain animal products).
What can I serve with this salad?
This salad is hearty enough to be served as a main dish, but it also pairs well with other Asian dishes like stir-fries, dumplings, or noodle dishes.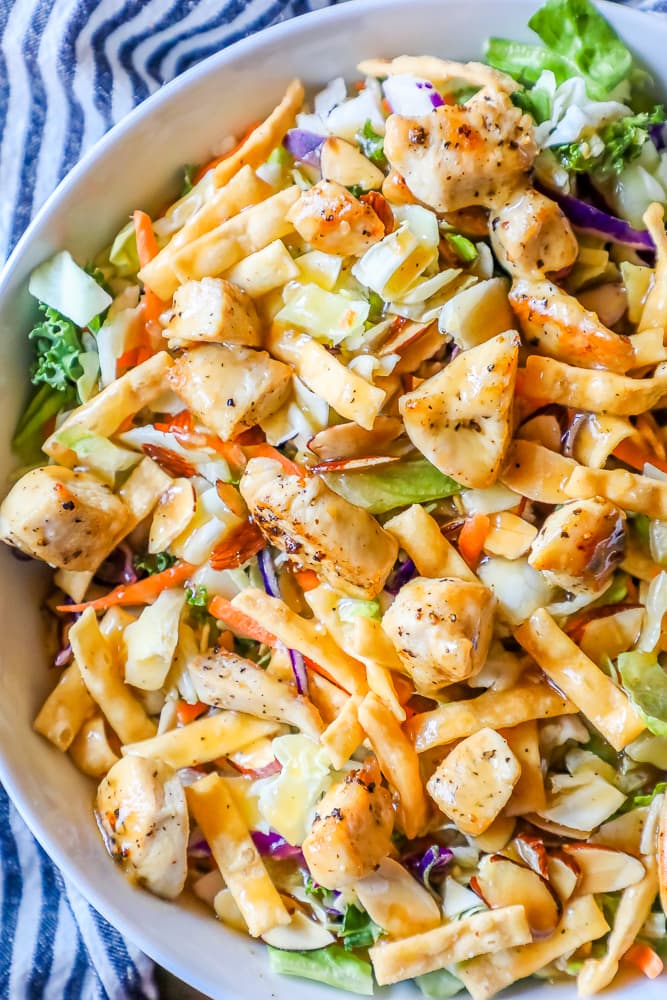 Other Delicious Salads You'll Love:
If you loved this easy Chinese Chopped Chicken Salad Recipe, be sure to check out some of my other favorite salads!
Delicious hearty salads like The Best Easy Chicken Taco Salad Recipe, and a delicious Grilled Chimichurri Chicken and Vegetables Salad – as well as fun favorites like this Cheesy Chicken Taco Salad Stuffed Avocado Recipe, and another takeout inspired Spicy Thai Beef Salad Recipe.
The Best Chopped Chinese Chicken Salad Recipe
If you love the Best Chopped Chinese Chicken Salad Recipe as much as I do, please give it a five star review and help me share on facebook and pinterest!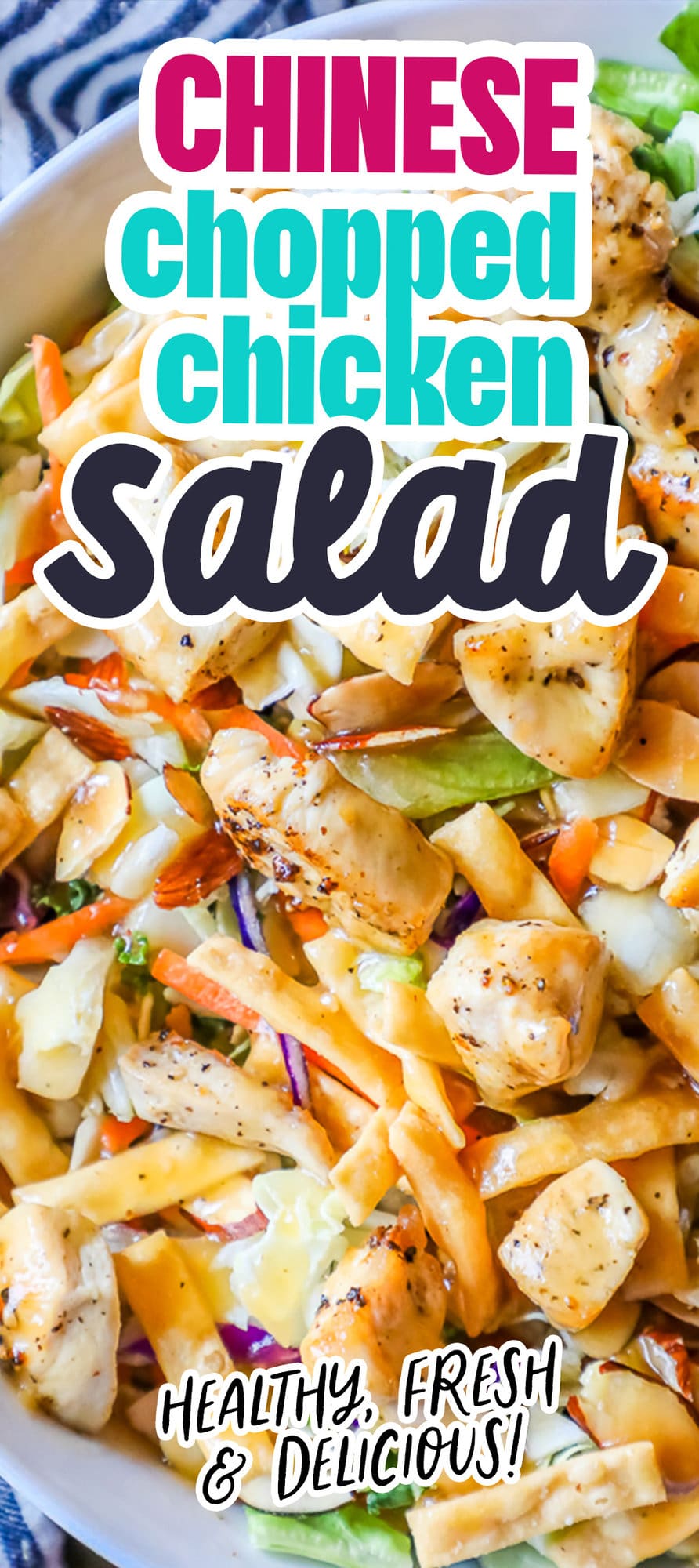 CONNECT WITH SWEET C'S!
Be sure to follow me on social media, so you never miss a post!
Only have 30 minutes to get dinner on the table? Sign up for my 30 minute dinner plans direct to your inbox!
Find and shop my favorite products in my Amazon storefront here!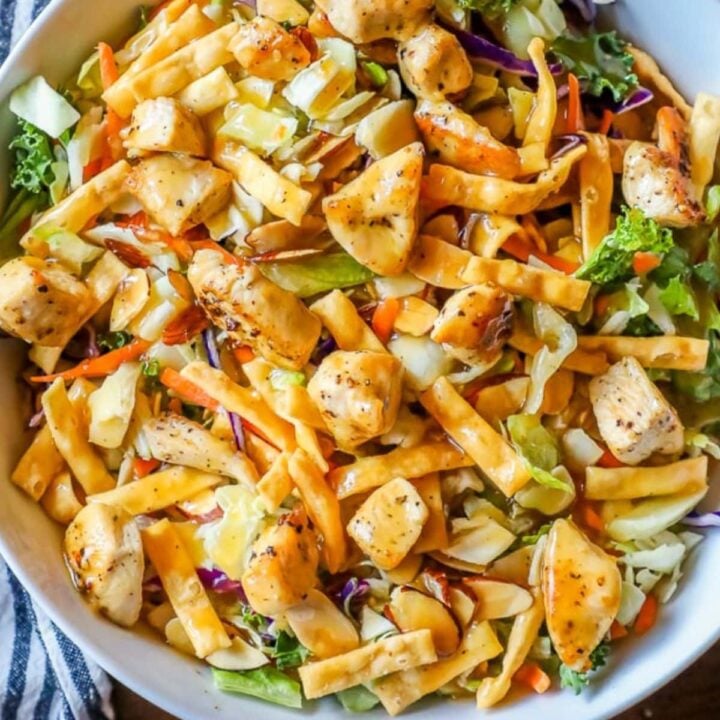 The Best Chopped Chinese Chicken Salad Recipe
The Best Chopped Chinese Chicken Salad Recipe - a delicious, hearty salad bursting with Asian chicken flavor that the whole family will love. 
Ingredients
For the Salad Dressing:
2 tablespoons canola oil
1/3 cup rice vinegar
1/4 cup hoisin sauce
1 1/2 tablespoons soy sauce
1 tablespoon fresh ginger grated
1/2 teaspoon toasted sesame oil
For the Salad:
4 cups cooked chicken shredded or diced
1 pound Napa cabbage cored and finely shredded
2 cups red cabbage cored and finely shredded
1 cup shredded carrots
1 bunch scallions thinly sliced
1/4 cup fresh cilantro minced
1 cup fried wonton strips
2 tablespoons sesame seeds for garnish, optional
Instructions
To make the dressing:
In a small jar with a tight-fitting lid, combine oil, vinegar, hoisin sauce, soy sauce, ginger, and sesame oil. Shake vigorously until combined.
Allow flavors to blend at room temperature while preparing the rest of the salad. Or, refrigerate for up to 4 days.
To make the salad:
In a large bowl, combine the chicken, cabbage, carrots, scallions, and cilantro. Shake the dressing to recombine and pour over the salad.
Toss until evenly coated. Sprinkle with chow mein noodles and sesame seeds, if using, and serve.
Recommended Products
As an Amazon Associate and member of other affiliate programs, I earn from qualifying purchases at no extra expense to you.
Nutrition Information
Yield

6
Serving Size

1
Amount Per Serving
Calories

357
Total Fat

21g
Saturated Fat

4g
Trans Fat

0g
Unsaturated Fat

15g
Cholesterol

85mg
Sodium

520mg
Carbohydrates

17g
Fiber

3g
Sugar

6g
Protein

25g
Nutrition is automatically calculated by Nutritionix - please verify all nutrition information independently and consult with a doctor or nutritionist for any and all medical and diet advice.