The Best Easy Cacio e Pepe Recipe Ever - this easy pasta is creamy, rich, and delicious with just a few ingredients you probably already have on hand!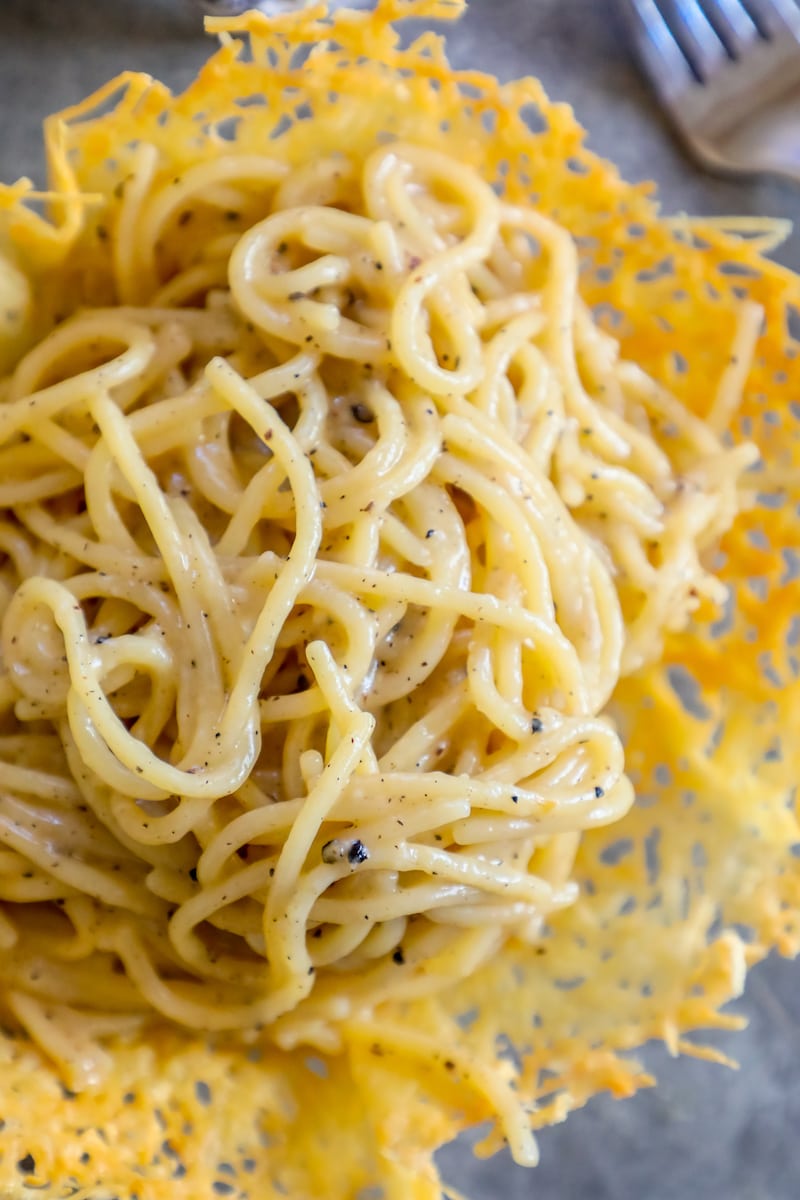 Don't want all the extras in a recipe post? We provide a skip to recipe button in the top left corner, as well as a clickable table of contents, just below, to help make this page easier to navigate.
If you were an avid fan of Anthony Bourdain, you'd have to know this episode. Rome, in all of the rare beauty of black and white in a modern TV format, was one of th emost memorable episodes I've ever watched.
For those of us that love creating, storytelling, and food - there is nobody like Anthony Bourdain. His storytelling made me fall in love with food and travel - and pursue my loves as a career.
So when he enjoyed a dish so much he couldn't even bear to give away the location (from the Rome episode of No Reservations- shot entirely in black and white- where he proclaimed cacio e pepe as the greatest thing in the history of the world)? I had to find a copycat that was just as amazing and try it for myself!
Cacio e pepe is one of the best comfort pastas of all time - it is creamy, rich, and delicious with a ton of flavor - despite using only a couple of ingredients that are understated and likely to already be in your pantry! Cacio e pepe might sound complicated - but it is one of the most simple and delicious pasta dishes, ever!
Cacio e pepe translates to cheese and pepper in many Italian regions - and this pasta is basically just pasta, butter, pepper, and cheese. While cacio e pepe might sound plain - it is AMAZING. Thick, buttery, rich, and a little spicy from the pepper - it is the ultimate comfort food pasta and perfect for an easy quick dinner. This simple pasta is so rich and creamy - without any cream.
How to Make Cacio e Pepe
To make this recipe, you'll need:
Water - salt your water when you cook spaghetti - but don't add olive oil. Adding olive oil will make your pasta slick and encourage it to soak up the oil, instead of your sauce!
Tagliolini or spaghetti - use a quick cooking noodle you love. Traditionally, you'd use spaghetti - but I've used bucatini and even fettuccini in a pinch when I'm starving, as this meal is meant to be something easy and fast.
Butter - butters rich fat content is going to provide a lot of the creamy texture for our pasta's sauce, making it velvety and delicious.
Fresh cracked pepper - while using cracked black pepper seems easy, this recipe has so few ingredients, it is critical to use fresh cracked pepper for the best flavor and the most heat.
1 cup pasta cooking water - this isn't additional water from before - but rather, when you make your sauce, you will reserve 1 cup of the water your pasta cooks in - don't let it all go down the drain! This water contains starch pasta gives off, and helps emulsify, so your pasta sticks to it.
Parmesan or romano cheese, grated - use high quality, delicious cheese you love the flavor of, as it will melt and form the base of our sauce with the butter. Parmesan is nutty and salty, and adds a lovely addictive flavor to pasta that you can't get enough of!
Once you've gathered your ingredients, we will follow this method:
Boil pasta to just under al dente. Cook in salty, rapidly boiling water until a bit over al dente. Since we will add the pasta back to the sauce to cook for a moment before serving, I like to cook just a bit under al dente - so it can finish at al dente.
Save one cup of pasta cooking water! You'll drain the rest and set the al dente pasta aside, but do not drain all the water - be sure to save one cup!
Let pepper bloom. This sounds a bit funny - but it just means let it get fragrant, which only takes about a minute after you add it to the pan. Be sure to not let it burn, so stir as it toasts.
Add butter and pasta water to pan to start sauce.
Thicken sauce and add pasta back. Add pasta to pan and cook to al dente as sauce thickens. 
Stir in cheese. Add in cheese, allowing it to thicken sauce as it melts. Adding before pasta is done and sauce has thickened can cause cheese to sink to the bottom, so stir it in right at the end.
Serve. Serve in parmesan cheese bowls immediately. 
How to Make a Parmesan Pasta Bowl
While a parmesan pasta bowl isn't required for this dinner, it is a really simple way to take this pasta up a notch and make it look amazingly fancy in no time!
Making a parmesan cheese bowl to serve your pasta in is really fun and cute- but it also adds a great crunchy texture and salty parmesan kick to your pasta too!
This easy baked parmesan bowl is so simple - but adds a ton of flavor to this dish. It's entirely optional, but if you have a bit of extra time when making this cacio e pepe recipe, try it in this parmesan bowl!
Start by preheating oven to 350 degrees.
Next, layer parmesan cheese on a baking mat.

I add ½ cup shredded parmesan cheese to the mat (this will depend on your size bowl or how big you want servings to be - you can go anywhere from ¼ cup for a small bowl to ½ cup to a medium size bowl - and 1 cup parmesan for a giant bowl shape.
Bake until lightly golden brown and very bubbly.

Remove from oven and let cool until you can hold parmesan comfortably (it will still be very warm, but cooled enough you wont burn yourself.)
Lay parmesan over a bowl turned upside down, folding pleats or simply scrunching it up like a tostada shell to make it fit the bowl's shape.

Let cool completely until hard, about 15-30 minutes.
Add pasta to bowl.

Tips and Tricks to Perfect Cacio e Pepe
Use pasta water in the sauce. It sounds really weird to use pasta water in your sauce, right? Well there is a really great reason to use about a cup of the water your pasta cooks in to make a pasta sauce - adding some of the starchy water the pasta boils in helps to emulsify and thicken the sauce, giving it tons of flavor. Many people even call pasta cooking water "liquid gold" - don't throw out all of your cooking water and send all that liquid gold down the drain.
Emulsifying your sauce with the addition of pasta water helps the sauce stick to the pasta so it can soak up all that delicious butter, pepper, and parmesan flavor! This results in a thick and creamy non-greasy sauce for your pasta - without any cream.
FAQs
When is Cacio e Pepe done?
This recipe is a bit of a rustic dish without an exact cooking time, and everyone has their own preferred doneness for pasta - so it's kind of done when you want it to be. Generally, your dish is done when the sauce has thickened and pasta has reached al dente - or soft, with just a bit of bite.
Can I make Cacio e pepe vegan?
I've made this recipe with oat milk and a vegan cheese substitute, and it was delicious! Be sure to use dairy substitutes that you like the flavor of, as this recipe has so few ingredients, you'll really taste each ingredient on it's own.
Can I make this more peppery?
You can add more or less pepper, based on your own personal preferences.
Do I have to make a parmesan bowl?
This is an absolutely optional step; something I just like to do for extra flavor.
How can I keep this recipe from sticking to my pan?
When cooking your sauce, I recommend using a nonstick pan.

What to Serve With Cacio e Pepe:
This dinner is a quick, pantry staple meal meant to feed you fast - so finding simple, easy sides to serve with it is essential!
We love serving with texas toast, fruit salad with poppyseed dressing, warm goat cheese salad, or a deceptively easy broiled lobster tail.

The Best Easy Cacio e Pepe Recipe Ever
If you love this Easy Cacio e Pepe Recipe as much as I do, please write a five star review, and be sure to help me share on facebook and pinterest!
CONNECT WITH SWEET C'S!
Be sure to follow me on social media, so you never miss a post!
Facebook | Twitter | Youtube | Pinterest | Instagram
Only have 30 minutes to get dinner on the table? Sign up for my 30 minute dinner plans direct to your inbox!
Find and shop my favorite products in my Amazon storefront here!
Yield:

4 people
The Best Cacio e Pepe
The Best Easy Cacio e Pepe Recipe Ever - this easy pasta is creamy, rich, and delicious with just a few ingredients you probably already have on hand!
Ingredients
water
½ lb tagliolini or spaghetti
2 tablespoon butter
1 tablespoon fresh cracked pepper
1 cup pasta cooking water
1 ¾ cups parmesan or romano cheese, grated
Instructions
Boil a large pot of water and salt it generously.
Add pasta and cook until under al-dente - still a little crunchy.
Remove one cup pasta water and set aside.
Drain pasta.
Add cracked pepper to pan and heat for about 40 seconds on medium high to let bloom.
Add butter and pasta water to pan, melt butter.
Add pasta to pan and cook to al dente as sauce thickens.
When pasta is cooked, mix parmesan or romano in pan and stir well to mix.
Serve in parmesan cheese bowls immediately.
Recommended Products
As an Amazon Associate and member of other affiliate programs, I earn from qualifying purchases at no extra expense to you.
Nutrition Information
Yield
4
Serving Size
1
Amount Per Serving
Calories

400
Total Fat

21g
Saturated Fat

12g
Trans Fat

1g
Unsaturated Fat

6g
Cholesterol

60mg
Sodium

945mg
Carbohydrates

34g
Fiber

2g
Sugar

1g
Protein

20g
Nutrition is automatically calculated by Nutritionix - please verify all nutrition information independently and consult with a doctor or nutritionist for any and all medical and diet advice.