The Best Instant Pot Keto Ribs Recipe - the easiest, fastest way to get tender, delicious, melt in your mouth Keto BBQ ribs right from your Instant Pot!
Don't want all the extras in a recipe post? We provide a skip to recipe button in the top left corner, as well as a clickable table of contents, just below, to help make this page easier to navigate.
There is nothing better than delicious, tender, and flavorful ribs for gameday - they are hearty and filling, and work perfectly for a keto diet - plus they are easy to serve for a crowd!
These amazingly delicious - and crazy easy - ribs are based off my recipe for the Best Smoked Ribs Ever.
If you don't have an Instant Pot, and don't want to smoke ribs, please check out my Best Ever Baked Ribs - delicious keto ribs, right from your oven - or my Best Ever Slow Cooker Ribs for melt-in-your-mouth ribs from the slow cooker!
All can be made keto - simply swap golden monkfruit sweetener for the brown sugar in the rub, and make sure to grab a bottle of keto approved BBQ sauce.
And if you're looking for the BEST chicken to go along with these ribs for gameday - be sure to get my top-reviewed BBQ Baked Chicken Drumsticks recipe!
Keto Instant Pot Ribs
Ribs are an awesome party food for those following a keto diet - but it is essential to make sure you're using a keto-approved bbq sauce and rub.
I am giving you my best rib rub recipe (from my outrageously delicious best ever smoked ribs recipe that has had a ton of great reviews) below - but you can use any rib rub you love.
I suggest low-sugar BBQ sauces for ribs - and rounding up some below:
How To Prep Ribs For Instant Pot
Ribs are a cut of meat that need to be trimmed well for the best flavor – and so they aren't chewy and tough.
Ribs come with a silver skin often over the ribs – trimming the most of this tough tendon off the rib will greatly improve the flavor of your oven baked ribs – so don't skip this step.
How To Trim Silver Skin Off Ribs
Run a knife under the silver skin to separate the membrane from the rib meat.
If the silver skin resists in one spot, try another.
Once you have separated enough with a knife, grab silver skin tightly and pull to remove from the ribs.
If silver skin breaks in one spot, loosen it again with a knife to remove it completely.
How To Cook Ribs in Instant Pot
The best instant pot ribs are simple – but there are a couple tips and tricks to make sure you have perfect ribs, every time.
After removing silver skin from your ribs, generously cover with dry rub to help create a "smoky" flavor – right in the IP!
Smoked paprika helps bring out a grilled meat flavor, without the grill.
Use a trivet

Placing the ribs up above the water needed to bring your instant pot to pressure is essential - you're not boiling ribs, you're cooking them!
Finish With Crisp Lid
Finish with a crisping lid for crunchy ribs! For a delicious, crunchy BBQ sauce bark, use a crisping lid or broil ribs after baking for 5-10 minutes.
To buy your own crisping lid for your instant pot, click here.
The Best Rib Rub Recipe
This rib rub is slightly modified from the one found in my slow cooker ribs, baked ribs and smoked ribs - we're replacing the brown sugar with golden monkfruit sweetener.
If you're not watching carbs, swap that out for brown sugar.
Rib Rub Ingredients
Tablespoon of garlic powder
Tablespoon of season salt
Tablespoon of oregano
Tablespoon of cumin
Tablespoon of golden monkfruit sweetener
How Long To Cook Ribs in Instant Pot
To Cook Baby Back Ribs In an Instant Pot, cook for 25 Minutes
To Cook spare ribs in an Instant Pot, cook for 30 Minutes

For high altitude cooking (I'm in Colorado!), cook 5 minutes longer.

Technically, ribs are overcooked when they are "fall off the bone" tender, even though that is popular (I'll admit, I love fall off the bone ribs). To get them extra tender, cook an extra five minutes.
What to Serve with Keto Instant Pot Ribs
If you're looking for delicious gameday worthy sides for a keto party, look no further!
I get more questions on what to serve with ribs than any other dish, so I hope these picks help you out!
Click here for more amazing Instant Pot Recipes!
The Best Instant Pot Keto Ribs Recipe
If you love these ribs as much as I do, please help me share them on facebook and pinterest, and please give them a five star review!
CONNECT WITH SWEET C'S!
Be sure to follow me on social media, so you never miss a post!
Facebook | Twitter | Youtube | Pinterest | Instagram
Only have 30 minutes to get dinner on the table? Sign up for my 30 minute dinner plans direct to your inbox!
Find and shop my favorite products in my Amazon storefront here!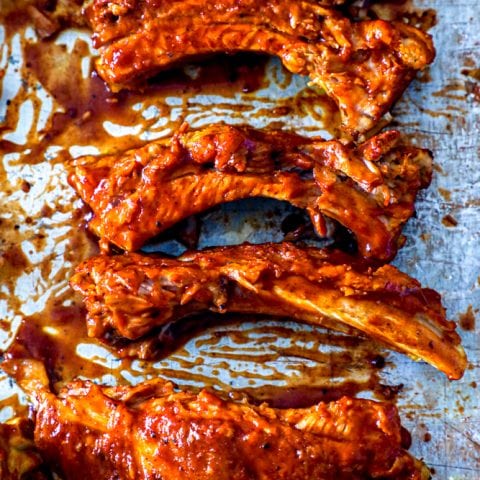 Yield:

8
The Best Instant Pot Keto Ribs Recipe
Delicious keto ribs cooked in an instant pot are the perfect summertime main dish!
Ingredients
1 rack pork ribs
Tablespoon of garlic powder
Tablespoon of season salt
Tablespoon of oregano
Tablespoon of cumin
Tablespoon of golden monkfruit sweetener
1 cup water
1 cup apple juice or apple cider vinegar
2 cups keto bbq sauce
Instructions
Remove ribs from refrigerator and pat dry. Let come to room temperature for 20-30 minutes.
In a small bowl, combine rub ingredients.
Cover ribs with rub, working into meat with your hands.
Place trivet in instant pot.
Add water and apple cider vinegar or apple juice.
Place ribs in instant pot, add lid, and set to seal.
Cook for 30 minutes and let naturally release.
Remove ribs from Instant Pot and cover with BBQ sauce.
Return ribs to Instant Pot with crisping lid and cook another 5 minutes (NOT AT PRESSURE), or broil in the oven for five minutes.
Optional: cut ribs individually to broil (as pictured) with tons of sauce for a crunchy bark.
Recommended Products
As an Amazon Associate and member of other affiliate programs, I earn from qualifying purchases at no extra expense to you.
Nutrition Information
Yield
4
Serving Size
2 ribs
Amount Per Serving
Calories

149
Total Fat

3g
Saturated Fat

1g
Trans Fat

0g
Unsaturated Fat

1g
Cholesterol

9mg
Sodium

790mg
Carbohydrates

6g
Net Carbohydrates

0g
Fiber

1g
Sugar

0g
Sugar Alcohols

0g
Protein

3g
Nutrition is automatically calculated by Nutritionix - please verify all nutrition information independently and consult with a doctor or nutritionist for any and all medical and diet advice.