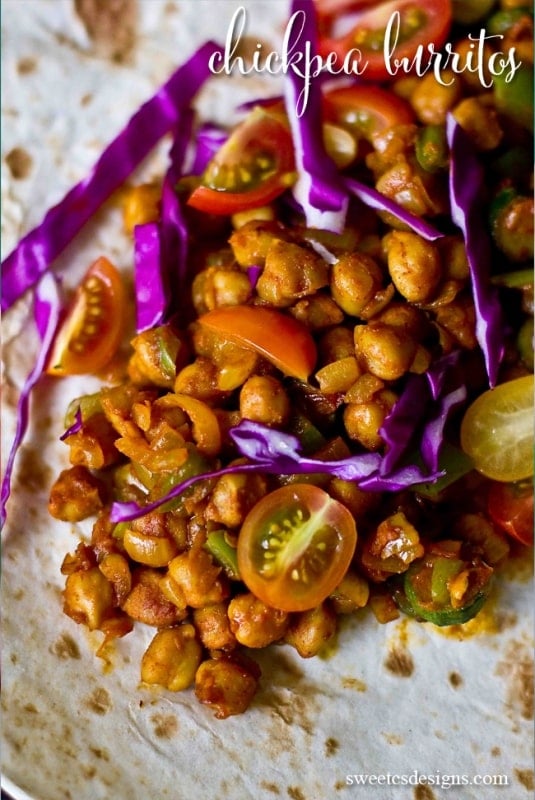 Now that Lent is here, we're trying to stick to the Orthodox fast and keep a vegan diet until Pascha (Easter). This is NOT a time I look forward to- because I am not going to lie, vegan isn't really my style. I can make some decent vegan food (I do actually make some delicious tofu tacos) but my tummy tends to be happiest when I am eating meat. And cheese. Lots and lots of glorious cheese. But this year, I am determined to eat fresh, healthy lenten food instead of the bland pastas and popcorn shrimp of lents past. This recipe for Vegan Chickpea Burritos is one I'd eat anytime of the year- lent or not.
They are delicious, packed with protein, and use unprocessed, actually healthy foods. As chickpeas are legumes, these are not part of a paleo diet (chickpeas have antinutrients and starch, and are fairly carbohydrate heavy) but if you're looking for a meat-free dish and aren't sensitive to chickpeas, these are a delicious dinner.
I'm not adding almond cheese, but if you like lactose-free cheeses, they would be pretty good as a topping.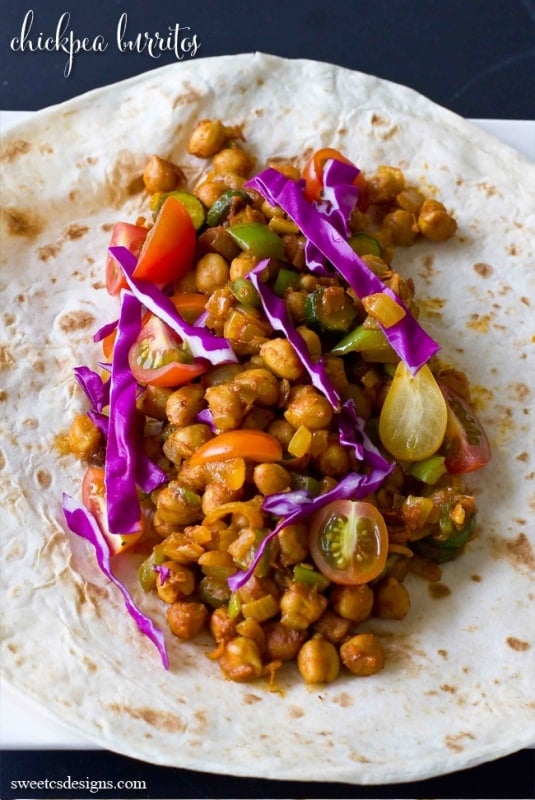 Since these don't have meat, they can be made in under 10 minutes. They also make delicious leftovers, or incorporate well into salads or corn tortillas for tacos!
Depending on your diet, you can also add plenty of fresh guacamole or sour cream (try coconut if you're looking for a vegan alternative.)
And for more delicious lenten meals, be sure to check out these lenten dishes you'll love:
Yield:

4 burritos
Vegan Chickpea Burritos
Ingredients
1 12 oz can garbanzo beans or chickpeas, drained (they are the same thing)
1 heaping teaspoon coconut oil, or olive oil if you're not keeping a fast
1 medium white onion, diced
1/2 bell pepper, diced
1 zucchini, cut into quarters and then diced
1 tbsp cumin
1 tbsp paprika
1 tsp cayenne pepper
2 tsp garlic powder
1 tsp sea salt, I use celtic salt
shredded cabbage diced grape tomatoes, to top
4 to rtillas
Instructions
In a large nonstick pan on medium, dump chickpeas, oil and spices, stir to combine.
When spices have evenly coated chickpeas, add onions, zucchini and pepper.
Sautee until veggies are soft.
Remove from heat and add into fresh tortillas (warm in the oven in a foil pouch to make them easily foldable)
Dish into tortillas, top with cabbage and tomatoes and serve warm!