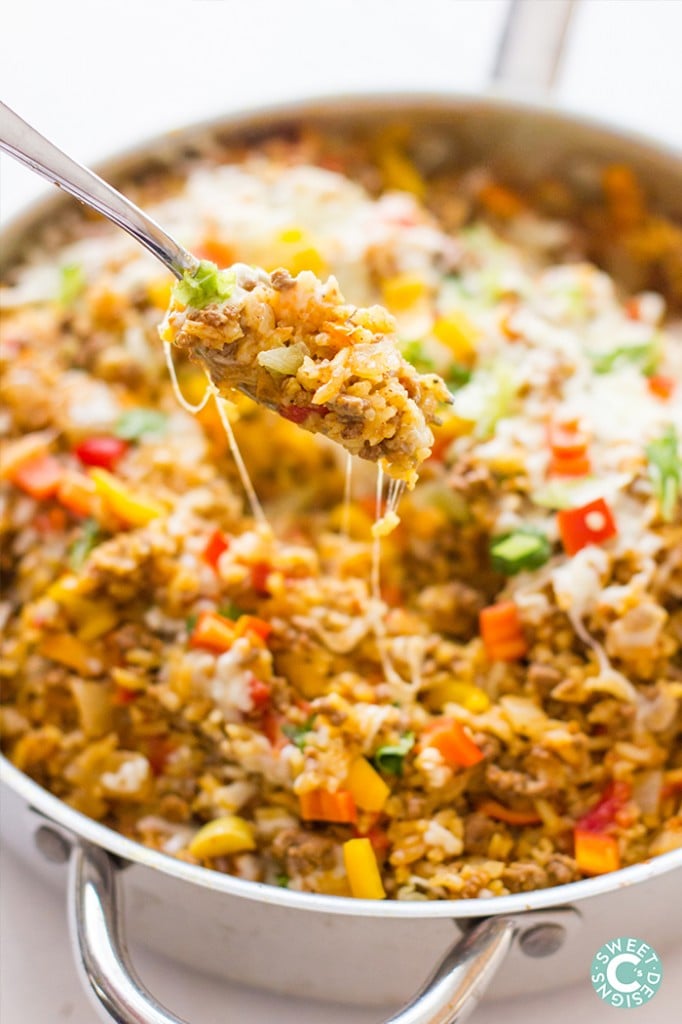 In a quest to make more effortless meals that work well in leftovers, I've been trying to come up with more one pot meals. There is something fantastic about the one pot meal- not only is it easier to only have to clean one pot, but they tend to be simpler, easier recipes that are perfect for busy families who need warm, comforting meals to come around at night. This one pot taco rice skillet is one of the easiest- and incredibly delicious- meals I have made in a long time- and it is one that tastes even better as leftovers!
This dish is so versatile, you could add more veggies, add beans or even change up the meat from beef to chicken, turkey, or even a meat substitute. It is fabulous in tacos and burritos, salad bowls- or even baked in a bell pepper! Of course, this is incredibly delicious on it's own too. There is just something you can't beat about a creamy, spicy and rich dish that you can make in under 40 minutes in just one pan!
I got the idea for this taco skillet from my good friend Melissa's One Pan Chicken Burrito Bowls. Melissa is the queen of one pot meals- and these look so insanely delicious! Be sure to check out her recipe- she even has a burrito bowl recipe that you can cook in the slow cooker!
I made my dish a little more rice based to eat more like a side dish- it is fantastic in tacos, salads, burritos- and even in stuffed peppers! Of course, this rice skillet is also fabulously delicious on its own- I got a bit carried away sampling it straight out of the pan!
I actually make a big double batch every time I make this because it saves so well- you can even freeze it in a high quality freezer bag. I actually think it even tastes better a few days after making it- and since it is so versatile, you can add it to different recipes each day without feeling like you're eating the same leftovers again and again.
I didn't add beans to my recipe, but you can easily add a can of drained pinto or black beans when you add the rice to this dish if you'd like!
One Pot Spicy Taco Rice Skillet
Ingredients
1lb ground beef
1 large onion, diced
2 bell peppers, diced
1 8oz can diced tomatoes with green chilis
1 cup salsa
1 cup long grain white rice (NOT minute rice)
1 cup water
1 cup beef stock
2 tsp cumin
½ tsp cayenne pepper
1 tsp chili powder
1 tsp garlic powder
1 tsp smoked paprika
1 cup shredded cheddar or jack cheese
green onions, to garnish
Instructions
In a large pan, brown beef.
When beef is lightly browned, add diced onions and peppers.
Cook until beef is fully cooked, onions and peppers are soft.
Add can of tomatoes with green chili- no need to drain.
Add salsa, rice, water and stock.
Stir well to combine.
Add in spices and mix, cover.
Let simmer on low until rice is soft and liquid has cooked off.
Top with cheese, stir in until it melts.
Serve!