Want to amp up your Taco Tuesday game?! This Layered Taco Pie is packed with ground beef, Mexican spices, cheese, and layered with tortillas for the ultimate Taco Tuesday meal!
Don't want all the extras in a recipe post? We provide a skip to recipe button in the top left corner, as well as a clickable table of contents, just below, to help make this page easier to navigate.
Made with 5 layers of hearty beef, crunchy corn kernels, salsa, taco seasoning and plenty of ooey-gooey cheese, this easy layered taco pie is going to be your new favorite Taco Tuesday recipe!
If you are looking for a way to amp up your Taco Tuesday, this is a great way to do that. The melted layers of this pie are so delicious and comforting. The best part about this recipe is it's quicker to cut the pie into wedges for a simple, no-mess, no-fuss serving than it is to have everyone put together their own tacos. This layered taco pie is quick, easy, hearty, and delicious making it the perfect weeknight meal.
How To Make A Layered Taco Pie
This layered taco pie is easy, cheesy, and delicious, but it's also made with simple ingredients that you can easily find at your local grocery store. Here's what you'll need:
Ground beef- Like most taco recipes, this one requires ground beef. For a less greasy casserole, use leaner beef. Grass fed beef will give you the most flavor. If you want a healthier alternative, you can use ground turkey or shredded chicken as well.
Onion- I like to dice my onion because I don't like a mouth full of onion, but you can chop the pieces as big or as small as you like.
Garlic powder- Taco seasoning adds a ton of flavor, but garlic powder dials up the savory goodness.
Taco seasoning- You can use a packet of your favorite taco seasoning mix, or use 2-3 tablespoons of homemade taco seasoning if you have it. If you are in a pinch, you can use a tablespoon of chili powder and a teaspoon of cumin.
Corn- Drain the liquid from your canned corn before you use it. If you only have frozen corn, you'll need to heat it up and then drain the liquid.
Salsa- The possibilities are endless when it comes to salsa. Use any kind of salsa you like from mild to hot or anywhere in between.
Tortillas- I use 8" flour tortillas. You can substitute smaller or larger tortillas depending on the size of your baking dish.
Shredded cheese- I use Mexican or Tex Mex cheese. You could also use cheddar or pepper jack.
Garnishes- Sliced green onions, chopped tomatoes, cilantro, shredded lettuce, and sour cream are all optional garnishes.
Once you've gathered all your ingredients, it's smooth sailing from there. Follow the steps below for a delicious Taco Tuesday masterpiece!
First, preheat your oven to 350?. Then spray your 8-inch springform pan with nonstick cooking spray and set it to the side.
In a large skillet, cook your ground beef and onion until there's no pink left in the meat. Drain the excess fat when done.
Add garlic, taco seasoning, water, corn and salsa to the meat. Cook for an additional 5-minutes.
Next, place 1 tortilla in the springform pan. Then, layer it with 1 cup of the meat mixture and sprinkle ½ cup of cheese.
Add another tortilla on top and continue layering your pie until you've used all 5 tortillas. Finish your pie with the remaining cheese.
Bake the layered taco pie for 20-minutes.
Let your pie cool for about 10-minutes before removing it from the springform pan.
Finally, cut, garnish, serve and enjoy!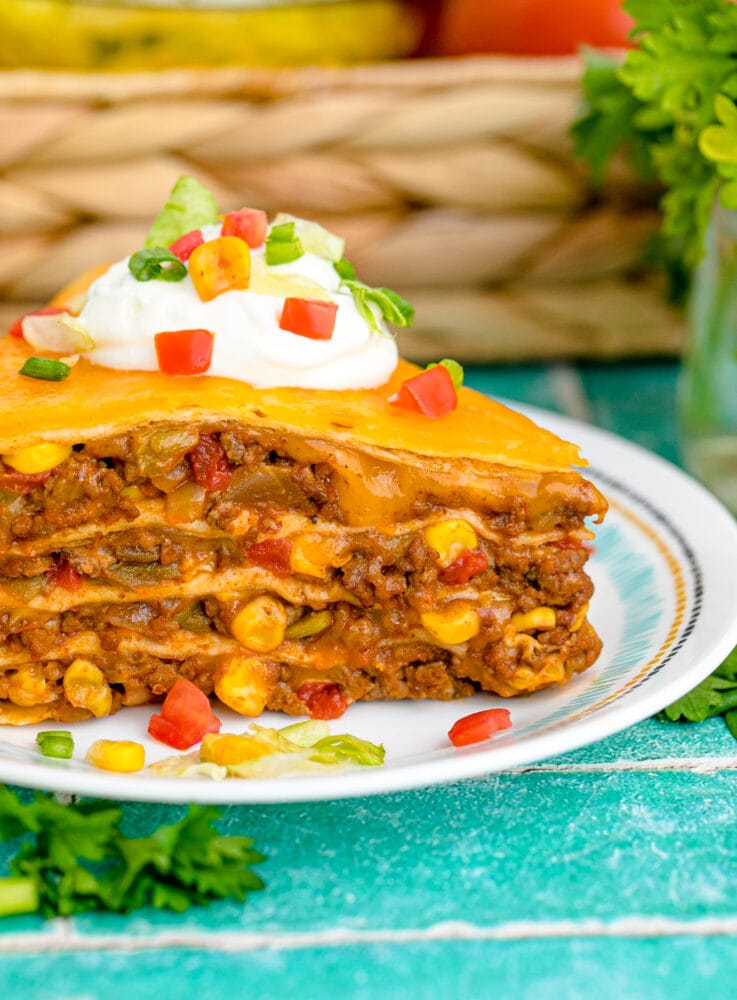 Tips and Tricks to Perfect Layered Taco Pie and FAQs:
Add beans and rice. Refried beans and Mexican rice add extra texture and flavor to your taco pie. Just layer them in with your ground beef for a heartier pie.
Flour tortillas work best for this recipe, but you can switch them out for corn tortillas or whole wheat tortillas as well.
Add 2 packets of taco seasoning if you really like the flavor.
What temperature should I bake this taco pie?
For this recipe, you don't want the temperature too high because you want the cheese to melt, but not burn while baking. The best temperature for this recipe is 350?.
How long does this recipe take to make?
It will take you about 20-minutes to cook the ground beef and layer the pie. Then, it will take an additional 20-minutes of bake time. So, this easy layered taco pie can be ready to devour in just 40-minutes.
Can I make this recipe meatless?
Absolutely! You can make it vegetarian or use another protein instead like canned beans or refried beans. If you want to make it vegetarian, you can use your favorite veggies like mushrooms, onions, and peppers. 
Do I have to use a springform pan?
No, you don't. I liked the springform pan because it came out beautifully and made it easy to assemble. If you don't have a springform pan, you could use a 9X9 casserole dish, a round, or a square baking dish.
What can I use instead of salsa?
If you don't have salsa, don't worry, it won't make or break the recipe. You could substitute a can of Rotel, or a can of tomatoes and a chopped green bell pepper instead.
How can I store leftover layered taco pie?
Layered taco pie can be stored in an airtight container in your refrigerator for 3-4 days. Additionally, you could wrap it in plastic wrap, place it in a Ziploc freezer bag, and store it in the freezer for up to 3-months. 
What To Serve With A Layered Taco Pie
With additional toppings like sour cream, lettuce, tomatoes, or guacamole, this pie is a meal in itself. But, you could also add some tasty side dishes to your menu if you like. Black Bean Salad, One Pot Mexican Risotto, or Sriracha Cheese Grilled Corn would all be delicious sides with this layered taco pie.
More Taco Recipes You'll Love
If you like to switch things up for Taco Tuesday, you'll love some of my other favorite taco recipes. For a fun twist on your classic tacos, try my One Pot Cheesy Taco Skillet, Fried Chicken Tacos, or my Tequila Habanero Country Rib Pork Tacos. 
For more recipes we love to serve with tacos, click here.
If you love this easy recipe please click the stars below to give it a five star rating and leave a comment! Please also help me share on facebook and pinterest!
CONNECT WITH SWEET C'S!
Be sure to follow me on social media, so you never miss a post!
Facebook | Twitter | Youtube | Pinterest | Instagram
Only have 30 minutes to get dinner on the table? Sign up for my 30 minute dinner plans direct to your inbox!
Find and shop my favorite products in my Amazon storefront here!
Yield:

6 servings
Layered Taco Pie Recipe
Everyone loves tacos, but this Layered Taco Pie takes them to a whole other level! Perfect any night of the week, or for Taco Tuesday!
Ingredients
2 pounds ground beef
1 onion, chopped
½ teaspoon garlic powder
1 envelope taco seasoning
¼ cup water
1 (12 ounce) can corn, drained
5 (8 inch) flour tortillas
1 ½ cups salsa
2 cups mexican or tex mex cheese, shredded (pre-shredded is fine)
Garnish with sliced green onions, chopped tomatoes, cilantro, shredded lettuce, sour cream
Instructions
Preheat the oven to 350 degrees. Prepare an 8-inch springform pan by spraying it with nonstick spray.
Scramble fry the ground beef with onion in a large skillet on medium-high heat. Cook until there is no pink left in the meat then drain the excess fat. Add the garlic, taco seasoning, water, corn, and salsa. Cook for another 5 minutes.
Place one tortilla in the springform pan.
Layer on about 1 cup of meat mixture. Sprinkle on ½ cup of cheese. Create layers of tortilla, meat mixture, and cheese until you've done 4 full layers. Finish with the 5th tortilla and top off your pie with the remaining cheese.
Bake at 350 degrees for 20 minutes.
Allow the pie to cool for about 10 minutes before removing from the springform pan and cutting. Or you may serve it directly from the pan.
Notes
I liked the springform pan for this recipe because it came out beautifully and made it easy to assemble but you could do the same in a 9X9 casserole dish. Also, You can easily use 2 packets of taco seasoning in this if you really like flavor! 
Nutrition Information
Yield
6
Serving Size
1
Amount Per Serving
Calories

646
Total Fat

40g
Saturated Fat

17g
Trans Fat

2g
Unsaturated Fat

17g
Cholesterol

173mg
Sodium

956mg
Carbohydrates

17g
Fiber

3g
Sugar

5g
Protein

52g
Nutrition is automatically calculated by Nutritionix - please verify all nutrition information independently and consult with a doctor or nutritionist for any and all medical and diet advice.