Best Easy Powdered Sugar Donut Holes
Jun 25, 2019, Updated Oct 11, 2023
The Best Easy Powdered Sugar Donut Holes Recipe – delicious, easy classic powdered sugar donut holes that are so simple and quick, you'll never buy them from a store again!
Don't want all the extras in a recipe post? We provide a skip to recipe button in the top left corner, as well as a clickable table of contents, just below, to help make this page easier to navigate.
Quick Delicious Powdered Sugar Donut Holes
These powdered sugar donut holes are easy (a great introduction to frying), delicious, and taste just like the classics you pick up at the grocery store – except about a million times better.
These easy doughnut holes are bite sized morsels of happy – and are sure to become your family's newest favorite recipe!
These powdered sugar donuts take less than 30 minutes from the time you heat up the oil and mix the donuts to their resting time and time it takes to roll them in powdered sugar.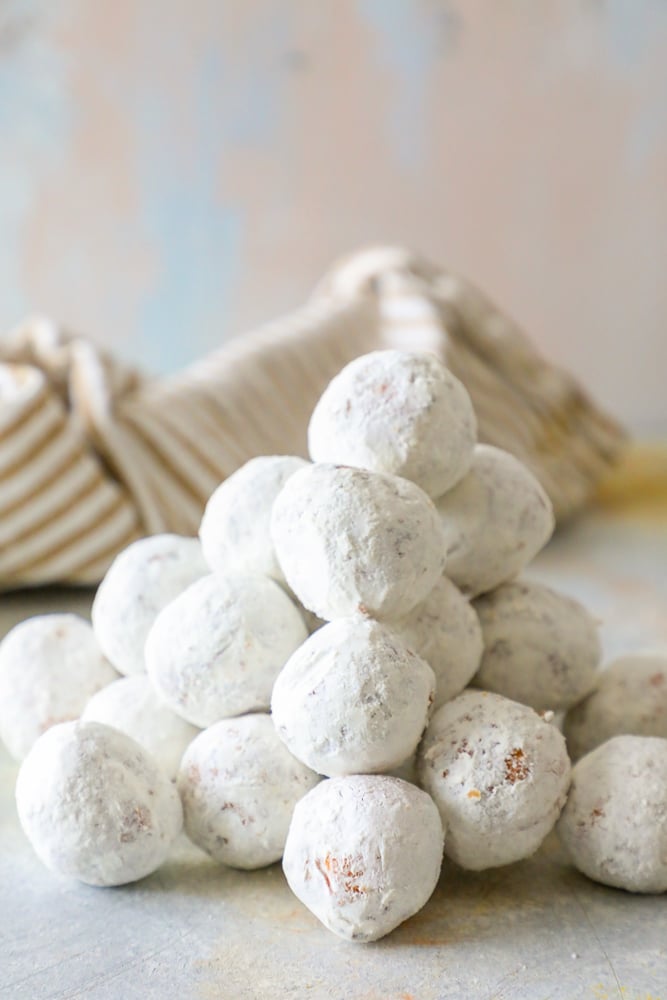 How To Deep Fry Donut Holes
These tips and tricks will help you deep fry donut holes easily, every time!
-Use a long handled metal spider/strainer to drop and remove donut holes in hot oil if not using a deep fryer with its own basket.
-Check oil temperature as you cook.
It is imperative oil temperature is maintained at 350 degrees when frying for best results.
Well heated oil should immediately puff and lightly brown a piece of dough when added to the oil.
If dough sinks and does not bubble, the oil is too hot.
If dough floats and becomes dark brown immediately (well before 1-2 minutes), oil is too hot.
-No need to separate dry ingredients in a small bowl – this recipe can all be made in one large bowl. Combine melted butter, flour, sugar, baking powder all in one!
-Let donut holes rest briefly on a paper towel or a cooling rack to drain excess oil.
This will help your donut holes from tasting and feeling too greasy.
-Toss donuts in powdered sugar (confectioners sugar) when still warm, but not hot.
The steam from the donuts heat will help the powdered sugar stick to the donut. If too hot, the donut will make the sugar look "wet", so let it cool until just warm.
Hot Oil Fryer Safety
It's really important to make sure you're paying attention to hot oil fryer safety when making these easy doughnut holes.
-If you are using a deep fryer machine, always read the directions in the owner's manual before using the appliance.
-If you are not using a deep fryer, use a deep, heavy skillet to fry and make sure the sides are tall enough to prevent splashing hot oil.
-Have a kitchen fire extinguisher nearby and be sure you know how to turn of stove in an emergency.
-Before you fill the deep fat fryer with oil, make sure the fryer is turned off, away from water sources and wiped dry. Be sure to turn off stove when adding oil to preheated pan and stand back from pan.
-When frying, keep hands and face away from pan and use long tongs to add or remove donut holes from deep fryer.
Cinnamon Sugar Donut Holes Recipe
-To give this recipe a delicious cinnamon sugar donut hole flavor instead of powdered sugar, swap powdered sugar for ½ cup of cinnamon sugar.
-Let donut holes dry on a paper towel to drain excess oil and cool down to warm but not hot.
-Place the cinnamon sugar into a brown paper bag and gently toss warm donut holes in the bag.
-When donut holes are coated in cinnamon sugar, serve immediately, straight from the bag!
Baked Powdered Sugar Donut Holes
If you love this easy donut hole recipe, but want to make a baked version, please head to my 10 Minute Cinnamon Sugar Donut Hole Recipe.
Swap the cinnamon sugar for powdered sugar, and let donut holes cool more (so they are still warm enough the sugar sticks, but not too hot that it melts on the donut hole.)
You can also make these baked donut holes in a muffin tin or even a mini muffin pan for deliciously easy donut flavor when you don't have a rounded pan.
Other Easy Desserts You'll Love:
If you love these easy powdered sugar donut holes, be sure to check out my other favorite easy desserts.
Try The Best Easy Lemon Bars Recipe, The Best Fudge Brownies Recipe, Danish Dream Cake – Easy Coconut Caramel Cake and The Best Easy Chewy Sugar Cookies Ever Recipe next.
The Best Easy Powdered Sugar Donut Holes Recipe 
If you love this easy powdered sugar donut holes recipe as much as I do, please give it a five star review and help me share on facebook and pinterest!
CONNECT WITH SWEET C'S!
Be sure to follow me on social media, so you never miss a post!
Only have 30 minutes to get dinner on the table? Sign up for my 30 minute dinner plans direct to your inbox!
Find and shop my favorite products in my Amazon storefront here!
Best Easy Powdered Sugar Donut Holes
Powdered sugar donut holes boast a melt-in-your-mouth sweetness, enveloping a soft, cakey interior with a delicate, sugary exterior.
Ingredients
2 cups all-purpose flour , (I always use unbleached)
1/4 cup granulated sugar , use less for a less-sweet donut hole
1 1/2 Tbsp baking powder
1/2 tsp kosher salt
1/4 tsp ground nutmeg , optional
1 large egg
1 cup milk , I use whole
1/2 - 1 tsp vanilla extract
1/4 cup melted butter
oil for frying, (canola, peanut, or vegetable are good choices)
Instructions
Line a large baking sheet or platter with paper towels over a cooling rack.
If using a deep fryer, pour oil into basket according to manufacturer directions.
If using a pan, pour oil into heavy bottomed pan (I prefer to use an enameled dutch oven or steel pan since cast iron can break down oil faster.)
Heat oil until it reaches 350 F degrees.
Adjust heat level as needed while cooking to be sure you keep the 350 degree temperature.
While oil is heating, stir ingredients (except for powdered sugar) together in a bowl. Do not overwork.
Once oil has reached 350 F degrees, use a long handled metal ladle or scoop to shape batter and drop donut hole dough into the oil.
Take caution when dropping donut hole dough into oil, never have hands or face near pot or over pot.
Add only 6-8 donut holes to oil at a time so they dont drop oil temperature and have enough room to cook.
When donut holes are lovely golden brown and puffy, remove from oil with long tongs or a frying basket.
Place donut holes on paper towel and let excess oil drain off and cool.
When donut holes are warm but not hot, roll in powdered sugar. The steam will help sugar stick to donuts, but if they are too hot it will "melt".
Serve immediately.
Recommended Products
As an Amazon Associate and member of other affiliate programs, I earn from qualifying purchases at no extra expense to you.
Nutrition Information
Yield

8
Serving Size

3
Amount Per Serving
Calories

245
Total Fat

10g
Saturated Fat

5g
Trans Fat

0g
Unsaturated Fat

4g
Cholesterol

41mg
Sodium

502mg
Carbohydrates

34g
Fiber

1g
Sugar

7g
Protein

6g