The best homemade french fries recipe ever – these flash-fried fries are easy and delicious – this trick gets perfect results every time!
There are a few recipes here on Sweet C's that my family makes over and over and over again. Things like my cheesy taco skillet, my one pot chicken curry  and mexican chicken stir frys, and of course, our tried and true method for perfectly crispy fries in the oven.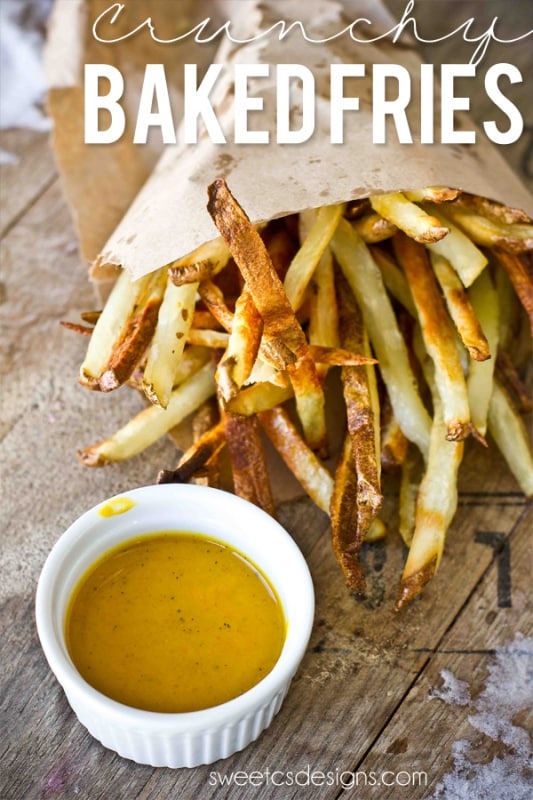 Our crunchy baked fries are a family favorite- but my husband wanted to come up with an easy way to flash fry them to be just a little more sinfully crisp and crunchy- and he came up with this fun twist to our original recipe.
Most restaurants cook their fries twice in the fryer- once at a lower temperature to cook the fry, and once at a hot temperature to crisp them.
My husband, being the awesome cook he is, decided to bake the fries first to cook them, and then just dip them in the fryer to finish them off. This gives the fries the delicious crunch we love, but is easier, less messy, and a *tiny* bit healthier.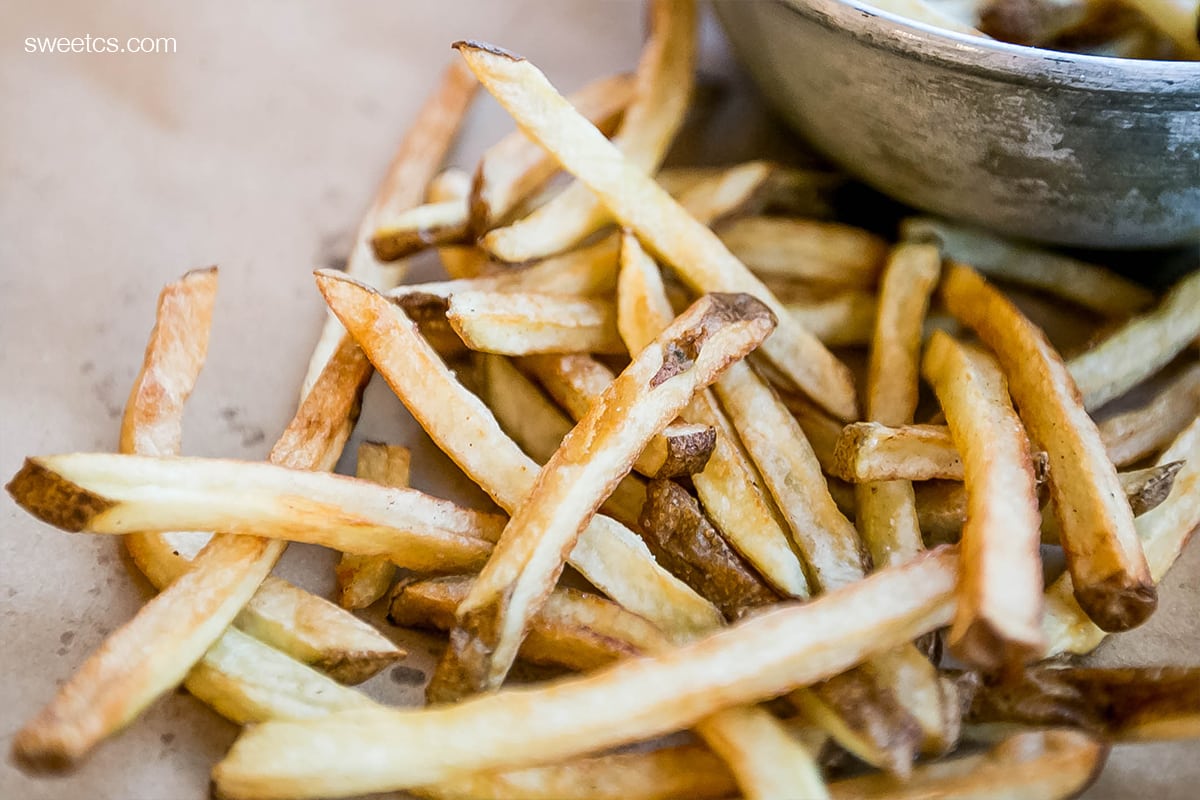 And trust me- when my husband comes up with a recipe, you want to take note.
He's an awesome cook– and his recipes usually turn into reader favorites!
I think I need to pay him more and get him to write more for us here, no?
Pro tips: 
-Make sure your fries soak for at least one hour. This helps remove some of the starch, which will help them crisp up better!
-Make sure your fries are VERY dry after their little bath. Pat them with paper towels or a clean dish towel to be sure there is no residual moisture. Wet fries = soggy fries.
-This two step method cuts frying time and oil needed way down, since the fries will cook in the oven, and merely crisp in the fryer. This means less calories, with the same great crunch.
-Ensure your baking sheets are well greased, or your fries will stick and become a nightmare. Aluminum foil works in many situations, but my fries always stick to foil as well. If lining your baking sheet, I suggest parchment paper or a silicone mat.
The Best Homemade French Fries – Flash Fry Method
.

The Best Homemade French Fries (flash-fry method)
Prep time:
Cook time:
Total time:
The best homemade french fries recipe ever - these flash-fried fries are easy and delicious - this trick gets perfect results every time!
Ingredients
5-6 large russet potatoes (or scale up or down- 1 potato per person +1)
Instructions
Brush and clean potatoes. At this point you could peal them, my family prefers the skin left on.
Use a mandolin to cut your potatoes into the desired fry shape.
Soak potatoes in cold water for 1-3 hours. This helps draw the starch to the surface.
Pre-heat oven to 350DegreesF.
Cover baking sheets with parchment paper and roast fries for 45 minutes or until the fries are cooked through.
Pre-heat vegetable or peanut oil to 400Degrees
Fry potatoes for 3-4 minutes in small batches until golden brown. Remove to paper towel and salt immediately.
Serve hot and fresh.
Allow oil to return to temperature before frying next batch of potatoes.