Zhoug sauce (also called skhug) is a spicy and flavorful condiment that originates from Yemen and is popular in Middle Eastern and Israeli cuisine.
This sauce is intense, bright, fresh - and PACKED with flavor that is incredibly addictive. Spoon over vegetables, rice, pasta, meats, eggs - or use as a dip for chips and fresh baked breads - this is one sauce you'll want to put on just about everything!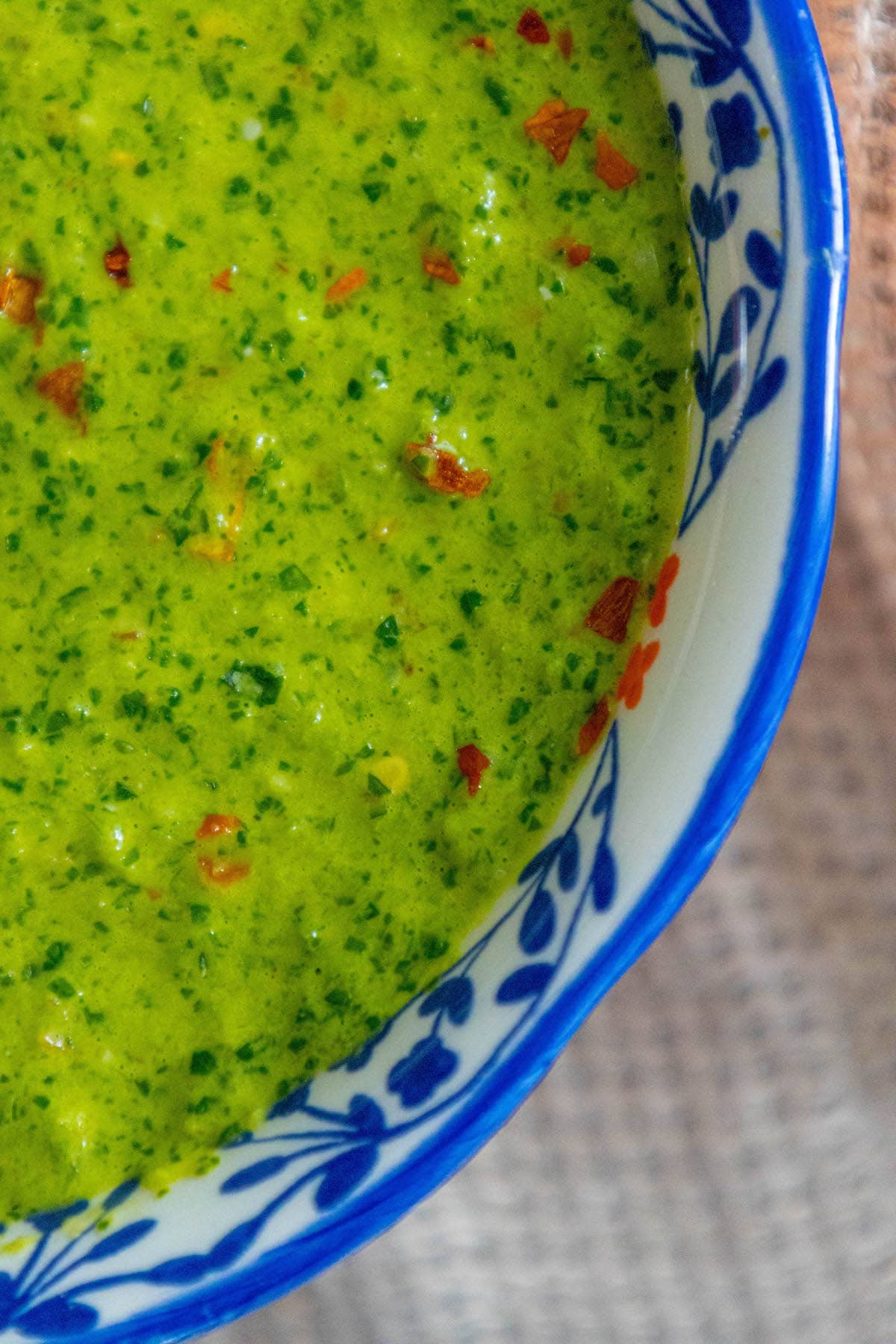 This post was sponsored by Vibe Israel. All opinions are my own.
Don't want all the extras in a recipe post? We provide a skip to recipe button in the top left corner, as well as a clickable table of contents, just below, to help make this page easier to navigate.
Spicy Cilantro Sauce
Zhoug is made from fresh herbs, spices, chili peppers, and olive oil, and has a vibrant green color and a bold, zesty flavor.
The key ingredients in zhoug sauce are typically cilantro, parsley, garlic, and chili peppers, though variations may also include other herbs such as mint or dill. Zhoug sauce is typically used as a dip or a topping for a wide range of dishes, including falafel, shawarma, roasted vegetables, and grilled meats.
Zhoug can also be used as a marinade or a seasoning for soups and stews. With its spicy kick and bold flavor, zhoug sauce is a delicious and versatile condiment that adds a distinctive twist to any dish.
This recipe is a love letter of sorts - based off the Zhoug I had at Farma Cultura, one of the most amazing small farms I've ever visited, in cozy and swanky Bnei Zion, just north of Tel Aviv. Farm Cultura is run by two Israelis (who also hold American citizenship) dedicated to bring fresh flavor to everyone who books events with them, or stops by for a picnic basket and some fresh produce! It is such an amazing place dedicated to permaculture - and absolutely one of the most gorgeous small home farms I've ever visited.
It was so full of flavor, I spooned their skhug sauce over everything we ate - soup, ceviche, salads, over fresh baked crusty bread, and even over fish. I knew the moment I got home from Israel, I had to find my own version of skhug sauce and recreate it - and after some tinkering, I found a recipe I love so much. I've even got my husband addicted - we've gone through a couple batches of sauce already and are finding ourselves eating it on EVERYTHING.
Photos of our Vibe Israel tour around Farma Cultura courtesy @galashraer
I'm making a bit of a thicker Zhoug than we ate at Farma Cultura, so it can be used as more of a sauce than a bread dip, but you can make a thinner version by simply increasing the amount of olive oil you add to the recipe. I love spooning this sauce on fish, roasted cauliflower, pasta, cous cous - even steaks, chicken, or lamb - it is addictive, spicy, tangy and so delicious.
How to Make Zhoug
To make zhoug, you will need the following ingredients:
Garlic: adds a pungent, sharp and savory taste.
Fresh cilantro: adds a bright, citrusy and slightly floral flavor.
Jalapeños: adds a spicy, pungent and slightly sweet flavor.
Sea salt: enhances the overall flavor and balances out the heat from the jalapeños.
Cardamom: adds a warm, sweet and slightly spicy flavor.
Cumin: adds a warm, earthy and slightly bitter flavor.
Red pepper flakes: adds a spicy and slightly smoky flavor.
Extra-virgin olive oil: adds a smooth and slightly fruity flavor, and helps to blend the ingredients together.
Once you've gathered your ingredients, we will use the following process:
Prep. Wash cilantro and parsley well, cut off base (some stems are fine). Cut the top off jalapeños and remove seeds. Save some seeds to stir into sauce after blending. Peel garlic cloves - discard husk.
Blend. Add all ingredients, except jalapeño seeds, to a food processor and blend until fine and emulsified.
Add to a jar or bowl. Taste and adjust heat with additional jalapeño seeds or red pepper flakes, add a pinch more salt if needed.
Enjoy! Top meats, fish, vegetables with sauce - or use as a bread dip. Store in refrigerator for up to two weeks.
Tips and Tricks to Perfect Zhoug Sauce
Make it thinner or thicker depending on your preference: add more olive oil for a thinner sauce, similar to a chimichurri - or add less for a thicker sauce that is a little chunky, as I prepared in the pictures here.
Use fresh and high-quality ingredients: The key to making delicious zhoug is to use fresh and high-quality ingredients. Use fresh cilantro and jalapeños, and make sure your spices are not stale.
Adjust the spice level to your taste: If you prefer a milder sauce, you can reduce the amount of jalapeños or remove the seeds. On the other hand, if you like a spicier sauce, you can add more red pepper flakes or use hotter peppers.
Let the sauce sit for a while: Letting the sauce sit for a while before serving can help the flavors to meld together and develop a deeper and richer taste.
Store the sauce properly: Zhoug can be stored in an airtight container in the refrigerator for up to a week. It can also be frozen for longer storage. Before using the sauce, bring it to room temperature and stir well to combine.
FAQs
Is zhoug sauce spicy?
Yes, zhoug sauce is typically spicy due to the use of jalapeños or other hot peppers. However, the level of spiciness can be adjusted to taste.
Is zhoug sauce vegan?
Yes, zhoug sauce is vegan as it contains no animal products.
Can I make zhoug ahead of time?
Yes, zhoug sauce can be made ahead of time and stored in an airtight container in the refrigerator for up to a week.
How can I use zhoug sauce?
Zhoug sauce can be used as a condiment or dip for pita bread, vegetables or meats. It can also be used as a marinade for grilled meats or vegetables, or as a sauce for roasted vegetables, sandwiches or wraps.
Can I freeze zhoug sauce?
Yes, zhoug sauce can be frozen for longer storage. Simply store it in an airtight container or freezer bag and freeze for up to 3 months. To thaw, transfer the sauce to the refrigerator overnight and stir well before using.
What to Serve With Zhoug Sauce
Pita bread: Zhoug sauce is often served with warm pita bread as a dip or spread.
Grilled meats: Zhoug sauce makes a great marinade for grilled meats like chicken breast, shrimp, steak, and even prime rib- or can be used as a topping or sauce.
Falafel: Zhoug sauce pairs well with falafel, a Middle Eastern dish made from chickpeas.
Roasted or grilled vegetables: Zhoug sauce can be used as a flavorful sauce for roasted vegetables such as cauliflower, broccoli or carrots.
Sandwiches or wraps: Zhoug sauce can be used as a spread or sauce for sandwiches or wraps, adding a spicy and herbaceous flavor.
Potatoes: spoon shkug sauce over Crispy Roasted Potatoes or Grilled Potatoes for a kick of tangy, spicy flavor!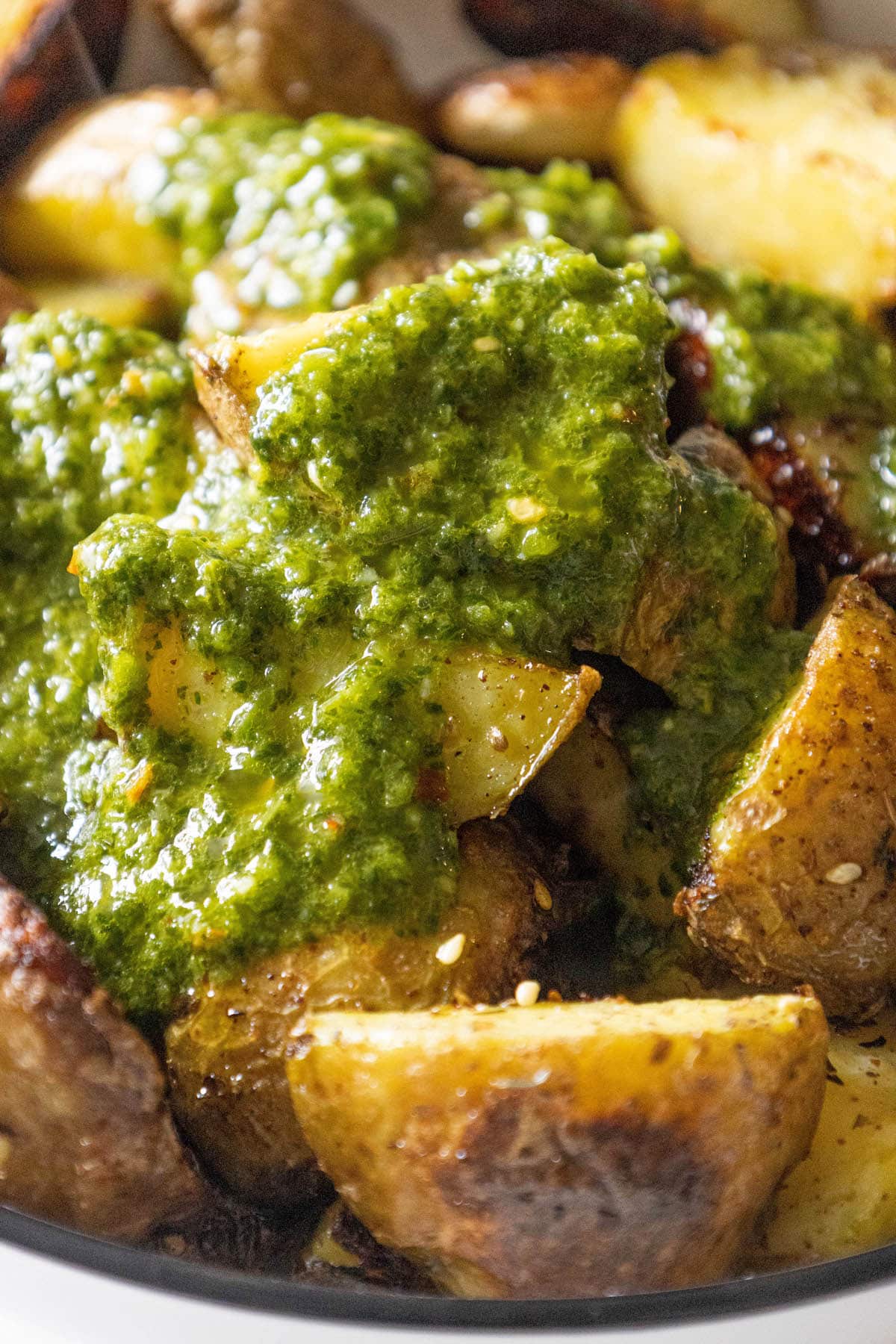 For more ideas of recipes inspired by my travels to Israel, please visit my following recent posts:
Zhoug Sauce Recipe
If you love this easy recipe please click the stars below to give it a five star rating and leave a comment! Please also help me share on facebook and pinterest!
CONNECT WITH SWEET C'S!
Be sure to follow me on social media, so you never miss a post!
Facebook | Twitter | Youtube | Pinterest | Instagram
Only have 30 minutes to get dinner on the table? Sign up for my 30 minute dinner plans direct to your inbox!
Find and shop my favorite products in my Amazon storefront here!
Yield:

24 servings
Zhoug (skhug) sauce
Tangy, spicy cilantro and jalapeño sauce that is delicious on meat, vegetables, fish, bread, rice - and just about everything!
Ingredients
4 large cloves garlic
1 packed cup fresh cilantro (about 1 bunch)
1 packed cup fresh parsley (about 1 bunch)
3 large jalapeños, top cut off and seeds removed (reserve seeds)
1 ½ teaspoon fine celtic sea salt
1 teaspoon ground cardamom
1 teaspoon ground cumin
1-2 teaspoons red pepper flakes, more to taste
¾ cup extra-virgin olive oil
optional: juice of 1 lemon
Instructions
In a food processor, pulse the garlic until finely chopped.
Add the cilantro, parsley, jalapeños (with some of the seeds for extra heat if desired), salt, cardamom, cumin, and red pepper flakes to the food processor.
Pulse until the ingredients are roughly chopped.
With the food processor running, slowly pour in the olive oil until the sauce is well combined and emulsified.
Taste the sauce and adjust the seasoning as needed.
Store the zhoug sauce in an airtight container in the refrigerator for up to 1 week.
Recommended Products
As an Amazon Associate and member of other affiliate programs, I earn from qualifying purchases at no extra expense to you.
Nutrition Information
Yield
20
Serving Size
1
Amount Per Serving
Calories

76
Total Fat

8g
Saturated Fat

1g
Trans Fat

0g
Unsaturated Fat

7g
Cholesterol

0mg
Sodium

161mg
Carbohydrates

1g
Fiber

0g
Sugar

0g
Protein

0g
Nutrition is automatically calculated by Nutritionix - please verify all nutrition information independently and consult with a doctor or nutritionist for any and all medical and diet advice.