This Creamy Bacon Chicken and Potato Chowder Recipe is fresh, hearty, and bursting with comfort food flavor the whole family will love.
Bacon and chicken are two of my favorite dishes - there is nothing like the salty, crunchy addition of bacon to a chicken dish to take it up a level!
This creamy bacon and chicken chowder is simple, easy enough for beginners to make, and is full of flavor that will make your family think it's been cooking all day - even though this soup takes less than 40 minutes.
Just Take Me To The This Creamy Bacon Chicken and Potato Chowder Recipe Already
I have many readers on Sweet C's who are new to the kitchen and not yet comfortable cooking meals from home.
As an effort to better serve their questions, and help everyone feel confident in the kitchen, I provide a lot of information in my recipes.
If you'd rather skip this, please click the "skip to recipe" button in the top left corner or scroll to the bottom of the page.
How to Store Leftover Chowder
This soup can be stored in an airtight container or bag in the refrigerator for up to four days.
Bring to a boil or microwave until piping hot when reheating.
How To Freeze Bacon Chicken Chowder
One of the things I like most about making soups and stews is that you can make a big batch and store or freeze for later.
This soup freezes and reheats well - follow these tips for the best results when freezing.
For best results when freezing and reheating, please follow my tips below:
-Freeze in the smallest amount possible.
-For best results, add just the amount you will eat when reheating to a bag – it will freeze faster and thaw more evenly so there is less chance of freezer burn.
-Freeze in freezer-style plastic bags that can lay flat.
-This will help the soup to freeze.
-Do not overfill bags.
-Let freeze flat to "set".
-Keep in freezer less than three months.
How To Reheat Leftover Chowder
Whether you're refrigerating this soup for leftovers, or freezing, these tips will help you reheat leftovers for the best results.
Microwaving Leftover Chowder
If microwaving, microwave for two minutes, covered to prevent splashing. Check temperature and add 30 second bursts, stirring soup in between, until soup is piping hot.
Reheating Leftover Chowder on the Stovetop
-If frozen, let soup thaw naturally in refrigerator overnight, and then slowly bring to a boil to reheat.
-Add up to 2 cups of water (slowly, add as you go) if creamy soup is too thick when re-heated.
-Add up to 1 cup of cream if needed to thicken soup. Bring soup to a boil, then remove from heat and whisk in cream. Return to boil before serving.
-Add freshly crumbled bacon for best results.
Cream can break and take on an oily/separated appearance when not properly added to a soup.
While this will only impact how your soup looks - and not the flavor - if you'd like to prevent cream from separating, be sure to turn off the heat and whisk using the method below:
Drain the fat. While I often don't drain the fat from recipes (especially keto recipes, which specifically call for more fat) - I do drain the fat for cream-based dishes, since the oil will float on top of the cream.
If there is any fat in your pan after browning chicken and vegetables (that they don't absorb), consider draining off before adding stock. You can also skim off some fat before adding cream if desired.
Remove from heat. When adding cream, remove from heat and whisk cream in until evenly incorporated.
Return to boil. Then return to heat to bring to a gentle boil and let reduce. 
For extra rich and creamy soup, add up to 6oz. cream cheese.
This will give your soup a smooth, creamy, and incredibly thick cheesy flavor! 
Keto Bacon and Chicken Chowder
Many of my readers try to keep a low carb count, and this recipe, as it is based on using potatoes, is not naturally low carb.
Luckily, if you're trying to make healthy swaps in your diet to reduce carbs, this dish is a great choice with a couple of easy modifications.
You can also check out my creamy white chicken chili recipe here.
While no potato soup is truly keto, use my modifications below to get a keto potato-like soup.
To reduce the carb count of this soup, swap riced or chopped cauliflower florets and stems in place of potatoes.
Cook cauliflower as you would cook potatoes, adding to soup and lightly mashing to help thicken soup.
Additionally, to reduce carbs, consider reducing onion to ½ an onion.
You can also stir in 6 oz cream cheese for additional fat if you're closely watching macros.
Instant Pot Bacon Chicken and Potato Chowder
If you'd like to make this chowder in your instant pot, please use the following modifications:
Turn your Instant Pot on, and place into saute mode.
Use saute function in pot to brown chicken and vegetables as outlined in recipe below.
Make absolutely sure to deglaze pot and make sure there are no browned bits stuck to the bottom of the pan.
After making sure pot is clean, chicken and vegetables are browned, adding stock and whisking in cream, give a quick stir and cover the Instant Pot with the sealing, not crisping, lid.
Set the timer for 10 minutes on high pressure.
Once the timer beeps, release the pressure by gently moving the valve to "venting."
What to Serve With Bacon Chicken Chowder
If you're making this creamy chicken and bacon soup for dinner, it really is a complete meal in itself - but I'm sharing some of our family's favorite side dishes to serve with hearty, creamy soup.
Other Delicious Soups You'll Love
If you love this easy comforting bacon and chicken chowder, please check out some of my other favorite easy, healthy, and comforting soup recipes.
One Pot Chicken and Potato Chowder with Bacon
If you love this easy bacon chicken potato soup recipe, please give it a five star rating (click the stars below) and help me share on facebook and pinterest!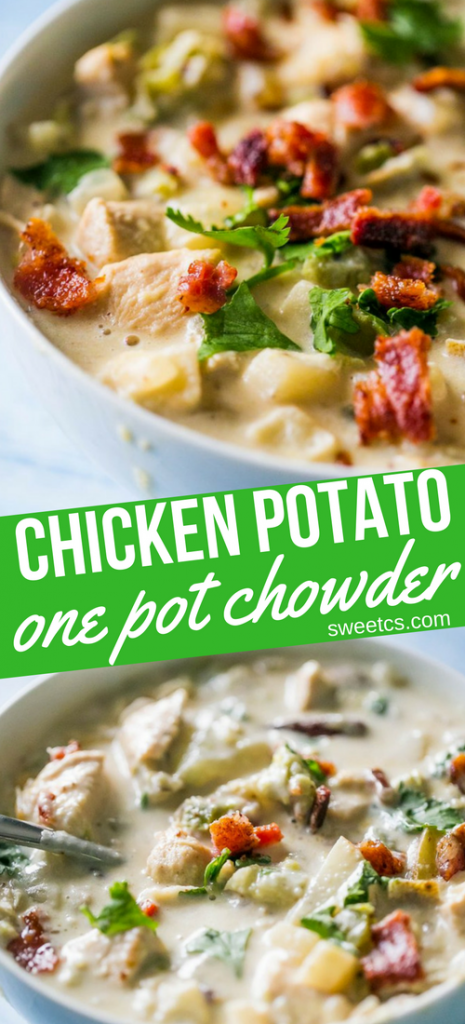 CONNECT WITH SWEET C'S!
Be sure to follow me on social media, so you never miss a post!
Facebook | Twitter | Youtube | Pinterest | Instagram
Only have 30 minutes to get dinner on the table? Sign up for my 30 minute dinner plans direct to your inbox!
Find and shop my favorite products in my Amazon storefront here!
Yield:

8
One Pot Creamy Chicken and Potato Chowder with Bacon
This Creamy Bacon Chicken and Potato Chowder is fresh, hearty, and bursting with comfort food flavor the whole family will love.
Ingredients
.5 lbs bacon, strips extra thick
1 lbs chicken, diced into small bites
1 onion, diced
2 tablespoon garlic, diced
1 bell pepper, diced
2 russet potatoes, diced into small ½" squares
12 oz beef stock, or ale-style beer
2 bay leaves
1 tablespoon Italian herbs seasoning
1 cup heavy cream, sub whole milk if needed
2 teaspoon celtic sea salt
2 tso fresh cracked pepper
Instructions
In a large dutch oven, fry bacon on medium high heat until crunchy.
Remove bacon from pan and set aside.
Add chicken to pan and toss in bacon grease.
When chicken has browned and is cooked through, add diced onion and garlic, cook with chicken until slightly browned, about 5 minutes.
Add diced pepper and potato, stir into chicken and onion.
Cook until vegetables release liquid and reduce by half, about 10 minutes. Stir occasionally to prevent burning.
Add in beer or stock and bring back to boil, stirring occasionally to prevent burning, about 10 more minutes.
When potatoes are soft, take a masher and softly mash in the pan. You won't mash up all the potatoes - but this will release some of their starch into the soup and thicken it without crushing the chicken.
Add in bay leaves, salt and pepper, and herbs.
Turn heat off to stir in cream.
Slowly swirl in cream and whisk or stir vigorously while adding tto incorporate.
Turn heat back on and let come to a rolling boil, then remove from stove.
Generously season with salt and pepper until happy with seasoning.
Crumble bacon on top.
Serve immediately
Nutrition Information
Yield
8
Amount Per Serving
Calories

400
Saturated Fat

13g
Cholesterol

101mg
Sodium

326mg
Carbohydrates

13g
Fiber

1g
Sugar

1g
Protein

17g
If you loved this delicious easy soup, please check out many of my favorite recipes.
Many of these are low carb, all are easy, quick, and full of flavor your family will love.
Sweet C's Favorite Recipes
Favorite recipes from Sweet Cs Designs