Pozole Rojo is a traditional Mexican stew that's both hearty and deeply flavorful. It's typically made with hominy, large corn kernels that have been soaked and cooked until they puff, and pork, which adds a rich, savory element.
The "rojo" or red aspect of the dish comes from a variety of chiles used to make a vibrant, spicy, and smoky sauce that permeates the soup. Often garnished with fresh ingredients like radishes, lettuce, lime, and oregano, Pozole Rojo is a balance of textures and flavors that is beloved across Mexico. This dish is often served on special occasions and is particularly popular for celebrations like Mexican Independence Day and Christmas.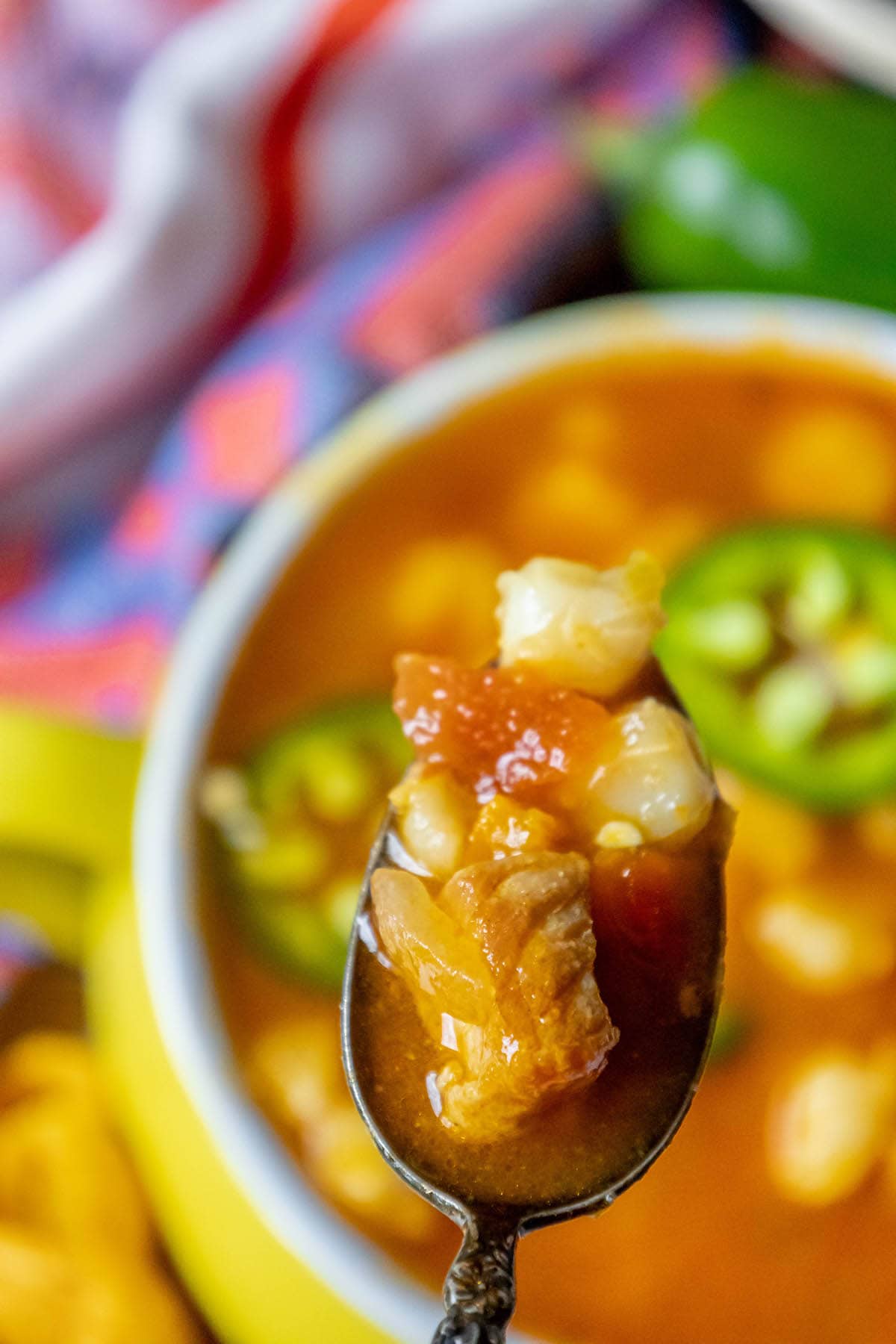 Don't want all the extras in a recipe post? We provide a skip to recipe button in the top left corner, as well as a clickable table of contents, just below, to help make this page easier to navigate.
Easy Red Posole
Easy Red Posole, also known as Pozole Rojo, is a beloved traditional Mexican soup that's both rich and flavorful. Despite its complex taste, it can be relatively simple to prepare, making it a perfect choice for those looking to explore Mexican cuisine.
The base of Red Posole consists of hominy and pork. Hominy is dried corn that's been treated with an alkali process, which gives it a unique, chewy texture and slightly nutty flavor. It's the heart of any posole dish, giving it a hearty and satisfying texture. Pork is commonly used for its ability to withstand long cooking times, becoming incredibly tender and infusing the soup with its savory flavor.
The signature red color in Pozole Rojo comes from a mixture of dried chiles. Typically, ancho, guajillo, or New Mexico chiles are used, each contributing their unique flavors. These are blended into a paste with garlic and other spices, and then combined with the hominy and pork to create a richly flavored broth.
Pozole is traditionally served with a variety of garnishes such as shredded cabbage, diced onions, sliced radishes, and chopped cilantro - but I often like to crush up fritos, tortilla chips, or something salty and crunchy on top, even though it isn't traditional.
An easy Red Posole is more than just a dish—it's a bowl full of culture, tradition, and comfort. With each spoonful, you get a taste of the rich history and culinary tradition that Mexico is famous for. It's the perfect dish for anyone looking for a flavorful, comforting, and satisfying meal!
How to Make Pozole Rojo
To make this recipe, we will use the following ingredients:
Pork Shoulder: This is the primary protein and contributes a hearty, robust flavor. The fat in the shoulder also helps to add richness to the soup.
Onion: It provides a sweet and savory base flavor, and its sugars caramelize during cooking to enhance the soup's overall taste.
Bell Pepper: This adds a sweet and slightly tangy flavor, contributing to the soup's overall complexity.
Garlic: It imparts a distinct savory, aromatic quality that is fundamental to many soup recipes, including Pozole.
Jalapeños: These give the soup a spicy kick. By setting some aside for garnishing, you also add a fresh, crisp contrast.
Hominy: This is dried corn that has been treated with an alkali. It has a unique, slightly earthy and sweet flavor and a chewy texture, which adds heartiness to the soup.
Ro-Tel: This canned mix of diced tomatoes and green chilies gives the soup added tanginess, sweetness, and a hint of heat.
Chili Powder: This adds a smoky, spicy flavor to the dish, enhancing its overall depth and warmth.
Ground Cumin: Cumin adds a warm, earthy flavor that complements the other spices.
Ground Ancho Chiles: These chilies add a sweet, mild, smoky flavor to the soup. They're a great way to incorporate authentic Mexican flavors.
Salt and Pepper: These basic seasonings enhance all the other flavors in the soup.
Chicken Broth: This serves as the base of the soup, giving it depth and body. It also carries the flavors of all the other ingredients.
Cilantro: Used as a garnish, cilantro adds a bright, citrusy flavor that balances the soup's rich, hearty taste.
Radishes: Also used as a garnish, radishes provide a crunchy texture and a peppery flavor that contrasts nicely with the soup's richness.
Limes: Serving the soup with quartered limes allows each person to add a squeeze of fresh, tangy flavor, which helps balance out the dish's heat and richness.
Once you've gathered your ingredients, we will use the following method:
Heat a large pot over medium heat. Add the pork shoulder pieces, season with salt, pepper, and cumin, and brown them on all sides.
Remove the browned pork from the pot and set aside. In the same pot, add the onion, peppers, and garlic, cooking until they become soft and fragrant.
Add the chili powder to the onions and garlic, stirring to combine.
Add the browned pork back into the pot with the onions and garlic. Pour in the Ro-Tel, chicken broth, and the drained and rinsed hominy.
Bring the mixture to a boil, then reduce the heat and let it simmer for about 2-3 hours, or until the pork is tender and the flavors are well combined.
Taste and adjust seasonings as needed.
Serve the pozole in bowls, garnishing with fresh cilantro and sliced radishes, tortilla chips, fritos, jalapeños, or cilantro. Have quartered limes on hand for squeezing into the pozole.
Enjoy this traditional and hearty Mexican dish!
Tips and Tricks for Perfect Pozole Rojo
Use Quality Chilies: The type and quality of dried chilies you use can greatly affect the flavor of your Pozole Rojo. Ancho, guajillo, or New Mexico chilies are often used. Each has its own flavor profile, so experiment to find the combination that you like best.
Properly Treat Your Chilies: To get the most flavor from your dried chilies, lightly toast them in a dry pan until they become fragrant, then rehydrate them in hot water. Once they are rehydrated, blend them into a paste for a smooth, richly flavored broth.
Don't Rush the Cooking Process: Allow ample time for the soup to simmer. This not only tenderizes the meat but also allows the flavors to meld together.
Rinse Your Hominy: Hominy is dried corn that's been treated with an alkali process. Rinsing it before adding to the soup removes the excess starch and prevents the soup from becoming overly thick.
Garnish Generously: The garnishes are an important part of Pozole. They add fresh, bright flavors and a variety of textures that complement the rich, hearty soup. Don't skimp on them!
Adjust to Taste: Taste your Pozole as you cook, adjusting the seasoning as needed. Remember, you can always add more spices, but you can't take them away.
Make Ahead: Like many soups and stews, Pozole often tastes even better the next day, after the flavors have had more time to meld together. It's a great dish to make ahead of time.
Serve With Tostadas: It's traditional to serve Pozole with tostadas on the side. The crispy tostadas add a crunchy texture and can be used to scoop up the soup.
FAQs
What is the difference between pozole rojo and pozole verde?
While both are types of Posole, a traditional Mexican soup, the main difference is the type of chili used. Posole Rojo uses red chilies while Posole Verde uses green chilies, typically tomatillos and jalapeños.
What meat can I use in pozole rojo?
While pork is the traditional choice, chicken is often used in Posole Verde for a lighter flavor. Some people also make a vegetarian version with beans or mushrooms.
Can I make pozole rojo vegan?
Yes, you can make Posole rojo vegetarian by leaving out the meat and using vegetable broth instead of chicken broth. For a vegan version, you'd also need to skip any garnishes like cheese or sour cream.
How do I store leftover pozole?
Posole can be refrigerated in an airtight container for up to 4 days. It can also be frozen for up to 3 months, although the texture of the hominy may change slightly when reheated.
Can I make pozole spicier?
Absolutely! You can add more jalapeños or use hotter varieties of green chilies to increase the spice level.
Can I make pozole in a slow cooker?
Yes, you can certainly adapt the recipe for a slow cooker. Just be sure to adjust the cooking time accordingly – it will likely need 6-8 hours on low.
What to Serve With Pozole Rojo
Tostadas or Tortilla Chips: The crunch of tostadas or tortilla chips adds a pleasing textural contrast to the hearty soup. They can be eaten on the side or crumbled on top for added crunch.
Avocado Slices: The creamy and mild flavor of avocado slices can help balance the spiciness of the pozole rojo.
Lime Wedges: Serving lime wedges on the side allows guests to add a splash of acidity to their soup, brightening up the flavors.
Mexican Rice or Spanish Rice: Serving rice on the side can make the meal more filling and provide a mellow, starchy contrast to the spicy, flavorful soup.
Refried Beans: Like rice, refried beans are a traditional accompaniment to many Mexican dishes, adding a creamy element that pairs well with the soup.
Fresh Chopped Cilantro and Onion: These can be served as additional garnishes that your guests can add to their own bowls for added freshness and bite.
Green Salad: A simple green salad with a citrus vinaigrette can provide a refreshing contrast to the hearty and spicy Pozole Rojo.
Pico de Gallo or Salsa: These could be used as an additional condiment, offering a fresh and spicy accompaniment to the soup.
For more inspiration for a taco themed dinner night, check out some of our recent posts below:
Pozole Rojo Recipe
If you love this easy recipe please click the stars below to give it a five star rating and leave a comment! Please also help me share on facebook and pinterest!
Click here to view the web story for this recipe!
CONNECT WITH SWEET C'S!
Be sure to follow me on social media, so you never miss a post!
Facebook | Twitter | Youtube | Pinterest | Instagram
Only have 30 minutes to get dinner on the table? Sign up for my 30 minute dinner plans direct to your inbox!
Find and shop my favorite products in my Amazon storefront here!
Yield:

10 servings
Pozole Rojo
Pozole rojo, made with pork shoulder, hominy, and a blend of spices, this hearty soup offers a perfect balance of heat, smokiness, and tanginess.
Ingredients
2 lbs pork shoulder, cut into 1-2 inch pieces
1 large onion, diced
1 bell pepper, diced
4 cloves of garlic, minced
2 jalapeños, one diced (remove seeds for less heat) and one sliced for garnish
2 cans of hominy (15.5 oz each), drained and rinsed
1 can of Ro-Tel (10 oz)
2 tablespoon chili powder
1 tablespoon ground cumin
2 teaspoon ground ancho chiles
Salt and pepper to taste
6 cups chicken broth
Chopped cilantro, sliced radishes, and quartered limes for garnish
Instructions
Season the pork shoulder pieces with salt, pepper, chili powder, cumin, and ground ancho chiles.
In a large pot or Dutch oven, heat some oil over medium-high heat. Add the pork to the pot and brown on all sides. This may need to be done in batches. Once browned, remove the pork and set it aside.
In the same pot, add the onion, bell pepper, and diced jalapeño. Sauté until the vegetables are softened, about 5-7 minutes.
Add the garlic and sauté for another minute until it becomes fragrant.
Return the browned pork to the pot. Add the drained hominy and the Ro-Tel. Stir everything together.
Pour in the chicken broth. The broth should cover the ingredients; if not, add enough water to cover. Bring the soup to a boil.
Once boiling, reduce the heat to low and let the soup simmer for about 2-3 hours, or until the pork is very tender.
Taste the soup and adjust the seasonings as needed.
Serve the pozole in bowls, garnished with sliced radishes, sliced jalapeño, chopped cilantro, and a wedge of lime on the side.
Nutrition Information
Yield
10
Serving Size
1
Amount Per Serving
Calories

319
Total Fat

21g
Saturated Fat

7g
Trans Fat

0g
Unsaturated Fat

11g
Cholesterol

85mg
Sodium

810mg
Carbohydrates

10g
Fiber

2g
Sugar

3g
Protein

23g
Nutrition is automatically calculated by Nutritionix - please verify all nutrition information independently and consult with a doctor or nutritionist for any and all medical and diet advice.