Creamy Keto White Chicken Chili Recipe
Sep 04, 2020, Updated Nov 09, 2023
The Best Ever Creamy Keto White Chicken Chili Recipe – delicious hearty creamy white chicken chili packed with flavor, not carbs!
While this white chicken chili is low carb, it has a ton of flavor – and is not as heavy as many keto dishes – so it is a popular dish with the whole family, not just low carb eaters.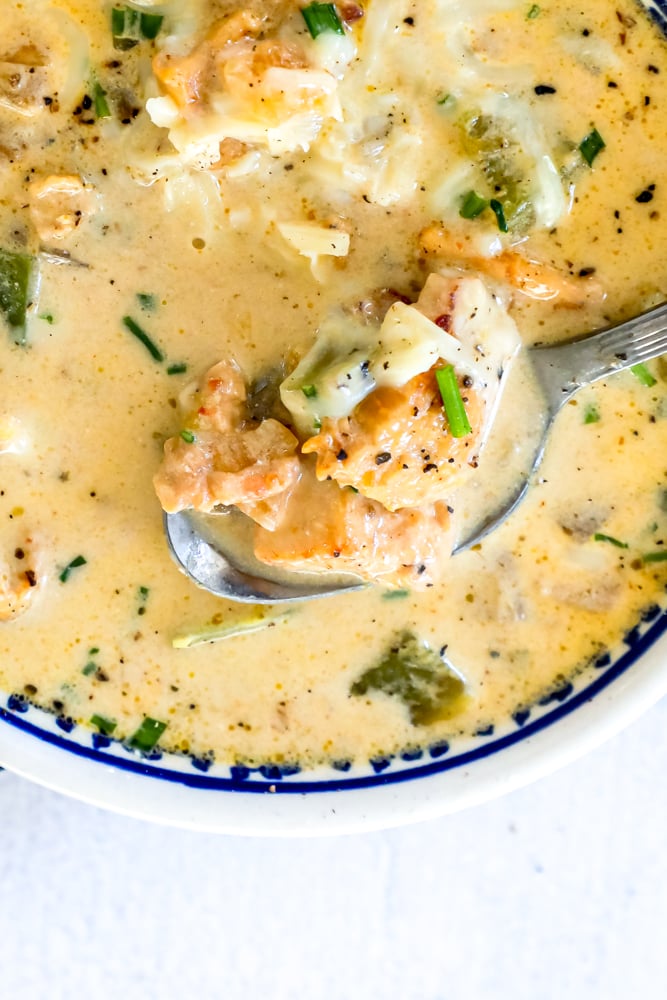 Don't want all the extras in a recipe post? We provide a skip to recipe button in the top left corner, as well as a clickable table of contents, just below, to help make this page easier to navigate.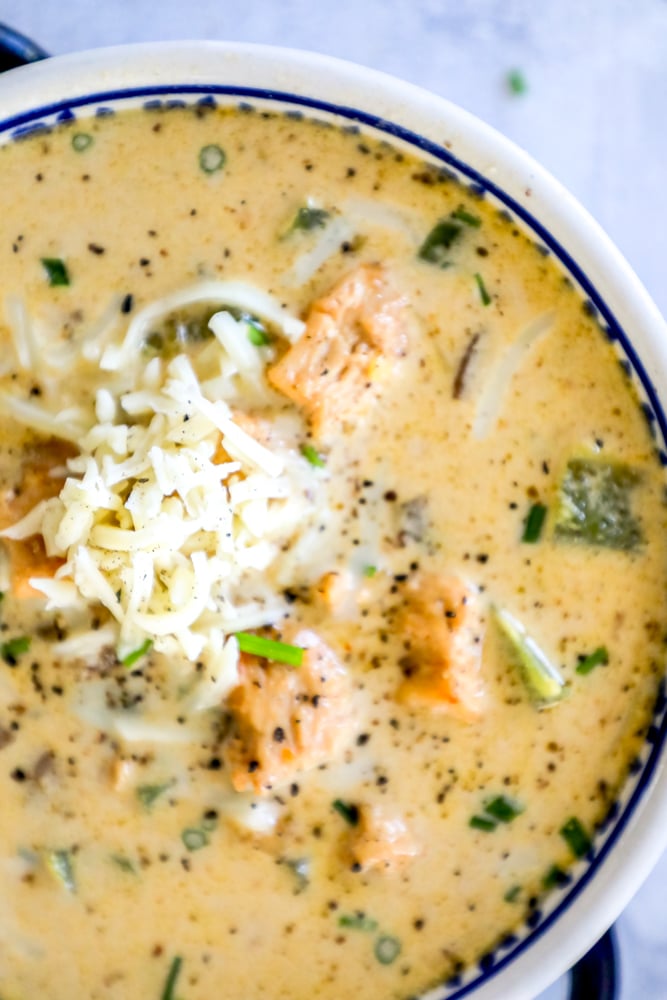 Rotisserie Chicken White Chicken Chili
To save time, you can skip cooking the chicken in this white chicken chili – and just use rotisserie chicken!
Follow the steps below to save time by using a rotisserie chicken in this keto white chicken chili recipe:
Prepare soup as described below – except chicken.
In the first step, only sautee onions, while picking chicken and pulling from the carcass, and shred into 1″ chunks, set aside in a bowl.
Continue to cook soup as outlined, adding cooked pulled rotisserie chicken in with stock.
This easy creamy chicken chili is bursting with flavor – and while it is a favorite for my husband and I (who are trying to get back into keto), my kids loved it, too!
This soup is naturally low carb – without weird ingredients non-keto dieters probably don't have on hand – so no worries on finding all sorts of stuff, this soup takes simple, whole foods.
Also, check out my web story about this delicious white chicken chili here.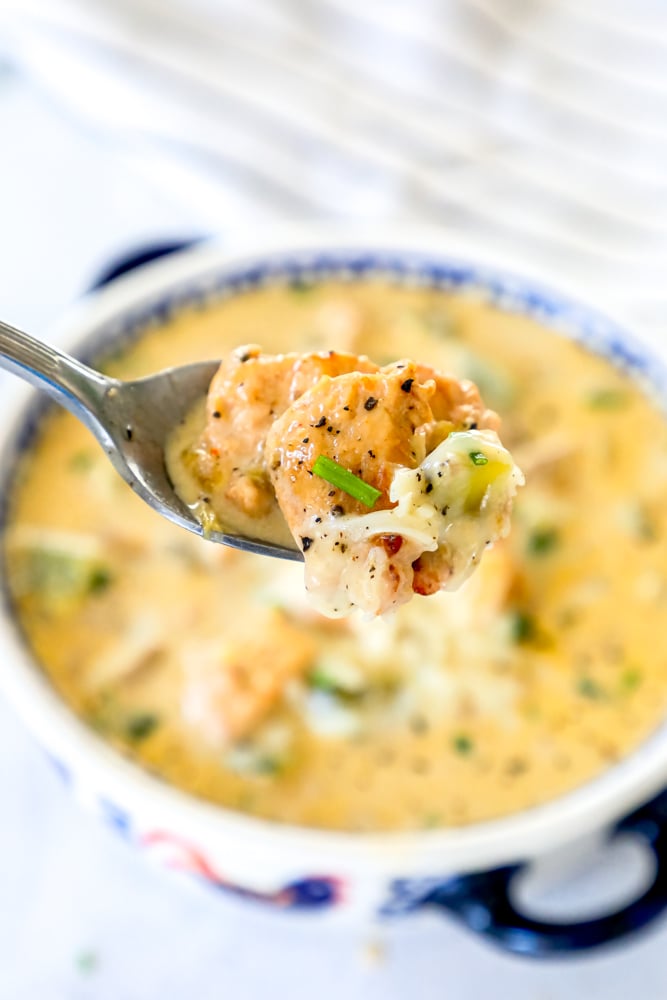 How To Make White Chicken Chili
To make this white chicken chili, you'll need:
Boneless skinless chicken breasts: The main protein source for the dish, adding flavor and texture to the chili.
Onion: Provides a sweet and savory flavor to the dish.
Olive oil: Used for sautéing the onions and garlic and adds a smooth, slightly fruity flavor.
Garlic: Adds a pungent and slightly sweet flavor to the dish.
Chicken broth: Provides a flavorful base for the chili.
Chopped green chiles: Adds a mild heat and smoky flavor to the dish.
Bell pepper: Provides a sweet and slightly crunchy texture to the chili.
Jalapeño: Adds heat to the chili, but can be skipped if preferred.
Ground cumin: Adds an earthy and slightly smoky flavor to the dish.
Adobo seasoning: A blend of herbs and spices that adds depth and complexity to the dish.
Mild sriracha seasoning: Optional seasoning that adds a tangy and slightly spicy flavor to the dish.
Cayenne pepper: Adds heat and spiciness to the chili.
Sour cream: Adds a creamy and tangy flavor to the chili.
Shredded Monterey Jack cheese: Provides a mild and creamy flavor to the dish and adds a gooey texture when melted.
Large pot or dutch oven
Wooden Spoon
Sharp knife
Cutting boards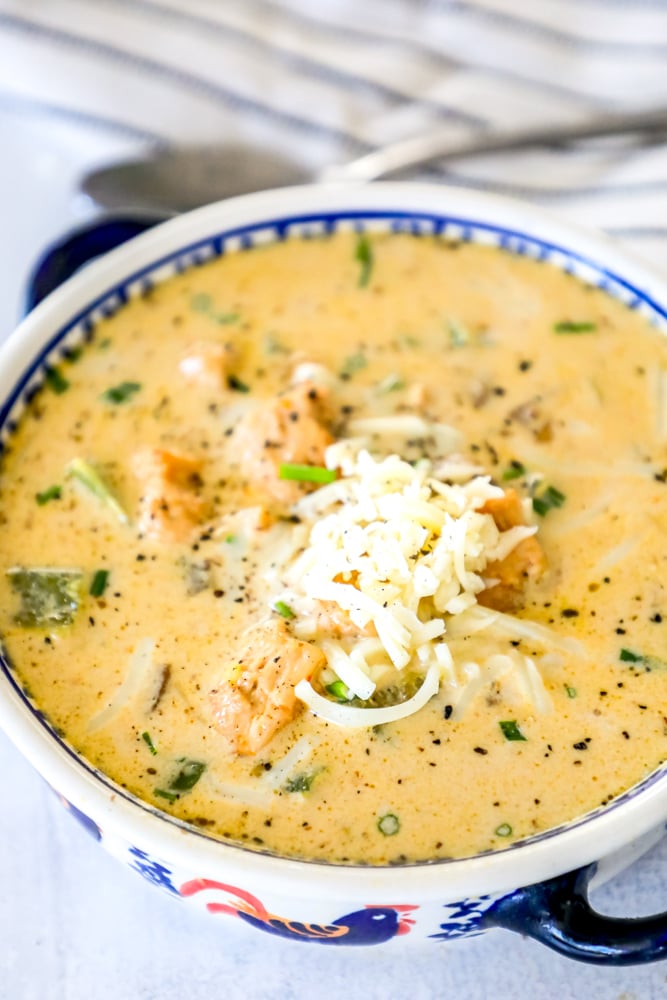 Tips and Tricks To Perfect White Chicken Chili
Thick or thin. This white chicken chili is somewhat between a soup and a stew – it is thinner than some chilis, but thicker than a soup. I personally prefer the soup as-is with the thickness coming from cheese, but my husband likes it a little thicker. If you'd like to thicken your chicken chili, follow my ideas below:
Make a keto roux. Thickening soups can be tricky on keto, since flour, the most common soup thickener, is a strict no-no. For this recipe, we're going to add xantham gum as a thickener if desired, by making a xantham gum roux.
Using two teaspoons of xantham gum (divided), with 1/2 cup butter, you'll make a gluten free roux to thicken this keto soup.
Get a nonstick pan or pot ready on the stove and turn heat to medium high.
Add butter to pan and let start to melt.
Add ONE teaspoon of xanthan gum, whisk vigorously to combine.
Add the other teaspoon of xanthan gum, and keep whisking until roux is browned.
Watch carefully, as roux browns quickly – do not let roux burn or overcook.
Whisk in to chili about 5 minutes before it is done cooking, before adding the cheese.
Roux will look a little thin when done – but don't worry, it will continue to thicken when added to the chili!
How to reheat. To reheat, thaw in refrigerator overnight. Heat throughly in a saucepan, stirring occasionally. If chili reduces too much, add up to 1 cup chicken stock. If chili is too thin, add up to 1/2 cup sour cream.
FAQs
How long can I store this recipe?
This white chicken chili can be stored in the refrigerator for up to four days when stored in an airtight container. I prefer to use BPA free, dishwasher safe, stacking containers – you can find my favorite here. Freeze cooled chili in freezer containers or plastic bags.
What is white chicken chili?
White chicken chili is a soup or stew that is made with chicken, white beans, and a variety of other ingredients such as vegetables, herbs, and spices. It is called "white" because it does not contain the traditional tomato base found in red chili.
Can I use a different type of protein other than chicken?
Yes, you can use turkey, pork, or even tofu as a vegetarian option. However, keep in mind that the flavor and texture of the dish may be different.
Can I make this in a slow cooker?
Yes, white chicken chili can be easily adapted to a slow cooker. Simply combine all of the ingredients in the slow cooker and cook on low for 6-8 hours or on high for 3-4 hours.
How spicy is white chicken chili?
The level of spiciness in white chicken chili can vary depending on the recipe and the amount of chili powder or other spices used. However, it is generally milder than traditional red chili.
What can I serve with white chicken chili?
White chicken chili can be served with a variety of toppings such as shredded cheese, sour cream, avocado, or cilantro. It also pairs well with cornbread, tortilla chips, or a side salad.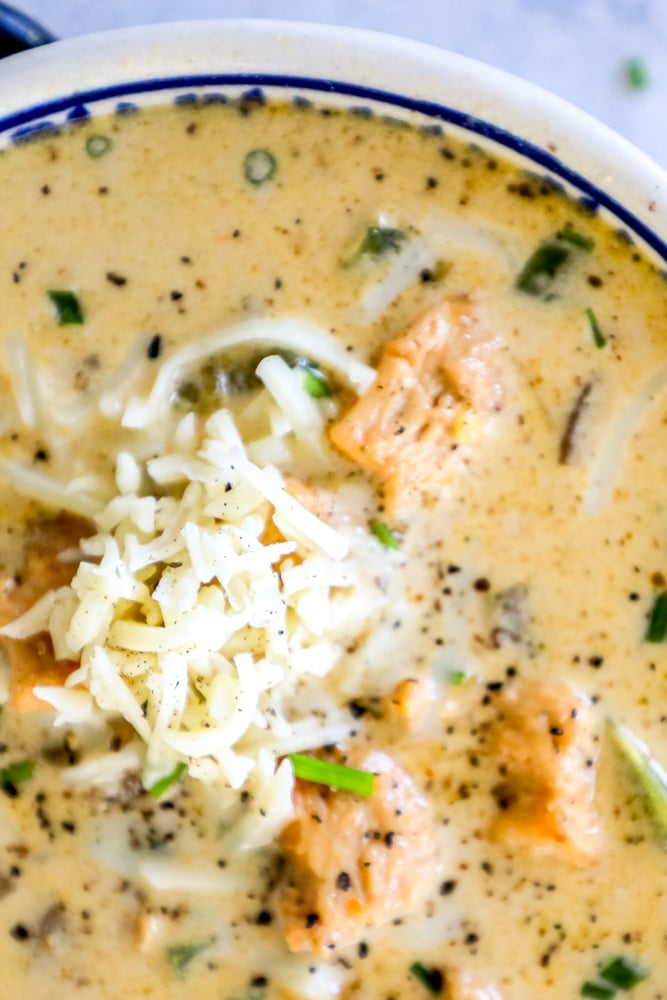 What to Serve With White Chicken Chili
Whether you're keto, or eating carbs, I'm sharing my favorite side dishes to serve alongside this creamy white chicken chili!
If you're sticking to a keto diet, opt for keto-approved breads, jalpeno poppers, veggie sides, or a keto roll.
If you're not watching your carbs (this chicken chili is great because it is delicious for people watching carbs, as well as everyone else), I love to serve with a rich, delicious sour cream cornbread.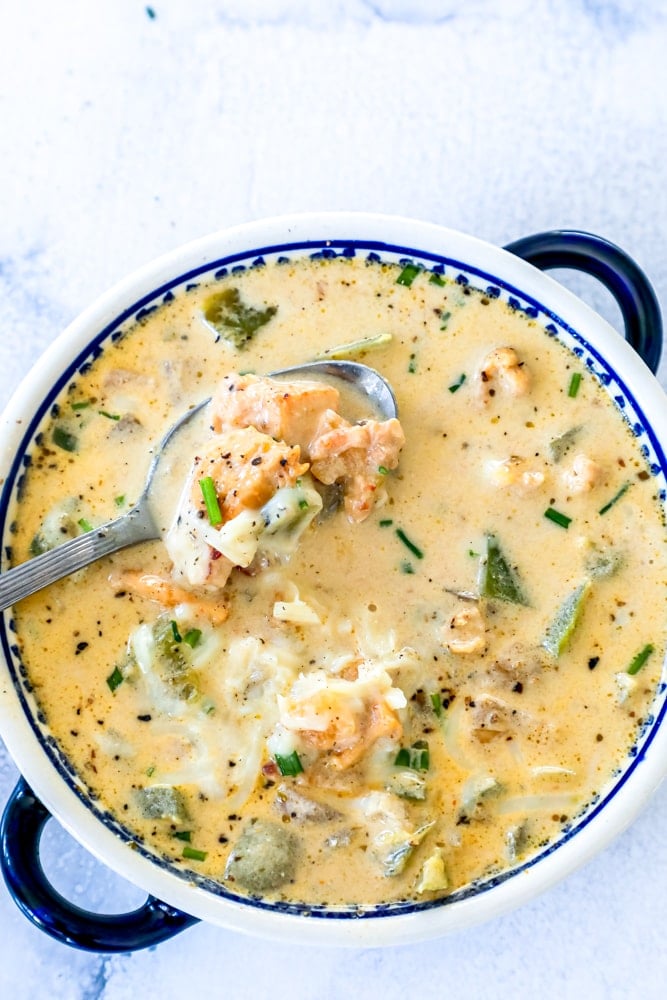 Creamy Keto White Chicken Chili Recipe
If you love this creamy keto white chicken chili recipe as much as I do, please give it a five star review (simply click the stars in the recipe below) and help me share on facebook and pinterest!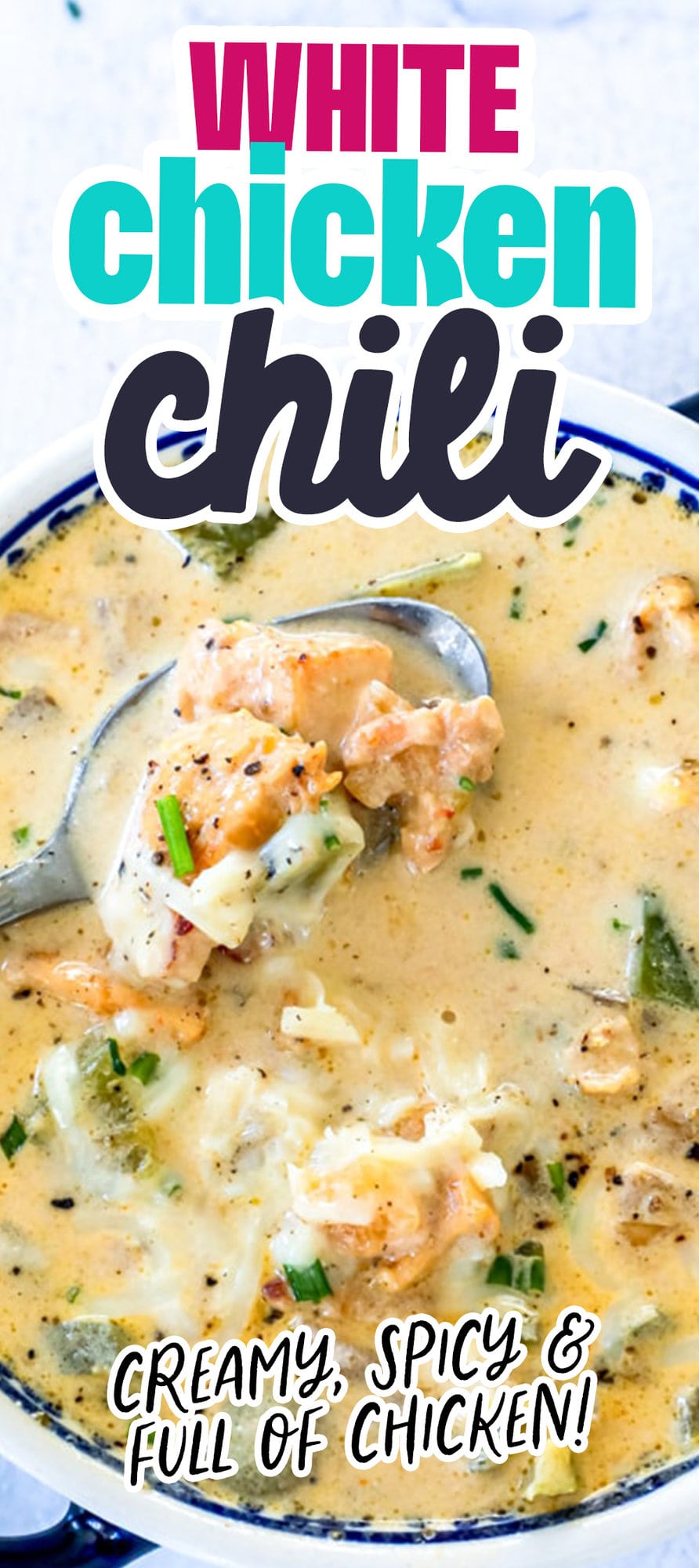 CONNECT WITH SWEET C'S!
Be sure to follow me on social media, so you never miss a post!
Only have 30 minutes to get dinner on the table? Sign up for my 30 minute dinner plans direct to your inbox!
Find and shop my favorite products in my Amazon storefront here!
Creamy Keto White Chicken Chili Recipe
Creamy Keto White Chicken Chili Recipe - delicious hearty creamy white chicken chili packed with flavor, not carbs!
Ingredients
1 pound boneless skinless chicken breasts, chopped
1 medium onion, chopped
1 tablespoon olive oil
2 garlic cloves, minced
2 cans (14 ounces each) chicken broth
1 can (4 ounces) chopped green chiles
1 bell pepper, diced
1 jalapeno, diced, optional
2 teaspoons ground cumin
2 teaspoons adobo seasoning
1 teaspoon spicy sriracha seasoning, optional
1-1/2 teaspoons cayenne pepper
1 cup sour cream
1 cup shredded Monterey Jack cheese
Instructions
In large dutch oven or heavy pot, heat olive oil on medium high until shimmery, about 30 seconds.
Add chicken and onion to pot and cook, stirring occasionally, until lightly browned - about 5 minutes.
Stir in bell pepper and jalapeno, cook until chicken is browned, another 5 minutes.
Stir in herbs and spices, sour cream, and stock.
Whisk or stir soup vigorously to combine.
Bring to a boil, and then reduce to low.
Stir in cheese, making sure to stir quickly so cheese incorporates into soup instead of sinking to the bottom to burn on the pan.
When cheese is fully incorporated, remove from stove and serve immediately.
Top with shredded Monterey jack cheese and chives, if desired.
Recommended Products
As an Amazon Associate and member of other affiliate programs, I earn from qualifying purchases at no extra expense to you.
Nutrition Information
Yield

8
Serving Size

1
Amount Per Serving
Calories

257
Total Fat

15g
Saturated Fat

7g
Trans Fat

0g
Unsaturated Fat

6g
Cholesterol

80mg
Sodium

668mg
Carbohydrates

7g
Net Carbohydrates

6g
Fiber

1g
Sugar

3g
Sugar Alcohols

0g
Protein

24g
Nutrition is automatically calculated by Nutritionix - please verify all nutrition information independently and consult with a doctor or nutritionist for any and all medical and diet advice.