Creamy Lemon Garlic Pasta
Perfect papardelle with a creamy lemon garlic pasta sauce – this simple pasta dinner is loaded with fresh garlic and lemon flavor, lots of cream and parmesan cheese, and a velvety sauce in less than 15 minutes!
Pasta with Lemon Garlic Cream Sauce is a fast and delicious dinner that brings a hint of lemon to a rich and filling pasta dish.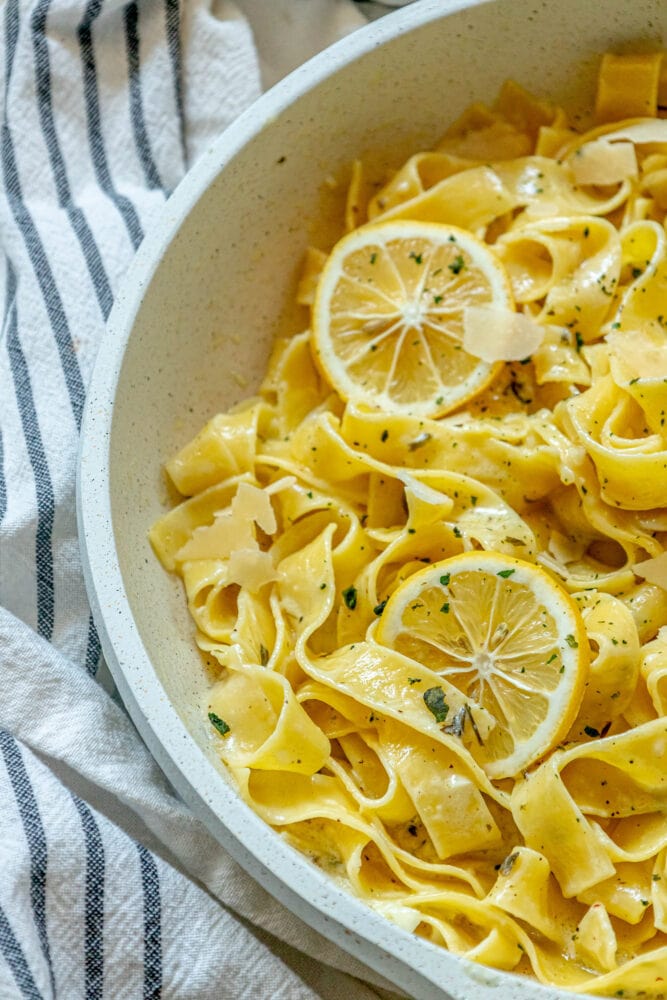 Don't want all the extras in a recipe post? We provide a skip to recipe button in the top left corner, as well as a clickable table of contents, just below, to help make this page easier to navigate.
Quick and Easy Creamy Lemon Garlic Pasta
Pasta dinners can be heavy, but this creamy lemon garlic pasta has a fresh vibrant flavor that still has a hint of lemony summer.
This dish can be served as a side, or a main dish, and is so easy to make. It also doesn't have to
How to make Creamy Lemon Garlic Pasta
To make this recipe, you'll need:
Ingredients
Papardelle Pasta – Papardelle is a large, wide, flat noodle that is larger than fettuccine, and is common in Tuscany. You can get it in both fresh and dried varieties. Fresh Papardelle often has a fluted edge from the tool used to cut it. I used dried pasta for this recipe.
Lemon – This recipe calls for both slices of lemon and lemon juice. The juice brings a fresh acidity to the rich pasta, and the slices bring some of the fruity zest and a wonderful striking visual appeal to the recipe.
Italian Herb Blend – This blend of oregano, basil, thyme, rosemary, and marjoram is a staple of Italian cooking and flavors that complement chicken and beans well.
Sea Salt and Black Pepper– Salt and pepper are the original culinary duo. Salt enhances and brings out many flavors, and the mild spice from black pepper helps to stimulate the taste buds.
Butter – The butter brings rich, nutty flavor to the sauce. In classic French cooking, adding butter to a sauce is called "mounting" as is ment to bring a rich creamy mouth feel to the sauce.
Garlic – Fresh garlic has a wonderful array of flavors, tangy and sharp when raw, and sweet and rich when cooked. It adds the bite, and depth of flavor that balances this easy pan sauce.
Heavy Cream – Heavy cream forms the backbone of this sauce. We use heavy creamy when cooking hot dishes because it's high fat content (over 36%) won't split when added to the hot pan.
Parmesan Cheese – Parmesan cheese is a quintessential Italian cheese, made from cow's milk and aged for 12 months. Its salty, nutty, and umami flavors are a delicious finish to this stew.
One you've gathered your ingredients, we will use the following method:
Cook pasta. Bring 2-3 quarts of heavily salted water to a boil. Add your dry Papardelle pasta and cook until al dente. Remove from water and set aside. Do not discard all of the pasta water.
Prepare the Sauce. In a heavy, high sided-pan, all the butter and allow to melt until it begins to foam. Add the garlic and cook for 45 seconds before adding the lemon juice, pasta water, herbs and seasonings. Allow to come to a boil. Remove from heat and rapidly whisk in the heavy cream. Return to the heat and whisk in the parmesan cheese. When the cheese has melted and the sauce has thickened, add the cooked pasta and
Add the pasta and serve. When the cheese has melted and the sauce has thickened, add the cooked pasta and lemon slices to the sauce and let cook for 1-2 minutes to fully coat the pasta. Remove from the heat and plate. Garnish with parsley, more parmesan and red pepper flakes if you like a little heat.
Tips and Tricks to Perfect Creamy Pasta:
Cook to al dente. Since we will cook the pasta in the sauce for a mintue or two, undercook your pasta just a touch, leaving a bit of bite, so it won't be overcooked or mushy.
Add more cream when reheating. If reheating, you'll want to stir in more cream, or it may be a bit dry.
Make it spicy. Stir in red pepper flakes for a kick!
Top with meat or veg! Broccolini, baked chicken breast, shrimp, and even lobster tail are all delicious over lemon garlic pasta.
FAQ:
Do I have to use pasta water in sauce?
Reserving a cup of pasta water and adding to the sauce helps to emulsify and thicken your pasta sauce, as it contains starch that has cooked off your pasta. Scoop a cup of the water out of pasta before draining and add to sauce, bring to a boil, and let thicken before adding pasta to sauce.
How long can I store this recipe?
Leftover creamy pasta can be stored in an airtight container in the fridge for up to four days.
Is there a dairy substitute?
We prefer oatmilk as a dairy free alternative if you're lactose intolerant.
What To Serve With Creamy Lemon Garlic Pasta
This lemon garlic pasta is perfect served alongside hearty meat favorites like prime rib, pork chops, and scallops – or served with a simple baked asparagus.
If you're looking for an easy homestyle Italian dinner, try serving this pasta with a no-knead bread and easy bread dip, and some baked goat cheese balls to go alongside a Crunchy Lemon Parmesan Salad!
You can find more of our easy main dishes that pair well with pasta below:
Creamy Lemon Garlic Pasta Recipe
If you love this easy recipe please click the stars below to give it a five star rating and leave a comment! Pease also help me share on facebook and pinterest!
CONNECT WITH SWEET C'S!
Be sure to follow me on social media, so you never miss a post!
Only have 30 minutes to get dinner on the table? Sign up for my 30 minute dinner plans direct to your inbox!
Find and shop my favorite products in my Amazon storefront here!
Creamy Lemon Garlic Pasta
Delicious creamy lemon garlic pasta that cooks quickly for a cheesy, tangy, and rich dinner everyone loves!
Ingredients
1 pound pappardelle, cooked al dente
Juice and zest of 1 lemon
1 lemon, sliced into rounds
1 tablespoon Italian seasoning
1 teaspoon Celtic sea salt
1 teaspoon fresh cracked pepper
4 oz butter
6 cloves garlic, minced
1 cup cream 
1 cup parmesan
Instructions
Cook papardelle pasta to al dente. Reserve 1 cup pasta water.
In a pan, combine butter and heat until foamy and melted. Stir in minced garlic. Cook until garlic is fragrant, about 45 seconds.
Pour in lemon juice, cup of reserved pasta water, Italian seasoning, salt, and pepper. Bring to a rapid boil, stirring occasionally.
When rapidly boiling, remove from heat. Whisk in cream, stirring until combined.
Return to heat and stir in parmesan, whisking constantly to melt cheese into sauce.
When cheese has fully incorporated into sauce, and sauce has thickened, remove from heat and toss over pasta with lemon slices.
Serve and garnish with minced parsley and red pepper flakes, if desired.
Recommended Products
As an Amazon Associate and member of other affiliate programs, I earn from qualifying purchases at no extra expense to you.
Nutrition Information
Yield

6
Serving Size

1
Amount Per Serving
Calories

476
Total Fat

35g
Saturated Fat

22g
Trans Fat

1g
Unsaturated Fat

11g
Cholesterol

125mg
Sodium

815mg
Carbohydrates

32g
Fiber

1g
Sugar

7g
Protein

11g
Nutrition is automatically calculated by Nutritionix - please verify all nutrition information independently and consult with a doctor or nutritionist for any and all medical and diet advice.