The Best Pan Fried Pork Chops Recipe - easy and delicious thin sliced pork chops perfectly pan fried in under 10 minutes with just 4 ingredients!
If you love delicious, easy, and moist pork chops - this easy recipe is going to be your new go-to for a busy weeknight, a dinner party, or anytime you're looking for a perfect keto, low carb dinner!
These easy pan fried pork chops come together lightning quick - they are simple, bursting with flavor, low carb, and make a perfect weeknight dinner!
The best part - these delicious, juicy, thin cut pork chops are pan fried with just 4 ingredients total - so you can get this meal on the table in 20 minutes or less!
That's right - these pan fried pork chops go from fridge to fork in less than 20 minutes!
Just Take Me To The Best Pan Fried Pork Chop Recipe Already!
I have readers from all levels of comfort in the kitchen on my site and get a lot of questions and comments - so I try to provide as much information in my posts as possible for my readers.
If you'd like to skip over my helpful tips and tricks to get never-dry pork chops that are bursting with flavor - please scroll to the bottom of the page just above comments where you will find the easy printable recipe.
How To Cook Boneless Pork Chops
Boneless pork chops are often called "America's Cut" or "loin filets."
Boneless loin chops are both the most popular cut of pork and the trickiest chop to cook perfectly since they have little fat and no bones to help lock in moisture and flavor of the chop – so having the perfect method down is essential for delicious, juicy, and tender pork flavor.
These pan fried pork chops are quick seared to lock in the flavor and have a lovely browned crust – so you have perfect, juicy and delicious pork that your whole family will flip over!
Just like my favorite crock pot pork steaks , my garlic pork chops, and my baked garlic pork tenderloin, these easy baked pork chops are perfectly tender and juicy – not dry and tough like pork gets a bad reputation for!
One pot pan fried pork recipes can be notoriously dry and tough – but this skillet pork chop recipe is juicy, tender, moist – and so delicious!
How To Keep Pork Chops From Drying Out
Pork chops are an iconic comfort food dish – quick, easy, hearty, rustic – they are filling and packed with protein, less expensive and fatty than beef, and are relatively easy to prepare.
But as anyone who loves pork chops knows, pork chops can get tough and dry pretty quickly.
This guide to pork chops has everything you ever wanted to know about the other white meat – with tons of tips to get the best pork you've ever eaten!
Boneless chops taste best when marinating before cooking since they have no bones and little fat or connective tissue for moisture and flavor.
Marinating helps to keep the juices locked into the boneless pork chops.
Boneless chops are the most commonly used pork chops in quick and easy one pot pork recipes – they are trimmed, often thinner cut pork chops that are commonly presented in a grocer's bulk pork flat section.
Boneless chops should be cooked very quickly on high heat - you want to sear and brown the outside of the pork chop, and cook the middle without drying it out.
Get your pan as hot as possible, and add a small amount of fat (I use clarified butter or avocado oil), and sear each side for 3-4 minutes, until golden brown, and flip to cook on other side.
When thin cut pork chops are well browned outside they are cooked inside - do not over cook!
If you'd like to check the doneness, and your pork chop is too thin to get an accurate reading with a digital thermometer, you can let the pork chops rest for about five minutes (they continue cooking after removing from heat)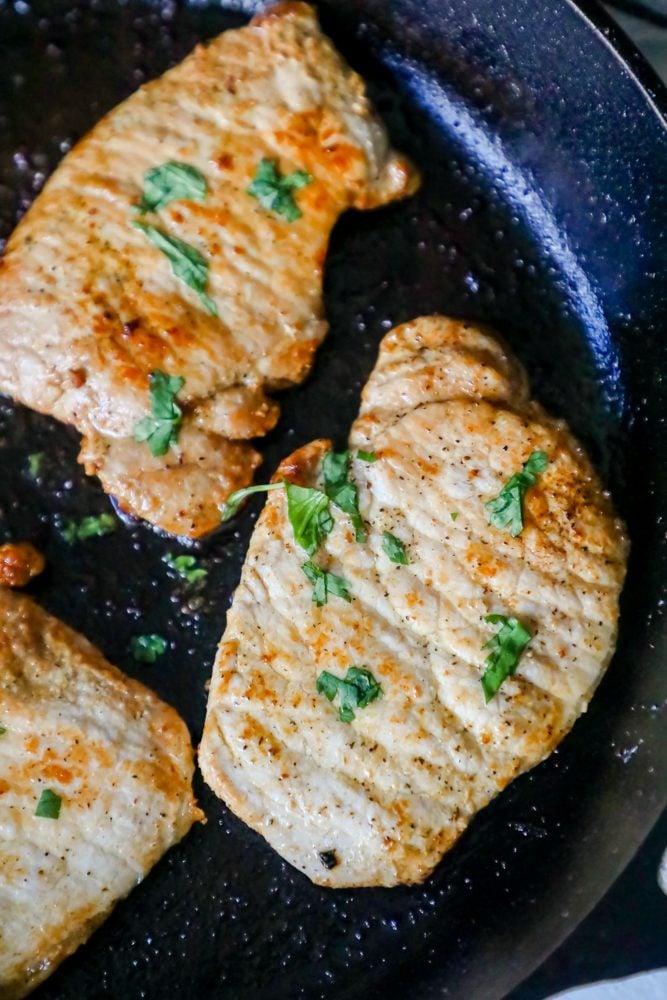 Other Types of Pork Chops to Use
For this recipe, I am using thin cut boneless chops – but you can also use a thick cut pork chop, center-cut pork chop, a bone-in pork loin chop, or a bone-in rib chop.
Using a bone-in pork chop for this baked pork chop recipe will add cook time to the dish – about another 10-15 minutes (please use the method in this garlic baked pork chop recipe for this oven baked pork chop to bake your thick cut pork after pan frying until it reaches 145 degrees internal temperature.)
To learn more about pork chops, and how they cook, please visit my Ultimate Guide To Pork Chops here.
The Best Pan Fried Pork Chops Recipe
If you love this pan fried pork chops recipe as much as I do, please give it a five star review (click the stars below) and help me share on facebook and pinterest!
CONNECT WITH SWEET C'S!
Be sure to follow me on social media, so you never miss a post!
Facebook | Twitter | Youtube | Pinterest | Instagram
Only have 30 minutes to get dinner on the table? Sign up for my 30 minute dinner plans direct to your inbox!
Find and shop my favorite products in my Amazon storefront here!
Yield:

8
The Best Pan Fried Pork Chops Recipe
The Best Pan Fried Pork Chops Recipe - easy and delicious thin sliced pork chops perfectly pan fried in under 10 minutes with just 4 ingredients!
Ingredients
8 thin cut pork chops
2 tbsp olive oil
1 tbsp adobo seasoning
2 tbsp clarified butter, for pan frying
Instructions
Add pork chops to a plate or bowl and drizzle with olive oil and coat generously with adobo seasoning.
Let marinate at least 1 hour, up to overnight.
Heat a heavy, large skillet on medium high heat.
Melt butter and swirl around pan. Do not let burn.
Add pork chops to pan and brown, about 4 minutes per side.
When pork chops are well browned and firm to the touch, they are cooked.
Pork is done when most pink is gone, and internal temperature reaches 145 degrees farenheit.
Nutrition Information
Yield
8
Serving Size
1 pork chop
Amount Per Serving
Calories

774
Total Fat

48g
Saturated Fat

16g
Trans Fat

0g
Unsaturated Fat

25g
Cholesterol

280mg
Sodium

1313mg
Carbohydrates

0g
Fiber

0g
Sugar

0g
Protein

81g