The best easy prime rib recipe – delicious juicy prime rib with a delicious crunchy crust, perfect for holiday dinners!
Prime rib is the ultimate showstopper for Thanksgiving, Christmas, or just Sunday supper – its fabulous with decadent dishes like Lobster Tails, Brown Sugar Bacon Wrapped Scallops, and Perfect Creamy Mashed Potatoes.
You won't believe how simple this stunning dish is to make – even beginner cooks can get a restaurant quality prime rib dinner – only a roasting pan is needed!
You can tie this roast, or just pop it into the oven after rubbing with herbs and basting with butter – if you want to know how to make prime rib, this recipe is a great beginner dish!
If you're looking for a knockout keto side dish to serve with this prime rib for a low carb holiday dinner, be sure to check out our keto garlic artichoke rolls – they are super simple to bake, just like this prime rib!
Here at Sweet C's, we have lots of types of readers – those who like to get straight to the recipe, and those who would like more information, including tips and tricks to feeling more comfortable in the kitchen.
We provide a skip to recipe button in the top left corner, as well as a clickable table of contents, just below, to help make this page easier to navigate.
Are Prime Rib and Ribeye The Same
A cow's first five ribs have tougher muscles from the shoulder, which work best to cook as a pot roast – slow and low for many hours, braised with liquid, to break down the tougher shoulder muscles.
Prime rib is cut from the "prime," or biggest main portion of rib meat that includes the meat that runs alongside sixth through twelfth ribs.
Prime rib is usually trimmed of the fat cap section or rib meat, which leaves the ends of the rib bones cleaned and visible.
Prime rib is sometimes called a "standing rib" roast, because the bones enable it to stand upright for roasting, even though most people cook them down for better roasting these days.
A ribeye roast is cut from the same area as a prime rib roast – but removes the bone and some fat before cooking, making it a bit smaller.
While a prime rib roast will include a ribeye roast, a ribeye roast focuses on the marbled ribeye steak meat area – when you buy one, you can easily cut ribeye steaks yourself from the roast – or you can cook as we are here for a rich, juicy, and delicious meaty flavor similar to prime rib and just as indulgent – just with no bones to mess around with!
For this recipe, we're using boneless prime rib.
While we love the display a standing rib roast gives to a classic prime rib, we find a boneless prime rib cooks faster and more uniformly.
To use a standing rib roast, secure foil over bones when roasting, to prevent burning.
You can buy bone-in or boneless prime rib or boneless ribeye roasts at most Costcos and Sams Clubs, as well as your local grocery store's butcher.
Bone-in Prime Rib Roast
Pre Seasoned Ribeye Roast
What Temperature to Cook Prime Rib To
Prime rib is best medium rare – which will take about 2 hours 20 minutes roasting time.
For each of these cook times, you will actually be looking for 10 degrees under your target for when you pull the roast out of the oven…. because it will continue to cook as you tent it in foil.
The temperature below shows when to REMOVE prime rib from oven – it will cook another 10 degrees while tented with foil.
For rare prime rib, the in-oven temperature should be 105-110 degrees.
For medium rare to medium prime rib, the in-oven temperature should be 110 to 115 degrees Fahrenheit.
For well done prime rib the in-oven temperature should be 130 to 135 degrees Fahrenheit.
You can adjust your cooktime based on those temperatures – and remember the sides will be closer to well done while the middle will be much more red/pink – so you can still serve everyone a slice they prefer.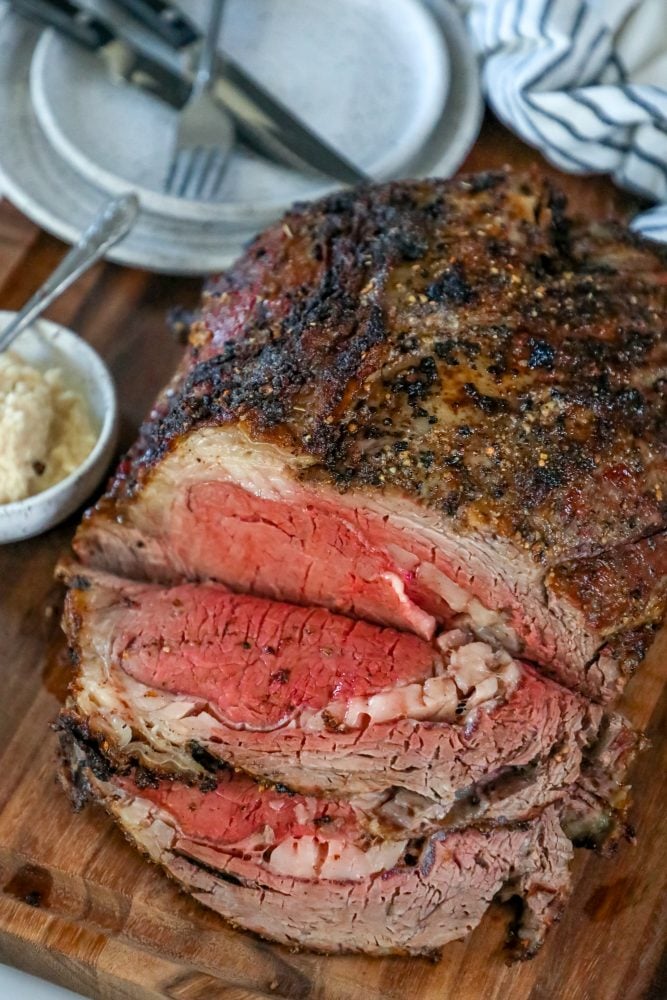 What to Serve With Prime Rib
Prime rib is perfect for Thanksgiving or Christmas dinner… it pairs fabulously with side dishes like scalloped corn, creamy mashed cauliflower, and more!
Do I need to tie a prime rib roast?
Prime rib is easier to slice when cooked tied – but if you don't want to tie ooff a roasted prime rib, it will still taste delicious.
What side should I roast facing up?
For this recipe, you'll put the fat side up – so it can baste the prime rib as it cooks!
When should I remove prime rib for medium rare?
Remove prime rib from the oven at 115 degrees farenheit for a perfect medium rare.
How long should prime rib rest before slicing?
Let prime rib roast cool and rest at least 20 minutes before carving. We prefer 30 minutes.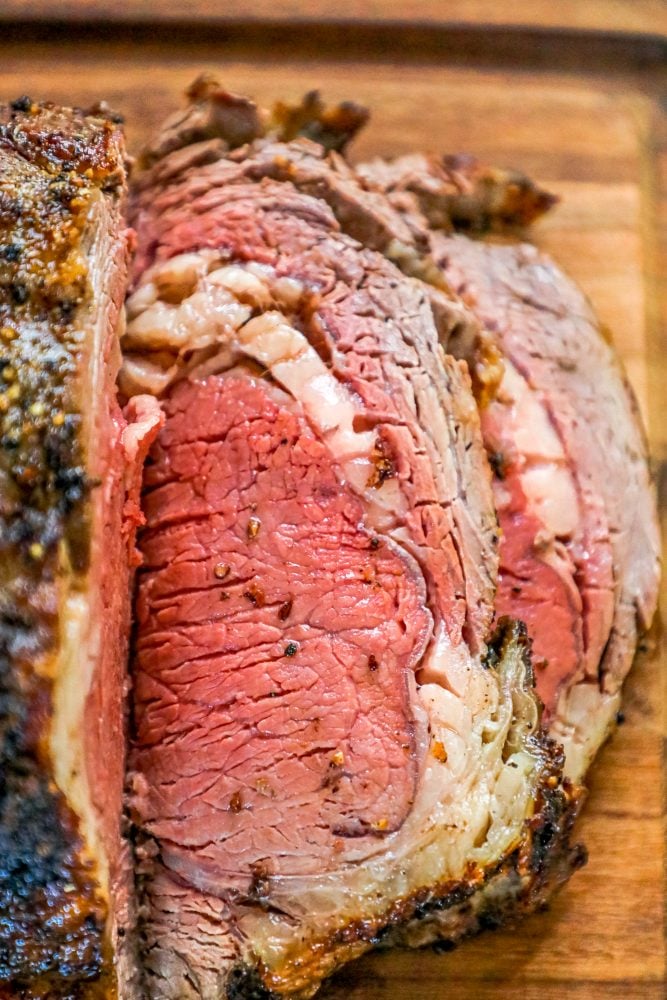 The Best Easy Prime Rib Recipe
If you love this easy recipe, please click the stars below to give it a five star rating and leave a comment! Please also help me share on facebook and pinterest!
CONNECT WITH SWEET C'S!
Be sure to follow me on social media, so you never miss a post!
Facebook | Twitter | Youtube | Pinterest | Instagram
Only have 30 minutes to get dinner on the table? Sign up for my 30 minute dinner plans direct to your inbox!
Find and shop my favorite products in my Amazon storefront here!
Yield:

8 servings
The Best Prime Rib Recipe
Cook Time:
2 hours
15 minutes
Total Time:
2 hours
50 minutes
The best easy prime rib recipe - delicious juicy prime rib with a delicious crunchy crust, perfect for holiday dinners!
Ingredients
1 prime rib roast, about 5 pounds
4tbsp melted butter, for brushing
2 tablespoons minced garlic
1 tablespoon garlic powder
2 tablespoons kosher salt
2 tbsp italian seasonings
Instructions
Preheat oven to 450 degrees.
If tying, tie roast together tightly with baking twine.
Place roast in a shallow roasting pan with the fatty side up.
Cover prime rib with melted butter.
Combine garlic, salt, and seasonings in a small bowl.
Cover roast with herbs and seasonings.
Place roast in roasting pan in oven for 15 minutes at 450 degrees, fat side up.
After 15 minutes, reduce heat to 325ºF and continue roasting for approximately 2 hours (when thermometer registers 110 degrees Fahrenheit), or adjust for desired doneness, checking temperature with a thermometer.
For rare ribeye prime rib, the in-oven temperature should be 105-110 degrees. For medium rare to medium prime rib, the in-oven temperature should be 120 to 125 degrees Fahrenheit. For well done prime rib, the in-oven temperature should be 130 to 135 degrees Fahrenheit.
Transfer roast to cutting board or cooling rack and tent with foil and let rest 15-30 minutes.
Slice across the grain to serve.
Nutrition Information
Yield
8
Serving Size
1
Amount Per Serving
Calories

94
Total Fat

9g
Saturated Fat

5g
Trans Fat

0g
Unsaturated Fat

3g
Cholesterol

24mg
Sodium

1639mg
Carbohydrates

2g
Fiber

1g
Sugar

0g
Protein

3g
Nutrition is automatically calculated by Nutritionix - please verify all nutrition information independently and consult with a doctor or nutritionist for any and all medical and diet advice.