This one pot easy Cajun Whole Roasted Chicken is the most juicy, tender, and delicious whole roasted chicken recipe bursting with cajun spices and butter for a spicy, flavorful whole roasted chicken you can make in just one pan or dutch oven!

Don't want all the extras in a recipe post? We provide a skip to recipe button in the top left corner, as well as a clickable table of contents, just below, to help make this page easier to navigate.

One Pot Easy Cajun Whole Roast Chicken
Whole roasted chicken is one of my absolute favorite Sunday dinners. It's delicious, juicy, filling, and goes with just about anything - perfect for the whole family! I am pairing two of my all-time favorite flavors here - spicy and smoky cajun butter and buttery rich whole roasted chicken - for a showstopping dinner you can have on the table in under 15 minutes active time and just shy of an hour and a half in the oven.
While and hour and a half might seem like a long time, trust me, this is one of the easiest and most flavor-packed whole roasted chicken dinners you'll find - and you literally just need to prep your chicken, toss it in the oven, and try not to drool as the most amazing cajun butter chicken flavor drifts through your house.
How to Cook Whole Chicken
First, assemble the following ingredients:
Water - water is the base for the brine. 
Sugar - sugar is part of the brine that will help season the meat. 
Soy sauce - soy sauce has a savory salty flavor that is unlike any other sauce. You can use a low sodium sauce if you want. 
Olive oil - olive oil will help add a bit of fat to the brine. 
Whole Chicken - you want one that is about 3-4 pounds. 
Salt - salt is used in both the brine here to season the meat internally and to season it before cooking. Use a high quality fine grain sea salt. 
Spices - in this case we will use: Cayenne pepper, Garlic powder, Thyme, and Rosemary
Butter - butter makes the best chicken skin and helps it become soft and succulent. 
Onion - I use yellow onion for this chicken which is a great stuffing. 
Lemon - lemon helps give the chicken a nice acidity and pull apart texture.
Garlic cloves - garlic has a strong flavor that will enhance the meat. I like to crush my garlic with the side of a knife before adding it. 
Chicken stock - for a moist chicken you need chicken stock so the bottom of the pan doesn't burn the bottom of the chicken. I like to use a better than bouillon stock base.

Once the ingredients are assembled use the following method
Brine. In a very large bowl mix the water, sugar, soy sauce, salt, and olive oil until dissolved. Add the chicken, cover with ice, and brine at least 6 hours or overnight.
Prep the Chicken. Pat the chicken dry. Mix the herbs and butter and rub generously all over the outside and inside of the chicken. Inject the chicken with cajun butter (if using) throughout. Stuff the onion, lemon, and garlic into the chicken cavity and truss if desired (see FAQs about trussing).
Roast the chicken. Roast the chicken at 350 degrees covered with the lid for about an hour. Use the chicken stock to baste the chicken occasionally. Remove the lid after the hour and cook about another 30 minutes until the internal temperature reaches 160 degrees.
Rest and Enjoy. Let the chicken rest about 15 minutes then slice and enjoy.
Tips and Tricks for Perfect Cajun Whole Roast Chicken
Check out my tips and tricks below for a perfect result every time.
Get a good thermometer. Since chicken size varies so much, watch your chicken's temperature as it cooks and measure in the deepest part of the chicken meat, taking care to not touch bone with the thermometer. You will need a high-quality thermometer; I prefer this digital one.
Try a dry brine chicken for a day before cooking instead of a wet brine. Brining chicken helps to not only add a ton of juicy moisture into your chicken it can help flavor your chicken's meat, too. Simple rub your rinsed and dried chicken all over in salt and pepper and set it in a casserole dish, covered in the refrigerator overnight.
Inject chicken with flavored butter. Find my cajun injectable butter recipes and ideas below for super juicy and moist cajun roasted chicken.
Pat chicken dry before cooking. Removing any excess liquid from the chicken (there is a lot of liquid from the chicken when it is packaged from the store) will help your chicken skin from getting flabby and soggy.
Generously cover in butter. Butter is great for helping chicken skin crisp to a lovely golden brown - and getting a rich, salty flavor that is irresistible. Generously slather butter on top of your chicken to get delicious crispy skin. Also tuck some butter under the skin.
Cook the chicken without the lid the final 30 minutes. To help your chicken skin crisp up, cook without the lid for the last minutes of cooking.

FAQs
Do I have to truss (tie the legs together) the chicken?
While trussing the legs can help a chicken cook more evenly it is not necessary in this case since the Dutch oven cooks the chicken very evenly without it.
Do I need to baste this chicken?
The point of basting is to add more moisture that has escaped back to the breast. In this case the chicken will be retaining its moisture really well anyway since it is contained in the Dutch oven so there is no need to baste.
Can I cook this in a roasting pan or casserole dish since I don't have a Dutch oven?
Yes, however you will need to tent it well with a double layer of tin foil to account for the get the effect of the lid on the Dutch oven.
What to serve with Cajun Roasted Chicken?
Try these sides with your succulent chicken:
Check out our other one pot recipes by clicking here!
Easy Cajun Whole Roasted Chicken Recipe
If you love Easy Cajun Whole Roasted Chicken Recipe as much as I do, please write a five star review, and be sure to help me share on facebook and pinterest!

CONNECT WITH SWEET C'S!
Be sure to follow me on social media, so you never miss a post!
Facebook | Twitter | Youtube | Pinterest | Instagram
Only have 30 minutes to get dinner on the table? Sign up for my 30 minute dinner plans direct to your inbox!
Find and shop my favorite products in my Amazon storefront here!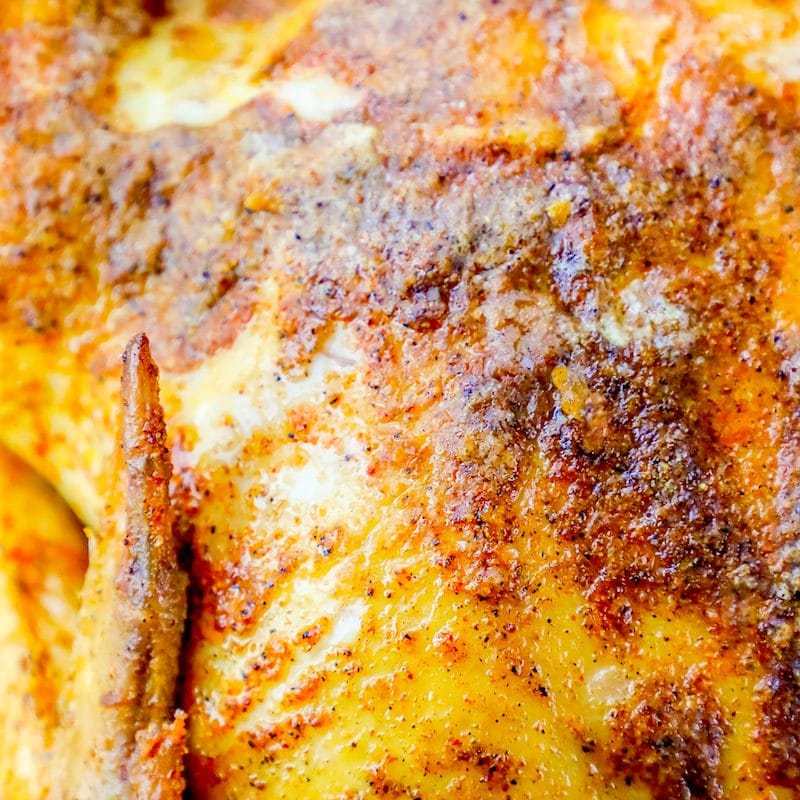 Yield:

6 people
One Pot Easy Cajun Whole Roasted Chicken Recipe
Cook Time:
1 hour
5 minutes
Additional Time:
15 minutes
Total Time:
1 hour
25 minutes
One Pot Easy Cajun Whole Roasted Chicken Recipe - the most juicy, tender, and delicious whole roasted chicken recipe bursting with cajun spices and butter for a spicy, flavorful whole roasted chicken you can make in just one pan or dutch oven! Perfect for meal prep or a hearty easy whole roasted chicken dinner.
Ingredients
8 cups water, warm
⅓ cup sugar
⅓ cup fine sea salt
¾ cup soy sauce
¼ cup olive oil
1 whole chicken, 3-4 pounds
1 teaspoon salt
1 tablespoon cayenne pepper
2 teaspoon garlic powder
½ teaspoon thyme
½ teaspoon rosemary
2 tablespoon butter
1 onion, sliced
1 lemon, sliced
¼ cup garlic cloves
14 oz chicken stock
Instructions
In a large bowl or container with a lid, add water, sugar, soy sauce, salt, and olive oil.
Mix well and stir to dissolve.
Add chicken and cover with ice, place lid or plastic wrap over chicken. Place in refrigerator or keep adding ice to keep chicken cold as it brines.
Brine chicken for at least 6 hours and up to overnight.
Preheat oven to 350 degrees.
Remove chicken from brine and pat dry thoroughly.
Mix butter and remaining herbs and spices and rub generously all over outside and inside of chicken.
If injecting chicken with cajun butter, melt butter and spices and inject throughout chicken.
Stuff onion, lemon, and garlic into chicken cavity. Truss if desired.
Place chicken in dutch oven and place stock in bottom. Cover with lid.
Roast chicken at 350 degrees for about an hour with lid on. Baste occasionally with chicken stock.
Remove lid from dutch oven and cook the rest of the 30 (+/-) minutes until an internal temperature reads 160 degrees.
If chicken skin is not crisp enough, place under broiler the last 5-10 minutes on high (watching carefully to prevent burning) until skin gets crispy and golden brown.
Remove chicken from dutch oven and place on cooling rack, tent with foil and let rest for 15 minutes to lock in the juices.
Carve and serve - enjoy!
Recommended Products
As an Amazon Associate and member of other affiliate programs, I earn from qualifying purchases at no extra expense to you.
Nutrition Information
Yield
8
Serving Size
1
Amount Per Serving
Calories

347
Total Fat

21g
Saturated Fat

6g
Trans Fat

0g
Unsaturated Fat

13g
Cholesterol

75mg
Sodium

6443mg
Carbohydrates

16g
Fiber

1g
Sugar

10g
Protein

24g
Sweet C's Favorites
If you love this recipe, please check out some of our top posts!
These tried and true reader favorites are well loved for their family friendly flavor that everyone loves!
Sweet C's Favorite Recipes
Favorite recipes from Sweet Cs Designs