One Pot Easy Cajun Whole Roasted Chicken Recipe – the most juicy, tender, and delicious whole roasted chicken recipe bursting with cajun spices and butter for a spicy, flavorful whole roasted chicken you can make in just one pan or dutch oven! Perfect for meal prep or a hearty easy whole roasted chicken dinner.

Whole roasted chicken is one of my absolute favorite Sunday dinners.
It's delicious, juicy, filling, and goes with just about anything – perfect for the whole family!
I am pairing two of my all-time favorite flavors here – spicy and smoky cajun butter and buttery rich whole roasted chicken – for a showstopping dinner you can have on the table in under 15 minutes active time and just shy of an hour and a half in the oven.
While and hour and a half might seem like a long time, trust me, this is one of the easiest and most flavor-packed whole roasted chicken dinners you'll find – and you literally just need to prep your chicken, toss it in the oven, and try not to drool as the most amazing cajun butter chicken flavor drifts through your house.
This cajun chicken is also very easy to customize to your tastes – and I'm including a couple recipe variations in my post for even more flavor, including a cajun butter injectable recipe and a quick cajun brine – as well as a few one pot meal ideas for cajun butter whole roasted chicken and potatoes, and a cajun roasted chicken dinner with corn and andouille sausage!
JUST TAKE ME TO THE EASY CAJUN WHOLE ROASTED CHICKEN RECIPE ALREADY!
If you'd rather skip my (very helpful, i think) tips and tricks, essential cooking info, and similar recipe ideas – and get straight to this deliciously easy cajun butter whole roasted chicken recipe – simply scroll to the bottom of the page where you can find the printable recipe card.

How to Cook Whole Chicken
Whole roasted chicken is one of my favorite easy dinners because it takes very little work to get a show stopping roasted chicken dinner that is perfect for a family meal everyone loves – and is impressive enough to make for a big gathering, picnic, or dinner party.
While cooking a whole chicken in the oven can be intimidating, these tips and tricks are tried and true ways to get delicious juicy chicken with a crispy skin right from your oven in a dutch oven or large pot!
You won't need any special materials or experience to create a gourmet cajun whole roasted chicken dinner – though I'm including a quick and easy recipe for a cajun chicken brine and injectable cajun butter if you want to kick your whole roasted chicken flavor up a notch!
How to Cook Whole Chicken in Oven Without Drying it Out
Dry chicken is one of the most common complaints when it comes to whole roasting a chicken in the oven – but luckily there are a couple easy methods you can use to prevent dry whole roasted chicken and instead get juicy, moist and flavorful chicken meat everyone loves.
These methods will get you delicious chicken every time!
Get a good thermometer. 

Cooking whole roasted chicken relies on knowing how to take you'r chicken's temperature – buying a good, rapid digital thermometer will help you get a quick and accurate read.
Since chicken size varies so much, watch your chicken's temperature as it cooks and measure in the deepest part of the chicken meat, taking care to not touch bone with the thermometer.

Brine chicken for a day before cooking. 

Brining chicken helps to not only add a ton of juicy moisture into your chicken – it can help flavor your chicken's meat, too. Find my cajun butter injectable ideas below.

Inject chicken with flavored butter. 

Find my cajun injectable butter recipes and ideas below for super juicy and moist cajun roasted chicken.
How To Cook Whole Chicken in a Dutch Oven
Cooking a whole chicken in a dutch oven is a fantastic option for helping to lock in flavor and juicy chicken meat flavor without drying the chicken out.
Cooking whole chicken in a dutch oven helps to keep the chicken slowly roasting in it's own juices and helps hot oven air circulate faster and more evenly to cook to tender juicy perfection – it's a perfect easy way to dump your chicken in a pot and go about your day for a delicious everyday extraordinary dinner!

How to Get Crispy Chicken Skin in Oven
Crispy chicken skin is essential to delicious, crave-worthy roasted chicken – and easy to obtain with a couple tips and tricks.
Pat chicken dry before cooking. 

Removing any excess liquid from the chicken (there is a lot of liquid from the chicken when it is packaged from the store) will help your chicken skin from getting flabby and soggy.
Pat dry chicken with paper towels before cooking.

Generously cover in butter. 

Butter is great for helping chicken skin crisp to a lovely golden brown – and getting a rich, salty flavor that is irresistible. Generously slather butter on top of your chicken to get delicious crispy skin.

Tuck some butter under the skin. 

Siding a little cajun butter under the skin of your whole chicken will help the skin crisp up and taste delicious.

Cook the chicken without the lid the final 30 minutes. 

To help your chicken skin crisp up, cook without the lid for the last minutes of cooking.
Do you Have to Truss a Chicken
One of the most common questions when it comes to cooking a whole roasted chicken is if the legs need to be tied up… but this one has an easy answer – no, you don't have to truss a chicken to get perfectly cooked whole roasted chicken in an oven.
While tying up the chicken's legs (or trussing the chicken) can help whole chicken cook more evenly and keep fillings inside the chicken's cavity, it isn't actually necessary.
One of the top reasons I love to cook chicken in a dutch oven is because it helps keep the chicken together and cooking evenly – without the extra step of trussing your chicken.
Find a dutch oven that just fits your chicken (no need for a ton of extra room here) for best results. You want the chicken to stay tightly together if you're not trussing it – so don't use a too-large dutch oven, as allowing the hot air to circulate through the chicken cavity will make it cook unevenly and dry out.
Cajun Roasted Chicken and Potatoes
If you love this cajun whole roasted chicken recipe, try turning it into a delicious one pot meal your whole family will love!

Easy Cajun Whole Roasted Chicken Recipe
If you love Easy Cajun Whole Roasted Chicken Recipe as much as I do, please write a five star review, and be sure to help me share on facebook and pinterest!
CONNECT WITH SWEET C'S!
Be sure to follow me on my social media, so you never miss a post!
Facebook | Twitter | Youtube | Pinterest | instagram 
Sign up to receive an email in your inbox for each new recipe: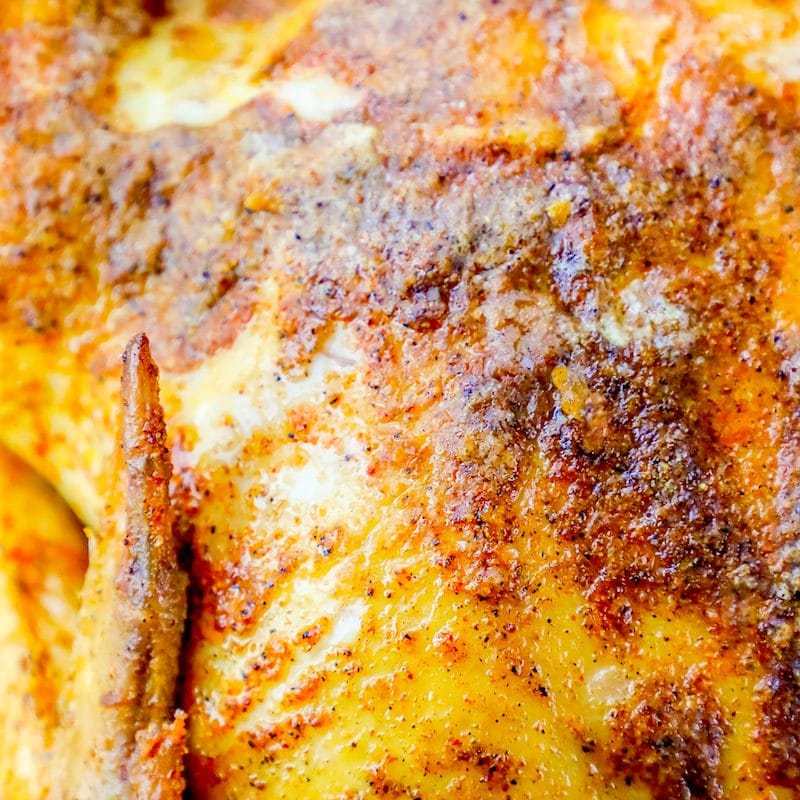 One Pot Easy Cajun Whole Roasted Chicken Recipe
One Pot Easy Cajun Whole Roasted Chicken Recipe - the most juicy, tender, and delicious whole roasted chicken recipe bursting with cajun spices and butter for a spicy, flavorful whole roasted chicken you can make in just one pan or dutch oven! Perfect for meal prep or a hearty easy whole roasted chicken dinner.
Keyword:
cajun whole roasted chicken, roast chicken, whole chicken
Ingredients
8

cups

water

warm

1/3

cup

sugar

1/3

cup

fine sea salt

3/4

cup

soy sauce

1/4

cup

olive oil

1

whole chicken

3-4 pounds

1

tsp

salt

1

tbsp

cayenne pepper

2

tsp

garlic powder

1/2

tsp

thyme

1/2

tsp

rosemary

2

tbsp

butter

1

onion

sliced

1

lemon

sliced

1/4

cup

garlic cloves

14

oz

chicken stock
Instructions
In a large bowl or container with a lid, add water, sugar, soy sauce, salt, and olive oil.

Mix well and stir to dissolve.

Add chicken and cover with ice, place lid or plastic wrap over chicken. Place in refrigerator or keep adding ice to keep chicken cold as it brines.

Brine chicken for at least 6 hours and up to overnight.

Preheat oven to 350 degrees.

Remove chicken from brine and pat dry thoroughly.

Mix butter and remaining herbs and spices and rub generously all over outside and inside of chicken.


If injecting chicken with cajun butter, melt butter and spices and inject throughout chicken.

Stuff onion, lemon, and garlic into chicken cavity. Truss if desired.

Place chicken in dutch oven and place stock in bottom. Cover with lid.

Roast chicken at 350 degrees for about an hour with lid on. Baste occasionally with chicken stock.

Remove lid from dutch oven and cook the rest of the 30 (+/-) minutes until an internal temperature reads 160 degrees.

If chicken skin is not crisp enough, place under broiler the last 5-10 minutes on high (watching carefully to prevent burning) until skin gets crispy and golden brown.

Remove chicken from dutch oven and place on cooling rack, tent with foil and let rest for 15 minutes to lock in the juices.