Feuerzangenbowle - Flaming German Rum Punch Recipe tastes just like the famous burnt sugar punch from Christmas markets across Germany!
Called "Fire Tongs Punch" or Burnt Punch - this German mulled wine punch is served with a sugar loaf soaked in rum and then set on fire, giving it a caramelized rum flavor perfect for Christmas celebrations!
Don't want all the extras in a recipe post? We provide a skip to recipe button in the top left corner, as well as a clickable table of contents, just below, to help make this page easier to navigate.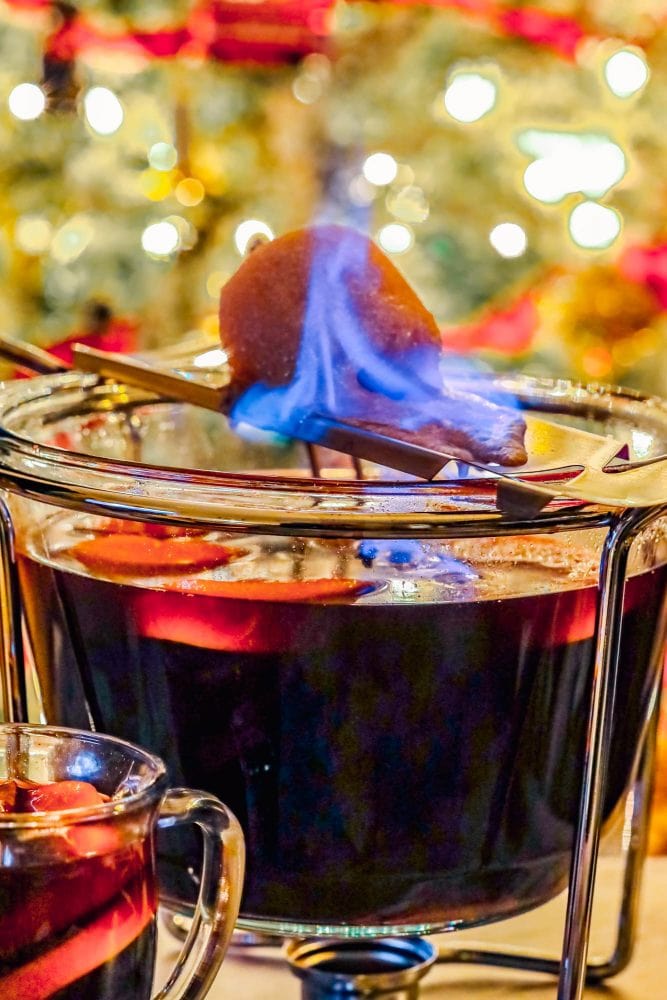 Flaming German Rum Punch
Feuerzangenbowle (pronounced "FOY-yer-tsang-en-bowl-eh" - quite the mouthful when tipsy, I assure you), is one of my very favorite traditions during the Christmas season in Germany each year.
When my brother in law moved to the Heidelberg area with his family a few years ago, we started visiting Christmas markets in Germany every year - and we're all sad to miss out on the wonder this year while we can't travel.
I hope this delicious Flaming punch - literally nicknamed "Fire Tongs Punch" - can be a festive part of your celebrations this year.
There is nothing like coming together over the smell of caramelized sugar, mulled wine, and rum - while taking in the pretty sights and sounds of Christmas.
It's a tradition we're going to start here at home too - and one that we'll keep making well after Christmas into ski season, as this cocktail makes a great apres ski treat, too!
Feuerzangenbowle means fire-tongs punch - as it refers to the metal "tong" (a metal strip that sits over a punchbowl, not a pair of grabbing tongs like we might immediately think of) - that a rum-soaked sugar loaf sits on.
As the rum and sugar burn, they drip caramelized sugar flavor into a big batch of mulled wine below - making this cocktail both insanely delicious, and entertainment all in one.
Traditionally, Feuerzangenbowle is made for a group of family and friends celebrating - but you can find booths at most Christmas markets, and big tables to gather with friends and family around.
Feuerzangenbowle is a fabulous drink to celebrate and gather together with - during Christmas, or anytime you need a warm cozy drink!
How to Make Feuerzangenbowle
To make this recipe, you'll need the following:
This recipe does call for some specialty items - but all are easily found on Amazon, and I'm including other ideas for tools to use if you can't order a Feuerzangenbowle set.
For brown sugar cones, click here. (Most grocery stores offer piloncillo brown sugar cones in the Latin foods section.)
Visiting German Christmas Markets
Many of our trips went through Germany - but we are also including some of our favorite markets across Europe, too!
Tips and Tricks to Make Feuerzangenbowle
Be safe! Since we are soaking sugar in rum and then lighting it on fire - over a punchbowl full of wine - it is important to take safety seriously when making Feuerzangenbowle.
Well ventilated area. When making this drink, make sure you are in a well ventilated area, and use a long handled lighter or long matches to light the sugar loaf.
Fire will be hard to see. Your fire will be short and blue - making it very hard to see. You'll note in some of my photos you can't see the flame - even though when I took them it was burning! Look for bubbles and changes in the sugar, and do not touch sugar after you set it on fire.
How to re-light fire. To re-light or add more rum, use a long handled ladle and never put your face or hands near the sugar as you pour over sugar that is currently on fire.
Keep fire extinguisher nearby. Keep a fire extinguisher nearby when making Feuerzangenbowle.
Recipe FAQ's
How do I keep Feuerzangenbowle sugar on fire?
Your sugar won't take on too much rum before just dissolving, so you'll need to drizzle rum over already lit sugar to keep it burning. Use a long handled ladle and stand back from the fire when topping up the rum.
If I don't have a metal tong what can I use?
Any fire resistant food-grade metal surface, with holes to let sugar and rum drip, will work.
Other Easy Cocktails You'll Love
These drinks are loaded with flavor and easy to whip up - you'll love these delicious cocktails!
You can browse our complete drinks archive here.
You can also find more of our mulled cider and mulled wine recipes here.
Feuerzangenbowle Flaming German Rum Punch Recipe
If you love this easy recipe please click the stars below to give it a five star rating and leave a comment! Please also help me share on facebook and pinterest!
CONNECT WITH SWEET C'S!
Be sure to follow me on social media, so you never miss a post!
Facebook | Twitter | Youtube | Pinterest | Instagram
Only have 30 minutes to get dinner on the table? Sign up for my 30 minute dinner plans direct to your inbox!
Find and shop my favorite products in my Amazon storefront here!
Yield:

8-10 servings
Feuerzangenbowle Flaming German Rum Punch Recipe
Feuerzangenbowle - Flaming German Rum Punch Recipe tastes just like the famous burnt sugar punch from Christmas markets across Germany!
Ingredients
2 oranges (unwaxed preferably, or wash to remove wax)
2 lemons (unwaxed, organic)
2 liters red wine
3-4 sticks cinnamon
5 whole cloves
4-6 stars of anise
½ teaspoon dash ginger, ground
1⁄2 lb sugar loaf or piloncillo cone
2-3 cups brown rum (at least 54% alcohol)
Instructions
In a large stock pot, simmer wine, fruit, cinnamon, cloves, anise, and ginger just to warm.
Place in punchbowl or bowl with a tealight underneath to keep warm, but not boiling.
Place metal tong over punchbowl.
In a tall glass (or bowl), slowly pour ½ cup rum over sugar. Let it soak in to sugar loaf.
Drizzle more rum over, taking care to not discard rum that may drain off.
When loaf has been soaked in rum (if using white sugar, it takes on rum faster and starts to dissolve - pilloncillos are more densely packed and dont dissolve as quickly), set on metal tong. Drizzle the rum that dripped off sugar loaf in the glass over sugar.
Carefully light sugar loaf using long handled lighter or match - never put your hands or face near the sugar or over the wine.
As sugar loaf burns, you'll need to drizzle more rum (while still burning or if the fire burns off, to re-light) over the sugar until completely dissolved - about 15-20 minutes.
Stir punch with ladle as sugar burns - you can start serving while punch is still on fire, or let it all burn off before serving.
Enjoy!
Recommended Products
As an Amazon Associate and member of other affiliate programs, I earn from qualifying purchases at no extra expense to you.
Nutrition Information
Yield
10
Serving Size
1
Amount Per Serving
Calories

534
Total Fat

0g
Saturated Fat

0g
Trans Fat

0g
Unsaturated Fat

0g
Cholesterol

0mg
Sodium

19mg
Carbohydrates

37g
Fiber

2g
Sugar

27g
Protein

1g
Nutrition is automatically calculated by Nutritionix - please verify all nutrition information independently and consult with a doctor or nutritionist for any and all medical and diet advice.