This one pot taco rice skillet is an easy taco and rice burrito bowl dinner in just one pot - bursting with your favorite burrito flavors, with almost no cleanup! Perfect to feed a crowd on a budget and in s many different dishes from burritos and salads, to as-is straight out of the skillet!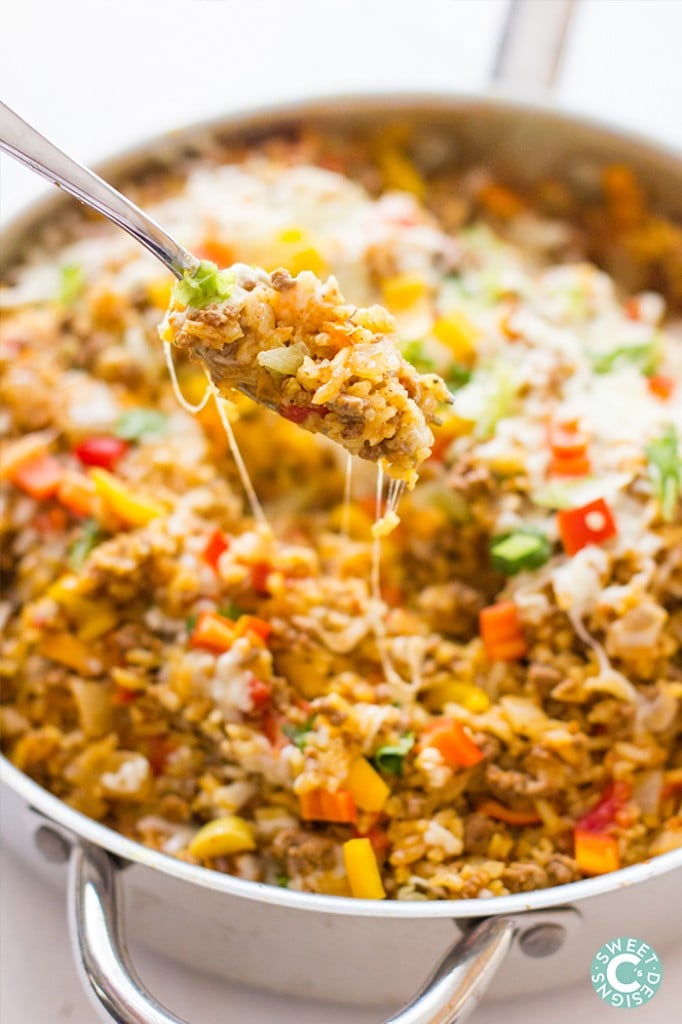 In a quest to make more effortless meals that work well in leftovers, I've been trying to come up with more one pot meals.
There is something fantastic about the one pot meal- not only is it easier to only have to clean one pot, but they tend to be simpler, easier recipes that are perfect for busy families who need warm, comforting meals to come around at night.
JUST TAKE ME TO THE ONE POT TACO AND RICE SKILLET RECIPE ALREADY!
If you'd rather skip my (very helpful, i think) tips and tricks, essential cooking info, and similar recipe ideas – and get straight to this deliciously easy Taco and Rice Burrito Bowls Skillet Recipe – simply scroll to the bottom of the page where you can find the printable recipe card.
Taco and Rice Burrito Bowl Recipe Substitution Ideas
This taco and rice burrito bowl recipe is so simple, you can change it up with your favorite ingredients if there is something you want to add or want to switch out. Have fun and be creative when making your one pot spicy taco skillets!
Chopped broccoli florets add a delicious crunch and tons of nutritional value to taco skillets.
Substituting ground chicken or turkey lighten this dish up considerably.
Adding cauliflower rice instead of rice makes this a keto or paleo low carb meal your whole family will love.
Swapping chorizo for ground beef will kick our taco skillets up a notch.
Adding 4-6 oz velveeta will make this dish totally creamy, thick, and indulgent.
Black beans or pinto beans give protein and a ton of flavor to this skillet.
Sliced jalapenos and olives on top give great color, texture, and a bit of extra kick!
I got the idea for this burrito bowl/ one pot taco skillet from my good friend Melissa's One Pan Chicken Burrito Bowls.
Melissa is the queen of one pot meals- and these look so insanely delicious!
Be sure to check out her recipe- she even has a burrito bowl recipe that you can cook in the slow cooker!
One Pot Taco and Rice Skillet Serving Ideas
I made my dish a little more rice based to eat more like a side dish- it is fantastic in tacos, salads, burritos- and even in stuffed peppers!
Of course, this rice skillet is also fabulously delicious on its own- I got a bit carried away sampling it straight out of the pan!
Add your taco and rice skillet dinner to large iceberg or romaine lettuce leaves for a deliciously festive and fun taco lettuce wrap.
Toss your taco and rice skillet into burritos for an easy complete meal.
Add to tacos and bake in the oven for 10-15 minute for the ultimate Taco and Rice Skillet Baked Tacos.
Spoon heaping servings of your taco and rice skillet over a salad for a tasty lighter lunch.
Stuff into peppers and bake for 15-20 minutes until pepper is soft for delicious stuffed peppers.
Storing and Freezing Taco Skillet Leftovers
This one pot cheesy taco skillet isn't just knock out delicious the day you make it - this is a meal you can buy and make in bulk, and freeze for future meals, too!
I actually make a big double batch every time I make this because it saves so well- you can even freeze it in a high quality freezer bag.
Storing Leftover One Pot Taco and Rice Skillet
If you have lots of taco skillet leftover - never fear!
I actually think this recipe tastes even better a few days after making it- and since it is so versatile, you can add it to different recipes each day without feeling like you're eating the same leftovers again and again.
Use these handy tips how to store taco and rice skillet leftovers:
Store in an airtight container in the refrigerator for up to three days.
Store in a plastic bag in the freezer for up to 2 months.
When reheating, I prefer adding back to a skillet with a bit of oil and pan sauteeing instead of microwaving for the best flavor and texture.
Other Easy One Pot Mexican Food Inspired Dinners You'll Love:
If you love this easy taco skillet dinner, be sure to check out more of my Mexican food inspired one pot dinners the whole family will love:
Tito's Tacos Salsa Copycat Recipe
Tequila Habanero Short Rib Tacos
One Pot Spicy Taco and Rice Skillet Dinner Recipe
If you love this Easy One Pot Taco and Rice Skillet Recipe as much as I do, please write a five star review, and be sure to help me share on facebook and pinterest!

CONNECT WITH SWEET C'S!
Be sure to follow me on my social media, so you never miss a post!
Facebook | Twitter | Youtube | Pinterest | instagram
Sign up to receive an email in your inbox for each new recipe:
FREE EMAIL SUBSCRIPTION
To see me make this one pot taco and rice skillet, please click to watch the video below:
One Pot Spicy Taco Rice Skillet
Ingredients
1 lb ground beef
1 large onion, diced
2 bell peppers, diced
1 can diced tomatoes with green chilis
1 cup salsa
1 cup long grain white rice, NOT minute rice
1 cup water
1 cup beef stock
2 tsp cumin
½ tsp cayenne pepper
1 tsp chili powder
1 tsp garlic powder
1 tsp smoked paprika
1 cup shredded cheddar or jack cheese
green onions, to garnish
Instructions
In a large pan, brown beef.
When beef is lightly browned, add diced onions and peppers.
Cook until beef is fully cooked, onions and peppers are soft.
Add can of tomatoes with green chili- no need to drain.
Add salsa, rice, water and stock.
Stir well to combine.
Add in spices and mix, cover.
Let simmer on low until rice is soft and liquid has cooked off.
Top with cheese, stir in until it melts.
Serve!