Peanut Butter Cake has a deep and cozy peanut butter flavor, but it's not overly sweet. Topped with a sweet peanut butter frosting, this cake is rich, tender, and delicious.
Don't want all the extras in a recipe post? We provide a skip to recipe button in the top left corner, as well as a clickable table of contents, just below, to help make this page easier to navigate.
Scrumptious Peanut Butter Cake
Peanut butter fanatics are going to love this scrumptious peanut butter cake. If you eat peanut butter by the spoonfuls, already, this is going to be your new favorite dessert! Not only is the cake itself made with creamy peanut butter, but it's topped with a sweet and creamy peanut butter frosting. The end result is pure peanut butter nirvana!
The best part about this peanut butter cake is that it stays fresh for days! Because it tastes just as great a couple days later, it's perfect for potlucks, family reunions, or parties. Make it ahead of time and enjoy it days later.
How To Make Peanut Butter Cake
For this recipe, you will be making your cake and frosting from scratch, so you'll need ingredients for both the cake batter and the frosting. Here's what you'll need:
Peanut butter- You can't have peanut butter cake without the peanut butter. You'll need peanut butter for both the cake batter and the frosting, so go ahead and buy a whole jar.
Flour- I use cake flour, but you could use all-purpose flour as well. Spoon the flour into the measuring cup and then level it off with a butter knife. You don't want to scoop or pack the flour or you'll end up with too much.
Brown sugar- Unlike flour, you'll want to use your measuring cup to scoop the brown sugar so it's packed tightly. Granulated sugar can be used instead of light brown sugar in a pinch but the flavor will change slightly.
Whole milk- Whole fat milk makes the cake moist and delicious. If you don't have whole milk, you could use 2% as well.
Butter- You'll need unsalted butter for both the cake batter and the frosting. Be sure to set your butter out on the counter for about 30-minutes to soften before using.
Vegetable oil- Any cooking oil will work including olive oil, canola oil, or coconut oil.
Eggs- Eggs work best in baking when they are at room temperature. Sit them on the counter with your butter 30-minutes before using.
Baking powder- This is what helps your cake to rise and become nice and fluffy.
Vanilla extract- Pure vanilla extract has the best flavor, but you can use imitation vanilla if that's all you have.
Cocoa powder- Adding cocoa powder to your peanut butter frosting will give it that chocolate peanut butter flavor.
Powdered sugar- Don't use granulated sugar or you'll end up with a grainy texture to your frosting.
Heavy cream- You'll need heavy cream for your frosting. If you don't have any, you can make 1 cup by mixing ? cup of whole milk with ? cup melted butter.
Salt- You'll just need a little to enhance the flavors in the cake batter.
This simple sheet cake is packed with peanut butter flavor and topped with a silky peanut butter and chocolate frosting. Get on your baker's hat and let's get started!
First, preheat your oven to 350?. Then, grease a 9x13 baking pan with cooking spray and set to the side.
In a medium bowl, whisk the cake flour, baking powder, and salt together.
Next, cream the butter and brown sugar together in a separate bowl using a stand mixer.
Add the vanilla and oil to the sugar mixture and mix until combined.
Increase your stand mixer speed to medium high and beat until the batter is light and fluffy.
Add ¾ cup of peanut butter to the mixture and mix until combined.
Add your eggs one at a time, beating after each egg.
Finally, add the flour to the wet ingredients in 3 parts, alternating with the milk.
Pro Tip: Start and finish with the flour.
Once you've added the last part of your flour, finish mixing it in by hand to prevent over mixing the batter.
Pour your batter into the prepared baking pan.
Bake your peanut butter cake for 28-32 minutes.
Remove the cake from the oven and allow it to cool completely before frosting.
While the cake is cooling, make the frosting. First, cream the peanut butter and butter together in a mixing bowl with a paddle attachment.
Next, scrape the sides of the bowl and add in the cocoa powder. Mix until fully combined.
Add your powdered sugar 1 cup at a time, mixing after each cup. Mix until fully combined.
Slowly add the heavy cream into the peanut butter mixture with the mixer running on low speed. Beat at medium-high until light and fluffy.
Frost your cake, cut, and enjoy!
Tips and Tricks to Perfect Peanut Butter Cake and FAQs:
When creaming your butter and sugar, continue mixing until it is light and fluffy.
Don't overmix the batter. At the end, make sure you mix by hand so it doesn't get overmixed. Overmixing can result in a dry, dense cake.
Do the toothpick test. After baking for 28-minutes, stick a toothpick in the center of the cake. If it comes out clean, it's done, if not, put it back in the oven for another 4-minutes and check again.
Don't use the all-natural peanut butter. All-natural peanut butter is too oily for this recipe.
FAQs
What temperature should I bake this cake?
The best temperature for baking a peanut butter cake is 350?.Baking at higher or lower temperatures will result in an uneven cook. 
How long does this recipe take to make?
This recipe will only take about 10-minutes to make the batter and 30-minutes to bake. But, it will take about an hour for the cake to completely cool. So, you can start devouring it in about 1 hour and 40-minutes.
How do you store leftover peanut butter cake?
Because there is milk in the frosting, you will need to store any leftover cake in the refrigerator. Cover the cake well with plastic wrap and store it in the fridge for up to 4-days. 
Additionally, you can freeze this sheet cake. First, flash freeze it by placing it in the freezer for 4-5 hours. Then, double wrap it with plastic wrap and a layer of aluminum foil. You can store it in the freezer for up to 3-months. When you are ready to eat it, place it in the refrigerator overnight to thaw. 
Can I add toppings?
Absolutely! In fact, peanut butter cups are my all time favorite topping for this cake. You could also use chocolate chips, sprinkles, or Reese's M&Ms. 
Do I have to use peanut butter frosting?
Nope! If you like peanut butter, but not that much peanut butter, you can opt for a different frosting. Chocolate buttercream or cream cheese frosting would be just as delicious!
More Cake Recipes You'll Love
You can never have too much cake, and I'm a fan of all things cake! If you are too, you'll love my decadent Chocolate Chinese 5 Spice Cake, 2-Ingredient Cake Batter Truffles, or my favorite Oreo Chocolate Peanut Butter Ice Cream Freak Cake!
If you're looking for more delicious peanut butter dishes please check out some of our favorites: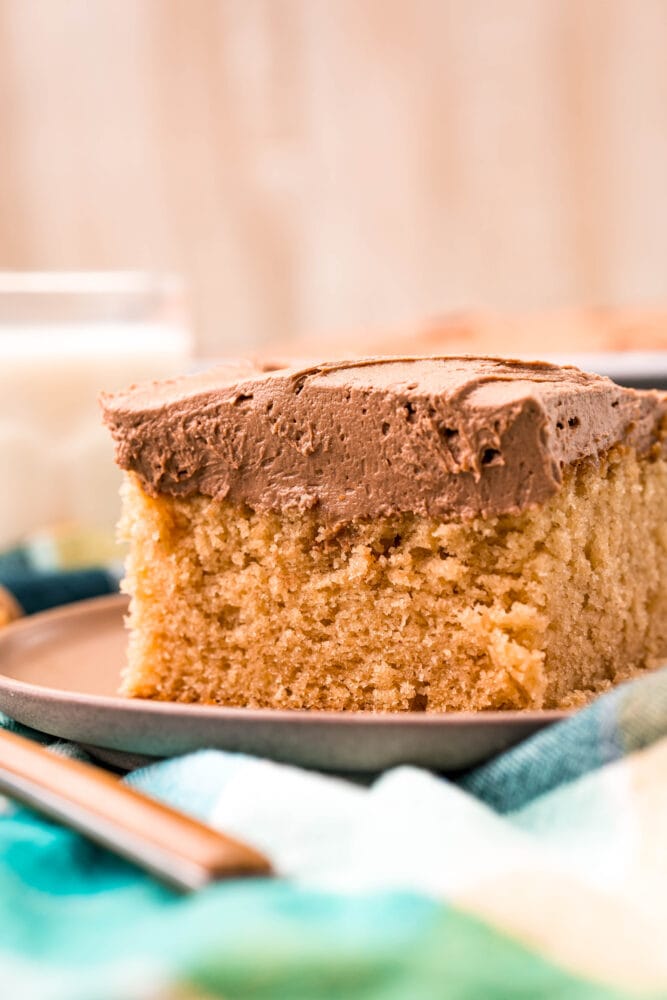 Peanut Butter Cake Recipe
If you love this easy recipe please click the stars below to give it a five star rating and leave a comment! Please also help me share on facebook and pinterest!
CONNECT WITH SWEET C'S!
Be sure to follow me on social media, so you never miss a post!
Facebook | Twitter | Youtube | Pinterest | Instagram
Only have 30 minutes to get dinner on the table? Sign up for my 30 minute dinner plans direct to your inbox!
Find and shop my favorite products in my Amazon storefront here!
Yield:

12 servings
Peanut Butter Cake
Additional Time:
1 minute
Simple delicious easy baked peanut butter sheet cake is packed with peanut butter flavor and topped with a silky peanut butter and chocolate frosting or your favorite frosting recipe.
Ingredients
Cake:
3 cups cake flour
1 ¾ cups light brown sugar, packed
1 ¼ cup whole milk
¾ cup creamy peanut butter
½ cup unsalted butter, softened
½ cup vegetable oil
4 large eggs
1 tablespoon baking powder
2 teaspoons vanilla extract
1 teaspoon salt
Frosting:
1 cup unsalted butter
1 cup creamy peanut butter
¼ cup unsweetened cocoa powder
3 cups powdered sugar
¼ cup heavy cream
Instructions
Preheat the oven to 350 degrees F and grease a 9x13 pan with cooking spray.
In a medium sized bowl, sift together the cake flour, baking powder, and salt.
Using a stand mixer, combine the brown sugar and butter together until it becomes light and fluffy.
Add the vanilla and oil to the mixing bowl and mix until combined.
Once combined, increase the speed to medium-high until the batter is once again light and fluffy.
Add the peanut butter and mix until combined.
Add the eggs one at a time.
Add the flour in 3 parts, alternating with the milk, starting and finishing with flour.
Once the final part of flour is ready to be added, finish mixing by hand to prevent over mixing the batter.
Pour the batter into the prepared baking sheet.
Bake for 28-32 minutes or until a cake tester comes out clean.
Recommended Products
As an Amazon Associate and member of other affiliate programs, I earn from qualifying purchases at no extra expense to you.
Nutrition Information
Yield
12
Serving Size
1
Amount Per Serving
Calories

903
Total Fat

55g
Saturated Fat

21g
Trans Fat

0g
Unsaturated Fat

29g
Cholesterol

131mg
Sodium

525mg
Carbohydrates

92g
Fiber

3g
Sugar

57g
Protein

15g
Nutrition is automatically calculated by Nutritionix - please verify all nutrition information independently and consult with a doctor or nutritionist for any and all medical and diet advice.