Sheet Pan Turkey Kielbasa Bake
Aug 08, 2022, Updated Apr 11, 2023
Quick and easy weeknight dinners don't have to be short of flavor with this delicious and healthy sheetpan Turkey Keilbasa bake.
Don't want all the extras in a recipe post? We provide a skip to recipe button in the top left corner, as well as a clickable table of contents, just below, to help make this page easier to navigate.
One Pot Baked Turkey Keilbasa and Peppers
Easy Sheetpan Turkey Keilbasa Bake is quick and easy to make meal that's perfect for the busy weeknight dinner. There's not need to sacrifice flavor or health when you need a fast and easy dinner.
Sheet pan dinners are the cousin of one pot meals and the modern grandson of crockpot cooking. They're quick and easy, and have little cleanup. Done right, a sheet pan dinner is sure to please your family.
This sheetpan Turkey Kielbasa Bake is the perfect combination of flavor, ease, and healthy food that is sure to be a weeknight staple in your house.
How to make Sheetpan Turkey Keilbasa Bake
To make this recipe, you'll need:
Turkey Keilbasa – Kielbasa is the generic Polish word for any sausage, so you will often find these marked as "Polish sausage" in American stores. In common use in America, "keilbasa" refers to the thick U-shaped wiejska sausage, or "rural" sausage made of any meat and seasoned with marjoram and garlic, sometimes also containing small amounts of coriander. Many believe the word comes from the Hebrew word for "all meats" as Poland historically has had a large Jewish population. Turkey keilbasa is a healthy version of the traditional pork or beef sausage.
Bell Pepper – Bell peppers a sweet pepper that contains none of the capsacium that makes other chili peppers taste spicy. They are a very traditional accompaniment to sausage in America.
Zuccini – Zucchini is a delish squash, that's filling and easy to grow at home. They're called courgettes in the British common wealth, or baby marrow in South Afrika.
Onion – Onions are another sweet component to this dish that is also a traditional Polish accompaniment to kielbasa.
Garlic – Garlic is the culinary best friend of onions and an ingredient in most savory Italian dishes. While native to Asia, it traveled to ancient Egypt for culinary and medicinal use and may have been brought to Italy during the Roman period.
Olive Oil – Olive oil is the cooking oil I used for this recipe. It's mild, nutty flavor is delicious when cooked with onions and garlic.
Italian Herb Blend – This blend of oregano, basil, thyme, rosemary, and marjoram is a staple of Italian cooking and flavors that complement chicken and beans well.
Lemon Juice – A dish that's rich and naturally sweet like this Sheetpan Turkey Keilbasa Bake benefits from an fresh punch of fruity acid from lemon juice.
Sea Salt and Black Pepper– Salt and pepper are the original culinary duo. Salt enhances and brings out many flavors, and the mild spice from black pepper helps to stimulate the taste buds.
One you've gathered your ingredients, we will use the following method:
Step 1 – Prepare your ingredients. Cut your kielbasa into circles about ½ inch wide. Roughly chop your vegetables into ¼-½ inch squares. Finely slice your garlic. Juice the lemon. In a bowl combine the chopped sausage and the remaining ingredients. Mix well to make sure the oil and lemon juice are well incorporated.
Step 2 – Add to the sheetpan. Spread out your ingredients on to a parment covered sheet pan, making sure that everything is evenly spread.
Step 3 – Bake. In an oven preheated to 350oF bake the sheetpan kielbasa mix for 15 minutes. Stir everything thoroughly and then cook for another 10 minutes to brown on all sides.
Step 4 – Serve and enjoy. The sheetpan bake is ready when the meat is browned and the and the peppers and zucchini are fork tender. Remove from the oven and serve!
Tips and Tricks to a perfect sheet pan baked turkey kielbasa and peppers dinner:
Sentence about how this recipe is super easy but these tips will help make it even better.
Foil can replace parchment paper. Out of parchment paper? You can use foil to cover your sheet pan instead. Spray it with non-stick stray before putting your meat and vegetables on it.
Use the vegetables you have on hand. This recipe is a great canvas for using up the vegetables you have in your refrigerator. Chopped asparagus, yellow summer squash, mushrooms are all great additions to this recipe. You can even add broccoli or cauliflower to it! Just be sure to make sure they're cooked fully before you serve.
FAQs:
How do I know the turkey kielbasa is fully cooked?
Most turkey kielbasa in America comes fully cooked, so the cooking is largely a matter of reheating and browning the meat. If you're concerned, make sure you sausage hits an internal temperature of 165oF. 
I can't find turkey kielbasa, what else can I use?
Any fully cooked sausage can be substituted in this recipe: pork, beef, chicken, etc. You can use raw sausages as well, but you should boils those to cook them before slicing and adding to the sheetpan bake. 
What to Serve With Kielbasa Bake
What to serve with Sheetpan Turkey Keilbasa Bake
Potatoes, salads and and coleslaws are a great accompaniment to to this easy and delicious dinner.
My best easy four ingredient coleslaw is fast and easy side for a quick weeknight dinner. https://sweetcsdesigns.com/the-best-easy-coleslaw/
If you're looking for something more hearty, crispy roasted potatoes will fill up even the hungriest diners. https://sweetcsdesigns.com/crispy-roasted-potatoes/
Herb Roasted Green Beans and potatoes is a great choice to increase your vegetable quota for this dinner. https://sweetcsdesigns.com/herb-roasted-green-beans-and-potatoes/
Sheet Pan Turkey Kielbasa Bake Recipe
If you love this easy recipe please click the stars below to give it a five star rating and leave a comment! Pease also help me share on facebook and pinterest!
CONNECT WITH SWEET C'S!
Be sure to follow me on social media, so you never miss a post!
Only have 30 minutes to get dinner on the table? Sign up for my 30 minute dinner plans direct to your inbox!
Find and shop my favorite products in my Amazon storefront here!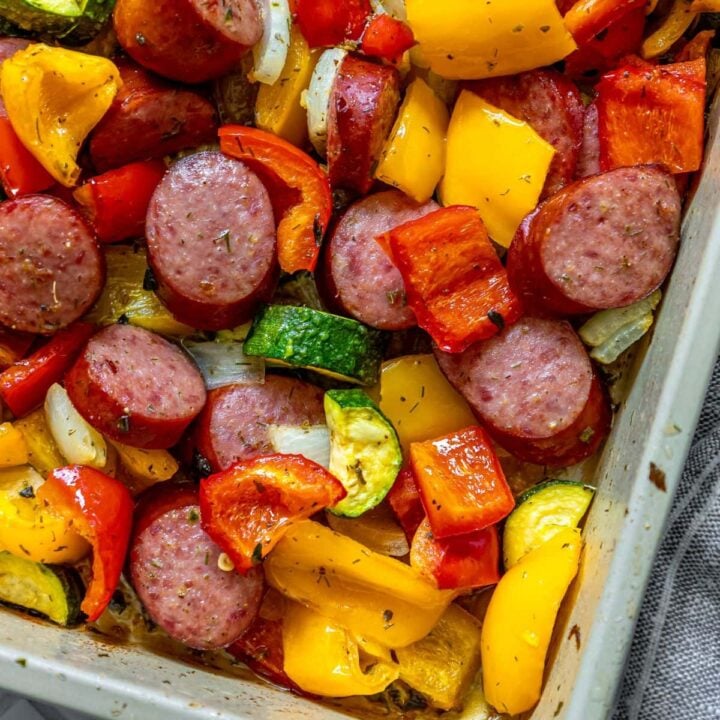 Sheetpan Turkey Kielbasa Bake
Delicious one pot turkey kielbasa, onions, and peppers baked together on a sheetpan.
Ingredients
1 lb turkey kielbasa, sliced into ½" thick rounds
1 bell pepper, sliced into chunks
2 Zucchini 
1 onion, diced
4 cloves garlic, minced
2 tablespoons extra virgin olive oil
1 tablespoon Italian herbs seasoning blend
1 tablespoon lemon juice
½ teaspoon celtic sea salt
½ teaspoon fresh cracked pepper
Instructions
Preheat oven to 350 degrees.
Prepare baking sheet with parchment paper or foil.
In a small bowl, mix together garlic, pepper, onion, kielbasa, olive oil, lemon juice, and herbs. Toss well to evenly coat.
Spread kielbasa, veggies, and olive oil/lemon juice mix over parchment lined baking sheet.
Bake 15 minutes, stir. Continue to bake until vegetables are softened and lightly browned, another 5-10 minutes.
Remove from oven and serve.
Recommended Products
As an Amazon Associate and member of other affiliate programs, I earn from qualifying purchases at no extra expense to you.
Nutrition Information
Yield

4
Serving Size

1
Amount Per Serving
Calories

482
Total Fat

41g
Saturated Fat

12g
Trans Fat

0g
Unsaturated Fat

26g
Cholesterol

83mg
Sodium

1570mg
Carbohydrates

14g
Fiber

2g
Sugar

6g
Protein

16g
Nutrition is automatically calculated by Nutritionix - please verify all nutrition information independently and consult with a doctor or nutritionist for any and all medical and diet advice.