Sweet Chili Beef Slow Cooker Lettuce Wraps – a sweet and spicy meal that is fun for parties, and so easy to make!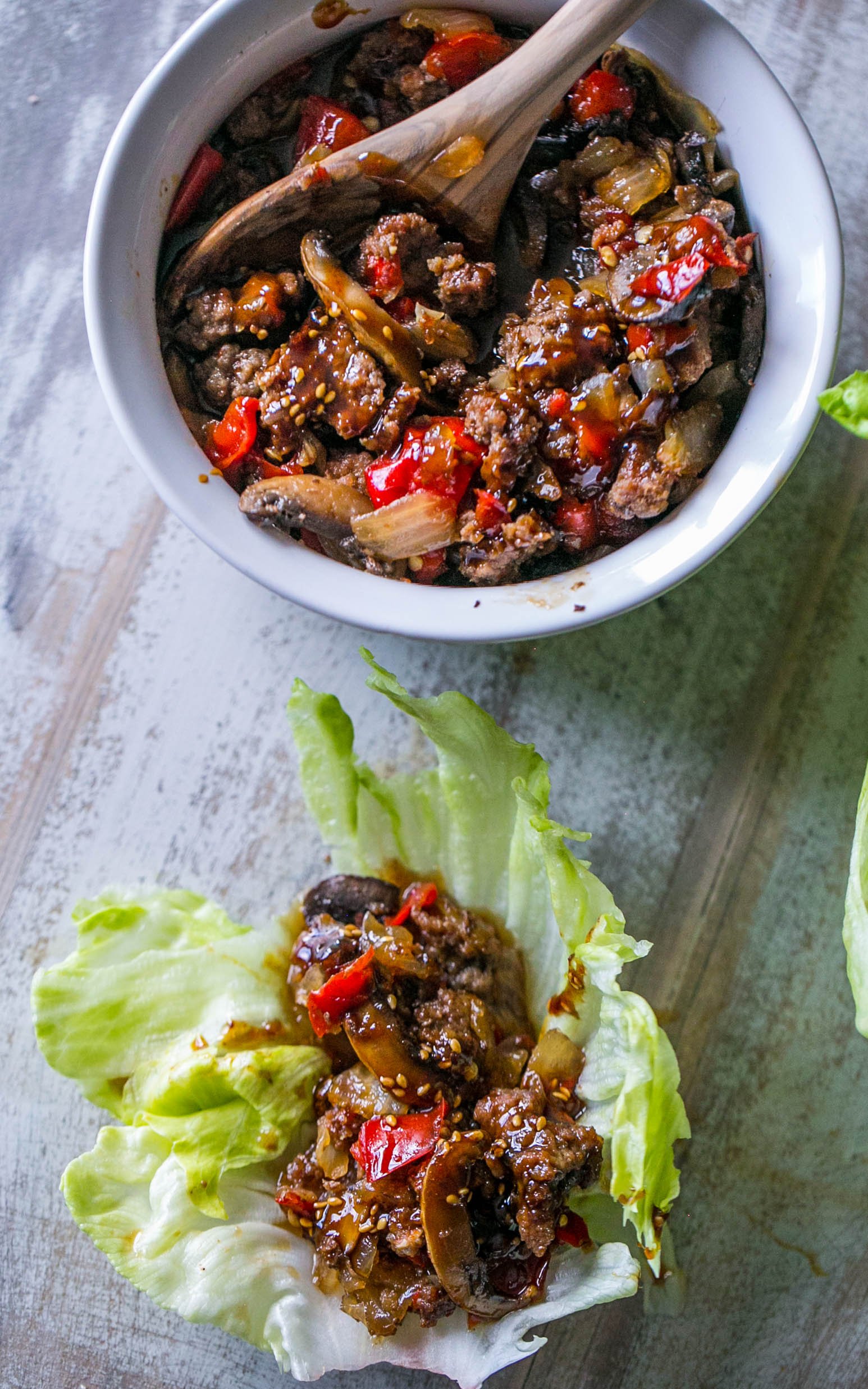 I love lettuce wraps.
They are simple, unique, fun to eat, and come in all sorts of delicious flavors – plus they make fabulous dinner party food that gets a crowd together. They are simple and fun – and work well for a main course or an appetizer.
I've had a few lettuce wrap recipes I really enjoy, but I've been working on some lately that are SO delicious, I have been really excited to share them with you.
And the best part of all the tasty new recipes??
They are all made….. IN THE SLOW COOKER!
That's right – these delicious spicy and sweet lettuce wraps are cooked in a slow cooker- just toss in the ingredients, stir a couple times, and out comes an amazing meal nobody will forget anytime soon.
This recipe is very adaptable – you can add a different kind of meat (ground chicken and turkey are both excellent in this recipe) or switch out vegetables if you don't like peppers or mushrooms. Snap peas, zucchini, carrots, bok choy, and water chestnuts would all go very nicely in these wraps!
You could also use some of those as garnishes for a dinner party and let guests add their own favorites to their wraps for a little extra fun.
You can also make these ahead of time and bring to work for a delicious and healthy lunch. Simply reheat the beef and veggies in the microwave for 45 seconds, until hot, and spoon into lettuce cups.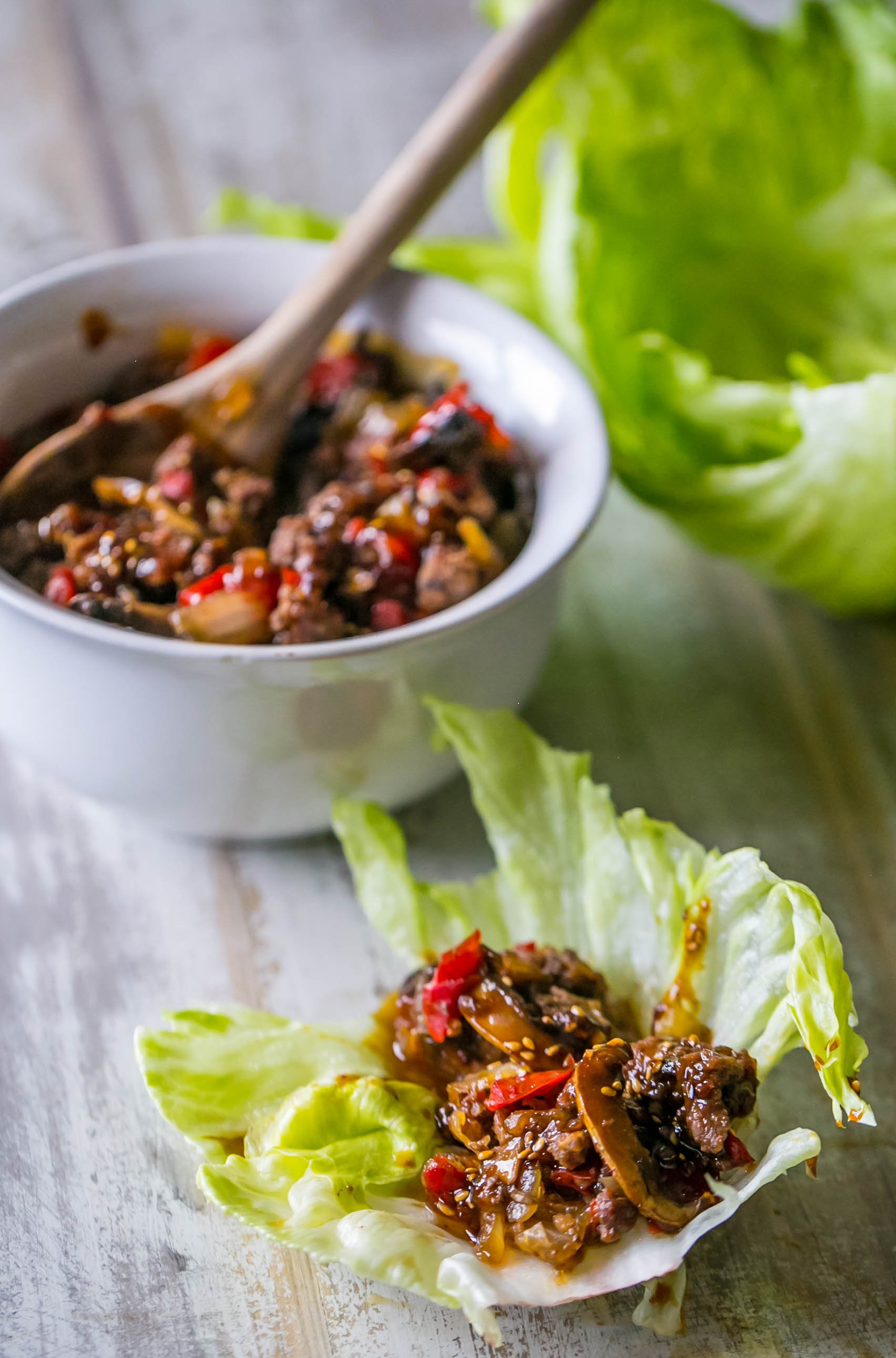 These lettuce wraps are so simple and delicious- you'll want them all the time!
Slow Cooker Sweet Chili Beef Lettuce Wraps
Yield:

8
Sweet Chili Beef Slow Cooker Lettuce Wraps
Total Time:
3 hours
5 minutes
Sweet Chili Beef Slow Cooker Lettuce Wraps - a sweet and spicy meal that is fun for parties, and so easy to make!
Ingredients
1 lb beef
1/2 cup sweet chili sauce
1/4 cup soy sauce
8 oz cremini mushrooms, sliced
1 bell pepper, diced (any color)
1 white onion, diced
2 tbsp garlic powder
1 tsp sesame oil
sesame seeds, to garnish
romaine or iceberg lettuce cups
Instructions
Add beef, mushrooms, bell pepper, onion, and garlic powder to slow cooker.
Toss to mix well and crumble ground beef.
Add soy sauce, sweet chili sauce, sesame oil, garlic powder.
Cook on high for 2-3 hours, until beef is well cooked through (stir 2-4 times during cooking to make sure beef doesn't come together in massive chunks and to be sure sauce coats the mixture- just a quick stir will do.)
When beef is cooked, drain any excess liquid into a pan.
Heat liquid on high until reduced in size by half, pour back over beef and vegetables in slow cooker.
Scoop about 2 tbsp beef and vegetable mixture into each lettuce cup, garnish with sesame seeds (and if serving at a dinner party, let guests garnish with sriracha, spicy mayo, soy sauce, green onion, etc as they prefer.)
Eat immediately.
Nutrition Information
Amount Per Serving
Calories

208
Saturated Fat

4g
Cholesterol

40mg
Sodium

595mg
Carbohydrates

12g
Fiber

1g
Sugar

8g
Protein

12g