Easy Air Fryer Lemon Chicken Recipe - a simple five ingredient recipe for crisp and juicy air fried lemon chicken with under five minutes active cooking time!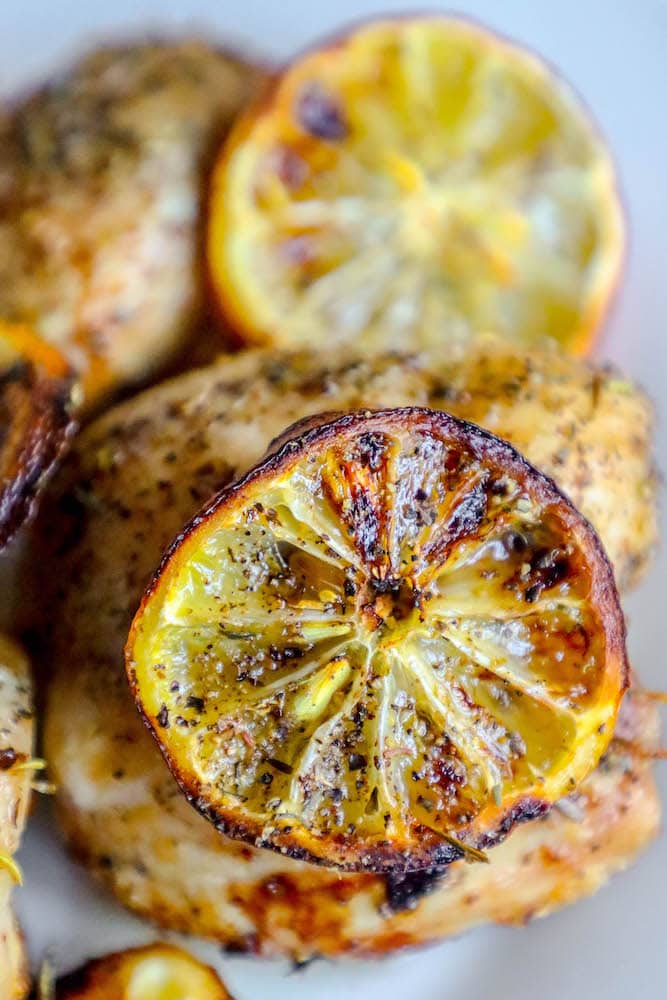 This easy lemon chicken recipe is super simple and crazy quick - it requires less than 5 minutes active time.
Just toss chicken in a lemon marinade, cover with spices, and toss into an air fryer, and cook!
If you're making dinner for a guest, or want a delicious hearty dinner you don't have to fuss over, this recipe for perfect juicy chicken thighs is for you!
Air fried chicken thighs are incredibly delicious - juicy on the inside, and crunchy on the outside - just like fried chicken. But because we're using an air fryer, this recipe uses a tiny fraction of the oil, no breading, as well as hot air circulating quickly over the chicken, to fry this chicken in a much healthier way.
If you love my easy and delicious best easy baked lemon chicken recipe, you're going to love this easy air fried lemon chicken recipe.
Check out my web story about this air fryer chicken!
Don't want all the extras in a recipe post? We provide a skip to recipe button in the top left corner, as well as a clickable table of contents, just below, to help make this page easier to navigate.
How To Cook Chicken Thighs in an Air Fryer
Cooking chicken thighs in an air fryer couldn't be any easier - simply toss the chicken in the fryer basket, make sure the thighs aren't touching very closely, and fry.
To make these chicken thighs perfect, we're using the basic cook-time from my Keto Adobo Air Fried Chicken Thighs Recipe.
What Temperature To Cook Chicken Thighs in the Air Fryer
I like a delicious, crispy crunch and tender, juicy middle for chicken thighs - so I try to cook with as much heat as possible in an air fryer.
I aim for an air fry temperature of 400 degrees for chicken thighs - but not all air fryers go to 400 degrees, so you can also use 350.
How Long to Cook Chicken Thighs in an Air Fryer
At 350 degrees, chicken thighs will take about 16-18 minutes to reach 165 degrees, and you'll flip partway through cooking.
At 400 degrees, chicken thighs take about 13-15 minutes to reach 165.
Go as high as you can and watch your chicken's temperature, instead of going off the time elapsed - you may need to add additional time if cooking bone-in, skin-on thighs.
Since chicken thighs contain more fat, they do not dry out as quickly as chicken breasts can - if you need to take another minute or two to give your chicken thighs more crunch (especially if cooking with skin-on, you really want a lovely crunchy skin), you can without worrying about drying them out.
How To Cook Chicken Breasts in an Air Fryer
This recipe is one of my favorites because it can be used with either chicken breasts or chicken thighs.
To make perfectly juicy easy air fried lemon chicken breasts:
Place chicken in air fryer basket, standing against sides of basket if necessary - do not push closely together.
Set to 350°F and cook for 15 minutes.
Turn chicken; cook 5 to 8 minutes longer or until chicken reads at least 165°F when a digital thermometer is inserted into the thickest part of the chicken.
Easy Lemon Chicken Marinade
To get the most flavor possible, I like to make a quick marinade for this chicken, especially when using chicken breasts.
Combine the following in a bowl or plastic bag with the chicken:
-2 tablespoon lemon juice
-¼ c olive oil
-italian herb seasoning
Let chicken sit for at least 1 hour in marinade, then pop in fryer basket and cook!
What To Serve With Easy Air Fried Lemon Chicken
This air fryer chicken is keto and low carb compatible - and great alongside pasta, rice, and other carbs, too!
Easy Keto Chicken Recipes
This lemon air fried chicken isn't just incredibly delicious - it also works in a keto diet, too! Keto air fried lemon chicken is a meal that won't weight you down, and will keep you fueled up all day - just like many of my favorite keto chicken recipes.
If you're looking for more easy delicious low carb chicken recipes, please find my favorites below:
Where to Buy an Air Fryer
If you're looking to buy an air fryer, please head to my air fryer essentials Amazon list here:
Amazon Air Fryer Essentials List
And for my favorite Keto foods (including tons of meats that are fantastic in an air fryer), please head here:
How long does air fried chicken last?
Air fried chicken can be stored in an airtight container in the refrigerator for up to four days.
When is chicken done air frying?
Chicken is fully cooked at 165 degrees when using a meat thermometer inserted into the thickest part of the meat.
Can I air fry bone-in or boneless chicken thighs?
You can air fry either - bone-in thighs will take a little longer to cook, and you need to ensure you aren't hitting the bone when measuring the temperature of your chicken thigh - but it can absolutely be used in this recipe.
Can I air fry skinless or skin on chicken thighs?
Air frying chicken thighs is the perfect way to cook both skin-on and skinless chicken thighs. For skin-on thighs, we recommend giving chicken an additional minute or two, skin side up, to crisp so you have a delicious crunch.
Easy Air Fryer Lemon Chicken Recipe
If you love this easy air fryer lemon chicken recipe as much as I do, please give it a five star review and help me share on facebook and pinterest!
CONNECT WITH SWEET C'S!
Be sure to follow me on social media, so you never miss a post!
Facebook | Twitter | Youtube | Pinterest | Instagram
Only have 30 minutes to get dinner on the table? Sign up for my 30 minute dinner plans direct to your inbox!
Find and shop my favorite products in my Amazon storefront here!
Yield:

6
Easy Air Fryer Lemon Chicken Recipe
Easy Air Fryer Lemon Chicken Recipe - a simple five ingredient recipe for crisp and juicy air fried lemon chicken that everyone loves!
Ingredients
6 chicken thighs
2 tablespoon olive oil
2 tablespoon lemon juice
1 tablespoon italian herb seasoning blend
1 teaspoon celtic sea salt
1 teaspoon fresh cracked pepper
1 lemon, sliced thin
Instructions
Add all ingredients - except sliced lemon - to bowl or bag, toss to coat chicken.
Let marinate for 30 minutes to overnight.
Remove chicken and let any excess oil drip off (does not need to be dried, just not dripping with tons of excess oil.)
Set air fryer to 350-400 degrees (as high as your air fryer will go) and preheat for 10 minutes.
Arrange chicken thighs and lemon slices in air fryer basket, taking care to not push chicken thighs too close to each other.
Cook at 350 or 400 (again, as high as you can), for 8 minutes.
Remove fryer basket and flip chicken thighs to other side.
Cook again at 350 for another 6 minutes - gauge temperature, and continue to air fry until reaching 165 degrees internal temperature.
Chicken thighs will be crispy, with clear juices, and reach 165 degrees internal temperature when checked with a digital thermometer inserted in the thickest part of the thigh.
Serve and enjoy!
Nutrition Information
Yield
6
Serving Size
1
Amount Per Serving
Calories

325
Total Fat

23g
Saturated Fat

6g
Trans Fat

0g
Unsaturated Fat

16g
Cholesterol

166mg
Sodium

679mg
Carbohydrates

2g
Fiber

1g
Sugar

0g
Protein

31g