The Best Air Fryer Shishito Peppers Recipe - delicious smoky and salty tangy peppers air fried to perfection!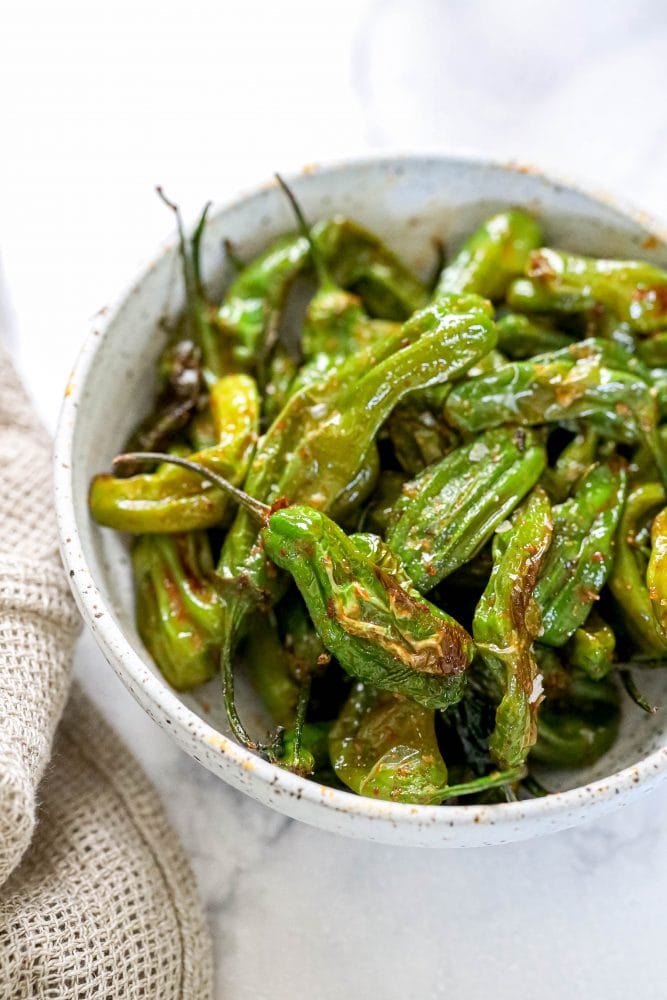 Don't want all the extras in a recipe post? We provide a skip to recipe button in the top left corner, as well as a clickable table of contents, just below, to help make this page easier to navigate.
Air Fried Shishito Peppers
These peppers are a delicious, perfect appetizer or side dish - they are naturally low carb and full of flavor, plus they are great lightly charred right from the air fryer.
Not all shishitos are spicy, most of the shishito peppers in your batch will be mild, a little like a sweet pepper with a bit of tangy flavor.
Watch out - while not all shisito peppers are spicy (most are not), about 1 in 12 can pack a fiery punch! We've had some packages of shishito peppers even hotter - with every other pepper being extremely spicy.
Shishito peppers are small, mild peppers from Japan. One in every ten shishito peppers will be spicy - and you won't be able to tell by appearance which one packs a punch - so be ready for a tasty game of guess!
We hope you love this shishito pepper recipe as much as we do!
How To Air Fry Shishito Peppers
To make this recipe, we will need the following ingredients:
Shishito Peppers: The star of this dish, shishito peppers provide a slightly sweet, mildly spicy flavor. They crisp up beautifully in the air fryer, providing a satisfying crunch and smoky flavor.
Avocado Oil: This oil has a high smoke point, making it excellent for high-heat cooking methods like air frying. It lightly coats the peppers, helping them achieve a blistered, charred exterior.
Celtic Sea Salt: This type of salt is known for its coarse, moist texture and briny taste. It enhances the natural flavors of the shishito peppers.
Adobo Seasoning: A blend of traditional Latin American spices, including garlic, oregano, turmeric, and black pepper, it adds a warm, slightly smoky flavor that complements the mild heat of the shishito peppers.
Aleppo Pepper: This special type of chili pepper is moderately hot and slightly fruity. It's often used in Mediterranean and Middle Eastern cooking and adds a nice hint of heat and complexity to the dish.
Tips and Tricks to Perfect Air Fryer Shishito Peppers
Add spice. To air fry peppers, we're going to lightly toss them in oil and spices (I love using adobo, garlic salt, or aleppo pepper) and then air fry to lightly charred and softened, about 15 minutes.
Peppers won't be crispy: The peppers won't be crispy - but will have a little toothy bite to them, and lots of lovely charred bits.
Select Fresh Shishito Peppers: For the best flavor, select firm and fresh shishito peppers. Wrinkled or soft peppers may not yield the best results.
Preheat the Air Fryer: Preheating the air fryer ensures that the peppers start cooking as soon as you put them in, which can help to get the desired char.
Light Oil Usage: Use just enough oil to lightly coat the peppers. Too much oil can lead to a greasy end result. A spray oil can be especially handy for this.
Don't Overcrowd: Place the peppers in a single layer in the air fryer basket. If the peppers are overcrowded or piled on top of each other, they may not cook evenly.
Shake or Toss Halfway Through: To ensure even cooking and charring, shake the basket or use tongs to flip the peppers halfway through the cooking process.
Season After Cooking: Season the shishito peppers with coarse salt immediately after they come out of the air fryer when they're still hot. This allows the seasoning to stick better.
Test for Doneness: The shishito peppers are done when they are slightly blistered and charred. However, taste is subjective, so cook to your desired level of char.
Serve Immediately: Air fried shishito peppers are best served immediately while they are still warm and crispy.
Recipe FAQs
How long does this recipe last?
Air fried shishito peppers can be stored in an airtight container in the refrigerator for up to four days.
What are shishito peppers?
Shishito peppers are a mildly spicy variety of pepper from East Asia. They're small, slightly sweet, and occasionally pack a surprising punch of heat.
How hot are shishito peppers?
On the Scoville scale, which measures the spiciness of peppers, shishito peppers range from 100 to 1,000 units. This is milder than a jalapeño, but every so often, you'll come across one that's a bit spicier.
Do you need to remove the seeds from shishito peppers?
No, you don't need to remove the seeds from shishito peppers. The seeds are not particularly hot and are small enough to eat comfortably.
What should you serve with shishito peppers?
Shishito peppers can be served as an appetizer or a side dish. They pair well with a variety of dips, like soy sauce, aioli, or a simple squeeze of lemon or lime.
Can you reheat air fried shishito peppers?
While shishito peppers are best served fresh, you can reheat leftovers in the air fryer at a lower temperature until they are warm.
Can you prepare shishito peppers ahead of time?
Yes, you can wash and dry the shishito peppers ahead of time. However, for the best taste and texture, it's best to cook them right before you're ready to serve them.
Can you cook other types of peppers in the air fryer?
Absolutely! The air fryer can be used to cook a variety of peppers, such as bell peppers, jalapeños, or mini sweet peppers. However, the cooking time may vary depending on the size and type of pepper.
What to Serve With Shishito Peppers
We love eating shishito peppers with tacos, taco salads, and salsas - while the pepper may have originated in Japan, we love it paired with Southwestern flavors.
The Best Air Fryer Shishito Peppers Recipe
If you love this easy recipe please click the stars below to give it a five star rating and leave a comment! Please also help me share on facebook and pinterest!
CONNECT WITH SWEET C'S!
Be sure to follow me on social media, so you never miss a post!
Facebook | Twitter | Youtube | Pinterest | Instagram
Only have 30 minutes to get dinner on the table? Sign up for my 30 minute dinner plans direct to your inbox!
Find and shop my favorite products in my Amazon storefront here!
Yield:

4 servings
The Best Air Fryer Shishito Peppers Recipe
The Best Air Fryer Shishito Peppers Recipe - delicious smoky and salty tangy peppers air fried to perfection!
Ingredients
12 oz shishito peppers, washed well and dried
2 tablespoons avocado oil
1 teaspoon celtic sea salt
1 teaspoon adobo seasoning
½ teaspoon aleppo pepper
Instructions
Preheat air fryer at 400 degrees.
Rinse peppers and pat dry.
In a bowl, toss peppers in oil.
Season generously and toss to evenly mix.
Add peppers to the air fryer basket and cook for 10 minutes, shaking after 5 minutes to rotate around basket so they cook evenly.
Serve and enjoy!
Notes
About 1 in every 10 peppers will be very spicy - so be careful eating!
Recommended Products
As an Amazon Associate and member of other affiliate programs, I earn from qualifying purchases at no extra expense to you.
Nutrition Information
Yield
4
Serving Size
1
Amount Per Serving
Calories

86
Total Fat

7g
Saturated Fat

1g
Trans Fat

0g
Unsaturated Fat

6g
Cholesterol

0mg
Sodium

631mg
Carbohydrates

6g
Fiber

1g
Sugar

2g
Protein

1g
Nutrition is automatically calculated by Nutritionix - please verify all nutrition information independently and consult with a doctor or nutritionist for any and all medical and diet advice.